Embodied Carbon Calculator (EC3): Selecting More Sustainable Materials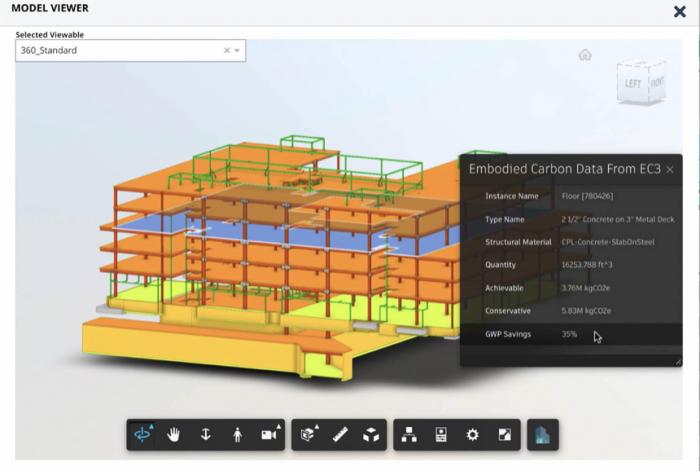 Reducing building energy consumption is critical to critical climate change mitigation goals, as buildings consume 40% of energy globally and produce 36% of greenhouse gasses (GHGs). The Embodied Carbon in Construction Calculator (EC3) is a free online tool that enables building industry members to make more carbon-efficient material choices when designing and constructing buildings. EC3 uses data including building construction estimates, BIM models, and a database of Environmental Product Declarations (EPDs) to calculate a project's overall embodied carbon emissions, allowing comparison, specification and procurement of lower carbon options.
The EC3 platform is free and open, and is also designed to be accessible to all, including architects and contractors who may be new to green building. EPDs can be lengthy and technical for builders who may not be accustomed to this scientific language. Embodied carbon reports are also delivered in a simple PDF format, which can be easier to work with. The EC3 tool is also open source, which means that it is and will remain a completely transparent tool. The methodology is published and being developed with stakeholder input. Anyone can register for free access, and the tool's underlying EDP database is available through an open API.
Additionally, the EC3 tool encourages project managers to set a "carbon budget" enabling builders to keep their materials sourced at a low embodied carbon level. This baseline can become what later design decisions get measured against.
The EC3 tool allows architects, engineers, and contractors to make informed decisions in selecting materials for projects with lower embodied energy. The EC3 tool provides access to material emissions data, showing the environmental impact of a building component. For example, one supplier of metal beam could have much lower embodied carbon than another supplier. The EC3 tool shows these comparisons, revealing how each was manufactured and the country in which each is made. Even if these two beams look and perform identically, a contractor who prioritizes making more sustainable material choices will use EC3 to choose the product that generates fewer uprfront carbon emissions due to manufacturing.
In order to understand how the EC3 tool works, it is essential to review the importance of embodied carbon. The carbon footprint or impact of a building is made up of two types of energy: the embodied carbon in the items used in the project through construction and the operational energy consumed during the useful life of the building. Embodied carbon is a measurement of the amount of greenhouse gases (GHGs) that a material will release throughout the supply chain. Embodied carbon can also include the emissions resulting when the product has been decommissioned or otherwise disposed of, including extracting, transporting, manufacturing materials, all the way through the construction process, building operations, and the end of a product's useful life. Once the structure is built, the embodied carbon calculation does not change, while a building will continue to generate emissions through operations.
The EC3 tool is currently operated by Building Transparency, a nonprofit specifically created to host and operate EC3 moving forward. The EC3 tool was incubated at The University of Washington's Carbon Leadership Forum, after initial development by Skanska and C Change Labs. Funders incuded Skanska, Microsoft, Autodesk, Interface, the MKA Foundation, and the Charles Pankow Foundation, and ultimately over 30 additional funding partners. Stacy Smedley, a director of sustainability at Skanska USA, discussed her intent for funding the project: "We pioneered the EC3 tool with Microsoft because of the lack of tools and product labels that reveal this information in a completely transparent and easy-to-compare way." The tool was first launched publicly at Greenbuild in 2019.
Climate change mitigation goals can not be reached without addressing the energy consumption of buildings. Additionally, the growing green building market and increasing legislative and executive mandates are driving demand and incentives for low-carbon solutions. As a free and easy to use resource for measuring embodied carbon, EC3 is quickly becoming one of the most prominent methods of screening building materials. Building Transparancy continues to engage partners to fund the EC3 tool's ability to add in additional functions and material categories, as well as scale the tool globally to other markets.

For more information, visit:
https://www.buildingtransparency.org/
http://carbonleadershipforum.org/what-we-do/initiatives/ec3/
Related:
https://www.rateitgreen.com/green-building-community/discussions/sustainable-building-certifications-and-labels/what-are-epds/2687
https://www.rateitgreen.com/green-building-community/discussions/sustainable-building-information-and-resources/what-are-lcas/2689
https://www.rateitgreen.com/green-building-articles/lca-life-cycle-analysis-for-buildings/94
( 0 ) Ratings
( 10 ) Discussions
( 3 ) Group Posts
Reply/Leave a Comment (You must be logged in to leave a comment)
Connect with us!
Subscribe to our monthly newsletter:
Read More


Sponsored Listings
Related Posts
Read More