Shipping Containers – A Growing Trend for Green Buildings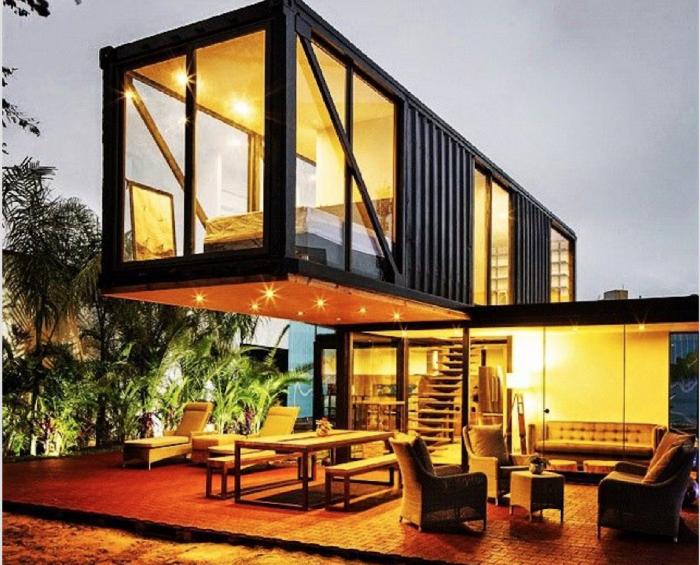 The research for green building improvement is bringing a new trend to the sustainable field. The discovery of shipping containers as buildings material is providing benefits to the environment and well-being. Besides being more affordable, the containers reduce Carbon dioxide emissions.
To better understand the shipping container concept, it's helpful to know some background on why the containers were first designed, as well as their attributes and strenths.
Created to transport goods safely and quickly across the sea and land, the containers had to be:
Big enough to hold thousands of cubic feet of goods, but small enough to fit on a truck and drive on normal roads.
Strong enough to survive on any journey at sea, but light enough to be moveable with cranes, forklifts, and other material handling equipment
Uniform enough that any truck or ship could hold any container, but flexible enough that they could be used for dry goods, refrigerated goods, bulk liquids, etc.
Throughout the years, most countries have used the containers to import goods on a much higher volume and frequency than they can export them, resulting in millions of shipping containers accumulating in warehouses and shipyards around the world. The reason is that besides the container life span, to receive new shipping containers is cheaper than sending it back empty to the suppliers resulting in containers waste. A recent documentary on The National Geography Channel estimated the number of unused shipping containers to be approximately over two hundred million.
You can check the documentary at https://www.youtube.com/watch?v=jr4Sy4vH5u0
Taking this surplus situation into account, it is noticeable that the unusable shipping containers need a solution to avoid worst consequences to the environment, therefore the fact that its structures is strong enough to structure buildings, it would contribute to reduce the waste of containers, promoting a sustainablity.
Many homes, villages, offices and commercial buildings are sticking to the idea of the shipping container as an architectural solution due to the benefits it brings the construction and to the environment. Such as:
Reduce Carbon emission
Conserve natural resources
Landfill space
Reuse of waste material
Materials age well and require very little maintenance
Low Structural Cost - High Strength
Short Construction Time
Unlimited Potential for Difficult Sites
Some of Container buildings use hybrid construction, mixing containers with traditional construction as The Mill Junction student apartments in Johannesburg, South Africa, which uses containers placed on top of old grain silos. Others, as the Starbucks in Taiwan, is completely made of it, consisting of 29 white shipping containers, designed by the architect Kengo Kuma.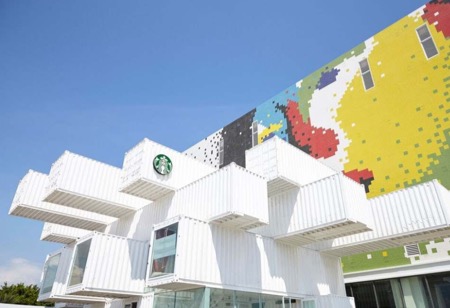 Starbucks Taiwan, Kengo Kuma Architect
Besides the sustainable solution, the shipping container architecture presents the most economical and effective solution for those who are less fortunate and in need of a home. An example is the UK's largest temporary housing development for homeless people in west London providing 290 Homes. Built in 24 weeks by the QED company, attended the village emergency of accomodation. Ross Gilbert, Managing Director, of QED said: "We are committed to playing our part in addressing the housing crisis. We need short, medium and long term solutions and Meath Court is a short term solution to emergency accommodation. Throughout the planning and public consultation of the development we have ensured that Meath Court provides emergency accommodation that has its own kitchen, bathroom and front door which is safe and secure, all features that many emergency accommodation solutions don't provide."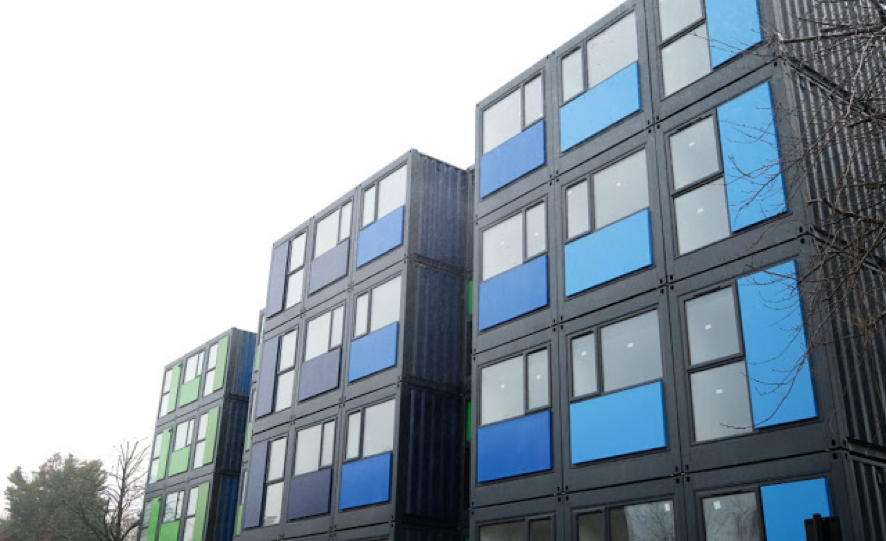 UK's biggest shipping container village

Having all this knowledge about shipping containers, it is easier to see how much they have to contribute to green buildings and greener living. If we add all the concepts about energy and water saving to the shipping container buildings, we can achieve higher performance. A great example of a green building using shipping container is the Green Technology Showroom. Located in Beijing was designed by the Chinese architect Gong Dong of Vector Architects as a temporary structure.

The authors explain "The project stems from the idea of ​​developing the concept of "temporariness" from a significant perspective; to realize a floating "installation" inside a garden that could be easily built, demolished and recycled, with the least possible impact on the context ".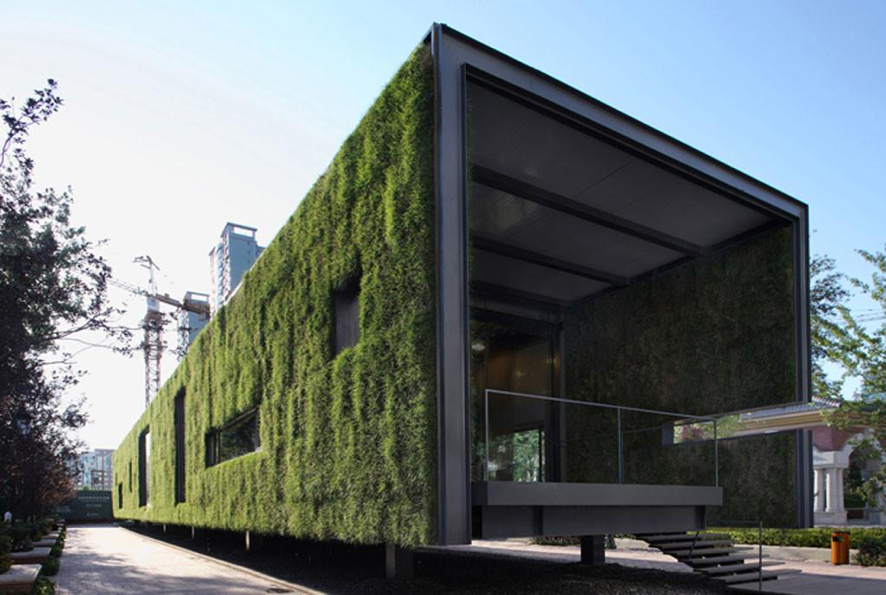 However, it is important to be aware of some prerequisites and challenges you might face when using shipping containers. Containers are made of corrugated metal 'sheathing', which means, while cold environments can easily freeze the container home, hot and humid climates can elevate the temperature, resulting in an uncomfortable living space. This fact shows the necessity of properly insulation depending on the construction location, to ensure healthy and safe living conditions. The insulation can be placed on either the inside or outside, which is true for most cases but not all. Also HVAC need to be considered in some cases of harsh winter or hot summer depending on the locations.
Overall, when thinking about green construction, the shipping container's structure has more to add to the building efficiency than to challenge it. Knowing how to use them correctly and optimally, while reducing time and money also helps the environment and people's health. This is a trend that can greatly improve the quality of life of future generations.
Further Reading:
https://www.archdaily.com/903357/kengo-kuma-creates-starbucks-store-in-taiwan-from-29-shipping-containers?ad_medium=widget&ad_name=navigation-next

https://www.researchgate.net/publication/315196750_GREEN_BUILDINGS_
How_to_Start_A_Shipping_Container_Building_Project
https://www.climate-change-guide.com/why-are-shipping-containers-a-green-building-solution.html
https://www.conserve-energy-future.com/shipping-container-architecture-sustainable-housing.php
https://www.discovercontainers.com/fundamentals/
https://www.discovercontainers.com/sustainable/
https://www.discovercontainers.com/learn/
https://www.archiportale.com/news/2008/12/concorsi/a-pechino-uno-showroom-verde-temporaneo_13567_30.html
https://www.bigissue.com/latest/uks-biggest-shipping-container-village-opens-homeless-people/
https://www.themicrolife.co.uk/2017/12/uks-biggest-shipping-container-village.html
https://www.lamag.com/citythinkblog/shipping-container-homeless-housing/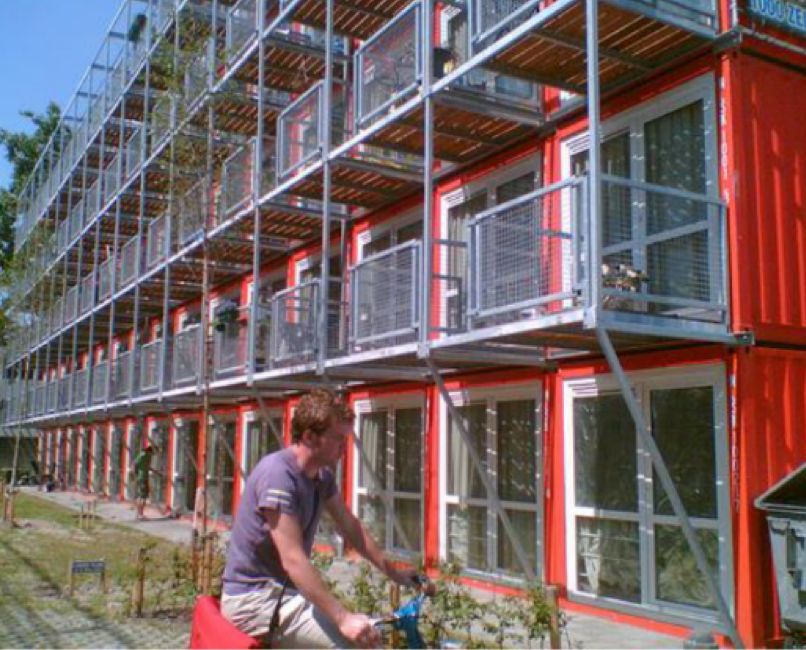 MIXED-USE Amsterdam's massive Keetwonen complex houses 1,000 students.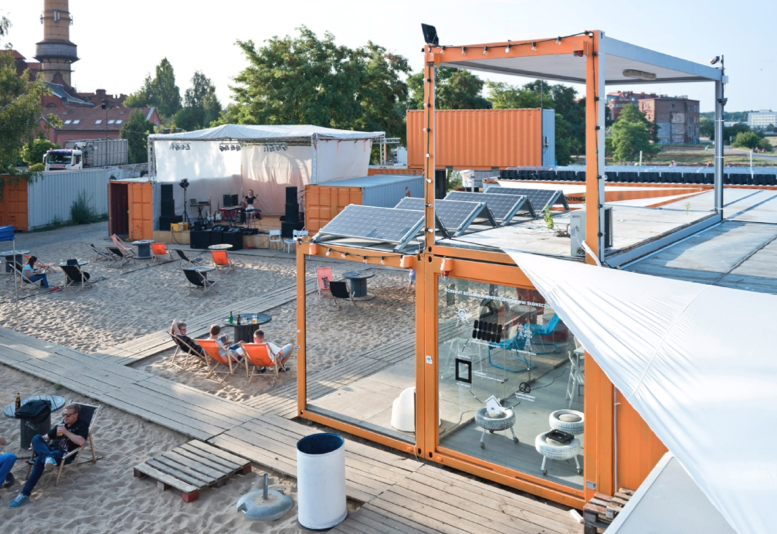 Kontenerart 2015 / Adam Wierciński Architect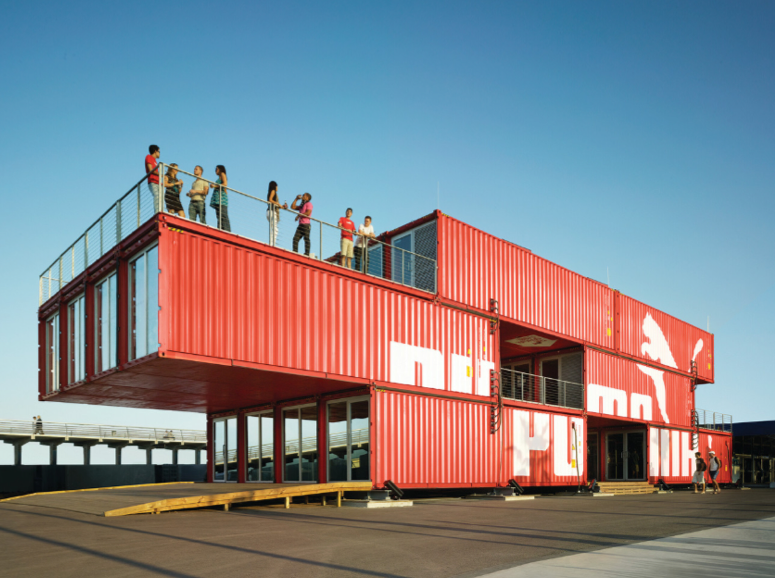 PUMA City, LOT-EK founders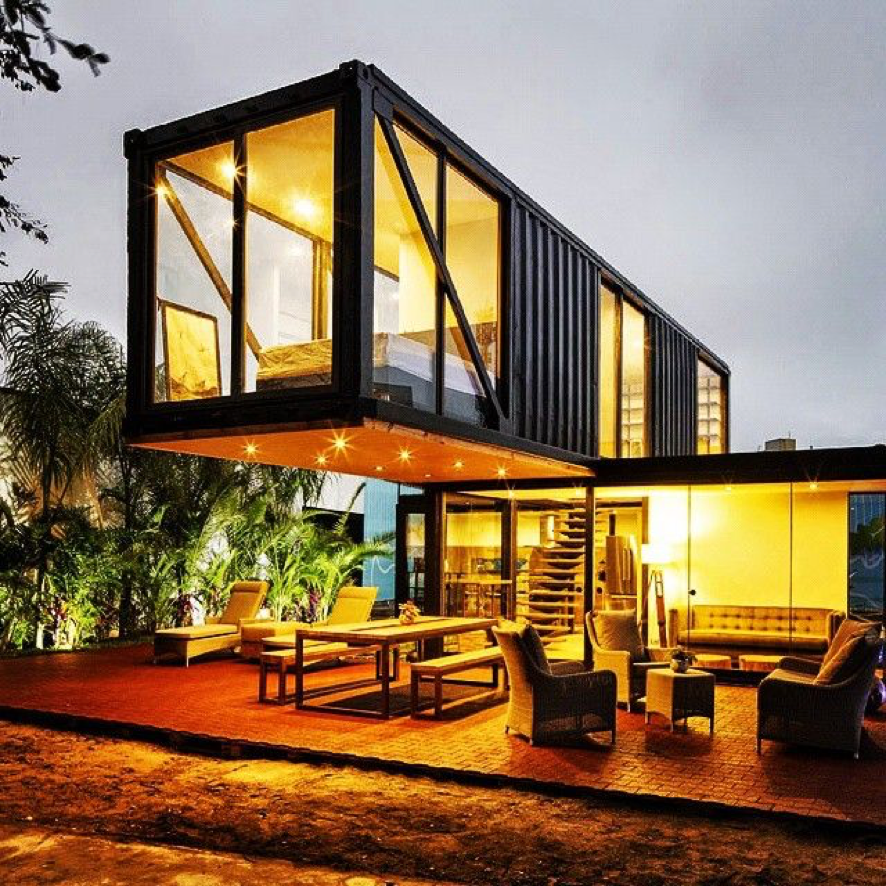 House made of Shipping Containers - Unknown Architect.

I am an Architect and Urban Planner graduated in Brazil and working with architecture since 2013. Nowadays I am living in Boston area. I have Zero Energy Building course completed in Harvard Extension School and this year could get my LEED GA credential. My interest in Sustainability and Green Buildings is growing up every day and becoming my focus, therefore my aspiration is to gain more experience and help people with my expertise.
( 0 ) Ratings
( 5 ) Discussions
( 5 ) Group Posts
Reply/Leave a Comment (You must be logged in to leave a comment)
Connect with us!
Subscribe to our monthly newsletter:
Read More


Sponsored Listings
Related Posts
Read More