Stephanie Horowitz of ZeroEnergy Design, Interviewed by Architectural Digest on Architecture and Climate Change

Rate It Green Team
0 Ratings
94 Discussions
6 Group posts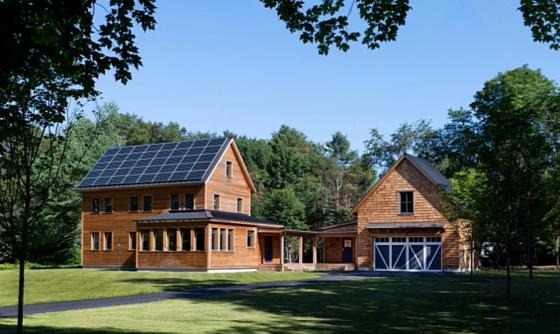 Stephanie Horowitz, Managing Director at ZeroEnergy Design, a Rate It Green Member, was recently interviewed for an article by Elizabeth Stamp of Architectural Digest: "How the Architecture Industry Is Reacting to Climate Change." The article discusses the energy use and CO2 emissions that building construction contributes, and the opportunity and responsibility the field has to make an impact.

Stamp begins with a review of key and updated energy and emissions statistics from the United Nations Environment Programme 2019 Global Status Report for Buildings and Construction. According to the report, buildings and construction accounted for 36 percent of energy use and 39 percent of energy and process-related CO2 emissions in 2018.
Building energy efficiency must be improved by 3% each year in order to meet benchmarks for the Paris agreement and the UN's Sustainable Development Goals, and it will take sigificant effort and a trajectory change to reach these goals. According to Jesse Keenan, Ph.D., a lecturer at Harvard University's Graduate School of Design and John F. Kennedy School of Government in Science, Technology, and Public Policy, the follow up to early 1970's fledgling and promising efforts has been insufficient. According to Keenan, "We're running out of time….Everybody has to do everything. It has to be the AIA, the profession, the state licensing boards, and the schools of architecture and design."

With regard to these climate change goals, ZeroEnergy Design's Stephanie Horowitz states, "When we look at the upcoming benchmarks for climate change, they're coming in 2030 and 2040 and 2050….The homes and the buildings that we're designing and building today are going to carry us well through those targets and if we're not building them to be in alignment with those goals, what's the point?"

The article also highlights the challenge and opportunity presented by existing buildings. "According to the AIA, approximately 95 percent of all buildings in the U.S. are more than a decade old, and 82 percent of the country's commercial buildings were built prior to 2000, before building energy codes for design and construction were modernized." Horowitz comments, "the new homes that we design and build are the low-hanging fruit. The challenge is the existing housing."

Overall, the article suggests that the industry needs to overcome key challenges in order to reach the benchmarks to fight climate change, including continue cost perceptions and a lack of connection in many projects between the developer and those who will realize energy and other operational savings in the longer term. Ingenuity in years ahead is possible and will be crucial to winning that fight. It's a good sign and a significant development that the American Institute of Architects (AIA) passed a resolution in 2019 which called for its 90,000+ global members to "exponentially accelerate the decarbonization of buildings, the building sector, and the built environment." The resolution also included a call for a multi-year program for education and advocacy. Bjarke Ingels, founder of BIG points out that it also doesn't hurt and can certainly help to have some great, leading examples, as, "…once something is built, it goes from the realm of imagination into hard facts." The article includes a reference to a super example, ZeroEnergy Design's net-positive Lincoln, Massachusetts farmhouse.
To read the full article in Architectural Digest: https://www.architecturaldigest.com/story/climate-change-design-architecture
United Nations Environment Programme 2019 Global Status Report for Buildings and Construction:
https://www.unenvironment.org/resources/publication/2019-global-status-report-buildings-and-construction-sector
Image:
ZeroEnergy Design's Net-Positive Farmhouse in Lincoln, Massachusetts
Chuck Choi Photography
Please be kind and respectful!
Please make sure to be respectful of the organizations and companies, and other Rate It Green members that make up our community. We welcome praise and advice and even criticism but all posted content and ratings should be constructive in nature. For guidance on what constitutes suitable content on the Rate It Green site, please refer to the User Agreement and Site Rules.
The opinions, comments, ratings and all content posted by member on the Rate It Green website are the comments and opinions of the individual members who posts them only and do not necessarily reflect the views or policies or policies of Rate It Green. Rate It Green Team Members will monitor posted content for unsuitable content, but we also ask for the participation of community members in helping to keep the site a comfortable and open public forum of ideas. Please email all questions and concerns to admin@rateitgreen.com