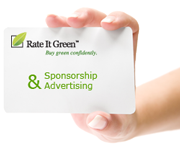 Advertising and Partnering with Rate It Green is a great way to gain exposure to our Green Building Community, and to show your organization's leadership and commitment to expanding the market for green building products and services. Many Members come to Rate It Green just as they need to find information about materials and services for Impending projects. They are eager to learn more about your business!
Premium Listings:
Premium Listing Upgrades offer an opportunity to stand out as a green building leader to Rate It Green's Visitors and Members. Click to learn more about priority sponsor listing placement, embedding hyperlinks, adding images, photos, categories and videos to your listings. Additional benefits include significant advertising discounts and sharing your company news through Rate It Green's promotional campaigns.
Advertising:
Rate It Green offers a variety of advertising sizes and placements to fit your company's needs and interests. Premium Listings qualify for significant Advertising Discounts, from our home page ads to specific discussion topics and directory category pages. We will partner to determine where your organization can benefit most.
News/Social Media:
Work with Rate It Green to promote your news and events. Through the Rate It Green's Product and Service Directory, online Community and Network, our monthly Newsletter, and Social Media opportunities, we can help spread the word about your organization's accomplishments.
Additional Opportunities:
Platinum and Custom Opportunities are available. Email marketing@rateitgreen.com for more information.
There are MANY ways to partner and collaborate, and to create win-wins. Let's connect!