A Call for Village Conservation Communities (VCC) - A Substantive Conservation Approach to Real Estate Development

Conservation Village Planner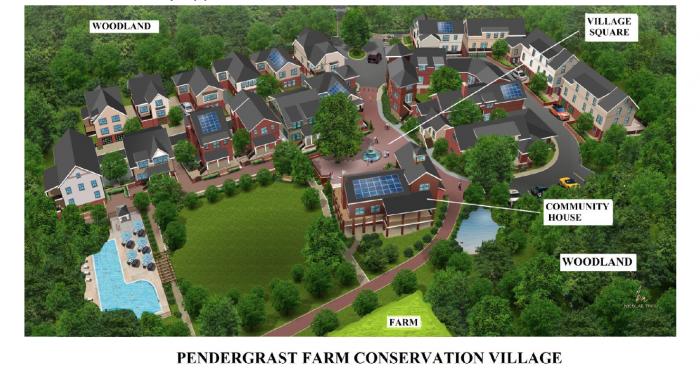 Our last forests in and around the city of Atlanta (The City of Trees) and elsewhere are under assault - sites needlessly being cut and scraped to further a suburban conventional style development pattern that has consumed most of the woodlands and farms in and around Atlanta - leaving us now with a limited number of "forest enclaves" on the remaining private tracts of land awaiting a similar fate. So, what can be done to turn this devastating trend around and save the majority of these remaining forested areas?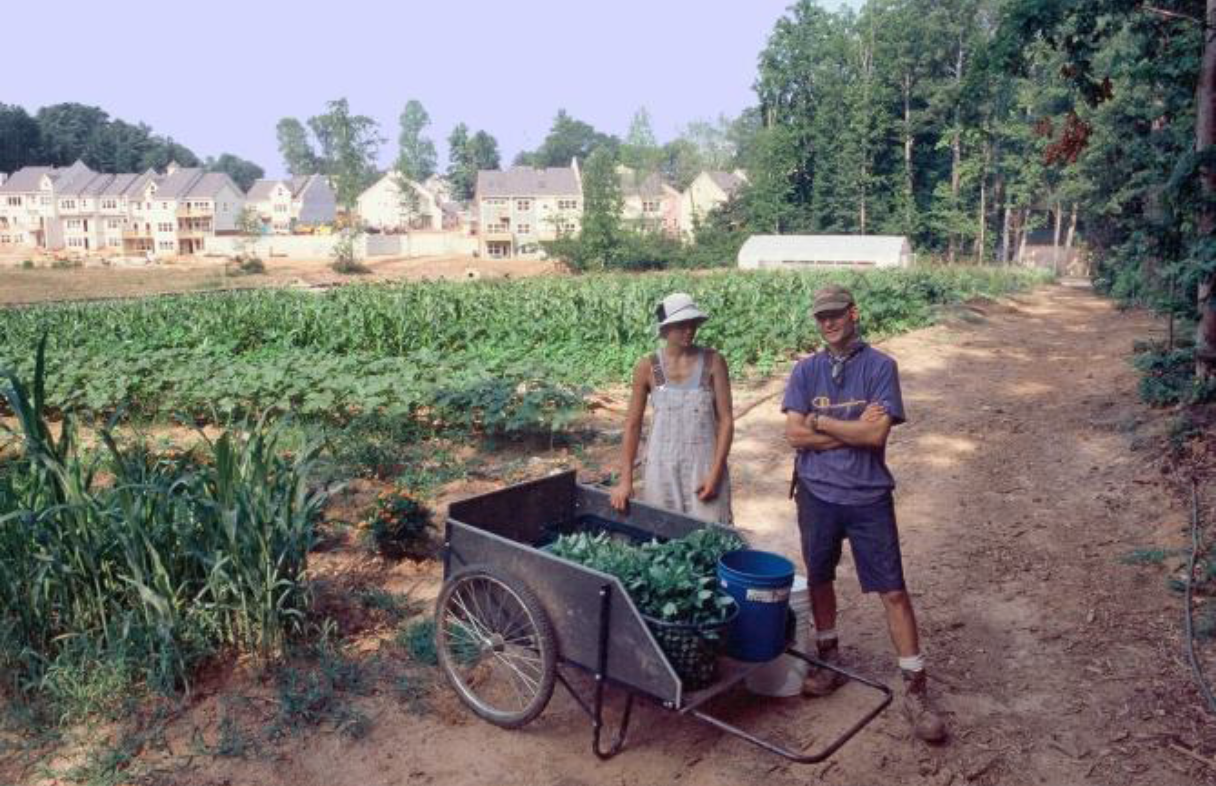 What we need is a substantive conservation approach to real estate development, a way forward to develop land that is competitive financially with conventional development, preserves the majority of our forested areas, re-integrates urban farms and brings people together around a renewed connection to the land with nature and farm based activities.
Clustering the development into walkable villages and hamlets while preserving the majority of the green space on site and connecting to adjacent preserved green spaces.
We call this development approach a "Village Conservation Community" (VCC). An age-old traditional approach to development that was the norm prior to the advent of the automobile and suburban development.
Our company, Village Habitat Design has been planning and promoting this type of development since our first village conservation community - East Lake Commons - 20 years ago. Consisting of a 67 homes village cluster placed on 40% of a 20 acres site, East Lake Commons preserves 60% of the site as woodlands and a farm that has provided fresh vegetables and fruits for the village for the last 20 years. Love is love farm is the most recent farmer in a sequence of farmers over the last 20 years.
In order to promote substantive conservation, Village Habitat Design recommends the following conservation ratios:
Downtown Urban Sites: preserve a minimum of 20% of the buildable site area
Intown Sites: preserve a minimum of 50-60% of the buildable site area
Suburban Sites: Preserve a minimum of 60-80% of the buildable site areas
Rural Sites: Preserve a minimum of 80-95% of the buildable site areas


Benefits of Village Conservation Communities
The following substantive advantages accrue in the development of a Village Conservation Community.
Conservation of Land
The conservation incentives are substantial. Keeping the "scrape and grade" impact to a minimum and preserving the majority of the site for woodlands, urban agriculture, recreation and expanded stream buffers.
Additionally, Conservation
A community can incentivize adjacent landowners to create opportunities for larger offsite open space connections.
Community Benefits
Existing surrounding neighbors benefit from larger buffers placed between existing homes and the new development as well as access to the preserved nature and farm-based amenities.
Future homeowners benefit from a place oriented development with:
Easy walking distance to woodlands/farm gardens, farm to table dining and recreation
Little or no yard maintenance (streets, common areas and private courtyards are maintained by the HOA landscape services or by the resident farmer/caretaker
More opportunities to explore hobbies in the community maker space and potential for home and neighborhood based workplaces
The knowledge that their children can be free to safely explore nature and walk or ride a bike to visit neighbors
Food and energy resilience through farm fresh produce subscriptions and efficient Earthcraft solar homes.

Pedestrian Priority
The community is designed to be pedestrian prioritizing with internal "Woonerf Streets" (designed as a shared street for slow moving vehicles and for pedestrians). Portions of the street and the village plaza are pedestrian only use protected by bollards and most of the homes face walking paths to the woodlands or to the farm.
Development Incentives
Developers can benefit substantially from marketing advantages, infrastructure savings, a unit bonus and simplifying zoning and permit processes. Village Conservation Community development can incentivize conservation in an environment where regulations often are not supported.
Marketing advantages accrue from the desire of buyers for smaller, easier to maintenance lots and homes overlooking and within easy access of preserved woodlands, urban farms and recreational opportunities. The combination of a more diversified product, smaller lots and downsized homes permits a broader price range making the final product more marketable as well as more compatible with neighborhoods and their housing needs.
Infrastructure advantages accrue from clustering homes and can save 15 to 25% of infrastructure costs compared to sprawling lots across a site.
Unit bonus benefits accrue because conservation lots are significantly smaller than suburban styled lots. The potential for adding 10 to 30% more conservation lots to the development achieves lot value equivalency between the larger suburban lots and the small conservation lots which insures a development that is equally or more competitive to conventional development.
Zoning advantages: Neighborhoods have a much higher likelihood of supporting Village Conservation Communities due to the increased buffer between the new development and their existing homes and the preserved lands with trail access to farms and woodlands.
Case Study/Active Project:
Dennis McConnell (Earth Craft home developer) and Greg Ramsey of Village Habitat Design (villagehabitat.com, and the author of this piece) are developing Pendergrast Farm Conservation Community as a model for this type of infill conservation development on one of the last remaining forest enclaves on Briarcliff Rd in Dekalb County. Located at 3398 Briarcliff Rd. NE Atlanta, GA 30345, Pendergrast Farm Conservation Community is expected to break ground Spring of 2021.
The 8.7-acre Pendergrast Farm is clustering 20 units of residential development into a 2.6-acre village cluster and preserving 6.1 acres (70% of the property as woodland and a 1 acre urban farm). The property was rezoned from R100 (large lot suburban) to a site plan specific village cluster and conservation area to enable this Village Conservation Community (VCC).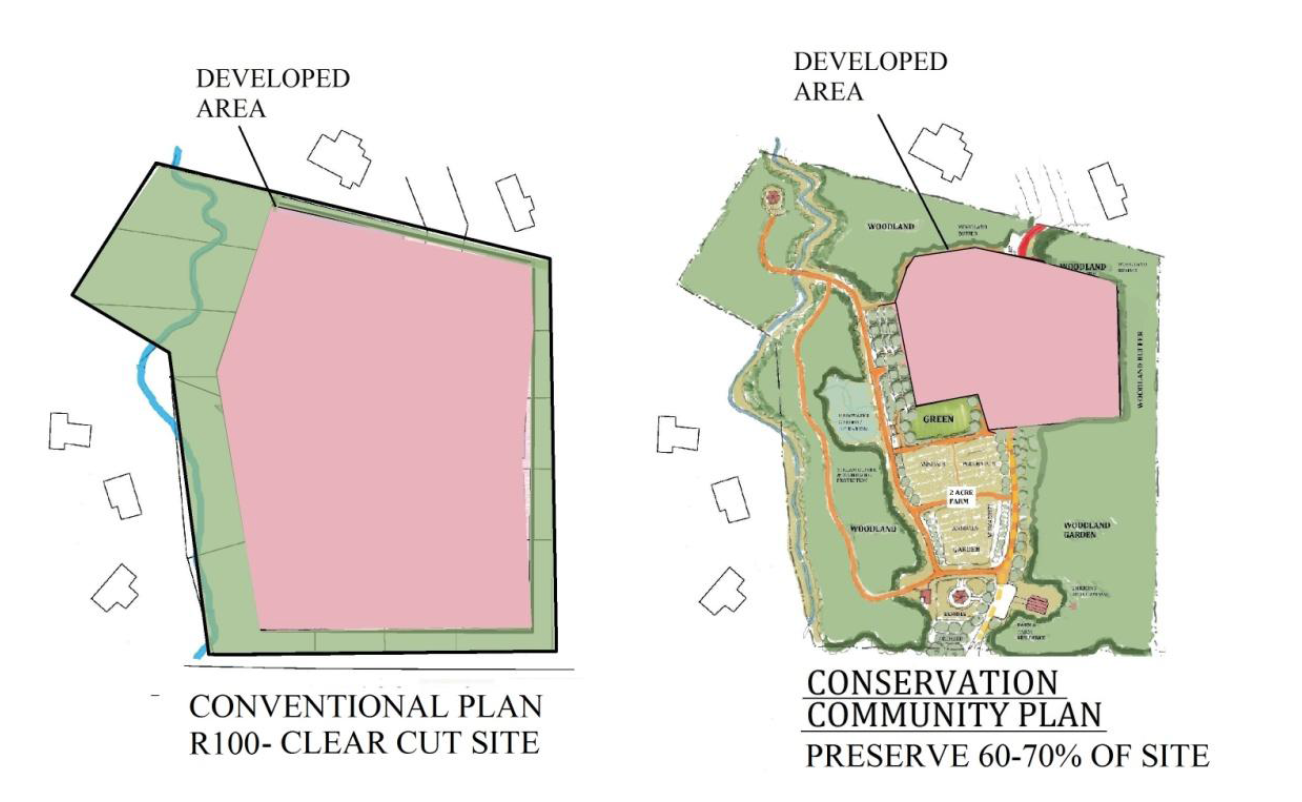 The "cut and scrape" diagrams illustrate the difference between the mass grading required for R100 large lot suburban zoning and the limited "scrape and grade" for the Village Conservation Community cluster. In the R100 diagram, the lots are a minimum of 15,000 sq ft in size while in the conservation village cluster the lots vary from 3000 to 6000 sq ft enabling the preservation of the 6.1 acre 6 acre preserve. This preserve will function as a community land trust and will be protected by a conservation easement
Key components of the Pendergrast Farm Conservation Community will include the following:
A. 6.1 acre preserve: 70%of the site at Pendergrast Farm will be preserved with a conservation easement with an opportunity for additional conservation of adjacent forest areas to create a contiguous forest canopy corridor. Conservation community development often initiates the preservation of contiguous green spaces. The 6.1 acre preserve will use a community land trust model to manage the preserve. This will enable the land trust members to interact in a variety of farm and nature-based programs.
B. Urban Farm: Part of the 6.1 acre preserve will be a 1acre farm that will produce vegetables, fruits and eggs for the Pendergrast Farm residents and participating neighbors within walking distance. In addition, the farm will provide events and farm-based education programs. Biodynamic farm practices will rebuild healthy soils as well as compliment the natural habitats with pollinator gardens and other natural farm-based habitats.
C. Solar Village: A 20 unit solar village with homes that are high energy performing (Earthcraft homes) will create the potential for a net zero energy village.
In closing, Woodland and farm based village conservation communities such as Pendergrast Farm are not only good for existing neighborhoods, future residents and developers, but they also create tremendous resilience and hope in a world facing uncertainty regarding climate change, loss of bio-diversity, pandemics and social dis-connectedness. This model can protect nature, provide urban farms ,food and energy resilience, reduce stress on infrastructure, improve health through walking and connection to nature and help incubate small neighborhood businesses. To implement additional conservation communities, we urgently need to change the conventional car and sprawl based development model and incorporate Village Conservation Community opportunities.
( 0 ) Ratings
( 0 ) Discussions
( 0 ) Group Posts
Reply/Leave a Comment (You must be logged in to leave a comment)
02 - of - 02 Comments
A substantive conservation approach to real estate development is crucial to reach a more eco-friendly industry.
By KennyST I Mar 23, 2021
Planning really works to lay a good foundation for sustainable communities. With a community champion, anything is possible.
By Sarah S I Apr 07, 2023
Connect with us!
Subscribe to our monthly newsletter:
Read More


Sponsored Listings
Related Posts
Read More