2020 Realtors & Sustainability Report – Tracking Interest, Awareness and Demand for Green Real Estate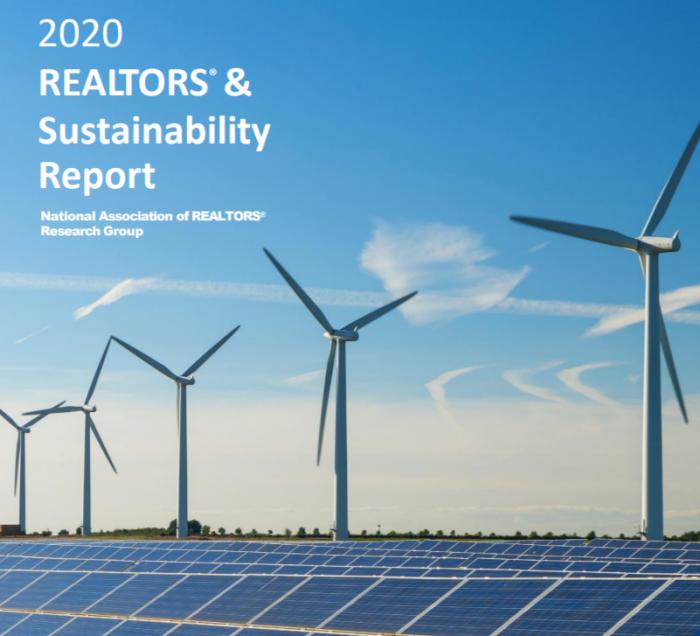 The National Association of Realtors (NAR) recently published the 2020 Realtors & Sustainability Report, which presents survey research from consumers, trade associations, brokers, real estate agents, and numerous agencies in order to identify the growth of sustainability in real estate. In addition to other positive indicators, the report seems to show that the real estate industry is progressively changing as demand grows for more sustainable and energy efficient homes and workplaces.
The real estate industry has a potentially significant role to play as well as a large growth opportunity when it comes to sustainability, which includes energy efficiency and climate change mitigation. According to the United Nation Environment Program, about 36% of global energy use and 39% of energy-related carbon dioxide emissions are due to buildings and their construction. In the United states alone, about 40% of energy consumption is due to residential and commercial buildings, according to the U.S. Energy Information Administration. Considering greenhouse emissions all together, globally, about 30% derive from commercial real estate, and emissions are projected to reach up to 50% if we continue to follow the current business-as-usual path.
Data seems to support that green building design, materials, and practices are being increasingly adopted by building owners and investors. In fact, according to a SmartMarket Report, published by the National Association of Home Builders (NAHB), about 57% of building owners surveyed plan to make a majority of their projects green by 2021. Market Research Future predicted a 10.26% CAGR growth rate in the five years ending 2023. This growth is in line with rising climate change awareness, a growth in the number of certified green buildings, and supportive government policies encouraging sustainable construction and retrofits.
Christina Mathieson, a USGBC LEED GA professional and real estate agent, helps explain why clients may be seeking greener homes, "Buyers are increasingly interested in sustainability and high-performing homes with green features for several reasons. One is the 'green' of the earth – people are paying attention to what's better for the future generations and want to do what they can. Second, the 'green' of the dollar; millennials and younger buyers know that sustainable living works, and they see no reason to waste money. And third, sustainable living makes for a healthier home for its occupants, by virtue of clean and better indoor air quality." The real estate market is very competitive, and when you have green features within a home, it helps make the property stand out from the rest.
In fact, in a separate NAR survey, when home buyers were given the option between green over non-green amenities, data shows that they preferred the green, environmentally friendly choice. Among the report's findings, "68% of buyers want an environmentally friendly home; 46% would pay an extra $1,000 to $9,999 on a home with green features that saves $1,000 annually on utilities; and 37% would pay $10,000 or more."
The National Association of Home Builders (NAHB) has also collected data that found the most wanted green attributes in people's homes today. Consumers ranked the following features either "essential" or desirable":
"Energy Star-rated windows (89%)"
"Energy Star-rated appliances (86%)"
"Energy Star rating for the entire home (81%)"
"Efficient lighting (vs. traditional light bulbs) (77%)"
"Triple-pane insulated glass windows (77%)"
"Insulation higher than required by code (73%)"
"Water-conserving toilets (63%)"
"Low-e insulating glass windows (62%)"
"Tankless water heaters (61%)"
"Solar water heating/electric system (59%)"

The NAR Sustainability report presents information by residential and commercial real estate. Some key highlights from the residential report, as presented by NAR, are as follows:
Respondents reported that residential consumers were 61% interested in sustainability
Comfortable living spaces, proximity to frequently visited places, windows, doors, and siding were among "very important" home features clients want
Respondents determined that 70% of energy efficiency promotions were "very" or "somewhat" valuable in listings
Properties with solar panels increased the perceived property value, at 41% said they did
Agents and brokers report that a majority of consumers, well over half at 61%, were somewhat interested or very interested in sustainability. Estimation of consumer interest in sustainability are as follows: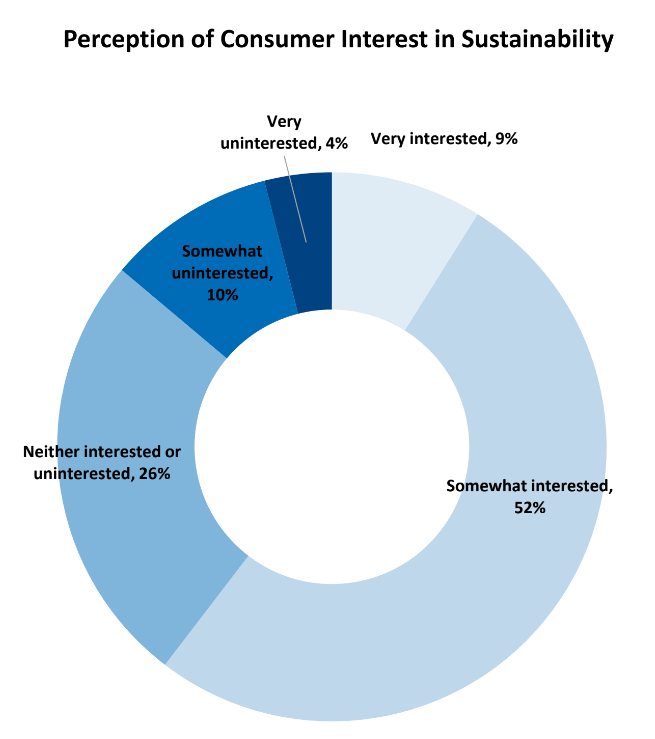 To look deeper into the importance of home features to clients, the following graph shows the survey results taken from the NAR report: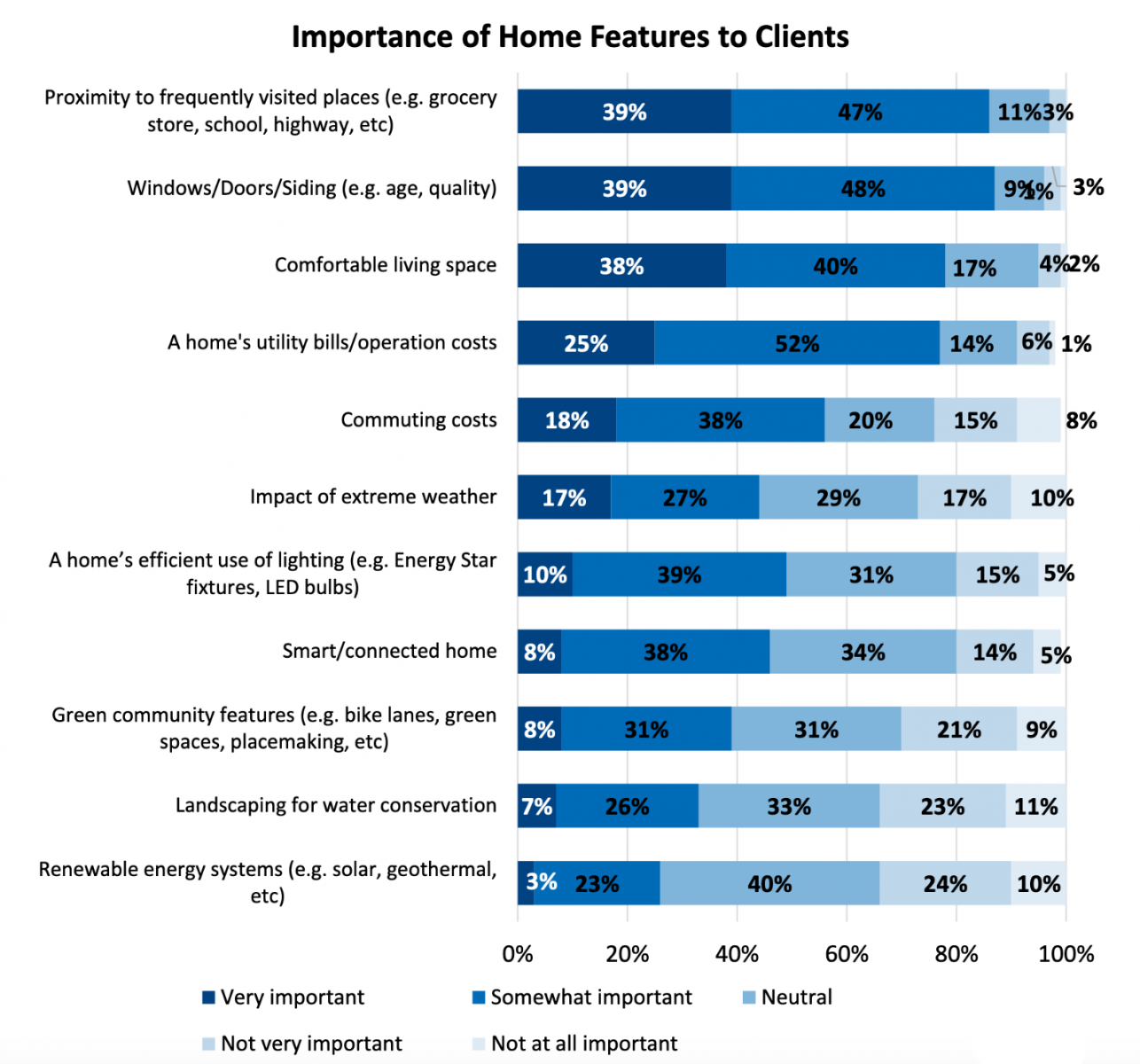 With increasing demand for eco-friendly, sustainable and energy efficient homes, is it too good to be true? Is it simple enough to just want a 'greener' home? The 2020 Realtors and Sustainability reports also breaks down the issues facing the real estate industry with regard to sustainability, which include: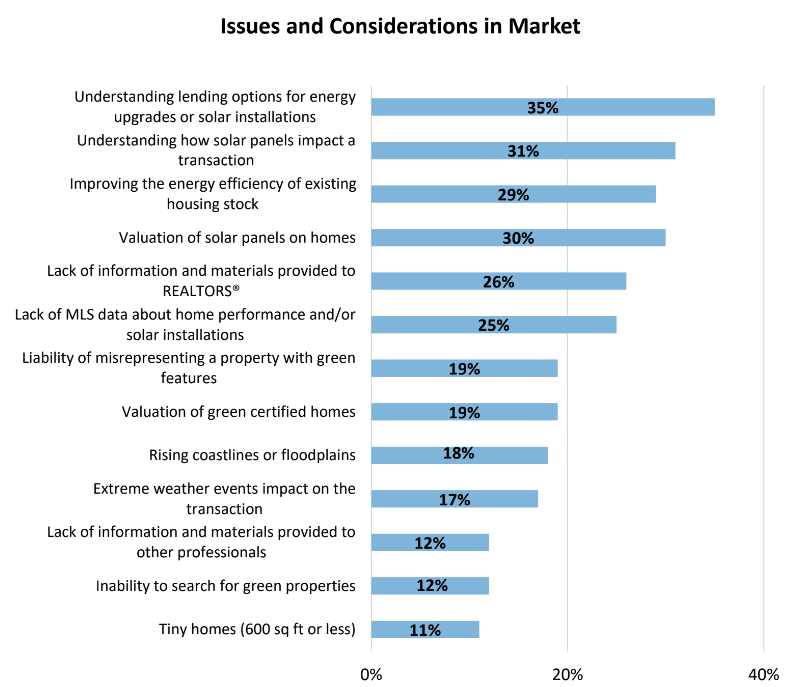 A significant challenge facing residential realtors today is the lack of understanding about how energy-efficiency in home improvement impacts property values. 51% of survey respondents said they did not know the impact of a high-performance home impact on the dollar value of a property. A high-performance home is a systematic building science approach to home improvement that increases indoor comfort, health operational efficiency and durability. Realtor Magazine explains, "Agents and brokers expressed wanting more information to help their clients on lending options for energy upgrades or solar installations as well as how to improve energy efficiency of existing housing stock." It is noted that there is an information gap where agents and brokers are not feeling confident in the information they present. To look at the comfort level to clients' questions about home performance, the NAR report shows that about 40 % of respondents were either comfortable or extremely comfortable when answering those certain questions, considering that considering about 18% of respondents had clients ask for advice when dealing with energy efficiency upgrades. The following graph, from the NAR report, will show the comfort level percentage breakdown: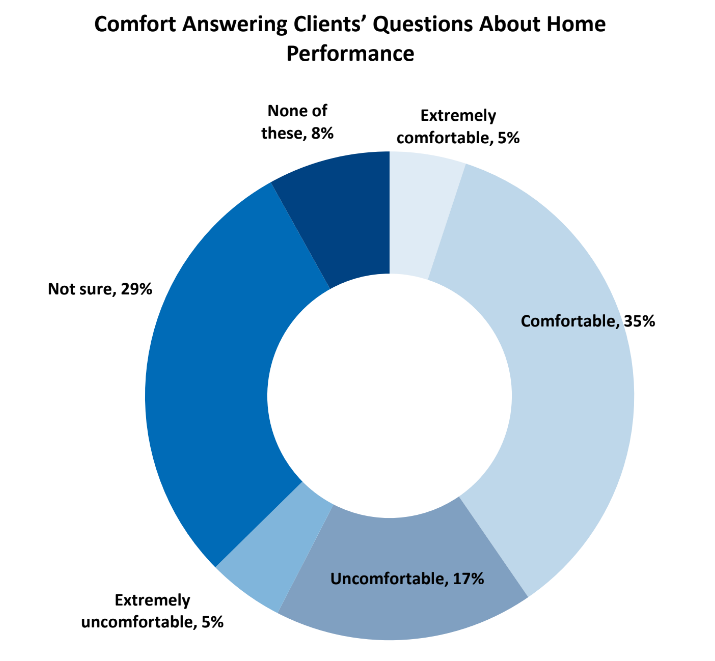 It is therefore important for buyers interested in sustainability to choose a real estate professional who is more familiar and can easily identify green features, suggests the best paying options, and knows how to value and market green features and amenities to sellers. The graph below presents another depiction of the confidence level that agents have in connecting clients with green lenders. The highest response rating was "not sure", at 39% when connecting a client to a lender who can provide products that encourage energy efficient improvements to existing homes.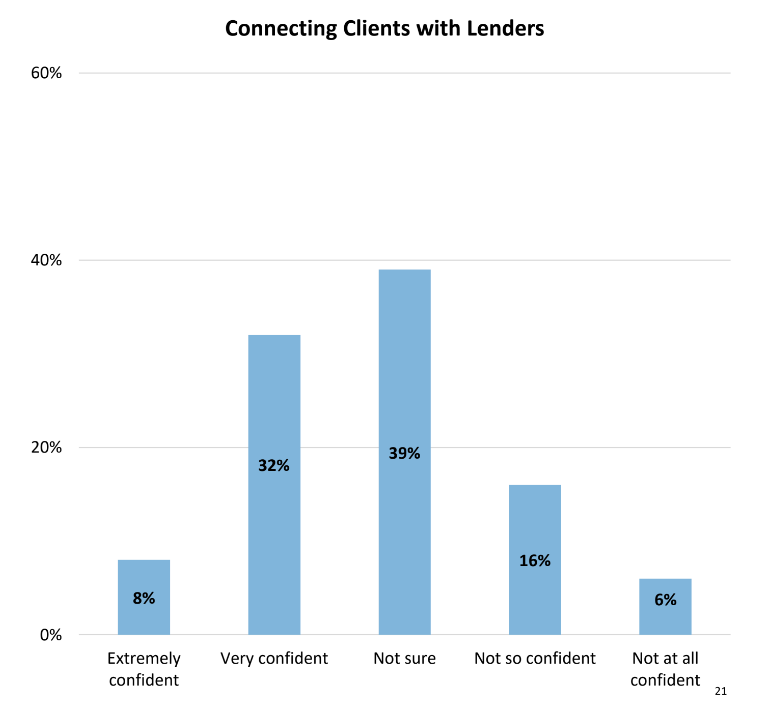 Commercial real estate is also seeing a sustainability increase. Increasing legislation to meet climate goals is a major driver of demand, but companies are also finding that more sustainable buildings deliver benefits that include: Significantly lower operating costs, increased asset value and rents, increased productivity (including and partly due to fewer sick days), increased employee morale and recruiting/retention benefits. More and more, companies are recognizing that green and healthy building attributes are directly tied to employee comfort and productivity – which of course have a direct impact on the bottom line.
What are top green commercial features? The Journal of Real Estate reported in 2017 that natural light, efficient HVAC, water conservation, public transit, electric car charging stations, onsite fitness facilities, and access to services, with an emphasis on the presence of green labels, significantly contribute to rental premiums independent of the green labels and persist as value enhancements. It is worth noting that while these factors may remain important, they are very likely changing due to current healthy building concerns.

Key NAR commercial report highlights are as follows:
Similar to the residential report, 74% of respondents determined that energy efficient promotion were "very" or "somewhat" valuable in listings

There was a response rate of 58% who felt "extremely comfortable" or "comfortable answering client's question regarding building performance

Similar to the residential report, utility and operation costs, indoor air quality, efficient use of lighting, windows, doors, and furnishings were among the most important building features to clients
Real estate agents and brokers also found that a majority of commercial clients were interested in sustainability within residential buildings, concluding the following: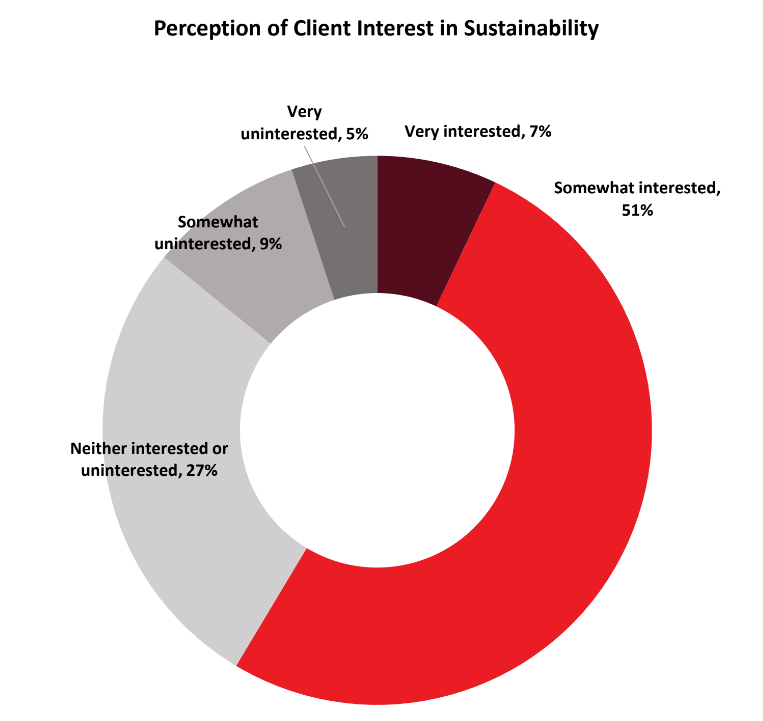 The importance of building features to clients that NAR found while conducting the report were as follows: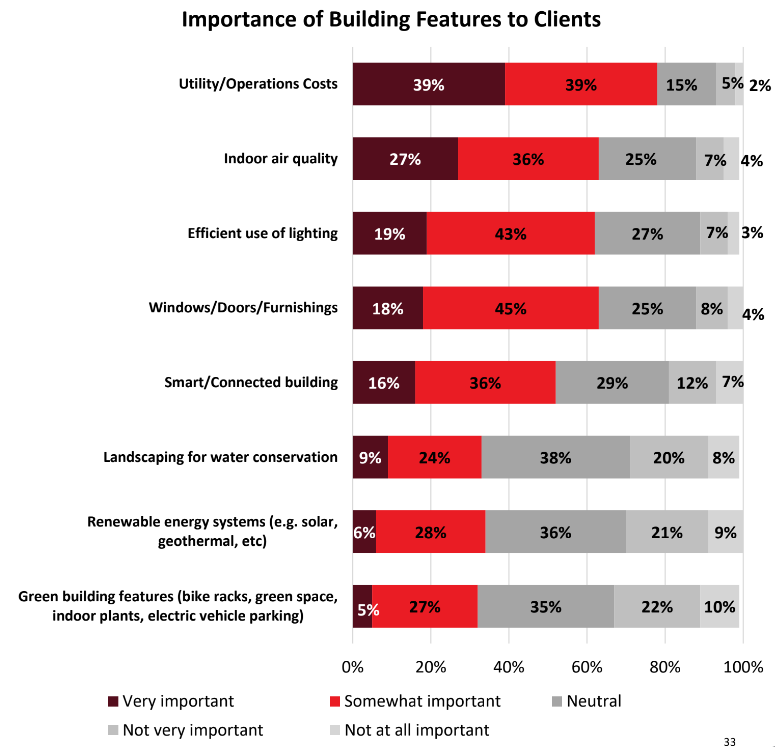 According to the 2020 NAR Sustainability report, the most prominent issues facing the commercial real estate market are as follows: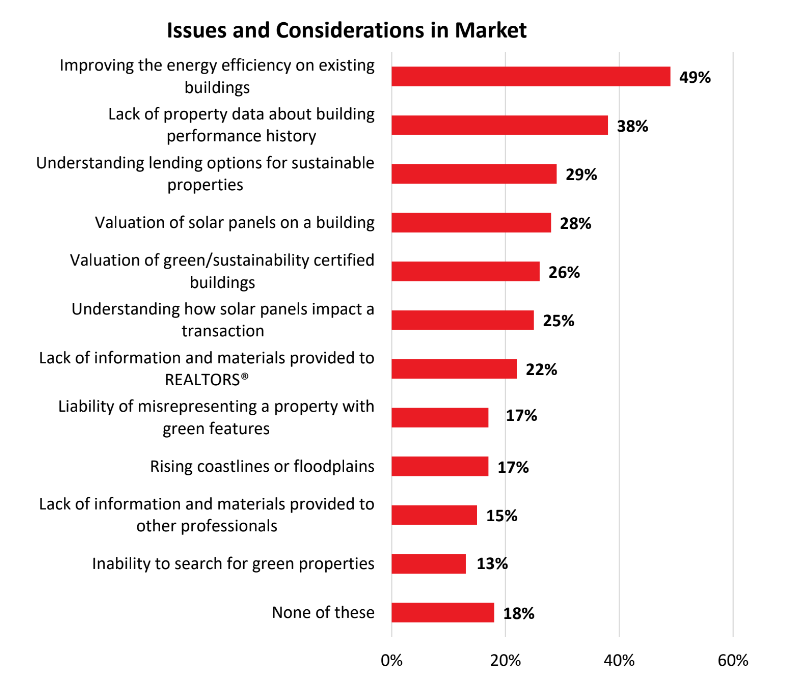 With green building becoming more prevalent in real estate, it is clear that there is still significant room to grow. Organizations like NAR are doing their due diligence in developing reports that help educate and analyze the importance of eco-friendly homes and offices, greener built environments, sustainable practices, and healthy living.
The references to the 2020 Realtors® & Sustainability report used here are conducted and completely reserved by the National Association of Realtors® research group. The report helps show the trends and statistics in the real estate market and will help organizations, businesses, company's and homes improve their practices on sustainability but it will help save the planet for the future.
To read the the full NAR 2020 Realtors & Sustainability Report:
https://www.nar.realtor/sites/default/files/documents/2020-sustainability-04-30-2020.pdf

For more information about NAR & NAR Sustainability:
https://www.nar.realtor/about-nar
https://www.nar.realtor/sustainability

Thumbnail image:
https://www.nar.realtor/sites/default/files/documents/2020-sustainability-04-30-2020.pdf
References:
Copyright ©2020 "REALTORS® and Sustainability." NATIONAL ASSOCIATION OF REALTORS®. All rights reserved. June 17, 2020, https://www.nar.realtor/research-and-statistics/research-reports/realtors-and-sustainability?hs_social=twitter&hs_profile=nardotrealtor&hs_sid=04b9e4ca-99fd-47b3-8e8c-3bf88c12ad7c
https://www.marketresearchfuture.com/reports/green-building-market-4982
https://www.hsh.com/first-time-homebuyer/top-green-home-features-buyers-want.html
https://www.nar.realtor/research-and-statistics/research-reports/realtors-and-sustainability?hs_social=twitter&hs_profile=nardotrealtor&hs_sid=04b9e4ca-99fd-47b3-8e8c-3bf88c12ad7c
https://rismedia.com/2020/05/03/most-homebuyers-interested-in-home-sustainability-features-but-selling-impact-is-unknown/
https://magazine.realtor/daily-news/2020/04/30/talk-sustainability-to-buyers-they-want-to-hear-it
https://www.nar.realtor/blogs/economists-outlook/2020-sustainability-snapshot
https://resources.investormanagementservices.com/real-estate-going-green/
https://realtybiznews.com/3-reasons-why-commercial-real-estate-brokers-should-pay-attention-to-green-building-trends/98756275/
https://www.curbed.com/2019/9/19/20874234/buildings-carbon-emissions-climate-change
https://www.rateitgreen.com/green-building-community/discussions//rental-effect-study-which-green-office-building-features-do-tenants-pay-for/2912

I am an upcoming senior at Bryant University in Smithfield, RI, majoring in Marketing with a minor in Global Studies. I am the current Treasurer/Fundraising Chair of the Bryant Marketing Association and I have been a past Treasurer of my AYF chapter and I am currently on the executive board of the Armenian Internship Council. I studied abroad in Seville, Spain and traveled through Europe for four months, gaining a great understanding of the world. I also had a Marketing internship in Yerevan, Armenia in summer of 2019. I have always dreamed big and known that I can always do more in life.
( 0 ) Ratings
( 5 ) Discussions
( 0 ) Group Posts
Reply/Leave a Comment (You must be logged in to leave a comment)
01 - of - 01 Comments
Well written. My take away based on the graphs is that consumers are more concerned with efficiency and comfort than renewable energy. That is also congruent with the proper order of operations to reduce energy usage. Good design, then efficient construction, then renewable energy. Renewable energy is important and should be considered after the design and efficiency is maxed out.
By SawHorse, Inc. I Jun 26, 2020
Connect with us!
Subscribe to our monthly newsletter:
Read More


Sponsored Listings
Related Posts
Read More