Defining Moments in the Birth and History of the Global GreenTag Certification Program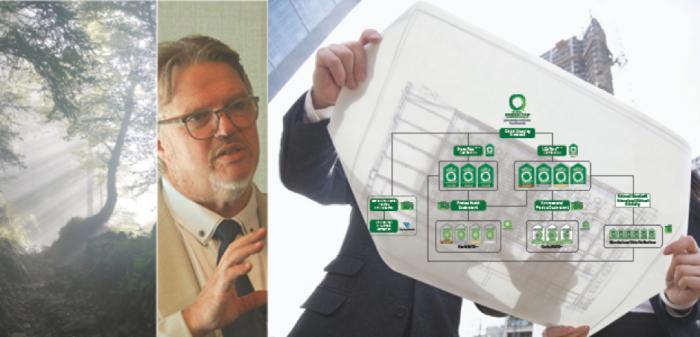 In this interview with David Baggs, CEO & Program Director of Global GreenTag International, we ask a series of questions about the genesis and evolution of the Global GreenTag Product Certification Standard and Certification Mark.
QUESTION:
If the backstory of the Global GreenTag Certification Program were to be articulated by three defining moments, what would they be?
DAVID BAGGS:
Actually, there are three easily recalled 'moments' each in different time periods that do explain how the Global GreenTag Certification Program came about and evolved.
Firstly, and somewhat broadly from a time period point of view, the genesis of the Standard at a deep level was already emerging during my early career path, which involved nearly 20 years as a passive solar and healthy buildings architect. I had designed over 300-earth wall, green roof and straw bale buildings and more than 35 earth covered buildings in the years before 1995. I guess the first turning point into the domain came when my company and I was appointed, through 1995 and 1996, as Sustainability, Energy, Materials and variously Government and Media Liaison for 10 of the Sydney 2000 Green Olympic Games Venues.
With those project teams, we went on to use Integrative Design Processes to develop and win bids, strategize policy, facilitate sustainability outcomes, audit the projects against their original commitments and report to Government and oversight NGOs. Along the way, I undertook hundreds of mini-Life Cycle Analyses (LCA) and created a number of 'Designer's Guides to the Eco-rating of Materials' documents to assist the architects and engineers for those projects choose the most appropriate sustainable materials for each project.
However, the second and single most defining individual 'moment' towards what eventually became Global GreenTag was when my co-founder Mary-Lou Kelly (whose core value is a love of this planet) approached me in 2002 shortly after our businesses joined forces and pointedly asked: "What are you doing with all that LCA product information that you developed for the Olympic Projects?" My response? "Using it on our projects"… and her reply was "that information is too important to be sitting on our shelves. It needs to be got out, so the broader industry can use it".
QUESTION:
OK, so at that point, Mary-Lou had identified a vision, would you say, to accelerate sustainable development and to serve that need? To provide and share product knowledge with the built environment industry of the time? What happened after that?
DAVID BAGGS:
Yes, she did. It was a defining moment. So after some initial resistance and a few days of thought on my part, I realized that Mary-Lou was right and agreed. Next thing I know, she had research assistants pulling things off the shelves and databasing everything in sight. Shortly thereafter we won a small tender for a Northern Rivers Regional Council to develop a 'Designer's Guide to Sustainability and a Green Product Database' for their architects and designers. The resultant product was the launch in late 2003 of an online database of 600 Verified manufacturer claims and assessed healthy building products called ecospecifier.org that later mushroomed into a series of global websites such as ecospecifier.com, .com.au, .co.za, and .sg
QUESTION:
So how did Global GreenTag evolve out of Ecospecifier? What was the third defining moment to create the standard? What did it look like?
DAVID BAGGS:
Well, the third most defining moment happened around 2007. While sitting on the floor of one exhibition after another promoting Ecospecifier, we started to note a trend of manufacturers who would come up to us and ask us "Do you Certify Products?"
Initially, we responded by saying: "No, we verify the healthiness of products and manufacturers' health and environmental claims about their products" and these manufacturers would move on. The thing is, we were asked this question so many times that we started to respond with greater curiosity, asking them: "Why do you ask?" and we found their response was almost word for word each time. They would reply with "I hate such and such," that being the name of our main competitor at the time. So naturally, we started to keep the conversation going and would say, "Hate is a strong word, so why do you hate them?" and then start to take notes.
Eventually, we had such a compelling case documented of what we should NOT do when certifying products, that we decided that we would develop a certification system and that became the entrance of GreenTag, or at least the beginning of nearly 3 years of development to bring the Standard and Certification Mark into reality.
QUESTION:
What or how would you define your point of difference as a product certification standard – in terms of how it was developed and what the Global GreenTag Standard has become?
DAVID BAGGS:
For us, the journey has always been rooted in a strong vision to protect natural eco systems and green the built environment.
Fortunately, as a green building architect of over 30 years by that time, I was able to pose the question to myself … "If I was a green building architect, what would I want out of a sustainable product rating system?" and answer it myself. I knew it had to meet the impending needs of a warming climate and quantify embedded carbon. I knew it had to meet the needs of circular economies and positive development and restorative sustainability. I understood that detailed LCA was the only way to quantify carbon, but was also aware of the shortcomings of LCA around health, biodiversity and social and equity issues, and that we needed robust scientific metrics to measure it all. Global GreenTag's LCARate™ Certification Program and its "beyond LCA' methodology is what developed from that thinking process.
We wanted to go deep as a Standard to help validate the growth of product manufacturers who were pushing the boundaries of green product design, especially for green building projects. Manufacturers, whose products could be assessed, certified and rated against detailed LCA and Greenhouse Gas Emission figures; underpinned by robust REACH and later GHS Chemical Hazard Categorization and exposure thresholds, and assessed against banned Ingredients from POP (Persistent Organic Pollutant) Treaties and Conventions and SVHC (Substances of Very High Concern) lists and Candidate Lists and other category specific banned components.
All these concerns, together with manufacturer and supply chain compliance with ILO Conventions and Physical Biodiversity Impact Assessment, eventually formed the basis of an LCARate Product Sustainability Scorecard, GreenTag EcoPOINT score and resultant Bronze, Silver, Gold and Platinum Sustainability rating system.
QUESTION:
How did the industry receive you, once you had established the Global GreenTag Standard?
DAVID BAGGS:
We arrived with a lot of support.
Along the way, we applied for and won a Queensland Government Business Grant of $220,000 on a dollar for dollar basis. Thank you QLD Government! It allowed us to Trade Mark our IP globally and to develop and launch the system overall.
The unique thing about our LCARate program is it is a comparative system. It compares the product under study to a 'Worst Case business as usual (BaU) product, commonly in use in the market. This is established by an expert focussed LCA market survey and enables for example, the question to be asked "What is the most sustainable flooring?" and receive a scientifically valid answer.
The answer we provide is 'cradle to fate' in scope and provides additional metrics that include cleaning, maintenance and replacement schedules.
QUESTION:
So, are GreenTag certification programs different to others in the market?
DAVID BAGGS:
To our knowledge, LCARate™ was not only the first but remains the only such LCA product rating and ranking system in the world.
We work diligently to anticipate moves in the green building space, particularly, and other spaces as well. For example, shortly before launching, the Green Building Council of Australia announced a qualification system for product certification programs. We reviewed it and determined that it seemed LCARate did not really fit the prescriptive qualification system (with our later Personal and Cleaning Product Standard we realised this was not the case and got them recognised) and so we developed our GreenRate™ product certification program to meet GBCA's Green Star requirements. In fact, we reverse engineered their system and so GreenRate is actually 44 parallel schemes of LEVEL A, B or C ratings each recognised in Green Star Australia, New Zealand and Green Star Africa (and elsewhere) and typically, as 100%, 75% or 50% respectively of the relevant credit points.
As time rolled on, we added a larger and larger, stronger and more capable team to assist in development and assessment and we achieved recognition in more rating tools and countries. We also began to focus on recognition in LEED® and developed V4.0 of our Building Interiors and Infrastructure Standard to harmonize with the Google funded USGBC Ecolabel Harmonization Report to facilitate the compliance with LEED and later with the WELL Building Standard™. We also developed and became an ISO 14025 EPD Program Operator and later began an EN15804 compliant EPD Program aimed at LEED, BREEAM and Green Globes compliance.
QUESTION:
What have been the big shifts in the Global GreenTag Standard and Program, since you began?
DAVID BAGGS:
The health of products in their ingredients and end use has become a strong value point of our Standard in recent years.
In 2015, we began a development process for a Material Health Transparency Report. Realizing it was a daunting exercise to ask Architects and Designers (A&D) to not only understand but also interpret Toxicological Hazard data, we set out to develop a process that did the assessment and interpretation for the A&D sector. The outcome was the Global GreenTag Product Health Declaration™ (GreenTag PhD™), which was born in 2016. The Declaration starts with a LEED and WELL compliant ingredient hazard analysis and includes further risk analysis processes for worker health and in use health. It also provides, in plain language, explanation of any change in risk categorization from ingredient level to finished product.
More recently, we extended and refocussed the PhD TAG to create the HealthRATE™ 'Healthiness in Use' Rating TAG. Variously BronzeHEALTH™, SilverHEALTH™, GoldHEALTH™ or PlatinumHEALTH™ ratings to designate the level of health in use.
All levels are healthy according to current scientific knowledge with BronzeHEALTH, possibly still including very low levels of some toxic compounds but below the current known health impact levels, with Platinum not containing any chemicals even suspected of being toxic in the final in use product.
Toward the end of 2017 as the WELL Building Standard™ gained traction in Australia, which was the first standard to integrate human health and wellness into building design, we applied for Equivalency recognition, gaining approval progressively Feature after Feature from Late 2017 to early 2018. GreenTag PhDs are now recognised in most WELL product related Features. PhDs, GreenRate and LCRate are recognized for Feature 04 compliance (VOCs).
Recently, we also introduced a custom Manufacturer Claim Verification (McV) service delivering individual claim TAGs such as "100% Post-Consumer Recycled Content", 'Rapidly Renewable", '100% Biobased", "Low VOC", etc.
QUESTION:
In what markets around the world does the Global GreenTag Standard and Certification Mark now appear?
DAVID BAGGS:
The expansion of Global GreenTag has been an exciting experience and one to reflect on. We have only been around a few years yet globally, there are 4000 plus Global GreenTag products under certification on more than 400 certificates for over 100 companies from factories in more than 22 countries – in use in buildings and offices all over the world.
Of particular note, however, we were thrilled to have launched in the USA in 2018 at GreenBuild Chicago. We launched our services off the springboard of already having over 3000 USA certified and available products and a host of WELL™ recognised and LEED® compliant PhDs and LEED and BREEAM compliant EPDs.
In 2018, we also integrated our product database into ORGIN.build, Ecomedes.com, Sustainable Minds, Sourced by DELOS® and of course thankfully our presence on Rate It Green. You could say that Global GreenTag's entry into the US market is well underway.
The introductions to key GreenBuild thought leaders over the last months of 2018 yielded comments like "Positively Disruptive" and "a Healthy Product Breakthrough" … we sincerely hope this is a sign of good things to come.
GreenBuild Chicago also saw our commitment to establishing Global GreenTag Americas LLC and appointing Daniel A. Huard as our new North American CEO to head up our in-country presence and together with Mary-Lou and myself, lead the development of the program in the USA, Canada and Latin America.
QUESTION:
How would you articulate the essence of what Global GreenTag does, and what it hopes to achieve?
DAVID BAGGS:
Essentially? We hope you find each of our programs useful in helping you to cut through the highly technical nature of human and ecotoxicity and sustainability in general, to answer the simple questions of 'which product is healthiest to use' and 'which product is most sustainable'?
We continue to pursue our higher purpose and mission, which ultimately is to help protect and or regenerate the earth's eco-systems and resources. We are dedicated to help create greater awareness of progressive manufacturing, to guide greater actions towards responsible and transparent product manufacturing and supply chain resourcing and to keep our product certification standard and metrics and services in alignment and growing with the global urgency to achieve the changes that we all want to see.
The essence of Global GreenTag, however, is the passion of a fantastic team of individuals who are driven by this vision, who want to be part of the actions to realize this vision. We are very much committed to excellence and being a vital part of a wonderful global network of green building bodies and other sustainability-focused entities and to work with them where we can to achieve a shared vision for a healthier environment and healthier societies.
In the last year, we have presented and or actively participated at a number of key events on the planet related in some way to advancing sustainability. We have successfully launched in both China and the USA. Mary-Lou, who is Global GreenTag International's Managing Director, attended the High Level Political Forum on UN Sustainable Development in New York City to integrate through Global GreenTag the 17 UN Sustainable Development Goals. Now we are in 2019 and our leaders in their specializations have already spoken at a number of public events. We have been busy.
I have already travelled to Europe, attending and speaking at Future Build in London and in Amsterdam at GreenBUILD Europe. Brett Hazlett, our CEO Australia and New Zealand has presented seminars and facilitated panel discussions for large industry events down under. Daniel Huard, has spoken widely at private and public industry events across the USA and Canada. Lizette Swanevelder, our CEO - Global GreenTag Africa has brought in some exciting new African- based manufacturers and continued building strategic partnerships in that part of the world; and Mary-Lou has continued with leading the integration of the UN Sustainable Development Goals for the company. In March, she also attended the United Nations Environment Assembly in Kenya.
Ultimately, through our standard of product certification, Global GreenTag is driven by a purpose to protect all living systems and our goal is to have a strong and meaningful presence, globally, and to be a part of the bigger conversations across the planet to ensure this happens. This is important for us to achieve. We have been on this journey a long time and we are committed for the long term to help influence the changes that are still necessary across all governments, industries and communities. Keeping the Global GreenTag Product Certification Standard high is key to this and we are dedicated to keep on keeping it high. We want to make sure that this eco system of earth and all that lives on it gets the best possible chance!
______________________________________________________________________________
More information about Global GreenTag and USA available GreenTag Certified Products can be found at www.globalgreentag,us and search for WELL and LEED compliant products by product, brand, manufacturer or individual Certification, Product Health Declaration or EPD.
Contact:
David Baggs LFAIA, LEED AP, Green Star AP, MACS
CEO & Program Director
Global GreenTag International Pty Ltd
Email: ceo@globalgreentag.com
OR
Daniel Huard LEED Fellow, WELL AP & Academy, PMP, LFA, ASHRAE CPMP, GGA, GGP, GPCP
CEO
Global GreenTag Americas
Email: ceo@globalgreentag.us

Global GreenTag Type 1 Certification assists selection for green infrastructure, building and interiors products by rating performance. GreenTag is an EPD and Product Health Declaration Program Operator globally recognised in WELL Equivalencies & compliant with LEED providing a 'one stop' evidence process as well as Green Star ANZ & Africa.
( 0 ) Ratings
( 0 ) Discussions
( 0 ) Group Posts
Reply/Leave a Comment (You must be logged in to leave a comment)
Connect with us!
Subscribe to our monthly newsletter:
Read More


Sponsored Listings
Related Posts
Read More