Countertops the Green Way: What to Know Before Purchasing Sustainable Countertops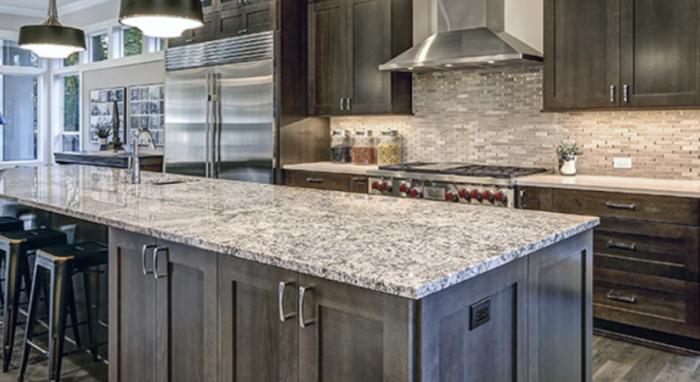 The countertop is arguably the most eye-catching aspect of many kitchens. In addition to serving as a key design element, the countertop's purpose is quite enormous: it provides a clean, even surface for food preparation, serving, gathering, and decoration.
The possibilities for material choice are endless, and include stone, tile, glass, cement, plastic, wood, and metals such as steel. Aside from the appearance, there are several other factors to consider when choosing the perfect material: cost, durability, sanitation, sustainability, and whether it comes from an ethical source.
Composite Stone
To start, the most popular countertop in modern homes is stone. Composite stone, natural stone (often imported), and plastic laminate are the top three picks for most homeowners. Quartz composite is a human-made material, composed of natural quartz and acrylic resin. Likewise, granite composite is made of granite and resin, and marble composite is made of marble and resin.
Cambria is a company that is consistently and transparently committed to sustainability. Their mining process uses quartz particles from crushed stone, as opposed to extracting full slabs from the earth. Mining sites are backfilled and the land is restored after the quartz is extracted. The domestic supply chain uses rail transportation, which limits carbon footprint. In manufacturing and processing, Cambria uses 100% recycled water and hydroelectric power. Some products are even made with 99% recycled materials, certified by SCS Global Services.
Pros of Composite Stone
The most alluring aspect about composite stone is that it resembles natural stone without breaking the bank. With composite stone, upkeep is simple because it does not scratch or stain. Although this material is human-made, it is composed of mostly natural materials, containing 90-94% ground quartz and 6-10% resins and pigments. These are combined into durable and non-porous slabs of stone.

Quartz-composite countertop with smooth, shiny finish
Source: Countertop Guides
Cons of Composite Stone
Environmentally, quartz composite contains plastics in the resin, which unfortunately makes the resource nonrenewable. The majority of the natural stone used in the composite comes from India and Brazil, where labor practices can be unethical. Workers are sometimes treated poorly and conditions are extremely dangerous with little to no protection in some cases. Exploitative child labor is also common. It is vital that a buyer researches the ethics of the company before purchasing the countertop.
Sintered Stone
Sintered stone is a relatively new material that is currently gaining popularity in the United States. It is a combination of minerals that are heated to form a solid mass that results in a cohesive surface. There is an ample range of textures and patterns which make the surface versatile -- flooring and pool decks can be made with sintered stone. This is especially true with the brand Lapitec, which specializes in both internal and external cladding, pavements, and countertops. Neolith is another popular brand of sintered stone. Neolith is an extreme evolution of what most of us think of as porcelain. Using proprietary technology, Neolith takes minerals and uses a combination of pressure heat and time to form the materials into durable and chemically stable slabs.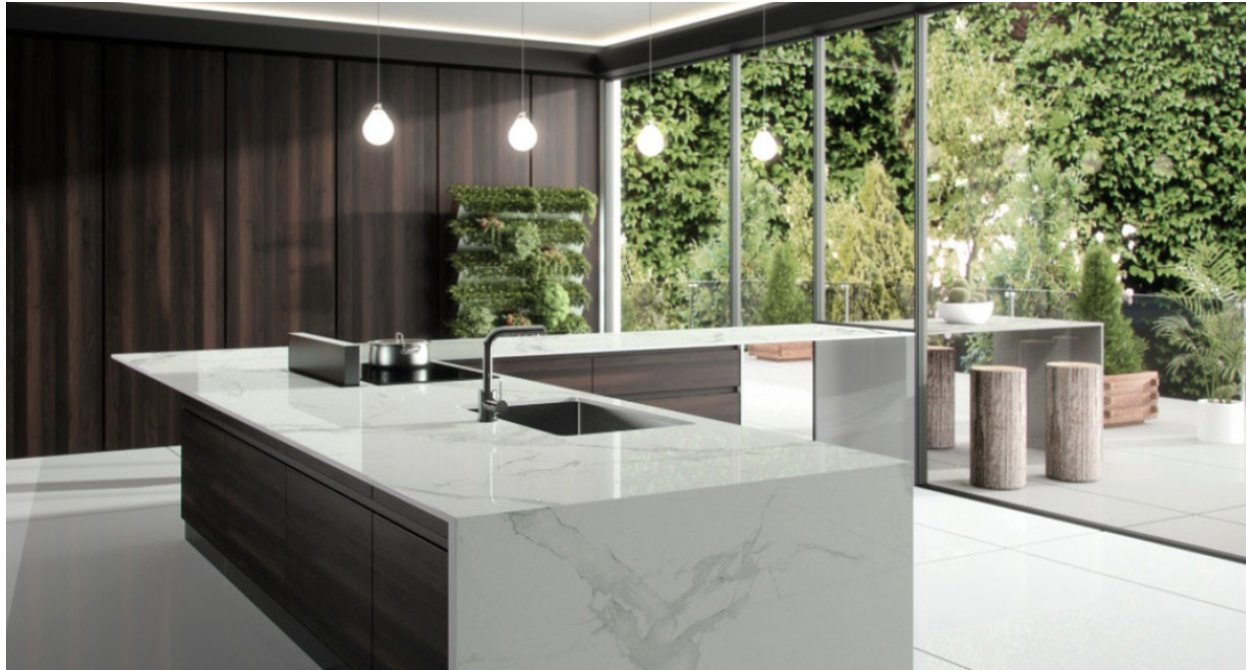 Neolith sintered stone countertop
Source: Absolute GM
Pros of Sintered Stone
Sintered stone is arguably the most durable countertop surface: it cannot be etched, scratched, burned, or stained. The hardness of this surface is one of the key reasons why it is used in public places. Neolith prides itself for its materials being able to withstand extremely high temperatures. Additionally, sintered stone is easily cleaned and does not contain resins or plastics which is common in composite stone. This results in the surface having a low silica content, which is much healthier for both manufacturing workers and builders. Lapitec uses Bio-Care which uses hydrophilic features to kill E. Coli and Staphylococcus on contact. Many hospitals are switching to Lapitec surfaces for this reason. Along with being healthy for humans, sintered stone is extremely sustainable. Lapitec surfaces react with UV light to break down pollution.
Cons of Sintered Stone
Fortunately, in terms of sustainability, sintered stone does not have any disadvantages. The main downside of sintered stone is the cost -- sintered stone is the same price as imported quartz or granite (two of the highest-costing materials). To continue, it is not recommended that the average person installs this stone -- it is difficult to navigate and tends to be heavier than most materials. This can lead to extra labor expenses.
Natural Stone
On the other hand, natural natural stone is typically chosen for its beauty and timelessness: an outstanding rock countertop is often the center of attention in one's kitchen. Common materials include granite, marble, soapstone, limestone, quartzite, and travertine. It is vital that a buyer researches a company and product, including mining location and practices before purchasing the countertop, as most natural stone is imported. Although natural stone is often porous, this can be resolved with sealing. However, it is important that we choose sealants that have low counts of volatile organic compounds (VOCs). Not only are VOCs dangerous to human health, but they can react with other gases and form air pollutants after they are present in the air.

Imported granite stone countertop
Source: Stone World
Pros of Imported Stone
Each natural stone is a unique piece of art: no two countertops are ever the same. Since there are typically little to no resins involved, the resource is renewable. This lessens our environmental footprint and supports global industries. Natural stone has a higher resale value than composite stone, which is an important consideration if you are going to sell your home in the near future.
Cons of Imported Stone
Aside from high amounts of VOCs in the sealants, there can be a major issue with the manufacturing and transportation of natural stone. There is a high environmental cost to acquire, ship, and manufacture the material at a processing plant. The process of quarrying (taking up the rocks from the ground in large blocks) is the most destructive because it requires the use of heavy, gasoline-run machinery. Cutting the stone blocks also requires gasoline-based machines and large amounts of water. Transportation from foreign countries is dependent largely on air transportation, which is a large source of emissions.
However, there are certifications to look for when purchasing natural stone to ensure that sustainability standards are met. These ensure that transportation, manufacturing, and production emissions are kept below a certain level. They often also guarantee that ethical labor practices are maintained. Ultimately, ethically sourced U.S. stone is the best option for those who desire a stone countertop. Marble, soapstone, and porcelain slabs are the most popular. Although domestically-produced countertops are more expensive, the environmental benefits are worthwhile.
Plastic Laminate
While the first two stone options tend to be the most expensive, plastic laminate is a cost-effective way to imitate a granite, quartz, or marble finish with little maintenance. In the construction process, plastic resins are first laminated onto layers of brown kraft paper. Then, a decorative print is added, which is later topped by a durable, thin, transparent resin layer. It is then solidified into a solid under heat and pressure, which gives the countertop more strength and resistance to heat and scratching.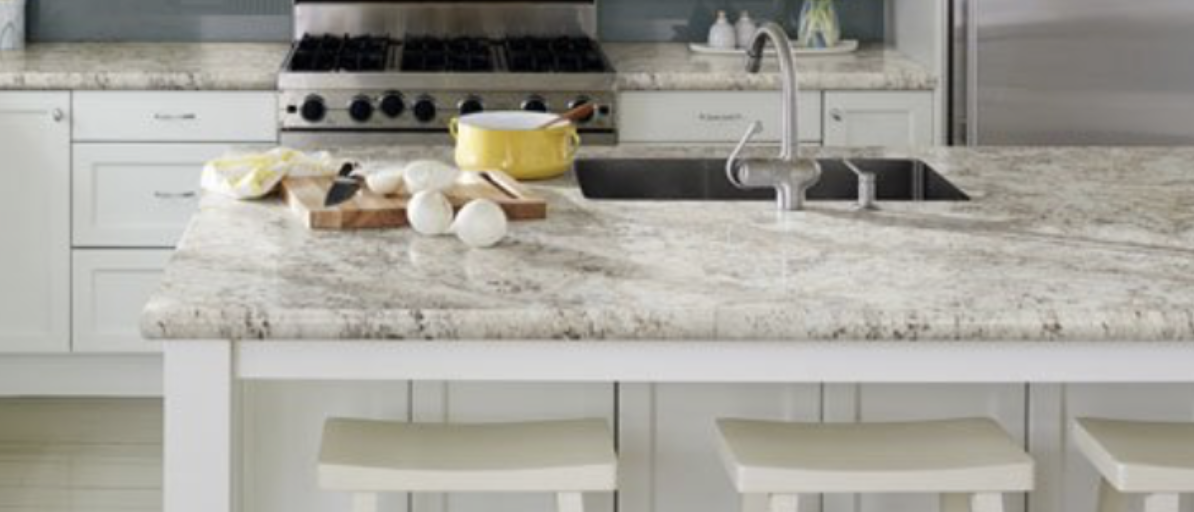 Plastic laminate countertops resembling natural stone
Source: Architypes
Pros of Plastic Laminate
Plastic laminate can sometimes be foolproof in resembling natural stone -- for a fraction of the cost. For DIYers, plastic laminate tends to be the best option for building your own countertops. There is little to no upkeep with laminates, since it is non-porous.
Cons of Plastic Laminate
Laminate countertops tend to have a shorter life span than other natural and composite stones, and even high quality laminates are susceptible to burns and chipping. They are also difficult to repair once burns and chips do occur.
Because these laminates are high pressure, there is a fair amount of energy that goes into the manufacturing process. Additionally, since laminates contain plastic, the countertop is unfortunately non-renewable. At the end of its useful life, it will get pitched into a landfill, where its ability to decompose is minimal.
Paper-Based
To continue, paper-based countertops are becoming popular among non-stone, affordable, and sustainable materials. Recycled paper is compressed with nontoxic, sustainable resin to create slabs resembling stone. PaperStone is a common brand of recycled paper-based countertops.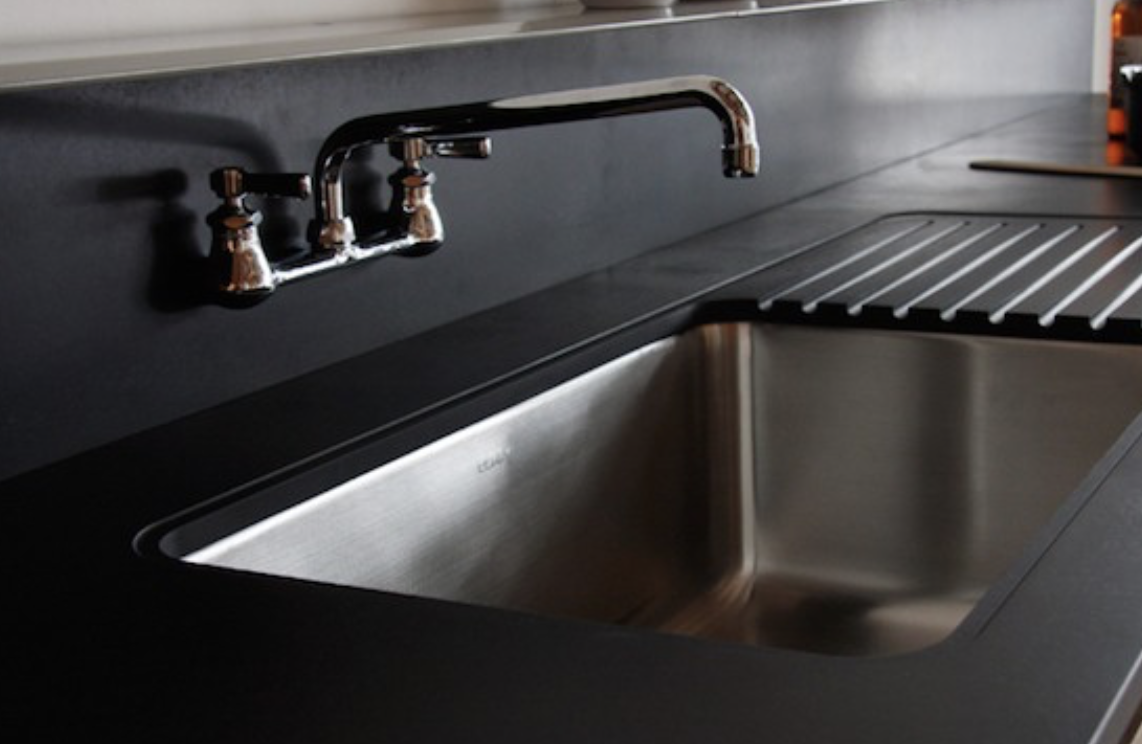 Paper Composite countertop with drop-in sink
Source: Remodelista
Pros of Paper-Based
The surface is not only durable and non-porous, but it is also warm and smooth to the touch. PaperStone is low maintenance aside from an initial sealing finish that enhances the natural color and protects against oil and stains. Another benefit of Paperstone is that it can be used both indoors and outdoors. The materials used are all certified from the Forest Stewardship Council, including the paper, the natural pigments, and the non-petroleum resins. All products are sourced from the U.S and ensure ethical labor practices. It is important to watch out for brands that may not use certified recycled paper for their countertops, as these would leave a larger carbon footprint.
Cons of Paper-Based
A recycled paper countertop is generally more expensive than laminate, but is far less costly than stone. It is important to note that paper composite countertops are only heat resistant to about 350 degrees fahrenheit. That said, surface nicks, scratches, and stains can be sanded out of the top layer with an abrasive pad. Although paper countertops cannot be recycled due to their resin content, they can be recut and reused as other materials.
Bamboo
Bamboo surfaces are made from renewable and sometimes recycled materials. To make the slabs, sheets of bamboo are bound together under pressure with formaldehyde-free adhesives. Although bamboo is grass, it has similar properties to wood. Both have fibrous structural tissue, which maximize durability along with heat and humidity resistance.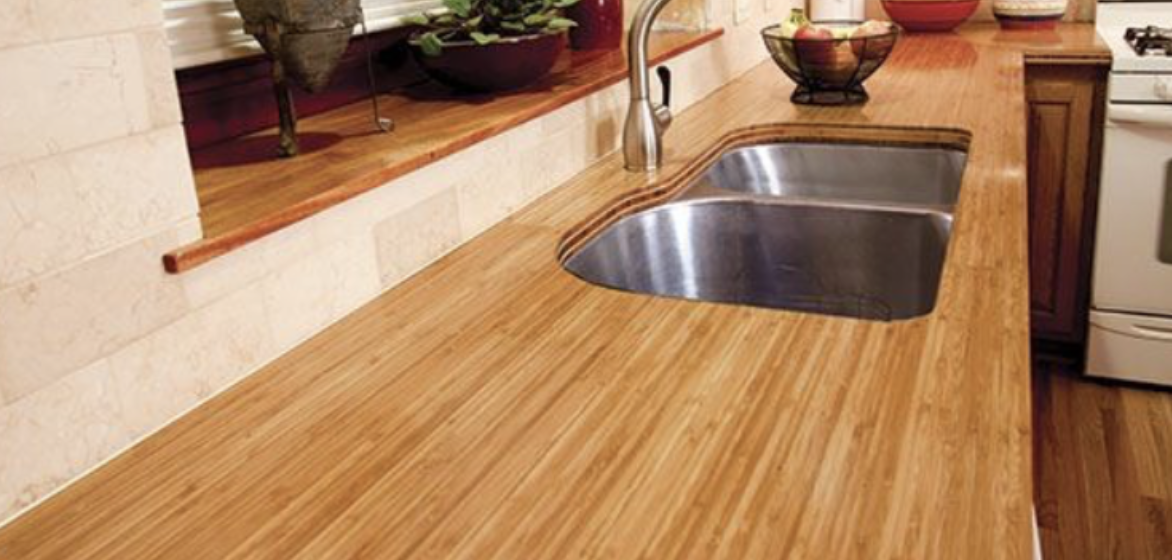 Bamboo countertop with drop-in sink
Source: Pinterest
Pros of Bamboo
Bamboo is naturally resistant to bacteria and will not allow mold or mildew to grow. To ensure stain resistance, it is recommended that a finish or sealer is applied before use. Because bamboo grass grows up to a foot everyday, it is arguably more resourceful than wood (tree) products when managed responsibly. Teragren is a company that grows its own bamboo, harvests it by hand, and manufactures the product all in the same province of China. Because bamboo captures carbon from the atmosphere, all Teragren's products are carbon-negative.
Cons of Bamboo
One con of bamboo is that some companies harvest the plant at an extremely fast rate. Some companies slash and burn rainforest or other land to grow bamboo. This process is detrimental to the locals and the environment. It is important that customers do their research to ensure that they are working with an ethical company. Some engineered bamboo contains resins that could be toxic. Additionally, Bamboo countertops are quite expensive and are also not heat resistant.
Acrylic Solid Surface
Acrylic solid countertops are surfaces composed of plastics and minerals, similar to composite stone. One of the benefits of acrylic stone is that it is almost always made from recycled materials. The versatility of this countertop allows for a great deal of customizing. Durat is a company whose acrylic surfaces contain recycled post industrial plastics and are 100% recyclable.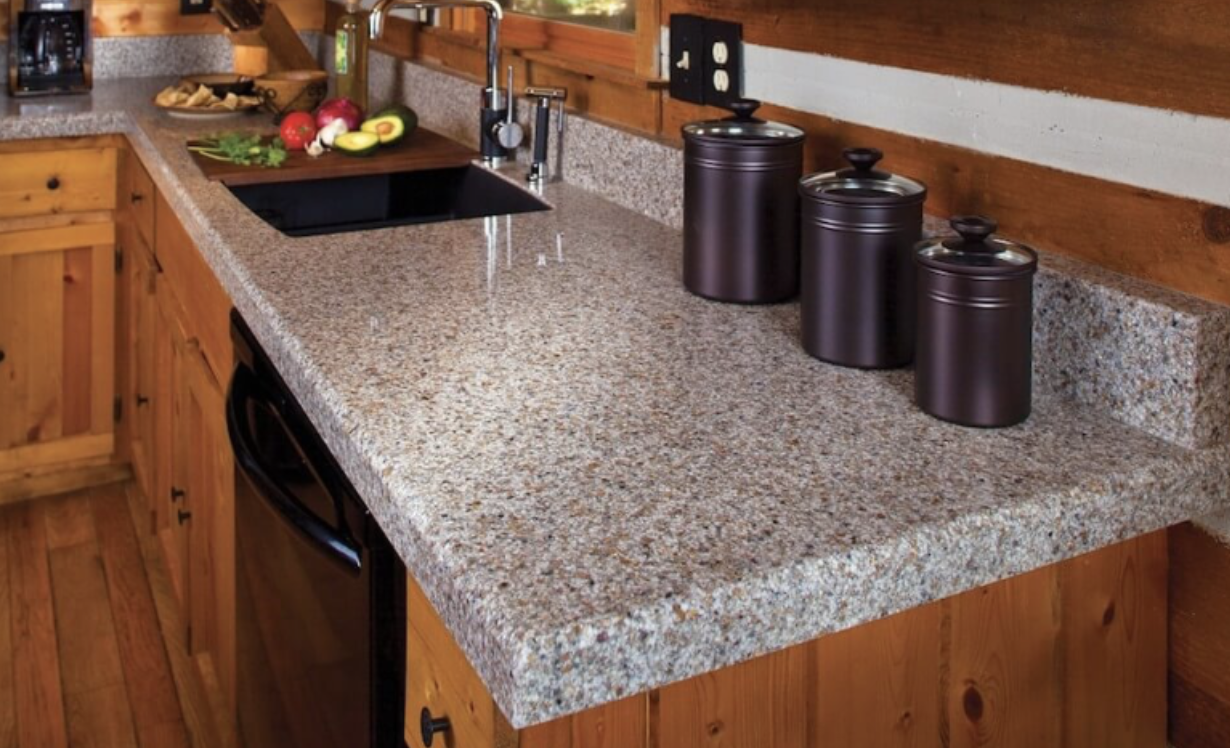 Acrylic solid countertop
Source: Improvenet
Pros of Acrylic Solids
The non-porous nature of acrylic countertops results in an extremely food safe surface. They are consistently rated excellent for hygiene. Durat is easily maintained and is very scratch resistant. The Durat Circular concept is a step towards a circular economy and closed material cycle. Durat repurchases, refurbishes and sells used Durat products. Their goal is to reuse 100% of produced materials. Since the company is based in Atlanta, consumers are assured that their product is local and American-made.
Cons of Acrylic Solids
While acrylic solids are known for its durability, its one weakness is heat: hot pots and pans can damage the surface. The burn marks cause discoloration that sometimes cannot be buffed or sanded.
Summary: Questions to Ask When Shopping for Sustainable Countertops
Shopping for countertops can be an overwhelming experience, especially if you want to buy from a sustainable and ethical source. While it is important to consider size, color, shape, and overall physical appearance of materials, many individuals want to buy from a company with well-established morals. This article was intended to provide useful, sustainability-related information about the most popular types and brands. Here's a summary list of questions to consider before purchasing a sustainable countertop:
Is the countertop locally sourced? How far will the materials need to travel to its final destination from where the ingredients are sourced?
This is an especially important question to ask when considering natural stone countertops. This is because some of the most horrendous working conditions in other countries occur in stone mining. Purchasing a countertop made in the United States almost ensures that the working conditions are ethical (although, it is important to verify this with the company, as some American mines can still be unethical). Materials made in the United States are known to have high standards of quality compared to other parts of the world. To add to the sustainability factor, American-mined materials have lower transportation emissions. Since the goods do not travel more than the span of the country, the carbon footprint is naturally lower.
What is the environmental impact of this product?
Looking at a countertop's environmental product declaration (EPD) is a good place to start in seeking the environmental impact. A verified EPD is a transparent, objective report that communicates what a product is made of and how it impacts the environment across its entire life cycle. EPD's can be useful because they are an independent (unbiased) approach to certifying products in terms of materials, manufacturing, distribution, use, recycling, and final disposal.
What certifications does the product have?
Many companies are verified by sustainability certifications. Some familiar examples might be LEED, Energy Star, or Forest Stewardship Council. These stickers are more than just a stamp of approval -- they represent a commitment to making business changes that truly make an impact. PaperStone, as mentioned, is certified by the Forest Stewardship Council for its paper, natural pigments, and non-petroleum resins. Keeping your eyes peeled for certifications will make the search process significantly less stressful.
Is the company that makes this product part of any environmental or sustainable initiatives or consortiums that you can identify? What are its corporate policies towards the people who participate in making the products?
Companies that identify as "sustainable" typically belong to organizations, different from certifications, whose goals are to deliver more sustainable consumer products. The Sustainability Consortium is a popular global non-profit with the world's largest sustainability research database.
The company itself may not be part of any large-scale organizations, but they could choose to have their own goals regarding sustainability. Be on the lookout for a "sustainability" tab on their website that may list their own initiatives and environmentally-conscious mindset.
Along with sustainability, the company could have specific policies for workers making or mining the materials. It is common for ethical brands to have a section of their website dedicated to workers' rights and ensuring safe conditions. Workers who create engineered stone countertops are especially prone to inhaling dangerous amounts of lung-damaging silica dust. Prevention is key: companies who actively work to control the silica dust use vacuums or filtration systems to protect workers.
Is the material safe and healthy for people?
A Health Product Declaration (HPD) is extremely useful in providing information about a product's contents and associated health information. Like EPDs, HPDs are independent, and therefore are an unbiased standard of wellness in different products. The transparency of an HPD gives an honest view of how the product will react with individuals' health.
Living Future has a "Red List" -- a list of ingredients to avoid for the health and safety of humans and the entire ecosystem as a whole. To maximize the indoor air quality for your home, be sure to cross check the countertop's ingredients with this list.
How durable is this product?
Durability and sustainability go hand in hand -- long-lasting means less frequent replacements (or ideally, never needing to replace). Some factors to ask about particularly could be resistance to heat, scratches, chips and cracks, and stains. Often, companies will offer plans to seal the countertop annually to preserve its beauty to an even greater extent. Although stronger materials tend to be more expensive, it could save you thousands in the long run, especially if the countertop will last a lifetime.
Each of these questions are answerable by each company. Your retailer, distributor, builder, or architect also may be able to help. When a company provides more information and has invested in more documentation, especially in EPDs and HPDs and other types that are verified, this is a good sign.
Overall, there are a myriad of sustainable countertop options to choose from when designing or redesigning your kitchen. This guide was intended to ease the overwhelming process of choosing the best material. When combining styles, sizes, and finishes, the possibilities are truly endless!
Sources:
http://www.indianet.nl/pdf/RockBottom.pdf
https://www.nytimes.com/2016/04/02/business/popular-quartz-countertops-pose-a-risk-to-workers.html
http://www.renewedmaterials.com
https://www.ghsproducts.com/news/paperstone-recycled-paper-countertops/
https://www.greenbuildingsupply.com/All-Products/Cabinets-Countertops-Countertops/Teragren-Bamboo-Countertop
http://www.goinggreenwithoutsuffering.com/bamboo-countertops---an-eco-friendly-choice.html
https://www.chicagotribune.com/news/ct-xpm-2007-07-08-0707050413-story.html
https://www.greengoodsusa.com/countertops/bamboo-countertops.html
https://www.caesarstoneus.com/about-us/information-inspiration/design-to-inspire/recycled-glass-countertops-the-good-bad-and-ugly/
https://elemental.green/grenite-100-recycled-surfaces/
https://www.houselogic.com/by-room/kitchen/kitchen-countertops/
https://greenbusinessbureau.com/blog/what-is-sustainability-certification-for-businesses/
https://www.builtsystems.net/5-benefits-of-american-made-products/
( 0 ) Ratings
( 10 ) Discussions
( 3 ) Group Posts
Reply/Leave a Comment (You must be logged in to leave a comment)
02 - of - 02 Comments
Thanks for this post! This is a real eye-opener especially to those who are taking note of the details of products like countertops. There are names like travertine and sintered stone that I'm not really familiar with but are intriguing. Also, I learned that a composite stone is a mix of natural stone and resin. It sounds interesting especially when one of the popular countertops - quartz - is a composite stone. For the DIY-ers who are thinking of maybe creating their own composite stone to save some money, I think that you should learn more about the materials you're going to use like the resin and the natural stone. It's better to have full knowledge of what you're going to do than winging it. It can waste money, time, and energy. So, it's better to be prepared than to have nothing at all.
By EdPots I Jul 13, 2021
What else can be considered as a composite stone? As you've mentioned, quartz is an example of a composite stone. I believe Caesarstone produces quartz counters, you can check their website to learn more.
By CharlieBread I Nov 01, 2021
Connect with us!
Subscribe to our monthly newsletter:
Read More


Sponsored Listings
Related Posts
Read More