The 2021 Energy Code - Significant Energy Efficiency Gains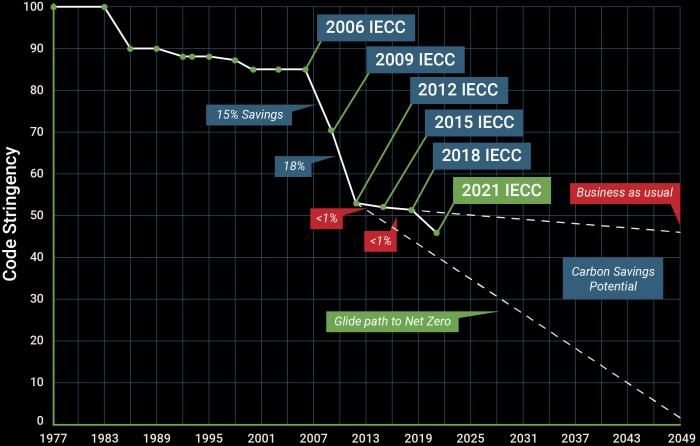 As one of a subset of building codes, energy codes set minimum energy efficiency requirements for buildings. Model energy codes provide a ready way for state, local, and some national governments to adopt in whole or part energy energy efficiency requirements in part or whole, instead of developing their own requirements from scratch. Every time there is a new energy code, it is then available for adoption. Building and related codes are state law in the United States, as there is no national building code.

As buildings consume approximately 40% of all energy and especially since about a third of this energy is wasted, more efficient codes can clearly have a significant impact in terms of reducing energy demand and expenditures, increasing occupant comfort, and preserving the environment. Energy efficiency is an essential strategy in the effort to mitigate climate change, as 75% of US Building stock will be new or renovated by 2035 – this expected volume means that better planning now will have a significant impact in the next decades. According to the New Buildings Institute, "Improving the efficiency stringency in the energy code is the single most impactful action we can take to improve the buildings where people live and work." After disappointing results in code cycles, residential and commercial energy efficiency gains are expected to improve approximately 10% in the 2021 energy code.

The primary organization to establish energy efficiency and building codes is the International Code Council (ICC). The ICC, established in 1994, provides model construction codes, standards and requirements to better the performance and safety of built environments. Currently, the ICC promulgates the International Energy Conservation Code (IECC), which can serve as the standard model building code for more energy efficient construction of homes and commercial buildings, including significant renovations. Additionally, the code gives more flexibility to residential and commercial builders based on their particular design, building type and location, when working on energy efficiency projects. Ultimately, the IECC serves as the go-to source for states to adopt an energy code. The code is updated and voted on by local building and related officials every three years. Between code updates, proposed changes are submitted and then reviewed by committees that either approve or deny the changes, and then there is a public comment process, the final vote, and an opportunity for appeals as well.

There were significant gains in energy efficiency under the residential code developed through and including 2012, but then the trajectory of improvement slowed. For example, a home built under the 2012 residential code by the ICC, was shown that it was 32% more efficient compared to a home built under the standard code in the early 2000s. But amidst growing awareness of climate change, the code surprisingly did not significantly improve energy efficiency in the 2015 and 2018 versions. Both combined for less than 3% more efficient compared to the 2012 code. One issue for the low improvement in the 2015 & 2018 codes may have been the low eligible voter turnout. City and state officials and representatives, primarily called Governmental Member Voting Representatives (GMRVs), are eligible to vote for the IECC codes. Out of the 20,000 GMRVs, there were only about 500 votes casted. There would have been a 10% efficiency improvement in the 2018 IECC, if just 500 more pro-efficiency GMVRs voted during that cycle. As a result of that lost opportunity, several environmental organizations led a campaign to get out the vote for the 2021 code. From 641 jurisdictions across the country, more than 2,000 state and city officials showed their support to vote to strengthen energy efficiency requirements within the code. IECC voter turnout was the highest level ever, at 4 to 5 times more votes than the previous cycle in 2018. After the final vote in December 2019, the American Council for an Energy Efficient Economy (ACEEE), stated, "After several model code updates over the last decade that only minimally advanced efficiency, this new code is a big step forward." According to the ACEEE, key code voter margins included the following:
"Provisions requiring high-efficiency water heating (68% support); electric circuits to allow future conversions to highly-efficient electrified equipment (74%); pre-wiring buildings to be ready for the installation of electric vehicle charging stations (71% for residential buildings and 82% for commercial buildings); a flexible energy savings provision that allows developers to choose different energy efficiency measures to achieve energy savings in homes (74%); and an optional zero energy appendix that provides a pathway for cities and states to construct ultra-energy efficient homes that meet their remaining energy needs with renewable energy (82%)."

The 2021 IECC also includes improvements in residential and commercial insulation, windows, lighting, water heating, commercial plug loads, energy-monitoring systems, and improved efficiency of ventilation. These components can generate the biggest energy savings, which is great news for homeowners, businesses, as well as the planet.

What is Next?
The ICC Board of Directors approved the proposals and final voting results in the spring of 2020. The final 2021 code will be officially published in the fall of 2020 and can then is available for adoption by various government entities. It's worth noting that the adoption process can take a significant amount of time even in jurisdictions that regularly adopt the code, often between 18 months and several years.
For more information and details about key changes to the 2021 International Energy Conservation Code (IECC):
https://www.nrdc.org/experts/lauren-urbanek/2021-energy-code-final-and-more-efficient-ever
https://energyoutlook.naseo.org/data/energymeetings/presentations/Perry--IECC-Codes.pdf
https://newbuildings.org/key-takeaways-from-recent-iecc-code-development-hearings
https://www.nrdc.org/experts/lauren-urbanek/better-energy-code-holiday-gift-planet
References:
https://www.nrdc.org/experts/lauren-urbanek/2021-energy-code-final-and-more-efficient-ever
https://www.nrdc.org/experts/lauren-urbanek/better-energy-code-holiday-gift-planet
https://www.iccsafe.org/products-and-services/i-codes/2018-i-codes/iecc/
https://www.iccsafe.org/about/who-we-are
https://swenergy.org/energy-efficiency-wins-improvements-to-the-model-energy-code
https://energyefficientcodes.org/voters/
https://www.aceee.org/blog-post/2020/04/states-cities-get-big-opportunity-cut-carbon-emissions-new-building-code
https://www.seealliance.org/blog/the-fall-and-rise-of-energy-conservation-codes/
https://www.smart-energy.com/industry-sectors/policy-regulation/us-local-governments-vote-in-favour-of-new-2021-buildings-efficiency-code/
https://facilityexecutive.com/2020/03/2021-international-energy-conservation-code-local-governments-vote/
https://newbuildings.org/key-takeaways-from-recent-iecc-code-development-hearings
https://www.enr.com/articles/48750-new-energy-code-is-more-robust-and-flexible-than-previous-versions
https://www.enr.com/articles/48813-new-iecc-code-expands-scope-to-include-net-zero-electric-vehicles
https://energyefficientcodes.org/iecc/
https://newbuildings.org/local-governments-vote-resoundingly-for-improved-national-energy-codes/
Thumbnail image:
https://energyefficientcodes.org/iecc/
Related:
https://www.rateitgreen.com/green-building-resources/sustainable-building-news/iecc-voting-registration-deadline-is-approaching-municipalities-must-register-by-march-29-this-is-low-hanging-fruit/14

I am an upcoming senior at Bryant University in Smithfield, RI, majoring in Marketing with a minor in Global Studies. I am the current Treasurer/Fundraising Chair of the Bryant Marketing Association and I have been a past Treasurer of my AYF chapter and I am currently on the executive board of the Armenian Internship Council. I studied abroad in Seville, Spain and traveled through Europe for four months, gaining a great understanding of the world. I also had a Marketing internship in Yerevan, Armenia in summer of 2019. I have always dreamed big and known that I can always do more in life.
( 0 ) Ratings
( 5 ) Discussions
( 0 ) Group Posts
Reply/Leave a Comment (You must be logged in to leave a comment)
01 - of - 01 Comments
All of the technology and products to meet a more stringent energy code are already available. Consumers need to be educated and builders need to offer these solutions to them. Salesman don't want to offer upgrades for fear of losing the sale so the energy code allows all of us to build better since the playing field is even.
By Matt Hoots I Jun 16, 2020
Connect with us!
Subscribe to our monthly newsletter:
Read More


Sponsored Listings