Sustainable ADA Signage – Top Six Trends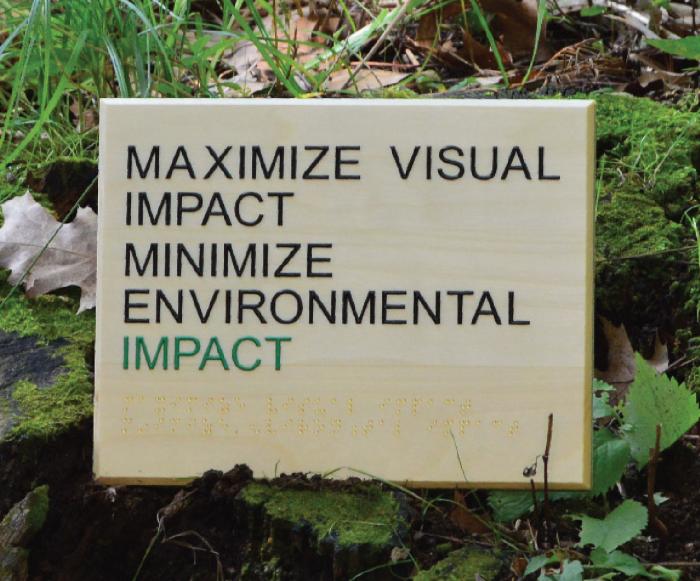 Demand for ADA Signs that Contribute to Green Buildings
Expected to Continue

The number of U.S. Green Building Council (USGBC) Leadership in Energy and Environmental Design (LEED) certified building projects in the US grew from 41 to over 67,000 between 2000 and 2018.[1] With this green building growth, innovation in eco-friendly building signage has also increased. Architects, builders, interior designers, and building managers can now specify ADA signs that contribute to LEED version 4.1, instead of simply maintaining the intent of green buildings with environmentally friendly signage. The demand for office signage innovation is expected to continue in 2020 as the green building community seeks products that meet project environmental sustainability and human well-being objectives.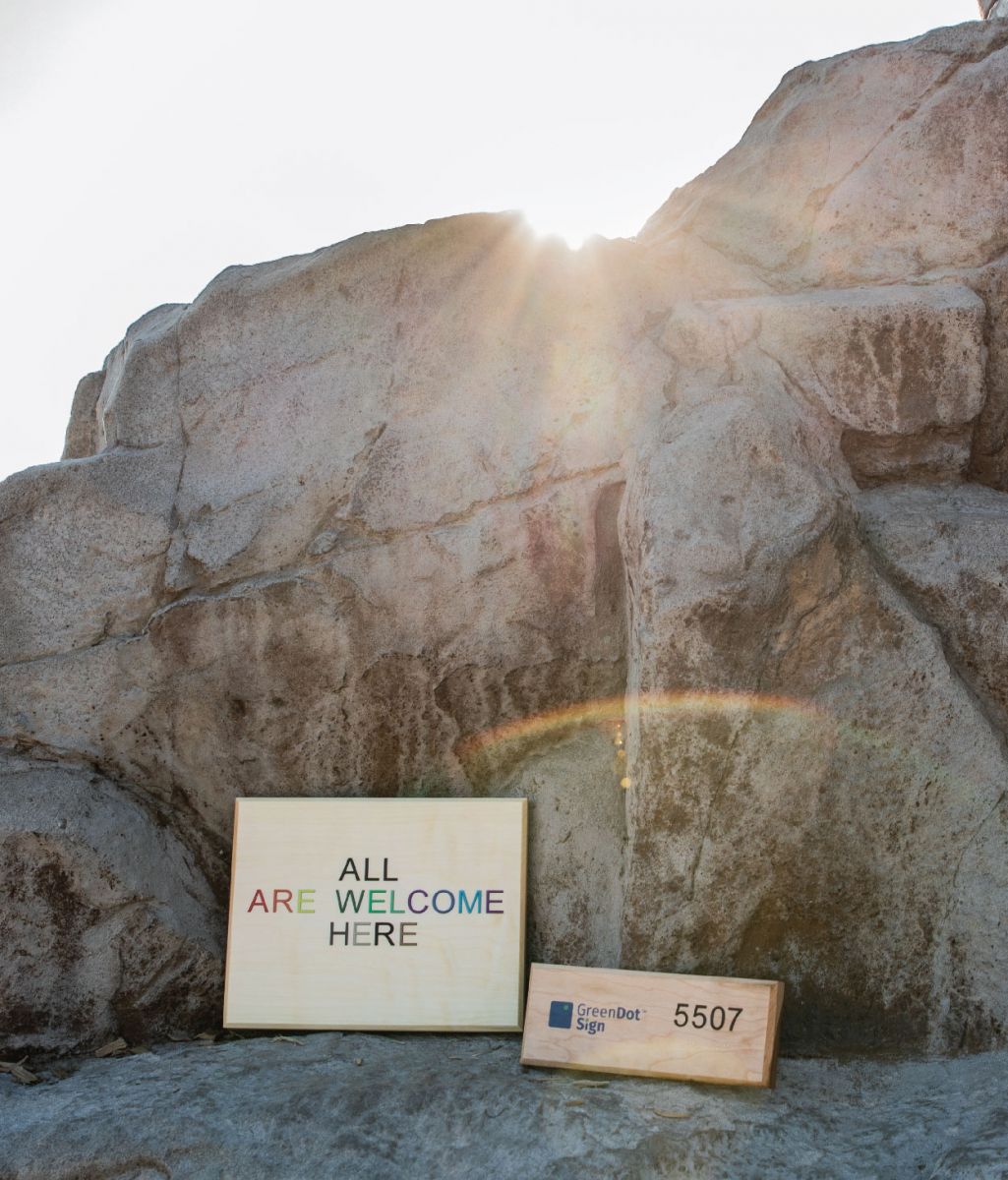 Within the sustainable signage category several trends emerged in 2019 and expected to gain momentum in coming years.

Increased Call for Product Transparency
It is no longer sufficient for manufacturers to assert that signage is eco-friendly. Increasingly those who work with ADA signs want to know what signs are made of, how signs are made, and what a sign manufacturer values. They also want to be able to clearly and easily understand a sign's environmental impact.
Sign purchasers are starting to turn to building product and material rating systems, declarations, certifications, and databases to search, compare, specify, and document sustainable signage options. This means that sign manufacturers must inventory and verify what their products are made of, often via third-party, in order to gain consumers, trust and repeat specification.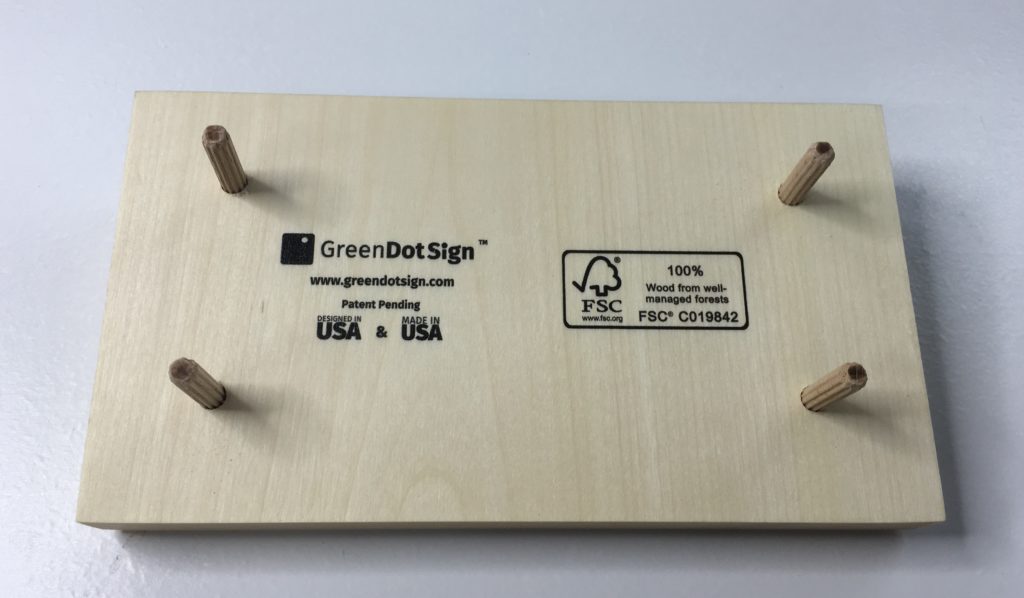 More Recycled Plastic and Renewable Substrates
Traditionally the U.S. signage industry has almost exclusively used acrylic for ADA signs. While this type of plastic is cost effective, it harms our planet and health. Additionally, very few municipalities offer recycling despite that clean acrylic is technically recyclable under stream 7 plastics.
More recently, recycled and recyclable plastic braille signs have been the primary eco-friendly option used in LEED certified buildings. Under LEED version 4.1 raw material sourcing considerations are how much post-consumer and pre-consumer recycled content a braille sign contains.
In 2019 Green Dot Sign launched ADA signs made of Forest Stewardship Council (FSC®) wood. This eco-friendly, chain of custody certified product can contribute up to two LEED credits under BPDO - Sourcing of Raw Materials.
FSC certification provides transparency and confirms that the sign base is from wood from a responsibly managed and harvested forest. Additionally, as Simon Nussbaum from Green Dot Sign explained, "We love working with wood because it is strong and beautiful. Knowing that wood sequesters carbon and is biodegradable and renewable, I feel good about the minimal environmental footprint of our products."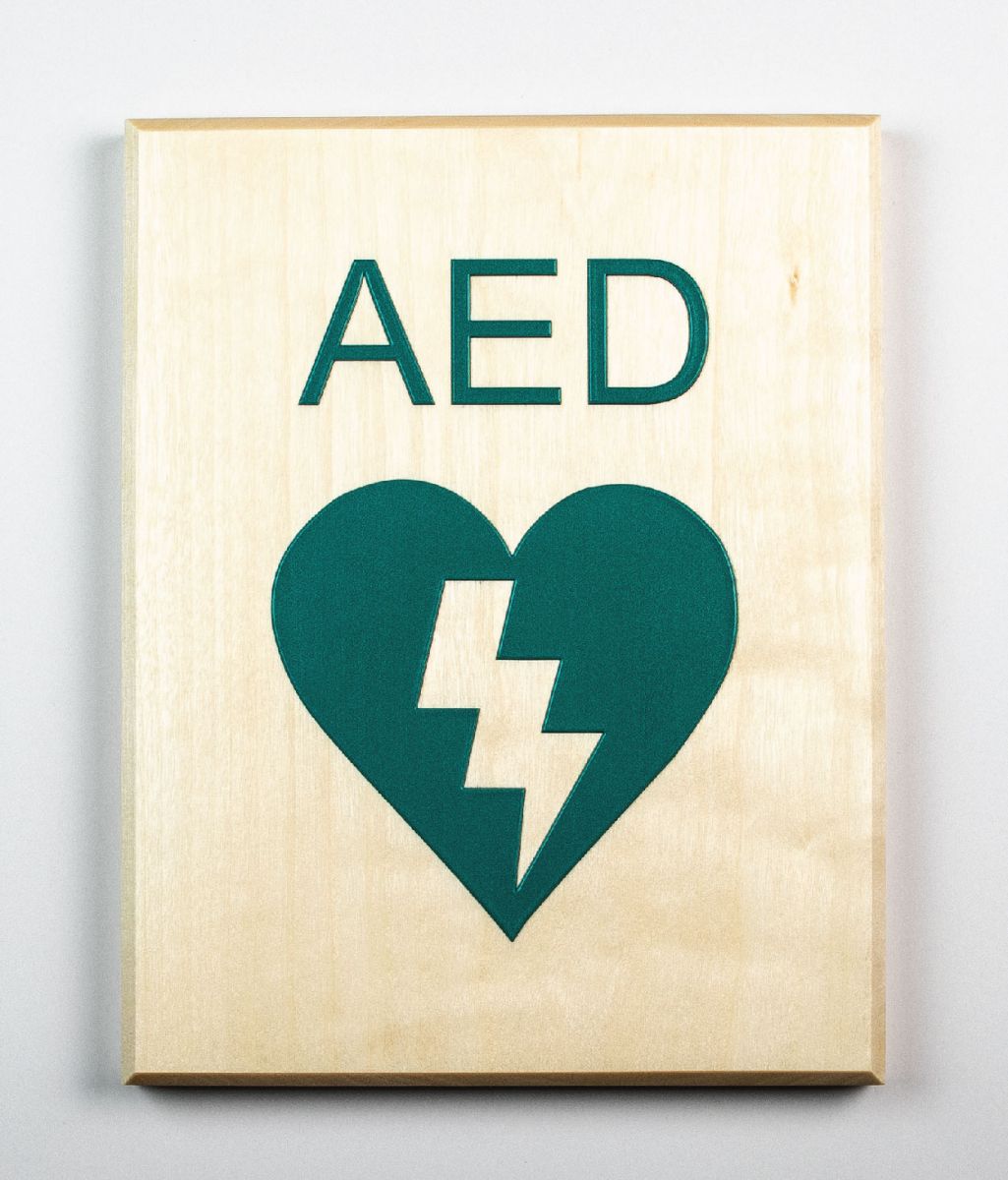 Fewer Material Ingredients with VOCs
In addition to acrylic substrates, ADA sign ink, protective coatings, and adhesives have historically contained volatile organic compounds (VOCs). VOCs contribute to the greenhouse effect and diminish air quality and health. Additionally, harmful particles that become airborne during sign manufacturing hurt workers.
Green builders strongly prefer office signs with inventoried chemical ingredients and minimal use of harmful substances. Sign manufacturers are responding to human health and well-being considerations by reducing and eliminating VOCs. Health Product Declaration (HPD) Open Standard, Cradle to Cradle, and ILFI Declare are well-known programs sign manufacturers can work with to inventory and quantify product inputs. These third-party certifications can contribute to LEED Material Ingredients credits.
Emphasis on Producing Signs in the US
Oversees manufacturing has benefits and risks, however, for sustainability making signs in the US is best. Increasingly companies that manufacture domestically tout the benefits of designing and producing ADA signs in the US. A key environmental benefit of sourcing American equipment and raw materials is that it diminishes the volume of fossil fuels used in shipping. Additionally, manufacturers will tell you that US designed and made signs are usually of higher quality and will therefore last longer than those produced far from where signs are installed. Finally, company management can fully monitor local manufacturing processes and diminish material waste.
Sustainability extends beyond finances, and American sign companies that produce ADA signs are proud to support their local economy and be a part of their community. In the US and other industrialized nations, worker safety and protection as well as environmental policies tend to be stronger than those in developing nations. These regulations improve workers' quality of life and are a consideration for buyers that want their purchase to have an overall positive, sustainable impact.



Biophilic Design
There is a movement within the modern built environment to use more natural materials indoors. For many years it has been a popular trend to make plastic interior office signs look like wood or use a wood veneer under plastic. More recently some sign makers have made ADA signs from wood. In 2019 Green Dot Sign released a line of signage made of FSC ® 100% certified wood. The wood grain and natural variation of real wood signs complement the design and style of sustainable and biophilic buildings.
Biophilic interior design re-connects us with nature and improves human health and well-being. Numerous studies have shown that biophilic design improves employees' creativity, morale, and productivity. It also decreases stress and their number of days sick and absent. For hospital patients, biophilic design has even been shown to reduce stay length. Due to its benefits and our emotional connection with nature, biophilic design is a design shift rather than a short-term trend.
Life Cycle & Modularity
There are a few ADA signage lifecycle trends to consider. Most importantly, what happens to an office sign when a building is renovated or torn-down? Historically, signs would be sent to the landfill, and those made of acrylic would remain for hundreds of years and create microplastics that impact our entire ecosystem. More recently, a few sign manufacturers have overcome various barriers to recycle ADA signs post-consumer use. Green Dot Sign also provides customers who choose to update their signage a credit for returning used signs. Raised 3D printed material is removed from their signs and the wood base is then shredded and used for animal bedding.
Next, slide-in room and door signs remain a popular commercial office building choice. This sign type enables the number and name of an interior space to be changed by replacing only a sign component. For example, if an office was occupied by Jane Smith and now it belongs to Mary Jones it is more environmentally friendly to discard and remake only the 20 percent or so of the room sign that contains name text.
Sustainable Signage Innovation

Architects, builders, interior designers, and building managers' interest in and demand for green building products and materials is spurring eco-friendly ADA signage innovation in 2019. Amongst signage sustainability trends, the impact of diminishing fossil fuel use through recycled plastic and wood substrates and domestic manufacturing is especially exciting. In 2020 and beyond it is expected that current trends will continue, and the environmental impact of braille signs will continue to decrease.
[1] https://www.statista.com/statistics/323383/leed-registered-projects-in-the-united-states/

ASSESS compliance > DESIGN thoughtfully > MANUFACTURE sustainably > INSTALL skillfully From ADA signage needs evaluation to sign design, fabrication, project management or installation Green Dot Sign® handles any part or all of the signage needs for your next project. There are sustainable sign solutions for every application and sector.
( 0 ) Ratings
( 0 ) Discussions
( 0 ) Group Posts
Reply/Leave a Comment (You must be logged in to leave a comment)
Connect with us!
Subscribe to our monthly newsletter:
Read More


Sponsored Listings