Study Finds Green Homes in Texas Show Increase in Value by $25,000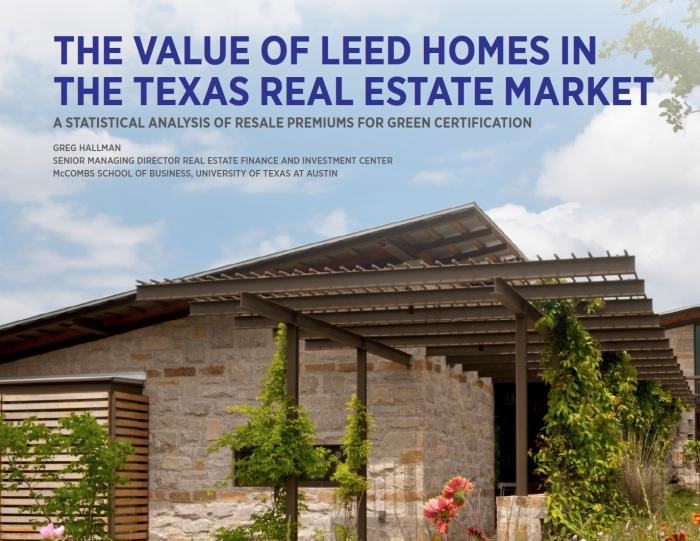 The University of Texas at Austin and the United States Green Building Council conducted a new study that suggests new homes in Texas that are built to meet green building standards such as LEED (Leadership in energy and Environmental Design), are valued higher in resale by an average of $25,000 compared to conventional homes.
The study, "The Value of LEED Homes in the Texas real Estate market: A Statistical Analysis of resale Premiums for Green certification," shows that homes that were built to LEED standards between the years 2008-2016 showed an 8 percent increase in value. As well as, homes built to a different range of green standards had a six percent increase in value.
The study analyzed more than 3,800 green-certified homes built in Texas from 2008 to 2016 to determine if the certification raised the resale of the homes. They looked at over 230,00 homes in Texas and used a regression model to take into account the interior floor area, number of bedrooms/ bathrooms, garages, and the age of the home.
Green certified homes benefit both the planet and profit of people by boosting the health and wellbeing of the homeowners and saving resources such as energy and water, which also saves cost for the owners.
To read more on this study: https://www.usgbc.org/resources/value-leed-homes-texas-real-estate-market
There are also a number of past related studies for how green certifications have affected other residential markets. Please feel free to comment if you are aware of more examples.
2012 California Study: http://articles.latimes.com/2012/jul/22/business/la-fi-harney-20120722
2015 Washington D.C Study: http://www.imt.org/news/the-current/green-homes-sell-for-a-premium
2015 North West Study: https://www.earthadvantage.org/assets/documents/NEEA_Home_Valuation_Report-FINAL.pdf
( 0 ) Ratings
( 14 ) Discussions
( 9 ) Group Posts
Reply/Leave a Comment (You must be logged in to leave a comment)
Connect with us!
Subscribe to our monthly newsletter:
Read More


Sponsored Listings
Related Posts
Read More