Product Specification 101: How To Make A Great First Impression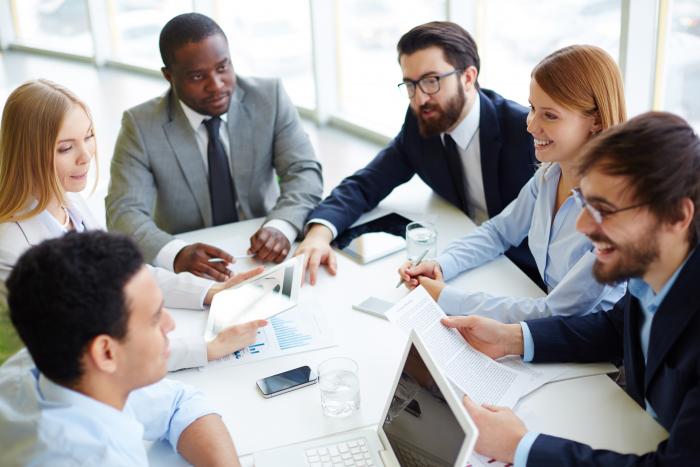 The relationship between the building product representative and architects, designers, engineers, interior designers, and consultants who write specifications for projects is clearly evolving. As those who can specify your building product face increasing pressure to deliver more for less on tighter deadlines, it becomes even more imperative to take the right long-term actions to build relationships and trust, and to become a go-to source for information.
Building product representatives today must be educators and advisors, as architects and specifiers simply cannot know everything. Estimates of the number of decisions required to build a building vary from a few thousand to tens of thousands, and specifiers are expected to manage environmental impact and health factors along with traditional considerations of appearance, function, maintenance and overall budget, all in an environment of rapidly changing and improving technologies. Due to this level of complexity and intensity, these professionals must rely on others to fill in expertise they don't have. Successful building product representatives will recognize this opportunity, marketing their brand energetically and skillfully and with respect for the limited time of the specifier.
A 2019 AIA study found that 88% of architects say that forming strong relationships with manufacturers is important to their success, and 9 out of 10 architects want these manufacturers to be involved in the specification process, with 25% expecting assistance with writing or editing specifications. However, the clear time crunch and pressure placed on specifiers may lead to missed opportunities if manufacturers and their representatives aren't ready to provide the needed support and information. Many manufacturers interviewed for the same 2019 AIA study reported that they do not seek out relationships, as they perceive that architects "do not want to be bothered." Although 88% of manufacturers interviewed perceived that they would benefit from focusing more on architects, only 6 in 10 reported an actual intent or plan to build these relationships. Manufacturers and their representatives should not be afraid to reach out and build relationships, but they do need to listen and make sure to use valuable time efficiently.
Successful building product representatives listen to their potential and existing clients and then respond as to how their product offers solutions to stated needs. They provide quality information and metrics, and they only recommend their product when they are sure it's a fit. In this way, these representatives become trusted advisors specifiers will return to for more information in the future. Representatives need to understand that getting products specified requires a long-term plan and patience, especially for newer products where experienced-based information is not yet available. It might take months or even years to build a solid relationship where you and your products become a go-to for a particular specifier. Building this relationship will require a comprehensive and reinforcing effort which combines traditional and efficient in-person support with building your brand energetically and skillfully outside the conference room.

In-person meetings remain an essentiall strategy for establishing and strengthening relationships. However, it's key to understand that your chances of scheduling the right meeting grow if you also do everything you can to build your reputation outside of that meeting. Top considerations that always apply include:
Make sure to be an expert about your product, its place in the market, and even its limitations. You must be able to advise on cost and installation requirements, including handling and storage, as well as maintenance. You may be called upon to assist with drawings and instructions, and you should also be able to speak to substitute products.
In addition to answering questions about your own and competitive products, become a thought leader and educator in your segment so that others will seek you out to learn from you. There are many ways to do this, including providing continuing education courses, speaking at industry events, writing blogs, and participating in social media.
Have quality information and documentation available, including transparency information. Information should be clear and understandable, and accessible online as well as through professional and sharp collateral. Make it easy for your potential clients to learn about your products.
Always be sincere and give an honest opinion. For example, acknowledge when your product is not a fit for a project, even if it feels difficult to say so. It may seem counterintuitive, but the relationship and trust you are building will pay greater dividends in the long run. Additionally, a product that doesn't perform will have an immediate cost, reflecting badly on you and potentially ending a relationship.
Remember to follow up with potential and existing clients. This is essential to both win new business and also to ensure repeat business. Are there questions? Are your contacts satisfied? Is there anything you can do to provide excellent service?
So, how do you get that meeting with a professional who can specify your product, and how do you make the most of that time?
Choose who to meet with carefully
Choosing who to meet with includes researching both the right firm and the right people at said firm. Finding the correct decision-makers is key. Mid-size architectural firms (10 to 25 professionals) are often appealing, as they make up about 15-20% of all firms and represent a large number of significant buildings. Smaller architectural firms may offer a lower return for your time, while larger firms may offer challenges in getting to the right person, represent a smaller percentage of all firms, and are more likely to already have consultants for many informational needs. Larger firms may also have different departments or locations that operate more independently, making communication more complicated
Additionally, you may need to seek out project engineers, interior designers, and consultants such as for building envelope, lighting, A/V, acoustics, security, sustainability, and more. A design professional you are advising on a project may share information of vendors to contact for the construction phase, or you can ask at particular firms who the responsible party is for a particular project. You can also research the type of building where your product adds the most value, and target organizations that tend to work on that type of building, or are recognized as leaders in that space. Specification consultants may also make great potential connections, as they write specifications and make product recommendations to their clients. These are typically smaller offices, but they work for 30-40 architects and over 100 projects in a year. Finally, you will need to be in contact with constructors on specific projects, and generally. The specifier might have written a specification your product meets, but the constructor is the one making final purchasing decisions.
Within a firm, you might be looking for a particular specifier, or a consultant working at or for the firm. You will also want to form relationships with constructors and subcontractors and suppliers. Of course, treat everyone you meet with respect as it's the right thing to do. Additionally, some of these people will be gatekeepers to other meetings you'd like to have.
Plan the right meeting at the right time
Meetings with a specifier can be project-based or a part of regular client contact and service. Early in a relationship or project, you will want to ask for a short introductory meeting. Here, you introduce yourself, the company, and your product. You also want to determine some basic information about the firm and who your best contacts might be. Done right, this meeting will lead to an invitation or an offer to come back, or an opportunity for you to follow up and ask to return. A common mistake would be to take up too much time or provide too much detail at this stage. With an appointment, this meeting will likely be scheduled for 15 minutes or less. If you do not have an appointment, this kind of meeting should take no more than five minutes.
As a project progresses, you can schedule a product-specific or even a specification meeting. Products that are design-oriented are generally selected earlier in the construction process, while more technical products would typically be selected during design development or contract document phases. A product-specific meeting might be a 30 minute appointment or a 60 minute lunch-and-learn opportunity to present one product line in depth, including distributing supporting literature, specifications and samples. A specification meeting is usually scheduled in response to a design professional's request to consult for a specific project.
Outside of a project and in addition to a brief introduction meeting, you can also "drop-in" to update catalogs or samples in a product library (prior communication is still advisable). You might also be able to schedule brief drop-ins with an individual designer, architect or specifier at larger firms where they offer this opportunity. As a part of client service, you might also visit on a regular basis to larger firms where your manufacturer has significant business. Lunch-and-learns can be very helpful when there's a new product release, and some representatives will host more complex events with firms where they have significant business.
Have a clear and appropriate goal for your meeting
It's key to understand why you are visiting a potential or existing client. Is this an introduction? Are you checking in and working on a long term relationship? Are you providing follow up and client service? Are you seeking information or answering questions to help you better understand how your product can solve your client's or potential client's problems?
When you meet with a specifier, your goal might be to get a product specified on a particular project but an even better goal might be to get your product specified on the firm's master specification, which could mean that your product is consistently specified. One of the reasons it's difficult to get in the door in the first place is that architects and designers, like many people, are very risk averse, and like to "go with what they know" and have worked with before, or maybe what a trusted colleague recommends. But once you have earned a place on their list or team, that achievement can continue to deliver.
Product representatives need to keep in mind that specifiers are making recommendations but are not making final purchasing decisions. The key is to make sure your product is one of those that best matches the specifier's criteria, so the closer you can help the specifier write to characteristics of your product the better.
Be Exciting (Engaging)
It may sound unfair to suggest "be exciting," but let's look at what this can mean. Think of it this way – you should be excited about your product if you expect to excite others. Come prepared, have an active and sharp presentation, ask what your colleagues' pain points are, and leave plenty of time for questions, which you are well qualified to answer. You can learn from comments and questions, and your audience will be more engaged. Make sure to look people in the eyes, and move around if you're in a larger space. Involve your audience from the start, and you will be rewarded. In closing your presentation, if you have a clear goal you can share and it seems appropriate, state your goal and make sure your audience has a clear take-away point.
It's important to understand that even a successful meeting may not mean immediate results. It can take years for a busy and risk averse design professional to decide to trust you and your product. On a positive note, that this trust is valuable once earned: According to a 2016 study, 7 out of 10 architects choose suppliers with whom they have an existing relationship. Favorable opinions are built over time, through your positive impressions and word of mouth about you and/or your product. This timeline illustrates why it's important to emphasize relationship and trust building activities outside of these meetings. Visits are important, but they are just one key component of an overall effective strategy to build your brand and reputation.

GreenCE, Inc. is the leading provider of AIA continuing education in the country. We are an AIA Education Provider and USGBC Education Partner. GreenCE offers free AIA courses, free LEED specific hour courses, and several no-cost IDCEC courses. We offer ADA education for architects, specifically courses that meet the California disability access requirements and Texas barrier-free courses. GreenCE offers the only free LEED exam prep in the industry. This course is designed to help design professionals pass the LEED Green Associate exam the first time. The LEED course includes 10 video modules, free LEED exam study guide, practice questions, study sheets, and an 8-hour audio book.
( 0 ) Ratings
( 0 ) Discussions
( 0 ) Group Posts
Reply/Leave a Comment (You must be logged in to leave a comment)
Connect with us!
Subscribe to our monthly newsletter:
Read More


Sponsored Listings