Architecture 2030 and the International Living Future Institute update their Net Zero Energy Goals

Passive House / Sustainability Enthusiast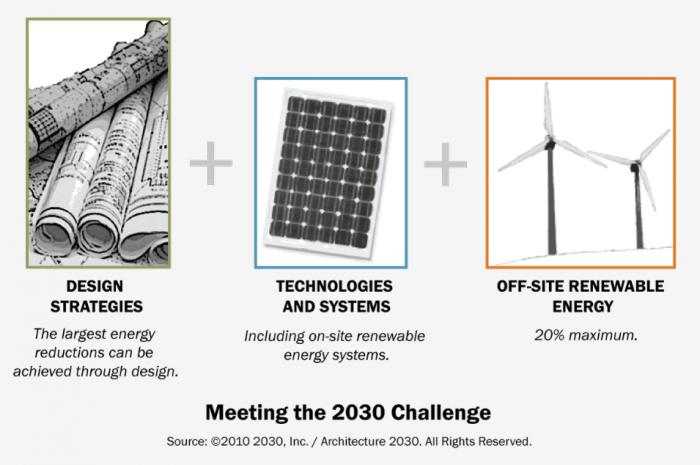 Architecture 2030 and the International Living Future Institute (ILFI) are making an effort to grow their energy efficiency reporting and certification programs. Both the 2030 Challenge and the Living Building Challenge (LBC) have encouraged progressive designers and owners with aspirational goals that are eminently hard to achieve. New policies announced on March 8, 2017, are intended to remove unnecessary barriers to certifications and scale up engagement with their reporting and certification programs.
The International Living Future Institute (ILFI) has collaborated with Architecture 2030 to update their 'Reveal' label - an easy-to-understand method of displaying the energy performance of a building. Reveal is designed for architects, managers, owners, 2030 Challenge adopters, and AIA 2030 Commitment signatories who want the validation and confirmation of a third-party verification for their building's energy performance.
Some of the most efficient buildings in the world are reducing their energy use by as much as 90% from average, and Reveal helps these buildings highlight their energy performance with an elegant label and a third-party verification.
The Reveal label displays a building's Energy Use Intensity (EUI), Zero Energy Performance Index (ZEPI) score in collaboration with the New Buildings Institute, reduction in energy use from the 2030 Challenge baseline, and onsite and offsite renewable energy generation.
Architecture 2030's new Zero Tool:
The 2030 Challenge relies on the U.S. Environmental Protection Agency's (EPA) Target Finder tool to establish the benchmarks and energy use intensity (EUI) targets. Target Finder, in turn, through its Energy Star and Portfolio Manager platform, is based on energy use data from the Commercial Buildings Energy Consumption Survey (CBECS).
EPA is in the process of updating its tools from the 2003 CBECS to 2012, which would change all the benchmark EUIs that designers and owners have been striving to meet. Architecture 2030 strongly encouraged EPA to maintain the CBECS 2003 database because it's the basis for all 2030 Challenge baselines, but unfortunately, they were unable to do so. Rather than moving the goal lines midway, Architecture 2030 elected to replicate Target Finder's functionality and lock in the CBECS 2003 baselines.
Architecture 2030's new Zero Tool builds upon Target Finder's features, providing a graphic display of baselines, targets, and existing building performance, and allowing users to compare data normalized by climate, building size, occupancy, and schedule. It will be the new reference for all projects being measured against the 2030 Challenge, including AIA's Design Data Exchange (DDx) reporting tool.
Collaboration between the Zero Tool and Reveal:
The newly updated Reveal label will operate as a third-party verification tool for sustainability initiatives such as the 2030 Challenge and the AIA 2030 Commitment. In essence, the 2030 Challenge adopters and 2030 Commitment signatories can use Architecture 2030's new Zero Tool to generate their post-occupancy building data and submit that data to the Reveal program for a third-party verification to demonstrate that a project meets the challenge targets.
2030 District members can also validate their compliance with the 2030 Challenge targets by using the Zero Tool and submitting their building's performance to the Reveal program for a third-party verification.
What's new with ILFI's Net Zero Energy programs?
ILFI has substantially simplified their Net Zero Energy (NZE) Certification process to enable applicants to take their projects to the finish line. They have streamlined NZE certification process and documentation requirements to help save time and money. They have revised their performance information to be clearer and more straightforward.
Recognizing that many projects in the market are interested in being certified to net zero but find it rather challenging to meet all the compliance standards, ILFI has eliminated those facets of the program. Now the certification takes you to the heart of the program – net zero energy performance. ILFI has removed their previous requirements of Limits to Growth, Beauty, Inspiration and, Education.
In addition, to manage its own costs in running the program, ILFI has also removed the requirement for a site visit, which can be replaced by photo documentation and a declaration that there is no banned combustion. The cost for getting a project NZEB certified is unchanged, at $900 to register and $1,250 to $10,000 to certify, based on project size.
Furthermore, LBC's Energy Petal requires that projects demonstrate net positive energy use through a year of actual performance data, using onsite renewables and without any onsite combustion. That's still possible for small buildings with normal process energy loads and good solar exposure, but it's simply not possible for certain project types such as hospitals and data centers. To that end, ILFI is releasing a major new exception to allow offsite renewables for Net Zero Energy Petal projects in specific circumstances.
The exception applies to four distinct conditions:
· Tenant improvements where the project doesn't have control over the site or building enclosure, so they can't install onsite renewable generation.
· Projects with inherently high energy loads, such as data centers and hospitals can allocate offsite renewable generation. Renewable energy credits (RECs) are no longer allowed.
· High-rise projects and those in urban cores that are too densely occupied to be net zero with current technology.
· Projects that are prevented by their local jurisdiction or electric utility from feeding energy into the grid. These are rare in the U.S. where there is a national net-metering requirement, but not uncommon in Australia and other countries.
LBC is working with several potential projects with the above-mentioned circumstances and believes that there needs to be a pathway for project teams to strive to achieve the highest in energy performance within these limitations. As a result, LBC now offers this new exception that broadens the range of projects that can be certified. This new pathway still maintains the very highest aspiration and rigor, at a level similar to other Energy Petal and Net Zero Energy Building Certified projects.
"While establishing this exception, ILFI has been wary of guarding against perceptions that it is watering down LBC. To figure this out we deconstructed net-zero energy from a conceptual standpoint," according to the Director of Net Zero Energy at ILFI.
Projects in these categories can include offsite renewables only after they've demonstrated, via an energy model review, that they've set and achieved aggressive energy use targets for the project, and maxed out the energy that can be provided via onsite renewables.
State Incentives for Net Zero Energy projects:
Net Zero Energy projects save money as renewables become increasingly more accessible, and in turn, many cities now offer subsidies or rebates for buildings that are powered by solar. Here are a few states that work with the ILFI:
· California: Pacific Gas & Electric Zero Net Energy Pilot Program
· Illinois: Clean Energy Community Foundation
· Massachusetts: Pathways to Zero Net Energy Program (commercial and residential)
· New York: New York State Energy Resource and Development Agency (NYSERDA) (residential)
· Oregon: The Energy Trust of Oregon (commercial and residential)
· Seattle & Shoreline: Building & Energy Incentives
· Washington: Energy Incentive Programs
In conclusion, the revised Net Zero Energy programs are paving the way for more resilient buildings that are meant to last and are safeguarding against increasing fuel costs and uncertainty. The new updates from the ILFI and Architecture 2030 are a roadmap for a restorative future that will drive a significant amount of renewable energy development and offer something more substantial than just purchasing renewable energy credits (REC's).
Sources: Architecture 2030, The International Living Future Institute, New Buildings Institute and, BuildingGreen, Inc.
http://architecture2030.org/demonstrate-your-buildings-performance-with-the-ilfi-reveal-label/
https://living-future.org/net-zero/certification/
https://living-future.org/reveal/
http://newbuildings.org/hubs/zero-net-energy/#tools-guides
https://www.buildinggreen.com/news-analysis/scaling-engagement-net-zero-energy-goals
( 0 ) Ratings
( 29 ) Discussions
( 14 ) Group Posts
Reply/Leave a Comment (You must be logged in to leave a comment)
Connect with us!
Subscribe to our monthly newsletter:
Read More


Sponsored Listings
Related Posts
Read More