Healthy Design – A Key Factor in Green Building Moving Forward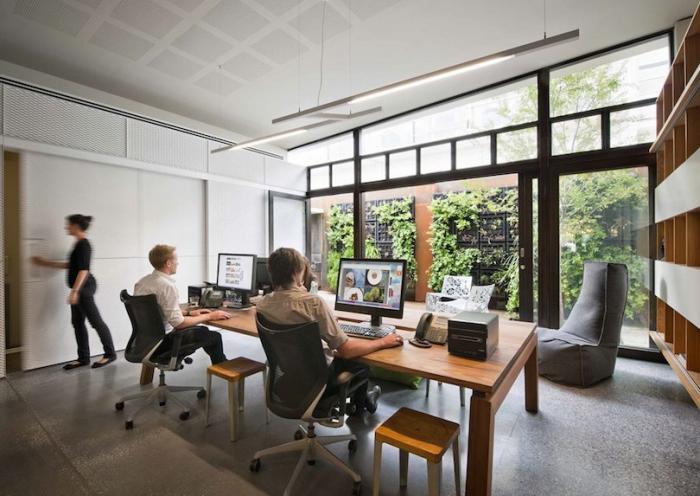 Buildings are a complex system divided in many indoor environments, which can cause a positive or negative impact on occupants' health. People usually spend the most of their time indoors at work or at home and, therefore, building design has a large impact on quality of life. Architects and designers are increasingly considering ways to design buildings with health-focused spaces providing comfort and wellbeing.
"In building, wellness is the new sustainability," says Jonathan Penndorf, an architect with the Washington, D.C., firm Perkins+Will who specializes in green design and serves as a sustainability advisor for the American Institute of Architects. "The goal is to make our built environment more physically healthy for people."
There are many benefits of designing building around wellness justifying the required effort. The designs can reduce illness and absenteeism among workers, increase worker productivity, increase test scores among students, and improve workplace satisfaction.
Green buildings' method of construction has a big influence on wellbeing. Green and wellbeing strategies together improve performance in the building, improves people life in a long and short term, and contributes to the environment at same time. For instance, the use of right materials, with lower VOCs (Volatile organic compounds), can positively affect the indoor environment and contribute to wellness improving air quality by reducing carbon dioxide concentration that cause people to feel stuffy and tired.
Healthy building certifications, which include WELL Building and Fitwel, offer frameworks to help improve health and well-being for everyone through design. The certifications provide comprehensive support to building owners and design team that helps the buildings with wellness maintenance and updates along the years making sure the buildings are always in health condition. However, a building does not need a certification to be healthy and to incorporate wellness strategies. The main strategies can be developed during the design process. For example:
- Ventilation: The air quality is affected by temperature and humidity, which determine how the occupants feel in the building. If the temperature or humidity is high, it will decrease the productivity because people will feel tired. The right ventilation can solve this, increase occupants' energy, and improve their health.
- Natural Lighting: Besides help to save energy, studies show that daylight makes people happier, more productive and helps air quality.
- Water quality: A special system of water treatment can purify the water to be potable, improving the human health and reducing the amount of waste in the building.
- Active Design: This type of design encourages mobility, movement, and interaction among people. For example, clustering printers and water coolers, and creating communal trash and recycling bins.
- Incorporate Nature Elements: The natural plants inside and green roof provide a better air-cooling in the ambient and health benefits from better air as well.
The movement towards building design focused on wellness is an exciting step forward in architecture and construction. It actively considers the people who will be occupying and using the building and can directly improve their health. Not only is this beneficial for occupant wellness, but it also can lead to overall improvements in the workplace and productivity. Therefore, more businesses and builders should consider these new design possibilities and benefits.
To read more:
https://www.nationalgeographic.com/environment/urban-expeditions/green-buildings/surprising-ways-green-buildings-improve-health-sustainability/
https://www.wellcertified.com/
https://www.ncbi.nlm.nih.gov/books/NBK54149/
https://www.ncbi.nlm.nih.gov/pmc/articles/PMC4513229/
http://buildingevidence.forhealth.org/
Image credit: http://paramountinteriors.com/blog

I am an Architect and Urban Planner graduated in Brazil and working with architecture since 2013. Nowadays I am living in Boston area. I have Zero Energy Building course completed in Harvard Extension School and this year could get my LEED GA credential. My interest in Sustainability and Green Buildings is growing up every day and becoming my focus, therefore my aspiration is to gain more experience and help people with my expertise.
( 0 ) Ratings
( 5 ) Discussions
( 5 ) Group Posts
Reply/Leave a Comment (You must be logged in to leave a comment)
Connect with us!
Subscribe to our monthly newsletter:
Read More


Sponsored Listings
Related Posts
Read More