Greenbuild 2017 Wrap Up - Some Top Show Moments and Activities

Greenbuild 2017 was a whirlwind week!
I am excited to share some top Greenbuild 2017 activities and moments. Sometimes, I wished I could be in more than one place at once! Conversations on the show floor gave me an opportunity to make new connections, and to see some familiar faces. More than once, I was enjoying speaking with someone, and we realized when we looked at our name tags that we know each other through email, social media, or even in one case, a wonderful phone call a couple of years ago! In such a great moment of opportunity for green building, it's great at times that we are also a small enough community to run into friends and colleagues as well.
1. The Opening Plenary - Mahesh Ramanujam and Bill Clinton were Inspiring!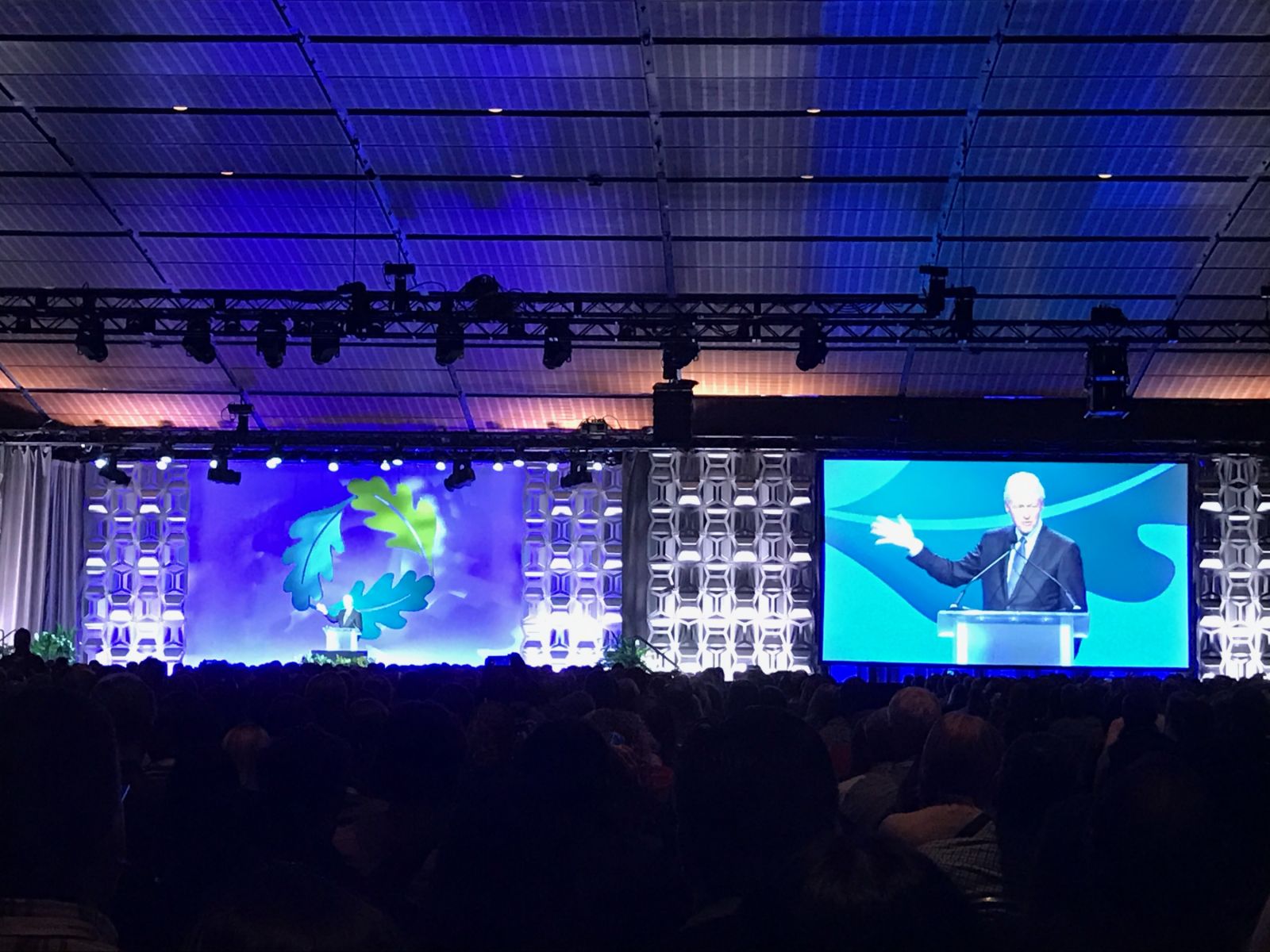 Thursday's Plenary was just one of those magical moments, it seemed to me. Both USGBC President and CEO Mahesh Ramanujam and President Bill Clinton encouraged the green building community to share our stories and to work together - and to stay the course in our important work.
First, Mahesh Ramanujam reminded all of us that we can't do this alone, and that we must seek out partnership as a new form of leadership. Where we have similar goals, we must all work together to achieve them efficiently and maybe at all. And we must be inclusive as a community. Mahesh announced a goal to have 20% of growth come from underserved communities, which was great to hear. Health and wellness are indeed necessities, and we do all deserve the benefits of sustainable living. Let's make this happen together! As Ramesh said, we must share stories and successes and inspire others. "Ask yourself, 'Why are you here? What is your story, and who will you share it with?'" I could not agree more.
Next, President Clinton made clear that we as a community can not give up on our big dreams. He stated, "It's better in a fleeting life to have an aspiration - you have to put your bricks on the right path." The President declared that our work on climate change and our efforts towards making all buildings more sustainable is "one of the greatest opportunities any of us will ever have to create jobs, improve health and reach into every corner of America." He also both pushed and almost scolded the community that we "have not been foolish enough to think because we can't do everything, you shouldn't do anything." Anyone having doubts as to their impact might have felt a little guilty. The President continued, "Everything you do is valuable in its own right but also sends a signal, a ripple out in the world that you value our common humanity." The President feels it's an honor to be present at the creation or transition to a new economy. Now we need to do the work to make that happen. In concluding, a key point was that we should "Get caught trying, to share what [we] know, and go on with a happy heart." We must "be determined, resolute, and in the end you will win." What a great preview of the work ahead.
2. Connecting with Old and New Friends and Colleagues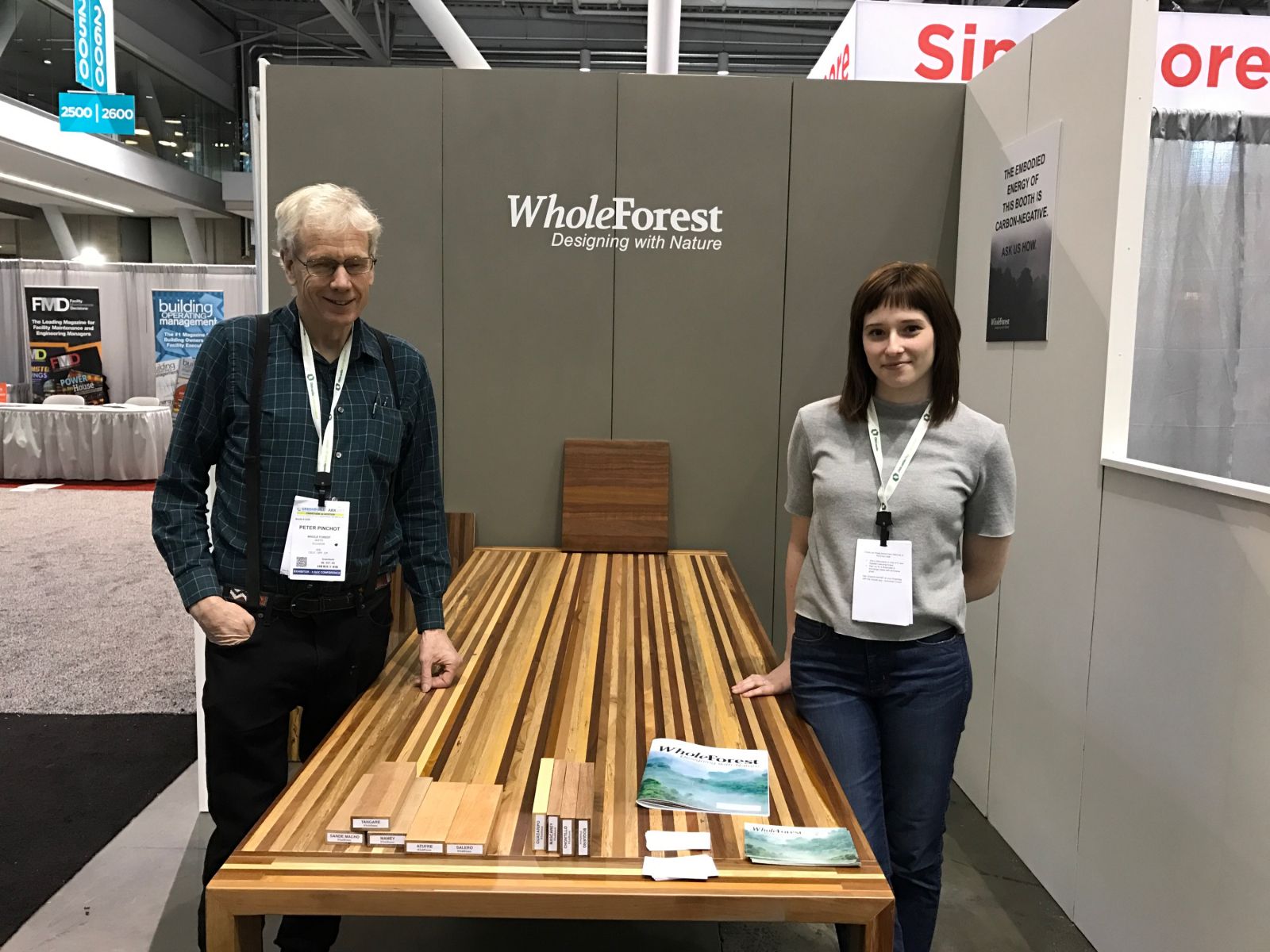 There were so many great moments at this show where I ran into people I already know, or made super new connections. For one thing, I always like to visit our Community Members. Most often, we're connecting online or perhaps by email or phone. At 3 am, or when there just isn't a show at which we can connect, an online platform might be a better place to share information and expertise than a trade show floor... I hadn't known that WholeForest (formerly EcoMadera) was going to have a booth this year, so it was a treat to see Peter and Maura in person.
At least twice, I started conversations and then at some point we looked down to see who we were talking to and realized hey, we already know each other. Once, I was talking to someone in person for the first time. We've spoken by phone and have emailed, but we've never met prior to the show. As we're talking about our overlapping goals, and as I am wondering how we might work together, another person in the booth realized that she and I have literally created a partnership between our resources -and we didn't know we were in the same space! A big hug ensued, as can happen between people who have never met at sustainable events. Another time, I was talking to someone prior to a session started and we both brought up complimentary points. We continued our conversation and realized only when we looked down at our name tags that we had shared a terrific phone conversation about inspiration and information in the green building industry over a year ago!
I enjoyed the opportunity to try a "brain date" and to make new connections at the show as well. Several of us met briefly, and we agreed to keep up our conversations about how we might be mutually supportive on the topic of helping more people learn about green building, in the future. Then it was off to the plenary which I attended with someone I had recently met through a colleague as well as a relative of the same colleague. She couldn't be at the show this year, but she made sure the rest of us connected!
3. MBDC's Announcement about Walmart and Home Depot Stepping up their Commitment as a Part of the Mainstreaming of Green Building Materials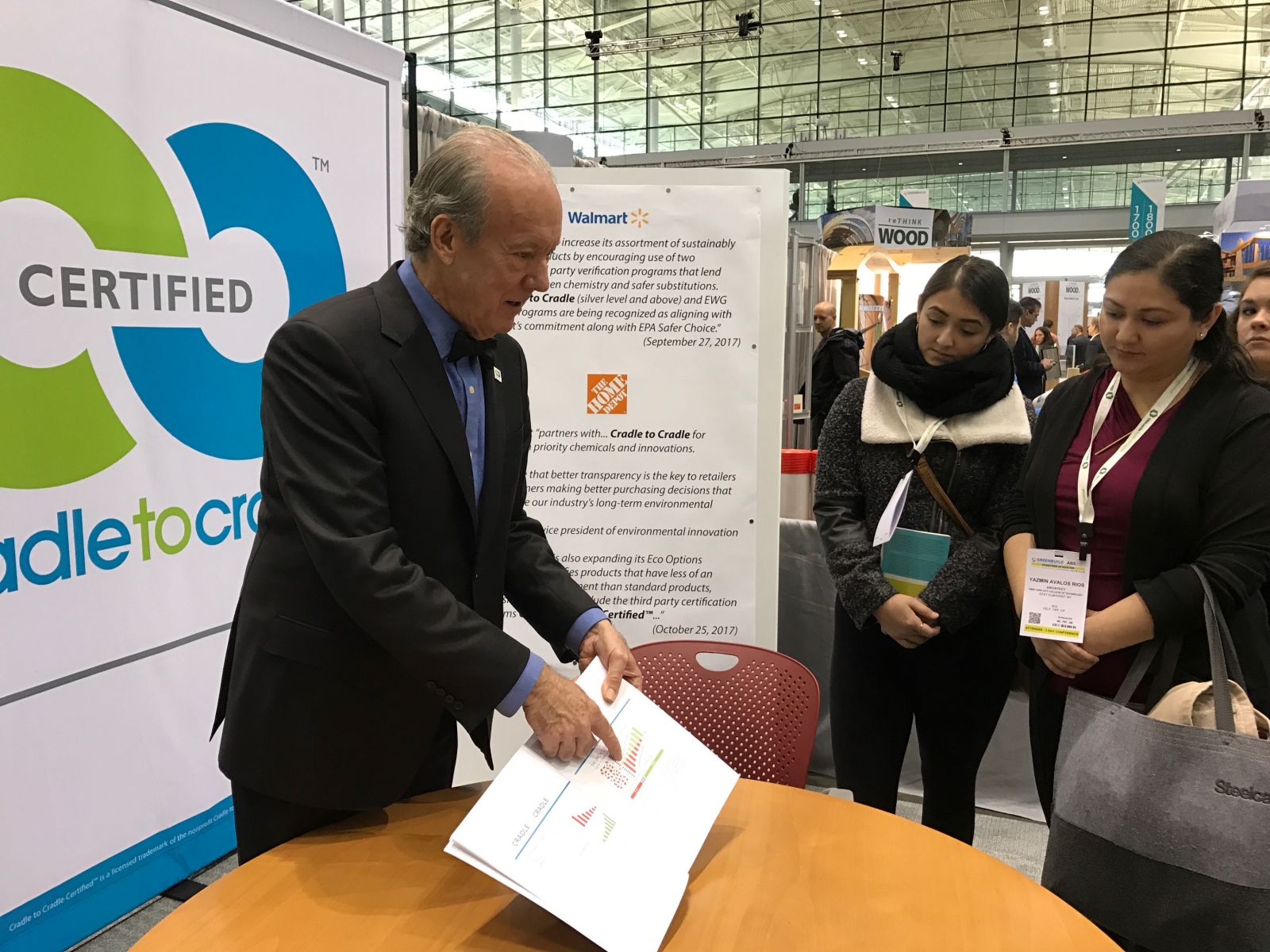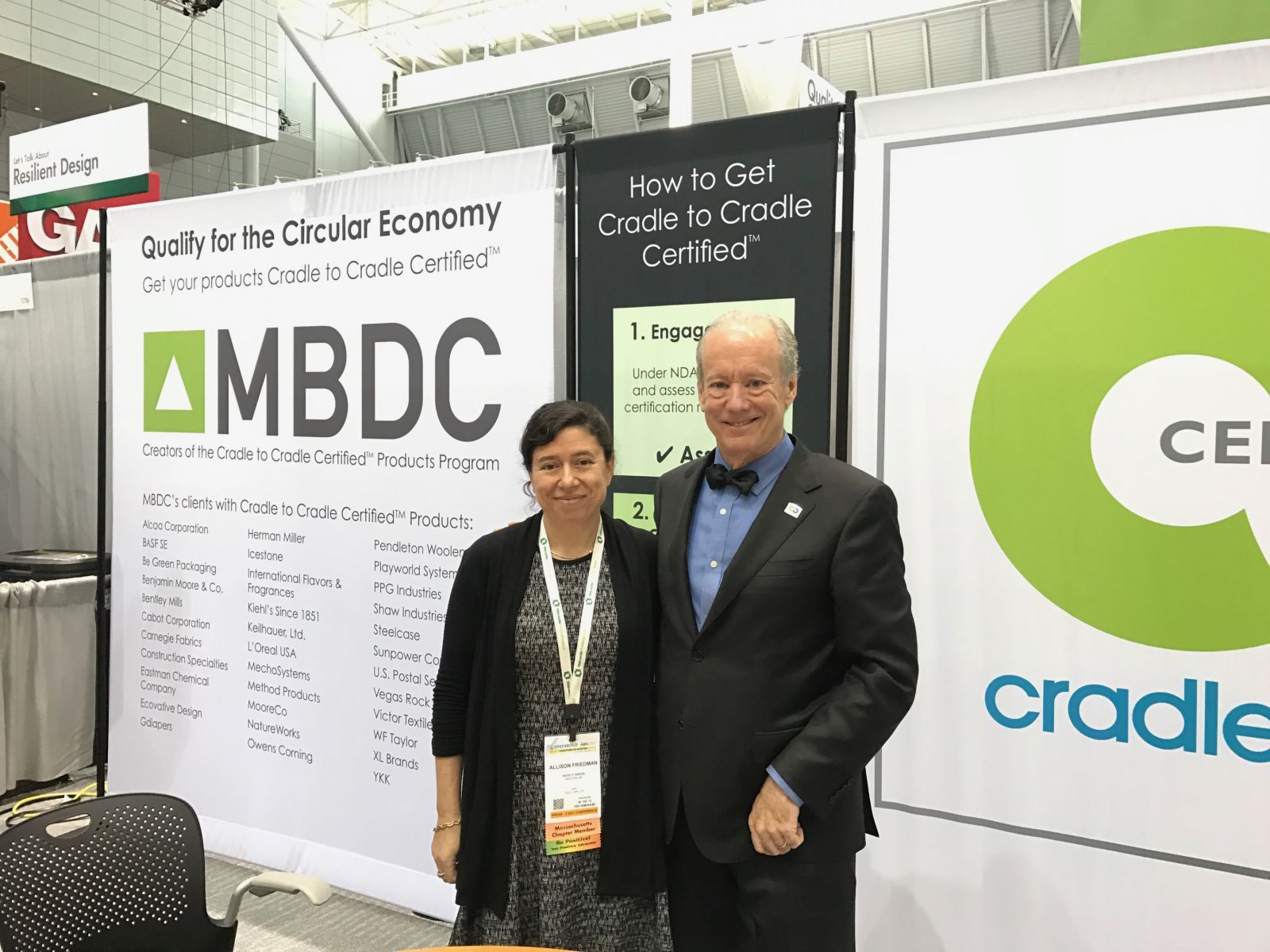 It was a treat to be a part of a conversation with Bill McDonough, as he shared news of recent commitments made by Walmart and The Home Depot to Cradle To Cradle Certified Products. Walmart has officially recognized Cradle To Cradle Certified products (silver and above) as aligining with Walmart's commitment to reduce priority chemicals by 2022. According to Walmart, the company "aims to reduce its consumables chemical footprint for Walmart and Sam's Clubs US stores by 10 percent by 2022, becoming the first US retailer to set a time bound reduction goal." Additionally, Walmart has made commitments to transparency, enhanced formulations, ans more sustainable products generally.
For its part, The Home Depot is recommitting to a program called Eco Options that first started in 2007. Eco Options is a voluntary program for recongizing products with a smaller environmental impact in five areas; energy efficiency, water conservation, healthy home, clean air, and sustainable forestry. Suppliers may now use Cradle to Cradle Certified products and the Material Health Certificate to qualify for the program, a development which may simplify the process for item approval and appears to signify a renewed focus on addressing product chemical safety, transparency, and environmental impact.
Mr. McDounough spoke about the difference between "reducing" harm and instead measuring how much better we can do, as we aim for choosing good, beneficial materials that can not only do no harm, but can ultimately be part of a regenerative economy. He also said that if sustainable and healthy materials are a lauxury, well this is a luxury we need to make available to everyone.
4. The Solar Sunflower and The Net Zero Zone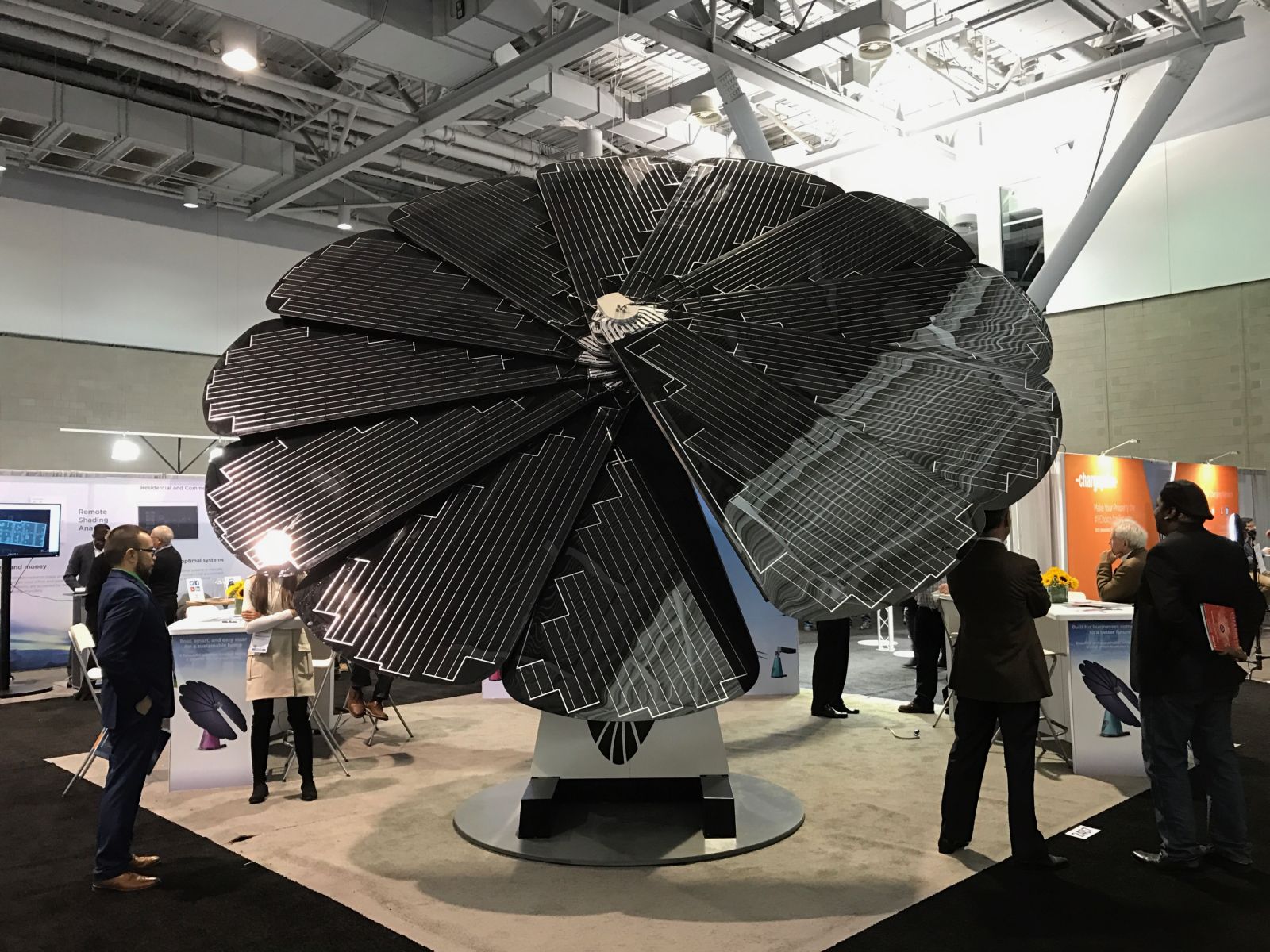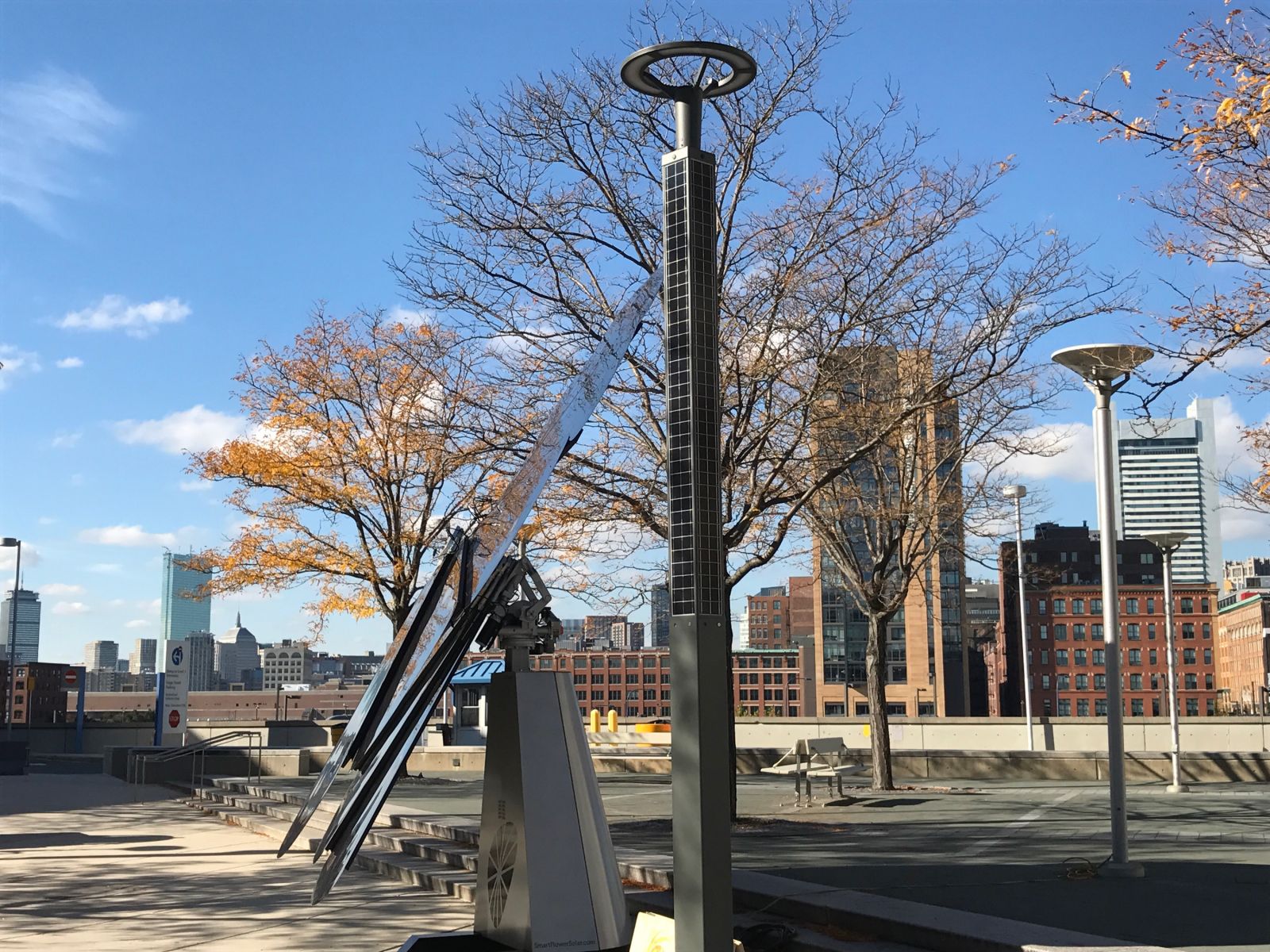 Did you get to see the giant solar sunflower? The "Smartflower" on the Greenbuild show floor might have been a great showpiece, but the one outside was actually helping to generate enough energy to power the show's NetZero Zone, including the Microgrid Showcase. It was a bit cold out, but worth the trip to see this technology in person and agains the backdrop of the Boston skyline! I look forward to learning more about the companies that were a part of literally showing how the components of a microgrid work together to get the job done.
5. Educational Sessions - "Selling Green Buildings" by Suzanne Shelton was a favorite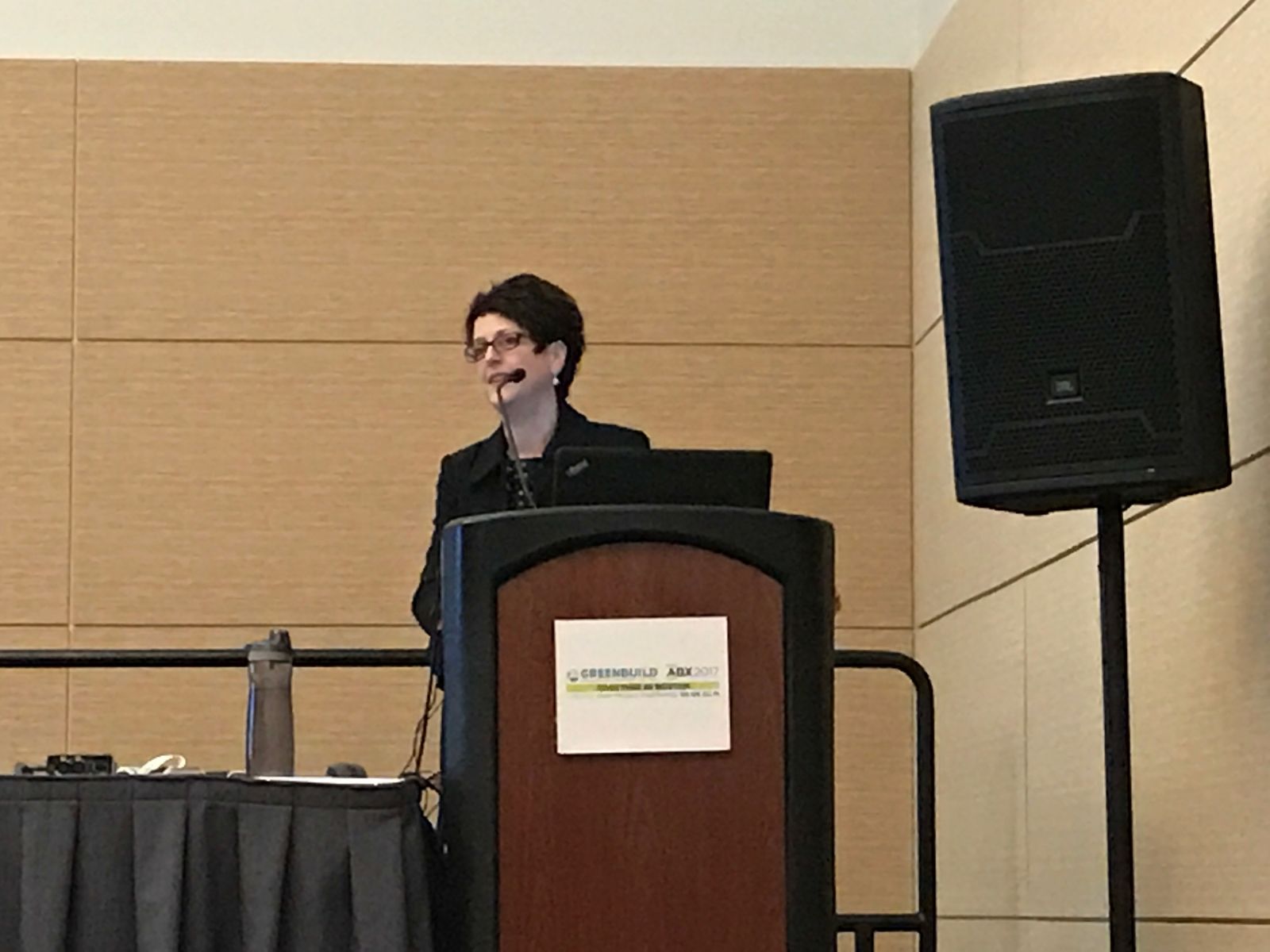 What are the drivers behind how companies and consumers make green building decisions? Why are ROI arguments alone not going to do the job? Suzanne Shelton of The Shelton Group addressed these questions more in a terrific session Thursday morning - many of us showed up at 8 am to learn about this critical topic.
Lots of people say they'd choose an energy efficient home and also that they'd likely pay more, so why aren't more of our homes green? What is the difference between what we think and how we act? And why do many of us care about terms we can scarecely explain? Something is going on here! Do you know what a dual flush toilet is? Great! But...what if your clients don't?
To build and sell more green buildings, we're going to have to do a lot more listening, and we're going to have to be clear to our target clients and make it easy for them to say yes and to meet their goals. If the message we believe in doesn't match their concerns and interests, then we will not have the impact we desire. We must learn to meet our clients where they wish and need to be met. And, I think we really have to think of a whole host of ways to educate people and to provide the tools and informatoin they need to make confident decisions. When Suzanne mentinoed reveiws as an example of a great way to market, I was pretty excited!
Overall, even if we don't all realize we're talking about the same thing sometimes, I feel that Greenbuild absolutely affirmed a desire and need to share more information. Both Mahesh Ramujanajam and Bill Clinton talked about sharing stories and keeping on this important, impactful path. And the people I met, those who I already knew and those who I hadn't met prior, are all doing their parts as key peices of this growing network. For his part, Bill McDonough joked that MBDC's recent news show evidence of what a "30 year overnight success looks like." In other words, don't gve up - and sometimes we have to be patient! The Solar Sunflower folks and their colleagues gave a great example of how we can get this job done. And finally, Suzanne Shelton helps to put this all in perspective, explaning what strategies will work to continue and expand our efforts.
Gosh, I wish I could have fit more in. Interestingly, having the show in my home town seemed less easy than when the show is in another city and one can immerse oneself completely day and night? I wish I had attended a few tours or a summit - they sounded so great, and in past years I can highly recommend both the healthy building summit and one I attended on affordable and green housing. But between the show floor, session presentations, and major speakers, there was also plenty to do!
I will hope to see many of you out there next year in Chicago for a super focused, productive and fun week! In the mean time, I greatly look forward to connecting online. There is so much we can all to do help each other meet our common green building goals.

I am excited to work with the Members of the Rate It Green Community to host conversations, create connections, and generally share information and help green builders everywhere. Please feel welcome to reach out to me directly with suggestions for improving Rate It Green.
( 0 ) Ratings
( 99 ) Discussions
( 131 ) Group Posts
Reply/Leave a Comment (You must be logged in to leave a comment)
Connect with us!
Subscribe to our monthly newsletter:
Read More


Sponsored Listings
Related Posts
Read More