Green Schools – Enhancing Health, Wellness and Academic Performance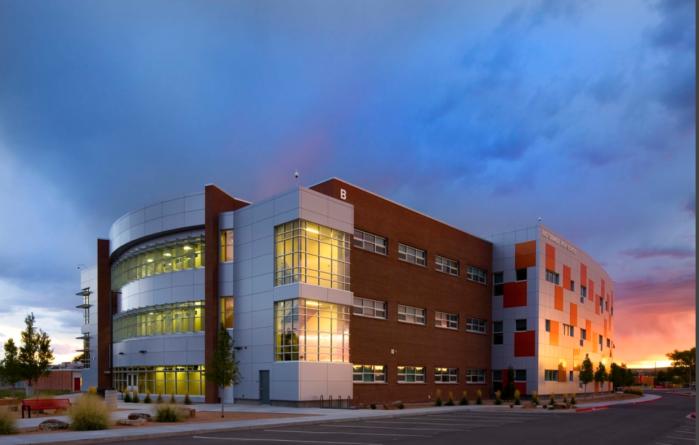 Students spend the majority of their day at school during their most crucial development years. In this time schools must be a creative thinking space, source inspiration and develop responsibility. Have a great environment is essential to contribute to students' mood, focus, and consequently to their academic performance.
Green building technologies applied to schools considerably improve the students and teachers' well-being, expand learning, raise test scores while saving money and resource. The Harvard T.H. Chan School of public health reported: "…The school building is foundational to student success, and is as important as all of these other factors we consider."
Decades of scientific research shows how school building conditions such as indoor air quality, classroom acoustics, thermal comfort, daylighting, and access to nature improve student's productivity interacting to achieve the goal of a sustainable building. Specifically, each of these building conditions contributes to green schools in key ways:
Indoor Air Quality: Green schools can avoid health problems including asthma, allergies, and mucous membrane irritation, potentially decreasing sick days with air quality improvement. Impacting positively the students and teachers have excellent achievements.

Classroom Acoustic: Optimizing classroom acoustic provides the development of memory, attention, and focus. Green schools incorporate high-acoustic ceiling, tiles, lined ductwork, and heating and cooling systems with appropriately placed vents to lessen distraction. Many studies confirmed the importance of a low background noise level to the learning process.

Thermal Comfort: Providing comfortable temperatures to classrooms allow students and teachers to enhance productivity and keep students more alert. The control of temperature and ventilation can contribute to the well-being, academic performance, and energy performance.

Daylighting: The daylight can affect the student's behavior. Skylight and large windows allow the daylight into school. With a great natural light inside classrooms, the students can visualize the board clearly, reduce the energy use, and improve the quality of their development.

Access to Nature: The green schools as usual green buildings understand the importance to improve green spaces and outdoor views consequently improving the air quality. Green schoolyard, nature-based play, and meaningful experience in nature are essentials to a green school.
As we can see below, the benefits of a green school affect not only the students but also the schools and planet.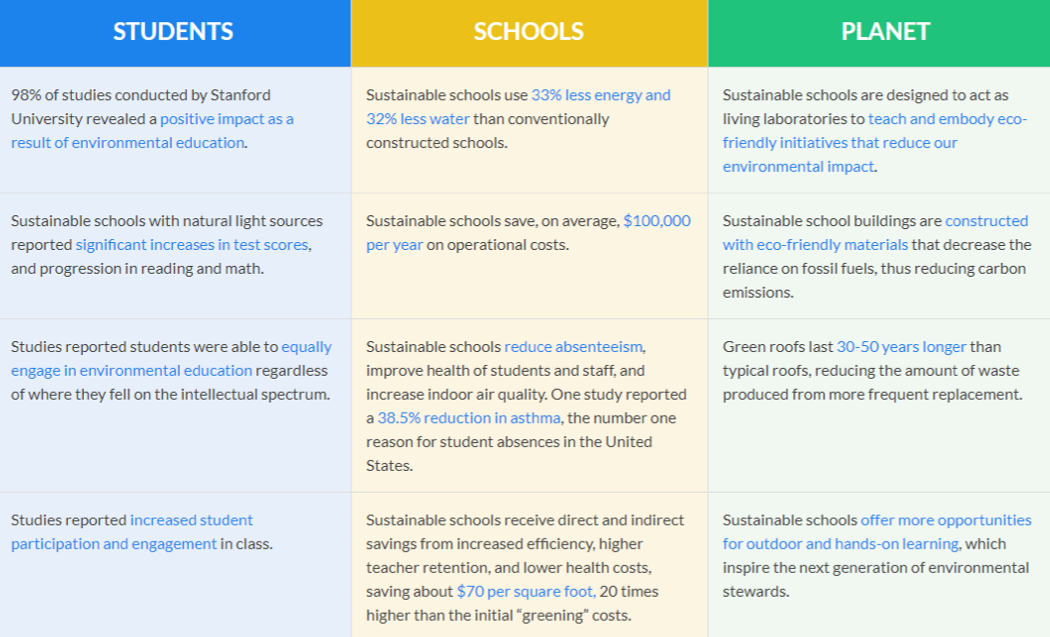 https://www.greenschoolsalliance.org/why)
The architecture and engineering industries are developing tools to help schools prioritize facility improvements. Professionals have more opportunities nowadays to introduce the green building concepts in schools by the LEED Rating System recognizing the nature of design and construction of K-12 schools addressing the issues of the building conditions mentioned above.
Examples of successful green schools include:
The Rio Grande High School in Albuquerque, New Mexico, operates with high levels of sustainability. With onsite renewable energy, the use of low-emitting materials and reduction in water use, among other features, the Rio Grande High School earned LEED Gold certification.
Check more: https://www.usgbc.org/projects/rio-grande-high-school
The Village Complex in Tocantins, Brazil, which awarded the RIBA best new building in 2018, provides a comfortable environment for 540 students by using a natural resource, energy efficiency, and reduction of water use.
Check more: https://www.rateitgreen.com/green-building-community/groups/posts/the-world-s-best-new-building-for-2018-goes-to-the-children-village-complex-in-brazil/3466

Investing in green schools is not only a better for academic performance and healthy environment but also promotes the children's learning to become good environmental citizens empowering them to make a difference. It is an investment in our future!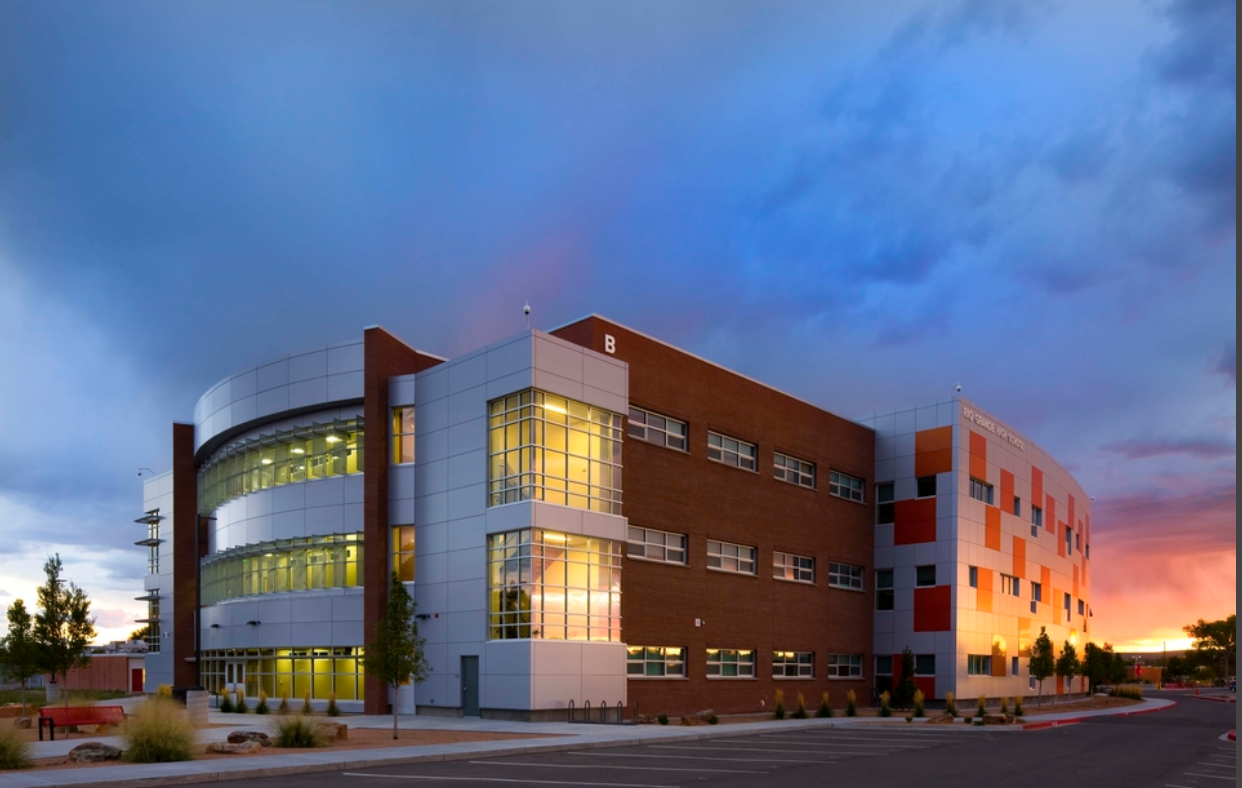 The Rio Grande High School
Photo credit: Patrick Coule Photography, Inc.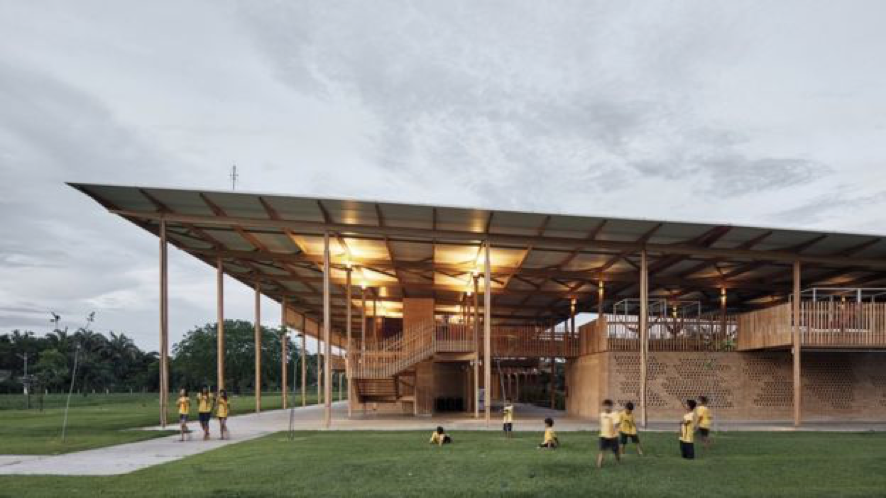 The Village Complex
Photo credit: Cristobal Palm
To read more:
http://pmmcompanies.com/pages/SustSchoolsInsert.pdf
https://www.centerforgreenschools.org/green-schools-are-better-learning
http://centerforgreenschools.org/sites/default/files/resource-files/McGrawHill_ImpactOnHealth.pdf

I am an Architect and Urban Planner graduated in Brazil and working with architecture since 2013. Nowadays I am living in Boston area. I have Zero Energy Building course completed in Harvard Extension School and this year could get my LEED GA credential. My interest in Sustainability and Green Buildings is growing up every day and becoming my focus, therefore my aspiration is to gain more experience and help people with my expertise.
( 0 ) Ratings
( 5 ) Discussions
( 5 ) Group Posts
Reply/Leave a Comment (You must be logged in to leave a comment)
Connect with us!
Subscribe to our monthly newsletter:
Read More


Sponsored Listings
Related Posts
Read More