Green Options for Your Home Exterior Walls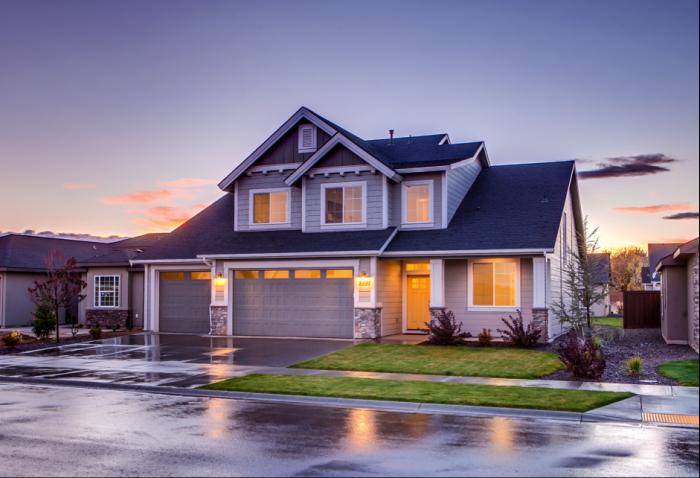 The world today is constantly making efforts to go green and what better way to join the green revolution than to start at home. Green homes are designed to be eco-friendly and sustainable. They're constructed from green materials that are either responsibly sourced to reduce the effects to the environment, are manufactured to promote low upkeep and sustainability at home or both.
One of the most popular element of the house that's been the usual subject of green innovation is its home exteriors, particularly the exterior walls. Exterior walls do not simply determine the shape of the house, they are build to protect the home's interior ensuring healthy indoor air and keeping the elements out. Sustainable architecture and green technologies have transformed exterior walls from mere house' "shield" to energy-efficient and resilient structural elements. Structural insulated panels and insulated concrete blocks are among the green trends for constructing exterior walls for homes today.
Structural Insulated Panels
Structural insulated panel (SIP) is a composite material made by sandwiching a layer of insulation (typically polystyrene foam) with structural boards. They are not only installed as exterior walls but can also work for roof, floor and foundation systems. Having said that, SIPs are used for new construction or major home renovation.
SIPs offer high thermal performance and are excellent option for insulating exterior walls compared to more traditional building materials. With their high R-value (resistance value, the measure of effectiveness of insulation), SIPs prevent heat loss and allow homes to reduce the use of HVAC systems. In effect, homeowners can save 12%-14% in energy spending. Properly installed SIPs also permit a more airtight interior that makes home quieter and more comfortable.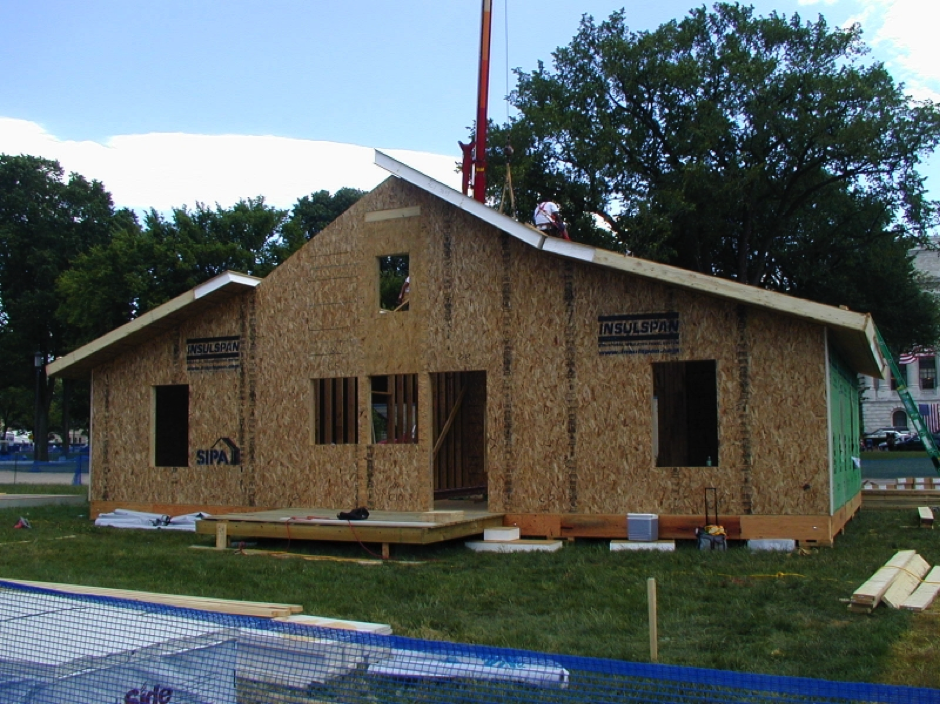 Image Credit: SIPs.org
Another good thing about SIPs is that they are a resource-efficient alternative. SIPs actually use 60% less wood than conventional timber-frame construction method. Building with SIPs also generates less waste and requires less labor. They are lightweight compared to conventional wall materials which makes them easier to assemble, saving both time and money. These savings will help offset the higher material cost of SIPs.
SIPs are not fire-resistant so the interior sides are typically covered with gypsum board. This is to shield the foam material during fire, long enough for the dwellers to leave the house. Insects and rodents can be a concern in very few cases. However, applying insecticides to SIPs, treating the ground with insecticides, keeping the indoor humidity to below 50% and distancing plants and tree limbs away from the walls will prevent this problem. To maximize the energy efficiency benefits of SIPs-built homes and to avoid indoor moisture problems, a fresh-air ventilation system must be properly installed and operated.

Insulated Concrete Blocks
Insulated concrete blocks are one of the most popular go to option for building exterior walls both for residential and commercial buildings. These blocks use the same expanded polystyrene (EPS) foam technology just like in insulating concrete forms (ICFs). What's different is that ICFs are cast-in place, where concrete is poured directly between two panels of foam insulation. On the other hand, insulating concrete blocks are delivered prefabricated to the job site and only need to be stacked up - reducing time in construction.
Insulated concrete blocks are manufactured by mixing EPS beads with portland cement and recycled cementitious material making them eco-friendly. Such composite building material combines insulation, air tightness and thermal mass which offer excellent thermal efficiency and improved indoor air quality. Because of its continuous insulation, insulating concrete blocks can help eliminate thermal bridging and energy loss in walls. This in effect will reduce the need for operating heating and cooling systems at home and consequently, will save you money that would otherwise be spent on energy bills. A 2001 study by the US HUD proved that insulated concrete walls create energy-efficient buildings and can generate 20%-25% savings annually in heating and cooling cost at home when compared to a wood-frame constructed house.
Aside from energy-efficiency, insulating concrete blocks offer a versatile and durable solution for new construction and major renovation of exterior walls. These specialized blocks make resilient buildings that can withstand the harshest weathers like hurricanes and floods and can easily exceed building code requirements for wind resistance. They are also fire-rated and effective in soundproofing walls.
In terms of cost, insulated concrete blocks are typically more expensive than conventional wall materials. However, the added cost can be recovered through lower insurance fees and energy savings in the long run. Being resilient, insulated concrete block walls also offer an extended lifespan for your homes.
Bautex Systems developed this patent-pending insulated concrete block innovation and named it the Bautex Block. The company also offers other products such as air and moisture barriers, wall finishes, and a complete wall system.
Go Green With Your Exterior Walls
Both structural insulated panels and insulated concrete blocks provide eco-friendly solutions for building exterior walls. These innovations in insulated walls not only reduce our carbon footprints on the environment but also make energy-efficient and healthy homes. Consider these green exterior wall materials because they are sure worth the investment.

Bautex Systems, LLC is focused on transforming the built environment by providing builders and architects with smarter, stronger, more versatile building materials and solutions.
( 0 ) Ratings
( 0 ) Discussions
( 0 ) Group Posts
Reply/Leave a Comment (You must be logged in to leave a comment)
Connect with us!
Subscribe to our monthly newsletter:
Read More


Sponsored Listings