"Go Boston" Outlines an Exciting Future for the Public Transportation in Boston, and Beyond

Civil Engineering Student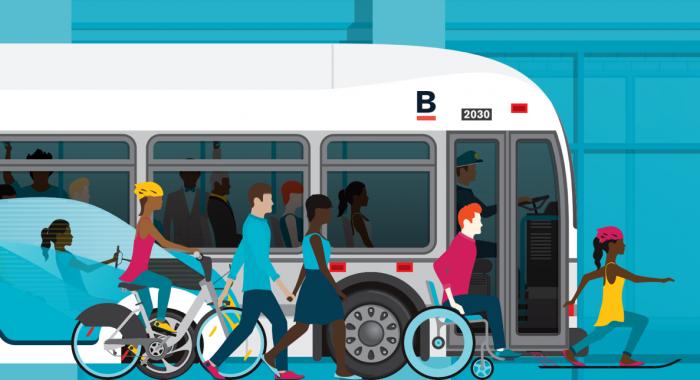 As part of a vision for a greener future in transportation, Boston has recently developed a plan that will reshape the city's fabric over the next several decades. Officially known as The Go Boston 2030 Transportation Plan, the project took input from thousands of Bostonians to guide infrastructural development. Most elements of the project relate directly to transportation, and seek to either improve existing systems or introduce new ones. Alongside these projects are overarching goals for the city as a whole, such as a 50% increase in trips made by walking, and a 33% increase in trips made by public transportation. As the title of the plan would suggest, the city hopes to achieve these goals by 2030. By taking questions and suggestions from the greater Boston community, and using these suggestions to design the work of transportation experts, the creators of the plan hope to shape the city in a way that makes it a more enjoyable, convenient, and environmentally friendly place to live and work.

Public transportation takes center stage in the plan, with travel by bike, subway, bus, and ferry taking precedence over travel by automobile. Not only are cars bad for the environment, but the infrastructure needed to support them, especially in a city growing as quickly as Boston, leaves little room for pedestrians and clogs neighborhoods with traffic. This destroys the street culture that makes cities such desirable places to live, especially for the young professionals that Boston businesses are trying to attract.

While specific extensions are included in the Go Boston Plan, one of its main goals is to make transportation transitions more seamless. Boston plans to develop "microHUB" waypoints throughout the city, locations that connect several of the city's public transportation systems. At these locations, passengers will be able to quickly switch between travel by bus, bike, and car sharing services. If placed at heavily trafficked points in the city, these microHUBs could make travel by public transportation faster and more predictable.

Along with the physical connection of Boston's transportation systems, the Go Boston Plan also proposes a new system to make paying for public transport less of a hassle. Through the use of a "Key to the CIty", Boston's public transportation users will be able to use one card to pay for bus passes, ridesharing, and parking, among other things. By providing a more efficient payment option, the Key to the City will make accessing public transportation more convenient for Boston citizens.

Go Boston also includes plans for increased public transportation by water, greenways that would make streets more pedestrian friendly, and other improvements. While the benefits of the plan will most likely take years to come into fruition, they outline an impressively green vision of the future of Boston's public transportation

For more information on the Go Boston Plan, go to:
http://www.bostonmagazine.com/news/blog/2017/03/09/boston-go-2030/

To read the Go Boston Plan itself, visit:
https://www.boston.gov/transportation/go-boston-2030

Article image taken from the Go Boston PDF.

Currently a junior student at Tufts University, pursuing a Bachelor of Science in Civil Engineering. I am also pursuing minors in Architectural Studies and Engineering Management. My other interests affordable housing, green architecture, and urban planning.
( 0 ) Ratings
( 1 ) Discussions
( 1 ) Group Posts
Reply/Leave a Comment (You must be logged in to leave a comment)
Connect with us!
Subscribe to our monthly newsletter:
Read More


Sponsored Listings
Related Posts
Read More