"Fumes Across the Fence Line" - Documenting the Causes and Effects of Environmental Racism, and Asking: What are the Next Steps?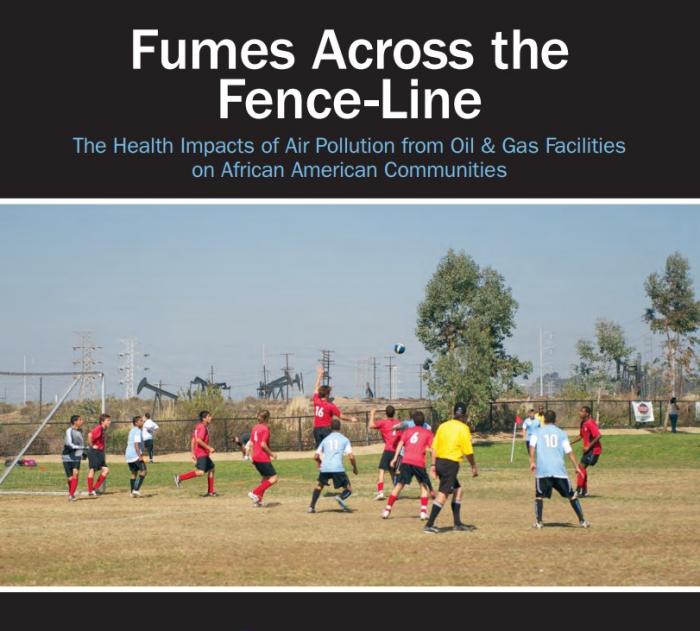 A study released in November of 2017 produced by the National Association for the Advancement of Colored People (NAACP) the Clean Air Task Force (CATF) and the National Medical Association (NMA) "Fumes Across the Fence-line" shows for the first time with empirical data that pollution disproportionately affects communities of color. The 36-page study links pollutants emitted by gas or oil facilities near communities of color to high rates of asthma or cancer in those primarily African-American neighborhoods.
Throughout the country the study shows with well-researched diagrams and charts, that 91 counties are home to existing oil and gas facilities or ones that are in development. Over 6.7 million African-Americans, or 14 percent of the nationwide black population, live in those counties. The study shows that the areas at greatest risk are in Texas, Oklahoma and Louisiana. The study is broken down first into a look at natural gas facilities, their proximity to communities of color, the hazards, and then moves into a study of oil refineries, their whereabouts relative to black neighborhoods and more documented health hazards from those facilities. The report also notes that areas surrounding these neighborhoods are also affected by pollutants because of smog, an effect that enables the toxins to travel greater distances, noting that those living within a half mile of active oil and gas wells, compressors, and processing plants are also at risk.
The authors of the study note that protecting environmental measures set in place by the Obama administration is key to protecting communities of color from pollution. Pollution affects all of us. But more than anywhere else, low-income areas are affected. Oil and gas facilities are built in these areas because there is little chance of political recourse to oppose the oil and gas industry. The study notes that the "life-threatening burdens placed on communities of color near oil and gas facilities are the result of systemic oppression perpetuated by the traditional energy industry, which exposes communities to health, economic, and social hazards." This is what many environmentalists mean when they talk about environmental racism.
The current political climate is increasingly putting black communities at risk, as well as the rest of the planet. The Trump administration attempted roll-backs on environmental safeguards have been numerous, and can be reviewed here: http://nyti.ms/2hPvpI8, but a few that have been successfully overturned are: the methane reporting requirement, the decision on Dakota Access pipeline, the inclusion of greenhouse gas emissions in environmental reviews, and the like. Trump claimed in his withdrawal from the Paris Climate Deal that the agreement was stifling the United States job economy, yet as one resident of California the study "Fumes Across the Fence-line" quotes named Charles Zacharie implores, "Just because the oil company brings jobs and other benefits, doesn't mean it can do it at the expense of my health and well-being."
The green building and sustainable energy industry shows great potential for everyone, especially those most at risk. In an interview by New England Radio with Gina McCarthy, administrator of the EPA under President Obama she discusses further why it's actually more productive for everyone if the EPAs regulations stay put. "President Trump is selling the United States short. We have the innovators. We have the technology developers. This is not just an opportunity to save the future for our kids, but it's an opportunity to take advantage of the economic benefits that we would accrue by using our best and brightest minds to actually find that path forward. Why would we decide that we want to cede that to other countries, in particular to China and the EU, who are really already stepping up to fill that gap?" Indeed, to protect communities most at risk, as well as provide opportunities for safe, clean jobs right here in the United States the clean energy and green building community shows great promise.
To read the full study, follow this link:
http://www.naacp.org/wp-content/uploads/2017/11/Fumes-Across-the-Fence-Line_NAACP_CATF.pdf
(report cover photo credit: © Creative Commons/The City Project)
For additional information follow these links:
I'm an architecture student with an interest in sustainability and green building.
( 0 ) Ratings
( 4 ) Discussions
( 0 ) Group Posts
Reply/Leave a Comment (You must be logged in to leave a comment)
Connect with us!
Subscribe to our monthly newsletter:
Read More


Sponsored Listings
Related Posts
Read More