5 Green Hotels to Visit on Your Next Vacation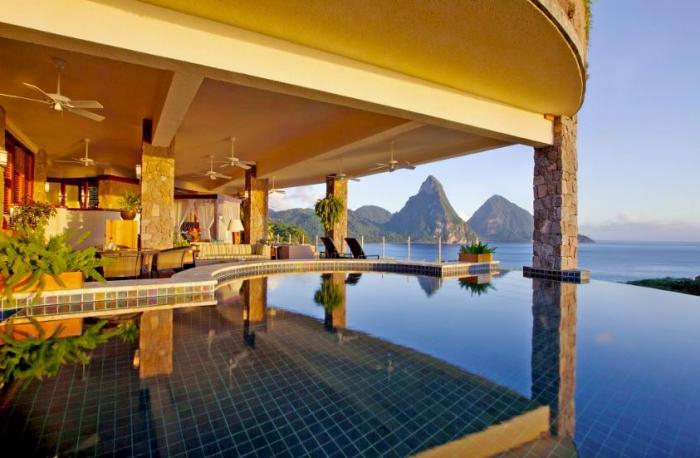 Top Green Hotels to Visit on Your Next Vacation
Green hotels are making waves in the world of sustainable design. Hotels are occupied at all hours of the day, seven days a week, which means energy consumption quickly adds up. The United States alone has more than five billion square feet of hotel space total and counting. That's why "greening" the hospitality industry has the potential to be a groundbreaking development in the green building movement, greatly reducing energy consumption worldwide.
In 2016, the USGBC released its LEED in Motion: Hospitality report, which highlighted the significant, growing green building presence in the hospitality industry. The report also illustrated how LEED strategies can be easily integrated into the hospitality sector, resulting in better environmental health and indoor comfort.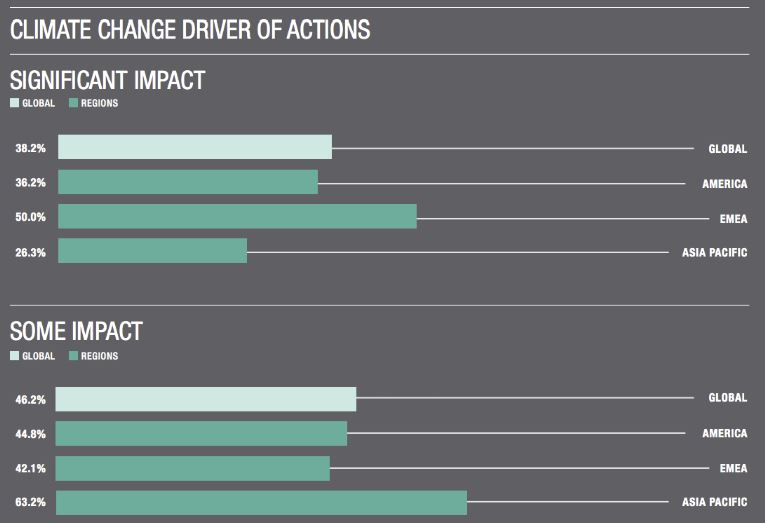 These are the results of asking hotels: "To what degree does climate change drive you to make operational improvements and investments?" [Source: Green Lodging News]
The Green Lodging Trends Report is the hospitality industry's annual survey to evaluate green developments, best practices, and awareness regarding the state of sustainability in hotels around the world. The 2017 report gathered data from approximately 2,093 hotels across 46 countries.
The latest findings exhibited green building growth in the hospitality sector, and an increase in the impact of climate change on hotel operations and improvements. In addition, 68% of hoteliers indicated that they have an established green team to help drive sustainable initiatives.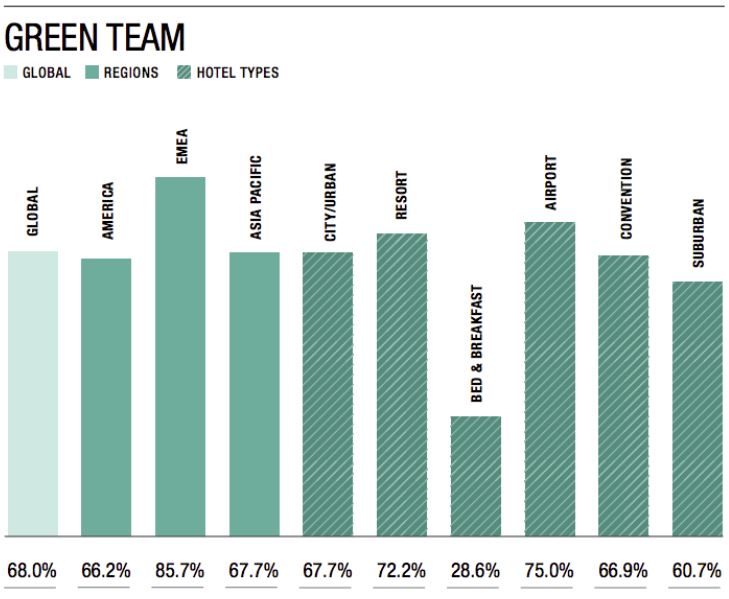 [Source: Green Lodging News]
"Across industries we are seeing an increase in consumer demand toward sustainability practices, and no industry is better poised to meet these demands than hospitality," says Rick Fedrizzi, previous CEO of the USGBC. "This growing sector is rapidly adopting green buildings because owners and developers want to enhance their triple bottom line—people, planet, and profit."
These green hotels are redefining the global sustainable hospitality movement with innovative design strategies, energy-efficient operations, and impactful green programs. From Rome to Cape Town, your options for eco-friendly travel are limitless.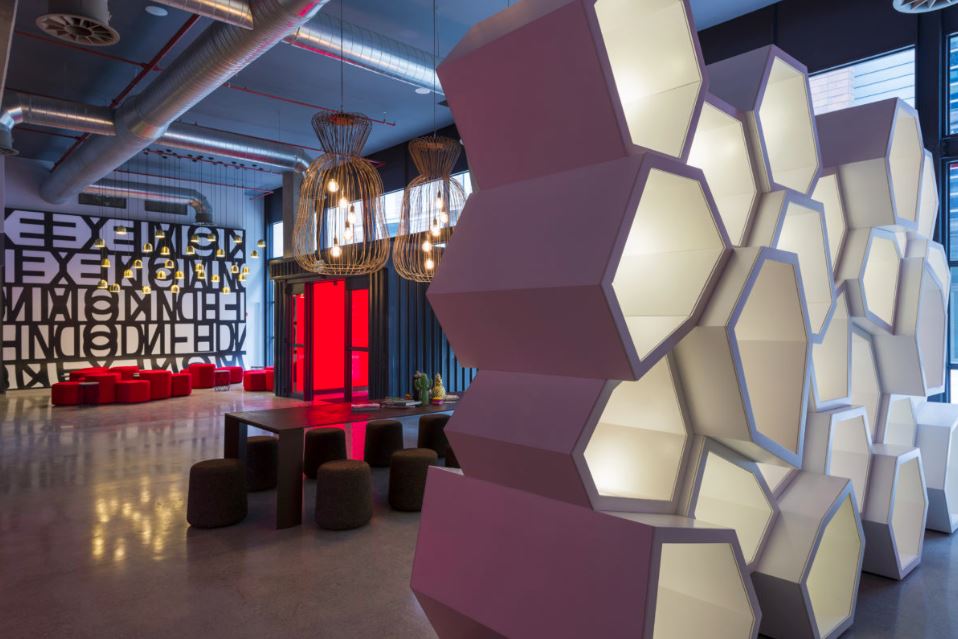 The Radisson RED Cape Town offers everything from suites with balconies and water views to pet-friendly rooms. [Photo: Patrick King]
1. Radisson RED Cape Town
Dale Simpson, curator at the Radisson RED Cape Town, Africa's first Radisson RED, says the hotel's green characteristics incorporate both the V&A Waterfront's mission for sustainability and the RED hotel's eclectic, youthful, and environmentally conscious philosophy.
Design Space Africa and Peerutin strived for energy efficiency in the design and build phase. They kept resource use to a minimum through numerous green features like the central seawater heating and cooling system, spatially efficient design that incorporates daylighting, and lighter wall thickness. The natural Corobrik face brick used for the façade is heat-resistant and durable for the harsh harbor climate conditions.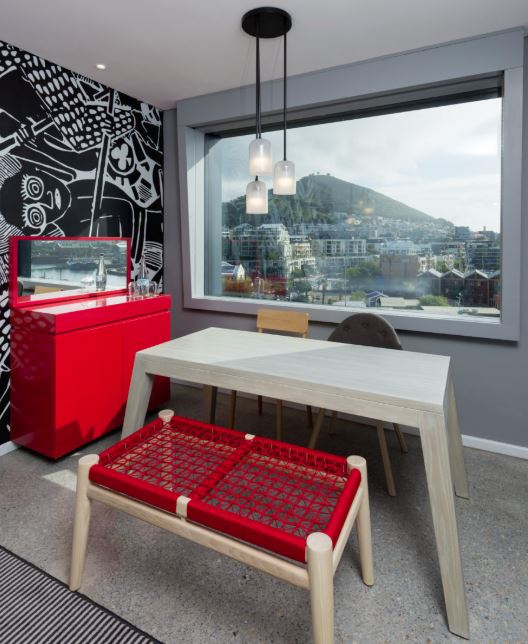 [Photo: Patrick King]
"It's important primarily to continue to value our precious resources and, with building and design, these are important considerations," Simpson says. "Our clients now are much more interested in our approach with sustainability and responsible business as well as our team members. People want to work for and indeed with businesses who operate from design to delivery with sustainability embedded in their approach and ethos."
This five-star Green Star rated hotel focuses not only on energy efficiency in its design, but also in reducing landfill waste. "We work on a 'no food waste' policy, meaning no traditional buffets, which reduces food wastage by over 30%," Simpson says. And they have a 'no paper' policy in their studio rooms.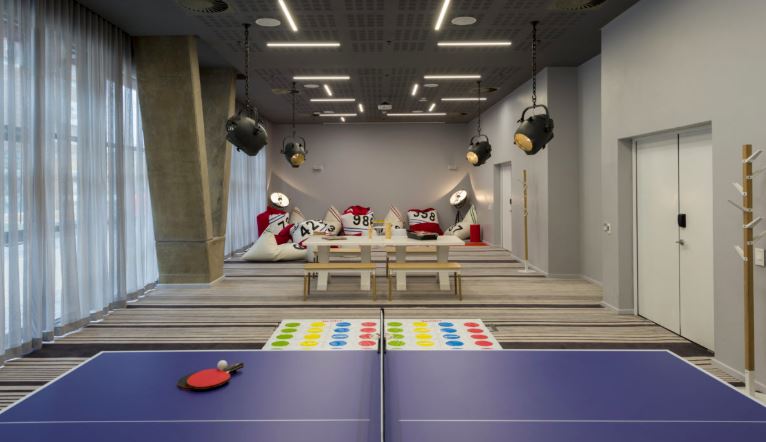 [Photo: Patrick King]
The hotel is also driving conservation efforts to tackle South Africa's water crisis. "We have included a 'H20 Help' water menu, which can be found in the key-card sleeve and interactive TVs in the hotel rooms," Simpson stated in a Momentum interview. "This highlights the many ways guests can assist the hotel in saving water. One of the menu items that has become a standard part in each bathroom is the addition of red buckets in the shower, which captures water to reuse on the roof."
The Radisson RED Cape Town uses all Green Leaf certified water fixtures, eco-flush toilets, and showers that heat up in under six seconds. Their front-of-house staff also wear custom-designed shirts with a dripping tap image to spread the message of helping Cape Town conserve water.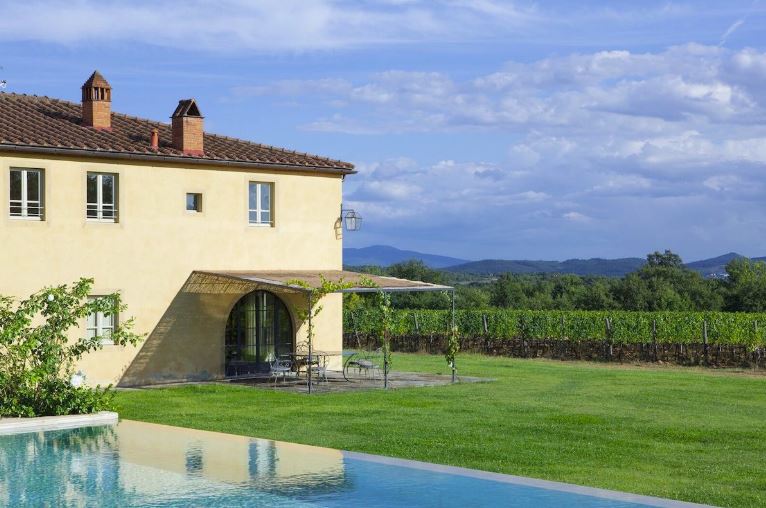 Il Borro takes green to a new level through adaptive reuse, sustainable farming, and fostering a connection to nature. [Photo: Courtesy of Il Borro]
2. Il Borro
Adaptive reuse can bring spaces back to life in a truly sustainable way. That was the case for Il Borro, which was once a fortified castle in the 12th century—now, the property is a beautiful Tuscan hotel surrounded by breathtaking views of the Chianti and Apennine mountains. Fostering a welcoming, communal atmosphere, this hotel peacefully coexists with nature, featuring spacious Italian villas and picturesque suites.
The Ferragamo family purchased the Il Borro estate in 1993. At the time, it was abandoned and suffered from severe land erosion. But Ferruccio Ferragamoand his wife were driven to restore and adapt the desolate property to bring history back to life. "This amazing piece of history was once left out of commission, but thanks to the Ferragamo family, it's now an active property being brought back to life, while still honoring its roots," says Chris Howe, editor-in-chief of gb&d, who recently visited Il Borro.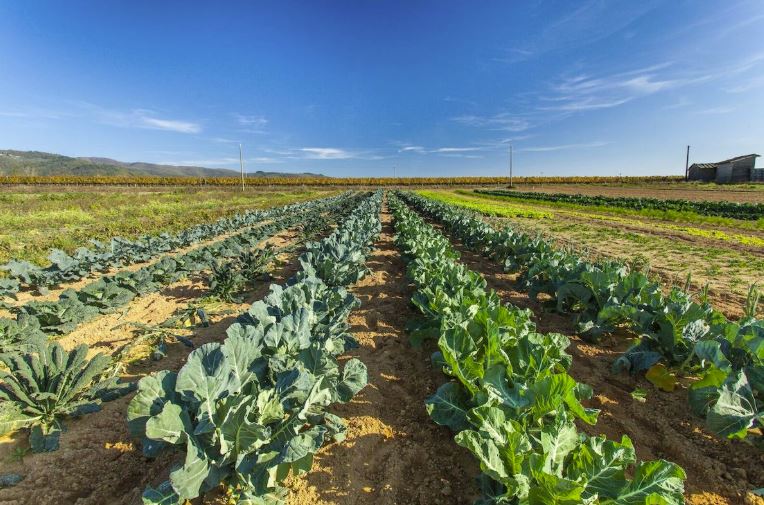 [Photo: Courtesy of Il Borro]
The property now features zero-energy houses, solar panels, and an organic garden. "Solar power, electric vehicles, and the construction of a biomass power plant have all minimized our impact on the environment," says Salvatore Ferragamo, Ferruccio's son and assistant director of Il Borro. "Il Borro is a negative carbon footprint property—each guest looks to save 105 kilograms of carbon dioxide emission per day."
Il Borro keeps respect for the land and environment at the forefront. The Ferragamo family is committed to sustainable agriculture, using renewable energy and natural fertilizers. Orto del Borro is a certified organic program run by Ferruccio's daughter, Vittoria Ferragamo. The program uses tried-and-true farming practices like crop rotation to support biodiversity and sustainability. These farming methods help keep the land healthy and fertile.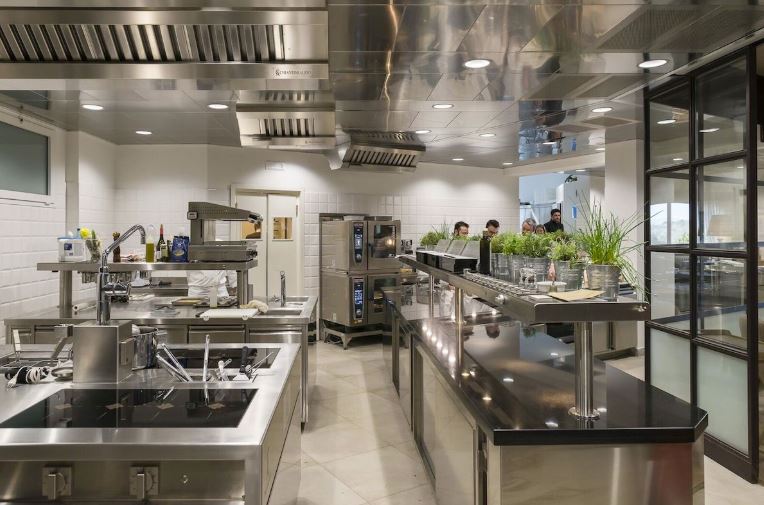 [Photo: Courtesy of Il Borro]
The hotel's farm-to-table restaurants Osteria del Borro and Il Borro Tuscan Bistro use fresh, organic crops straight from Il Borro's farmland. Eco-sustainable cuisine is made simple with access to organic eggs, vegetables, honey, and more. Osteria del Borro's open kitchen space invites diners to see how their food is prepared. It is also the first restaurant in Europe to use an ozone air purifier system in the kitchen to enhance healthy indoor air quality.
If you are interested in visiting more green hotels in Italy, you can also check out the Palazzo Manfredi, or the Hotel Hassler Roma.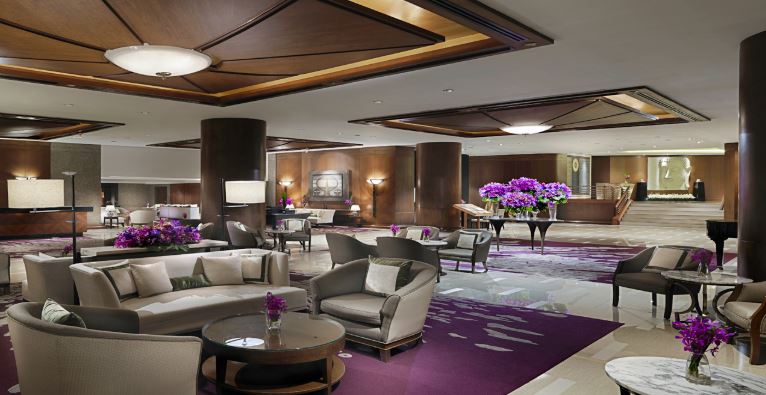 Banyan Tree Bangkok organizes a number of green programs and initiatives. [Photo: Courtesy of Banyan Tree Bangkok]
3. Banyan Tree Bangkok
Green hotels are not just green in terms of construction—programming and initiatives also play a significant part in sustainable hospitality. The Banyan Tree Bangkok values all aspects of sustainability, including the community as a whole. Standing at more than 60 stories, this urban resort is one of the tallest hotels in Bangkok, and it offers some of the most breathtaking views of the Chao Phraya River and the legendary River of Kings.
Awarded an EarthCheck Silver certification, the hotel is rated highly in green programming and sustainability—EarthCheck is the most rigorous certification and environmental management program in the hospitality industry. Banyan Tree created Stay for Good, an initiative that promotes sustainability efforts and supports community involvement through many events and programs.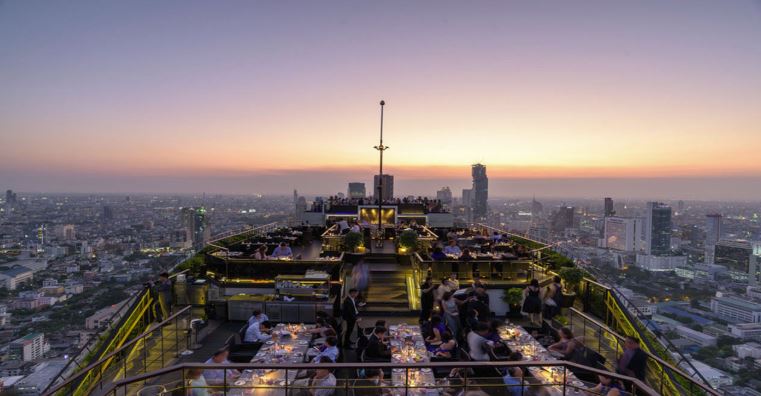 [Photo: Courtesy of Banyan Tree Bangkok]
One of the most powerful elements of Banyan Tree's Stay For Good program is the Green Imperative Fund. Banyan Tree matches the amount of every hotel guest's donation to the fund. So far, the Green Imperative Fund has raised more than $7 million and has donated $4.1 million to social and environmental programs since it began in 2001.
The rooms and suites in the Banyan Tree Bangkok hotel are decorated with contemporary interior design, including ornate lotus motifs reminiscent of Thai culture. The hotel also features an open-air rooftop restaurant, relaxing spa, and outstanding hospitality services to make your stay in the "Land of a Thousand Smiles" comfortable and enjoyable. Bangkok is a lively global city with opulent temples and beautiful shrines. Banyan Tree Bangkok is located right in the city's central business district with quick access to shopping and the vibrant street life.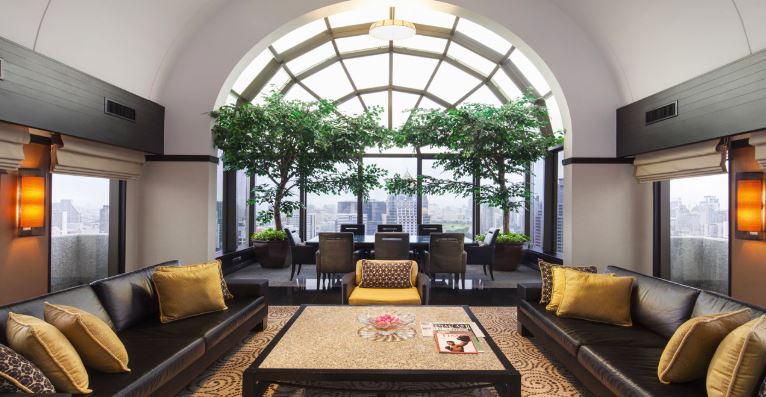 [Photo: Courtesy of Banyan Tree Bangkok]
Banyan Tree Bangkok opened in 2002 as the Banyan Tree's first urban hotel. Some of the hotel's parking areas were also transformed into metropolitan oases complete with vegetation, aquatic, and avian life to create a green getaway in the middle of the city. To promote its green mission, Banyan Tree Bangkok participates in many environmental projects.
All Banyan Tree hotels across the globe take part in "Greening Communities Together", a celebration for World Environment Day. Each hotel plants two trees per room. Symbolizing the growth of the green movement and land conservation, this event also unites the community through service and working toward a common goal. Banyan Tree Bangkok also organizes quarterly planting sessions, including tree plantings in Doi Inthanon National Park in Chiang Mai. The hotel also helps with community cleanups several times a year.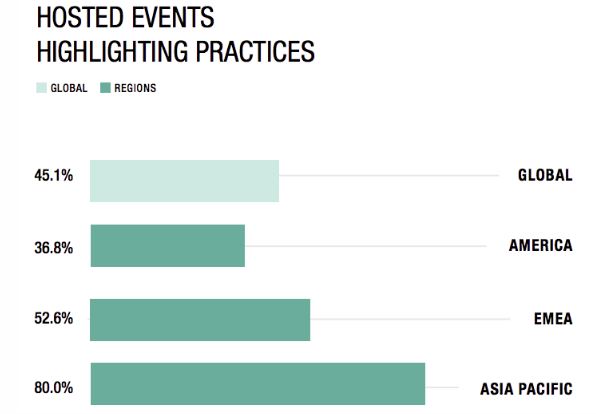 [Source: Green Lodging News]
The Green Lodging Trends Report 2017 examined hotel outreach programs to conserve resources and make a positive community impact. One of the survey questions for hoteliers was: "Has the property ever hosted a community or guest event highlighting your facility's environmentally sustainable or socially responsible practices?"
The findings showed that globally, 45% of hoteliers answered yes, while 80% of hoteliers in the Asia Pacific region said yes. Banyan Tree Bangkok's initiatives align with this data—it will be interesting to see if there is a rise in green community events in other regions in the coming years.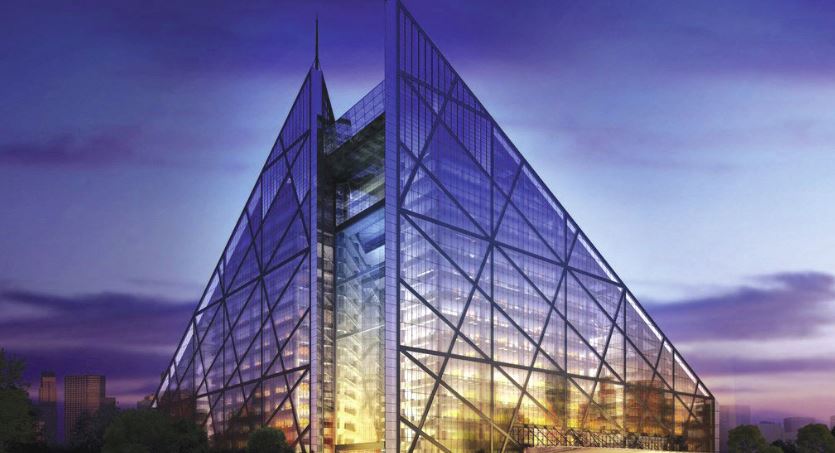 Hotel Éclat's pyramid shape sets it apart in both aesthetic design and energy efficiency. [Photo: Courtesy of Hotel Éclat Beijing]
4. Hotel Éclat
Hotel Éclat is a five-star Beijing hotel found within the stunning glass pyramid Parkview Green—the first integrated commercial complex to be awarded LEED Platinum in China. This impressive building, completed in 2009, houses more than 2 million square feet of mixed-use space, including offices, retail, a Tesla dealership, and of course, the luxurious Hotel Éclat. The hotel's comfortable amenities, striking beauty, and biophilic design features combine to create an unforgettable guest experience.
With 100 rooms and 20 customized suites, your stay at Hotel Éclat also features access to a fully equipped gym, purified water, and fresh fruit. The customized suites include private indoor terraces and pools, and even the pools are sustainable—the pool water runs to the basement, where it is cleaned and reused in the greywater system.
"We are putting living, working, socializing, and shopping all together," says Oliver Lai, general manager of Parkview Green. "Like a small city you can stay, you can find food, you can find entertainment, watch a movie, you can have a family hangout."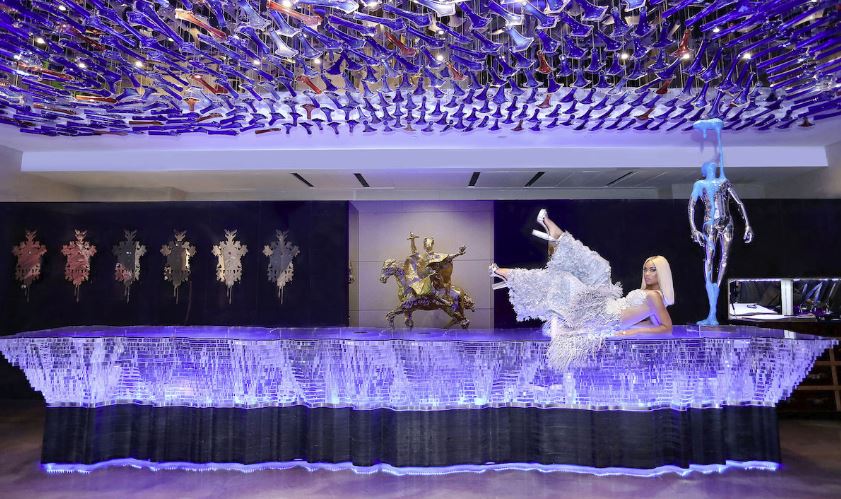 [Photo: Courtesy of Hotel Éclat Beijing]
Integrated Design Associates (IDA) created microclimates for each of the areas in Parkview Green to reduce the building's overall energy consumption. This design strategy provides indoor comfort in every space, no matter the temperature outside. IDA also incorporated atria spaces, sky-gardens, terraces, and link bridges in all of the development's four buildings.
Constructed of steel, glass, and ETFE cushions, the building envelope acts as a strong shield to outdoor elements. Its thermal insulation layer, which is formed in between the skin of the internal buildings and the outer layer, improves indoor climate control. The engineering team at ARUP also installed special ventilation louvers at the top of the building that act as chimneys. These louvers help create air movement and natural ventilation for increased comfort.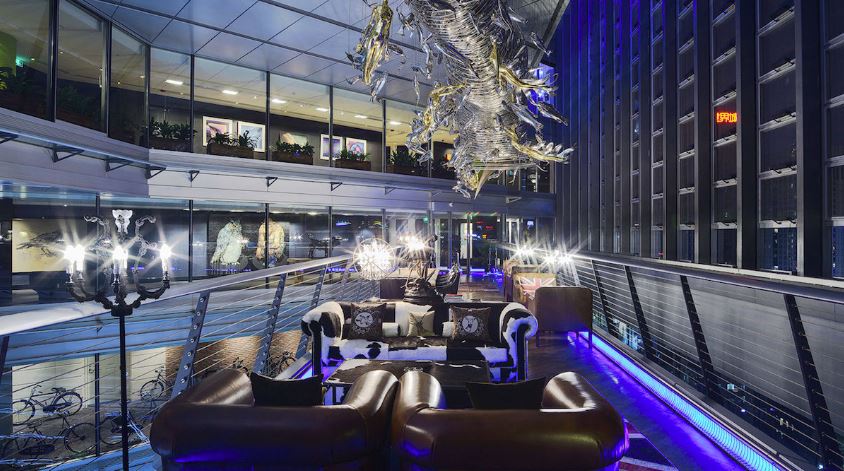 [Photo: Courtesy of Hotel Éclat Beijing]
The building's unique pyramid shape is more than just an aesthetic design feature, it's also practical and serves several functions. The shape helps reduce the amount of natural light the building blocks, which benefits the neighboring residential area. It also acts as a bubble, or buffer zone around the towers within the building. This buffer zone keeps the indoor environment relatively uniform and easily altered. It also enhances the thermal insulation and decreases energy usage, creating a neighborhood within a neighborhood that serves as a year-round green space.
Parkview Green was awarded Asia Pacific's first LEED Dynamic Plaque in March 2017, which, according to George Wong of Hong Kong Parkview Group, is "Parkview Green's architectural Bible. It focuses our construction around function and the surrounding environment, creating a firm sense of corporate commitment."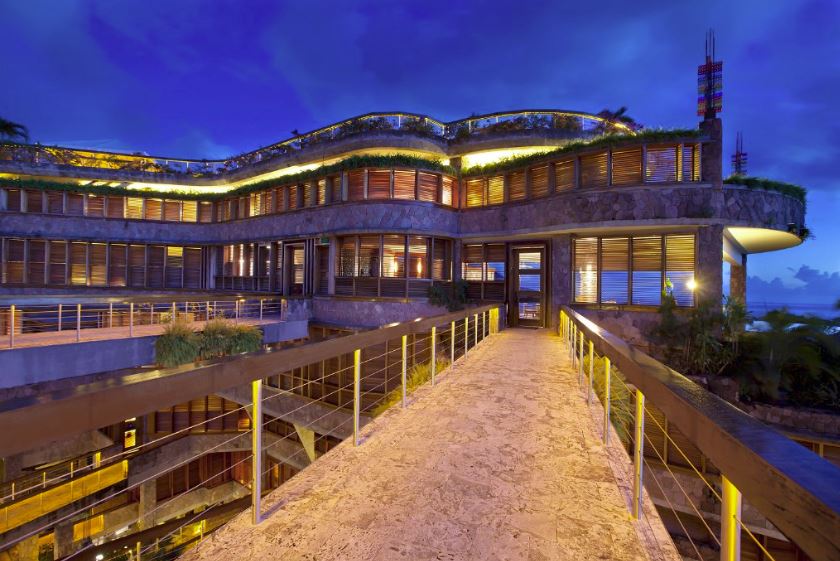 Nick Troubetzkoy and his wife designed Jade Mountain as a relaxing space where guests could feel in tune with nature. [Photo: Courtesy of Jade Mountain]
5. Jade Mountain Resort
Jade Mountain Resort is the first Carribean hotel to achieve a LEED Gold certification. A popular destination for St. Lucia honeymoons and romantic getaways, the 90,000-square-foot resort is set in a tropical paradise of 600 acres overlooking the Piton Mountains.
"I wanted to create individualized spatial environments that would enable guests to forget the fact they're in a hotel room—and in essence to forget every preconception and to experience the psychology of a dynamic and monumental space on an intuitive and primal emotional level," says Nick Troubetzkoy, architect and owner of Jade Mountain.
The guest "rooms" at Jade Mountain have no exterior wall, maximizing the island views and outdoor experience. Because of this open wall design, the rooms do not require heating or air conditioning, which means less energy consumption. And the beautiful view replaces the need for televisions. In fact, the resort does not have televisions, radios, or telephones. Natural lighting takes the place of electricity during the daytime and wildlife-friendly yellow lighting is utilized at night.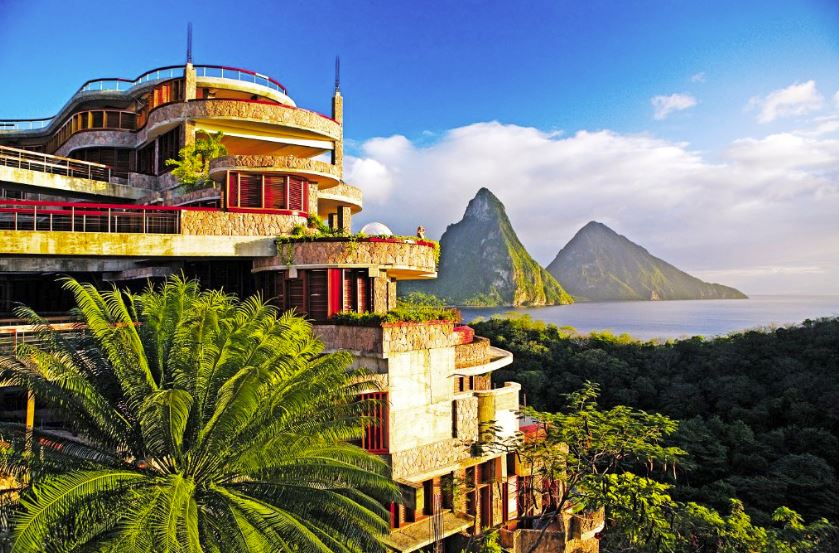 [Photo: Courtesy of Jade Mountain]
"We aimed to give our guests the feeling of entering a private space fully integrated into the island's ecology, where they could simply relax, breathe in the air while basking in the surroundings and enjoying a wonderful sense of calm and peace—versus being boxed into a traditional hotel room breathing recirculated, machine-processed air," Troubetzkoy says.
The hotel is also very thoughtful when it comes to water management and efficiency. It operates an on-site wastewater treatment plant, uses low-flush toilets and low-flow showerheads, and has its own rainwater-fed water purification plant system that irrigates a nursery of tropical plants used for landscaping. The hotel draws water from a 2.7 million-gallon aqueduct that only harvests water when the river overflows. The system uses a single-stage primary lift pump, using gravity to feed water to the hotel.
Jade Mountain also helped create the not-for-profit Soufriere Marine Management Authority, which conserves the natural marine environment through marine reserves and works to ensure sustainable use and development of St. Lucia's cost, especially within the fishing and tourism industries.

Green Building & Design (gb&d) is a trade magazine that connects and inspires green building professionals by partnering with those at the forefront of sustainable design. Our print magazine and dynamic online edition offer a global perspective on new projects and products created with sustainability and social responsibility in mind.
( 0 ) Ratings
( 0 ) Discussions
( 0 ) Group Posts
Reply/Leave a Comment (You must be logged in to leave a comment)
Connect with us!
Subscribe to our monthly newsletter:
Read More


Sponsored Listings
Related Posts
Read More