EVs, the Climate, and the US Postal Service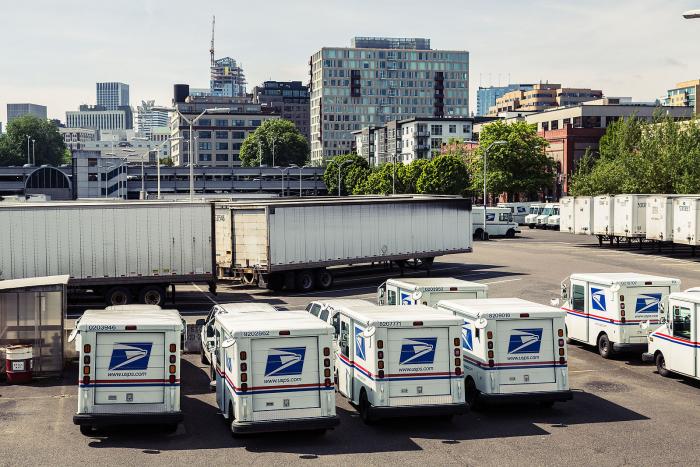 There have been many climate battles over the years with environmentalists taking polluters to court for decisions that harm us all. We may all look to fossil fuel corporations as the major target of these battles, fostering and encouraging unhealthy and unsustainable practices for financial gain; this ongoing environmental case, however, has a defendant that may surprise you: the United States Postal Service.
Natural Resources Defense Council and United Auto Workers v. USPS
What is this case referencing?
Sixteen states and multiple environmental groups are suing the United States Postal Service and Louis DeJoy for the decision to purchase gas-powered mail trucks instead of transitioning to electric vehicles. DeJoy is the US Postmaster and a Republican donor appointed in May 2020 by former President Donald Trump's Administration. He is the first postmaster without prior USPS experience in two decades; he was previously the founder and CEO of New Breed Logistics, now XPO Logistics, a company which currently holds contracts with the US Postal Service, having cost consumers up to $53 million because his company has been given $300 million noncompetitive contracts without the cost-saving competitive bidding process since 1992; in 2021, his company was given a five-year $120 million contract. Among other controversies, DeJoy has been under federal criminal investigation for alleged campaign finance abuses as well.
This case, however, is founded on his choice to proceed with the $6 billion purchase of a new postal fleet over ten years, made up of 90% gas-powered vehicles and only 10% EVs, despite President Biden's executive order to electrify federal fleets. These gas-powered vehicles achieve only 8.6 miles per gallon when the air conditioning is on, only 5% better than the previous trucks. Furthermore, as gas prices skyrocket, more money funnels out of taxpayers' pockets into expensive, inefficient, unhealthy, and unsustainable projects. DeJoy plans to purchase 165,000 gas-powered vehicles, a decision that will have harmful short- and long-term effects and will be irreversible for decades to come. Now, the US Postal Service has an opportunity to make a more sustainable transition but has mostly rejected electric vehicles, favoring gas-powered trucks that will pollute communities and neighborhoods with combustion tailpipe emissions.
Who is suing?
California
New York
Connecticut
Delaware
Illinois
Maine
Maryland
Michigan
New Jersey
New Mexico
North Carolina
Oregon
Pennsylvania
Rhode Island
Vermont
Washington
District of Columbia
New York City
Bay Area Air Quality Management District
Natural Resources Defense Council (NRDC)
United Auto Workers Union
Sierra Club
Earthjustice
CleanAirNow KC
Center for Biological Diversity
What is NEPA?
National Environmental Policy Act or NEPA is a policy passed by the EPA in 1970 which requires federal agencies to produce an assessment of the environmental impacts of a proposed action before proceeding. Furthermore, these agencies must assess the social and economic consequences and open the evaluation to public commentary. Title I Section 102 of NEPA requires federal agencies to incorporate environmental considerations into their planning and decision-making using a "systematic interdisciplinary approach" (EPA, 2021). These reports, called Environmental Impact Statements and Environmental Assessments, must provide a detailed evaluation of the environmental influence and alternatives to those actions with significant impacts. The Council on Environmental Quality oversees the validity and implementation of these evaluated policies to assure compliance with NEPA.
On what grounds is the lawsuit founded?
These lawsuits are founded on the United States Postal Service breaking NEPA law by signing the deal before conducting their environmental impact statement. This action violates the act's regulation for federal agencies to conduct an environmental assessment before committing to a plan or policy and considering this evaluation in policy implementation. When the US Postal Service produced an environmental impact statement, the evaluation was wholly deficient and inaccurate; furthermore, when following NEPA regulations by opening the plan for public commentary, the USPS received over 37,000 comments and merely ignored them. One instance of these apparent inaccuracies is the economic prediction that gas prices would average $2.19 per gallon with a gradual rise to $2.55 by 2040, while gas prices now rise over $5. DeJoy also claimed that electric vehicles would cost billions of dollars more over their lifetime and operate on only seventy miles on a single charge, despite the EPA and CEQ stressing the errors in these calculations and calling for a supplemental environmental impact statement. The assertion claimed that the electric vehicles require customization because most are left-hand-drive, which would supposedly not support curbside delivery. This evaluation also overlooked the emissions and environmental impact of the manufacturing and production of these vehicles. The estimate only accounted for the operation, of which the assessment was already flawed. The evaluation did not provide alternative procedures to the original and was generally an inadequate, misguided, miscalculated attempt at a legal loophole. Furthermore, USPS conducted this inept and insufficient analysis of the decades of impact this decision would have on the nation and the communities exposed to these trucks after the required timeframe. The plaintiffs demand environmental justice before the opportunity to electrify the US Postal Service is out of reach.
Future impact
The decision on these suits will be influential either way. If the court ruling favors the defendants, DeJoy and the USPS, the climate impact will be significant. The tailpipe emissions will increase the greenhouse gasses warming the planet while also contributing to ground-level pollution, harming the respiratory health of people, children, and animals with these pollutants filling their lungs. Additionally, the taxpayers will manage the costs for these vehicles with terrible mileage exacerbated by the soaring gas prices. These gas-powered vehicles will be another obstacle to our climate goals and a healthy environment. The good news is DeJoy has succumbed to some of this pressure and boosted his EV commitment to 40% instead of 10%.
If the court rules in favor of the plaintiffs, we will have the opportunity to expand the use of electric vehicles in federal fleets and lead the way for the transition and improved EV infrastructure. Furthermore, the air quality surrounding the postal routes will improve as the electric mail truck will not produce tailpipe emissions. Transitioning to EVs in public fleets sets the example and normalizes electric vehicles while cutting costs and emissions.
We must fight to protect our environment and hold those who make detrimental decisions accountable for their actions. This case represents a unique opportunity for a federal agency to be held responsible for its climate impact and a chance to electrify US vehicles, providing greener and healthier energy use, which can save taxpayers money as gas prices reach new heights. Sign this NRDC petition to demand that the US Postal Service administration take advantage of this opportunity and join the fight for the climate.
Reference:
[cover image] https://commons.wikimedia.org/wiki/File:Portland_Main_Post_Office_-_USPS_Trucks_%2825072110600%29.jpg
Bogage, J. (2021, August 6). DeJoy maintains financial ties to former company as USPS awards it new $120 million contract. Retrieved from https://www.washingtonpost.com/business/2021/08/06/usps-dejoy-xpo-logistics/
Bogage, J. (2022, April 28). 16 states, D.C., climate activists sue USPS to block truck purchase. Retrieved from https://www.washingtonpost.com/business/2022/04/28/usps-trucks-lawsuit/
Bogage, J. (2022, July 20). USPS will make 40% of its new trucks electric, up from 10%. Retrieved from https://www.washingtonpost.com/business/2022/07/20/usps-electric-trucks/
Davenport, C. (2022, June 8). States Sue Postal Service Over New Gas-Powered Mail Trucks. Retrieved from https://www.nytimes.com/2022/04/28/climate/usps-gas-electric-vehicles-lawsuit.html
NRDC. (2022, June 21). NRDC and United Auto Workers v. Louis DeJoy and U.S. Postal Service. Retrieved from https://www.nrdc.org/court-battles/nrdc-and-united-auto-workers-v-louis-dejoy-and-us-postal-service
Portillo, P. (2022, February 7). Time to Stamp Out Dirty Trucks at the Post Office. Retrieved from https://www.nrdc.org/experts/patricio-portillo/time-stamp-out-dirty-trucks-post-office
Przybyla, H. (2020, September 14). Postal contracts awarded to DeJoy-run company were questioned in 2001 Postal Service audit. Retrieved from https://www.nbcnews.com/politics/politics-news/postal-contracts-awarded-dejoy-run-company-were-questioned-2001-postal-n1239990
Sharp, D. (2022, April 28). States demand more electric delivery vehicles from the U.S. Postal Service in new lawsuits. Retrieved from https://www.pbs.org/newshour/nation/states-demand-more-electric-delivery-vehicles-from-the-u-s-postal-service-in-new-lawsuits
Sierra Club, Earthjustice, & CleanAirNow KC. (2022, April 28). Environmental Groups Take Postal Service to Court for Scheme to Buy Massively Polluting Mail Trucks. Retrieved from https://www.sierraclub.org/press-releases/2022/04/environmental-groups-take-postal-service-court-for-scheme-buy-massively
US EPA. (2021, November 16). What is the National Environmental Policy Act? Retrieved from https://www.epa.gov/nepa/what-national-environmental-policy-act
( 0 ) Ratings
( 5 ) Discussions
( 0 ) Group Posts
Reply/Leave a Comment (You must be logged in to leave a comment)
Connect with us!
Subscribe to our monthly newsletter:
Read More


Sponsored Listings
Related Posts
Read More