Designing Better WELL Building Signage Systems for People and Our Planet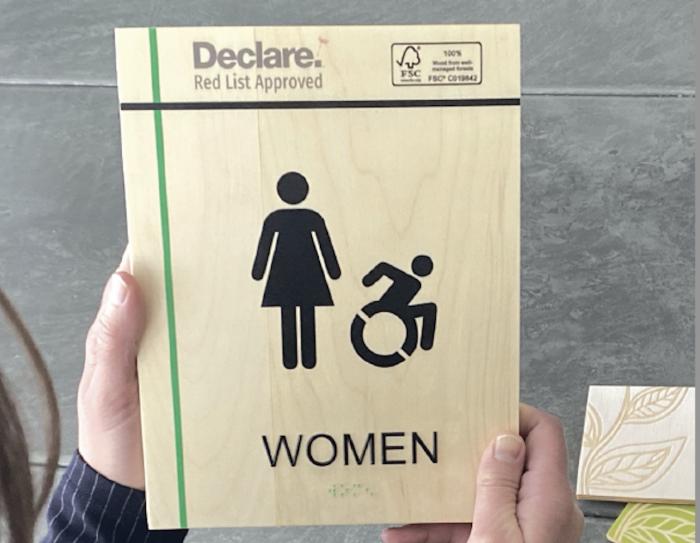 Signs are used to communicate and inform, and assist in creating a branded experience for building occupants. Somewhat uniquely, WELL Certified Buildings specifically require or encourage signage as a tool for achieving their goal of advancing human health and well-being.
Green Dot Sign® specializes in sustainable ADA and wayfinding signage and our goals overlap with the WELL building framework. To better engage with WELL projects, we dove into WELL to learn more about the role of signs within this Standard. Our research is shared through a WELL Building Signage Guide and findings from a survey of AECO professionals.
WELL Building Standard Introduction
The WELL Building Standard™ seeks to transform buildings and organizations around the world in order to help people and communities thrive. Based on collaborative, scientific research it sets design and operations performance standards.
WELL is managed and administered through the International WELL Building Institute (IWBI™) and projects are third-party certified by the Green Business Certification Incorporation (GBCI), which also certifies the USGBC LEED® program. The first WELL standard, WELL v1, was launched on October 24, 2014 and the current WELL v2 was released in 2020.
WELL v2 has required preconditions and flexible optimizations in the ten concepts of Air, Water, Nourishment, Light, Movement, Thermal Comfort, Sound, Materials, Mind and Community. Within the WELL rating system there are 110 points available in each project scorecard. Building certification levels are 40 points for Bronze, 50 points for Silver, 60 points for Gold and 80 or more points for Platinum.
The WELL framework is growing internationally as more workplaces seek to reduce employee stress and improve talent attraction and retention. WELL is in use by over 30,286 projects in more than 98 countries. These projects encompass over 3.08 billon square feet of real estate.
Signage Introduction
Signs use words and symbols to communicate messages. Together directional, identification, safety, informational and regulatory signs create a wayfinding signage system. Wayfinding sign systems guide people and help individuals navigate a space efficiently. A clear, concise and comprehensive wayfinding signage system can also enhance individuals' understanding and experience of a space. For example, in a hospital signs that direct to the emergency room, medical departments and the cafeteria save time and reduces stress for employees, patients and visitors.
Signs in U.S. public buildings must meet the requirements of the 1990 Americans with Disabilities Act (ADA) and 2010 ADA Standards for Accessible Design (SAD). Detailed federal signage requirements direct the location, placement and content of identification, directional and informational signs. To ensure that your ADA signs are compliant, review our 55+ page, free to download ADA Sign Requirements Guide.
Research Background & WELL Signage Guide
We first reviewed the WELL v2 Building Standard to identify every possible or required signage application. We discovered that a thoughtful sign system can help meet WELL certification preconditions and contribute to earning optimization points.
To make it easier for project teams to design and implement better sign systems we created a WELL Building Signage Guide, which is available on our website. This Guide contains more information about WELL building signage and details opportunities for wayfinding, ADA and educational signage within each of the ten WELL concepts.
Furthermore, we learned that third party material ingredient verification of building products is a critical component of the WELL building framework. This means signage with Declare labels or Health Product Declarations (HPD's) can be a benefit to WELL projects. Declare, which is managed by the International Living Future Institute (ILFI), is a rigorous building product transparency platform that can be used to discover healthy building products. HPDs, which are managed by the Health Product Declaration Collaborative, are a standardized way to disclose building product constituents.
Next, we surveyed AECO professionals about their preferences and perceptions of WELL signs. Responses reveal that signage within WELL buildings is important. To be effective, signs must be easy to understand and visually appealing. Additionally, most survey respondents agreed that material transparency and product sustainability are of high importance.
WELL Project Signage Survey
In July 2021 we surveyed thirty AECO industry professionals about their sign preferences and perceptions of WELL signs. Survey participants were primarily recruited through LinkedIn and the Green Dot Sign® email newsletter. Respondents were asked to identify their practice area. A tree was planted for each completed survey through One Tree Planted.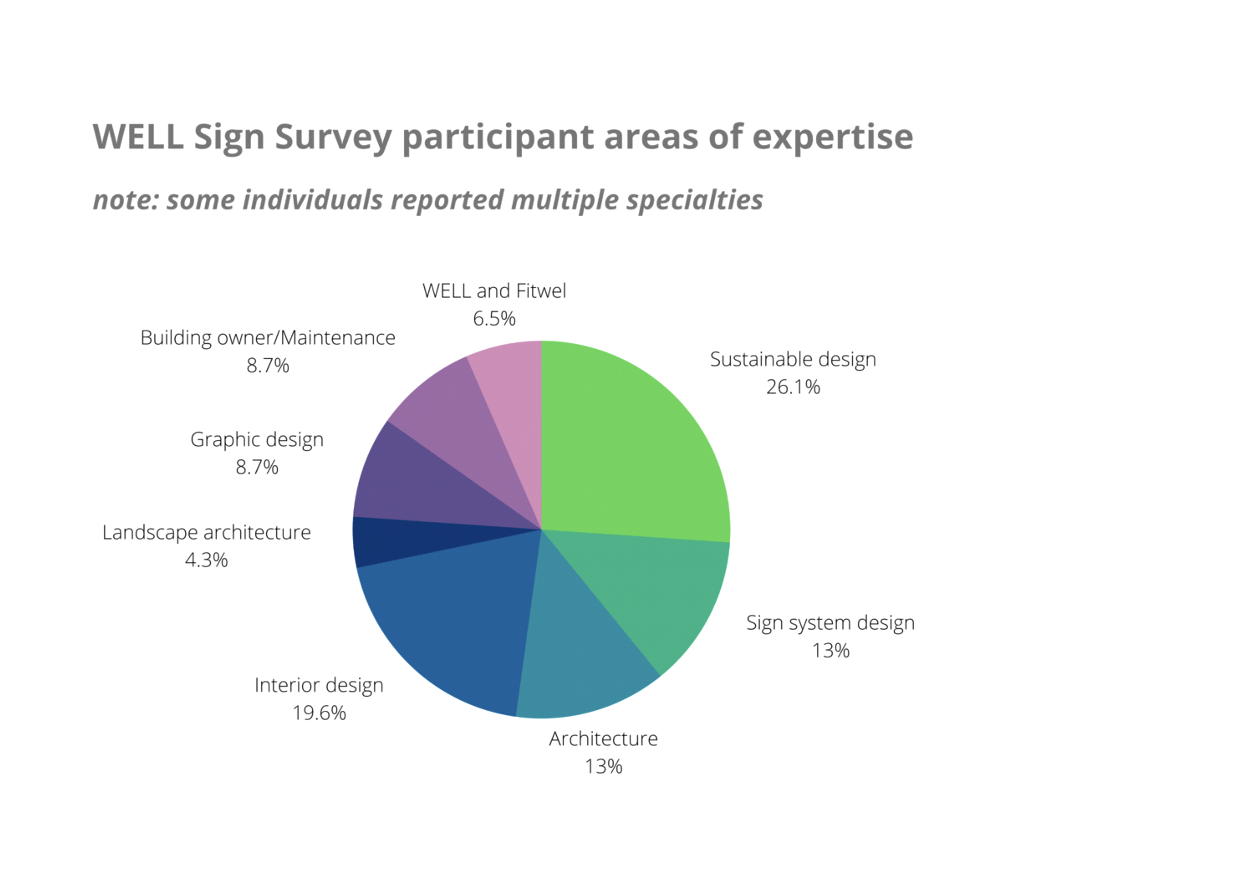 Eight WELL Building Sign Survey Findings:

When analyzing survey results we reached several conclusions:

1. Signage is relevant
To varying degrees, all survey respondents agreed that signage is an important component of WELL certified buildings. The majority of respondents, 57%, strongly agreed that signage is an integral aspect of their WELL projects.
2. Most AECO professionals want eco-friendly signage
In the survey, 80% of respondents agreed that they would specify or purchase eco-friendly signage. Only one respondent was uninterested in eco-friendly signage.
3. Material transparency is important
Most AECO professionals prefer to know their signs' material composition. A sign's material ingredients are not less important than its appearance according to 80% of respondents.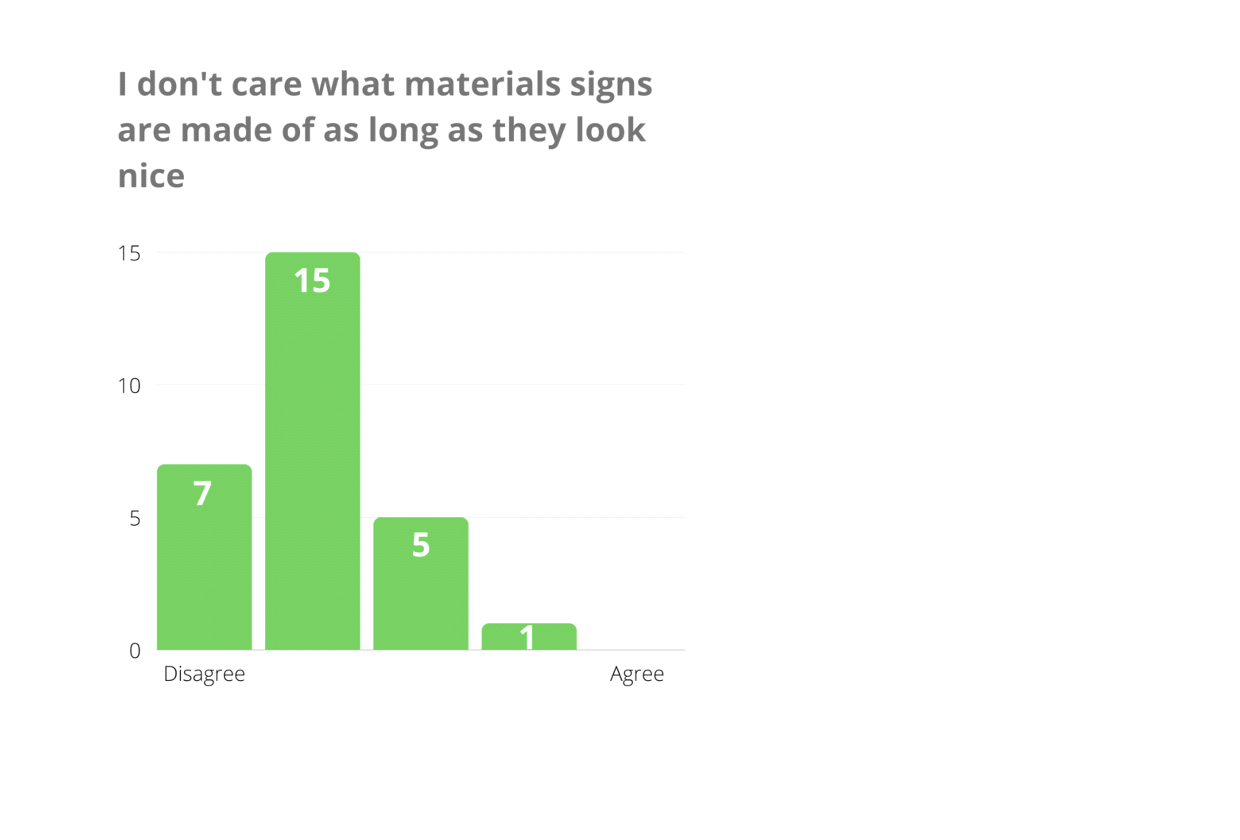 4. Signs with a Declare label are preferred
Similarly to eco-friendly specs, 90% of AECO professionals surveyed agreed that FSC® 100% signage and a Red List Free or Approved Declare label is desirable. Only three participants were neutral on whether or not a Declare label would make them more likely to select a particular signage option.
5. Sign suppliers could understand WELL building projects better
Trouble finding sign suppliers that understand the WELL building framework was reported by 38% of respondents. Another 44% were neutral regarding if it is difficult to find a supplier familiar with the WELL Building Standard.
6. Designers want to submit custom WELL sign designs
In our survey 48% of respondents would like to submit custom sign designs. This was balanced by another 38% which provided a neutral response and 10% with no desire to submit their own sign designs.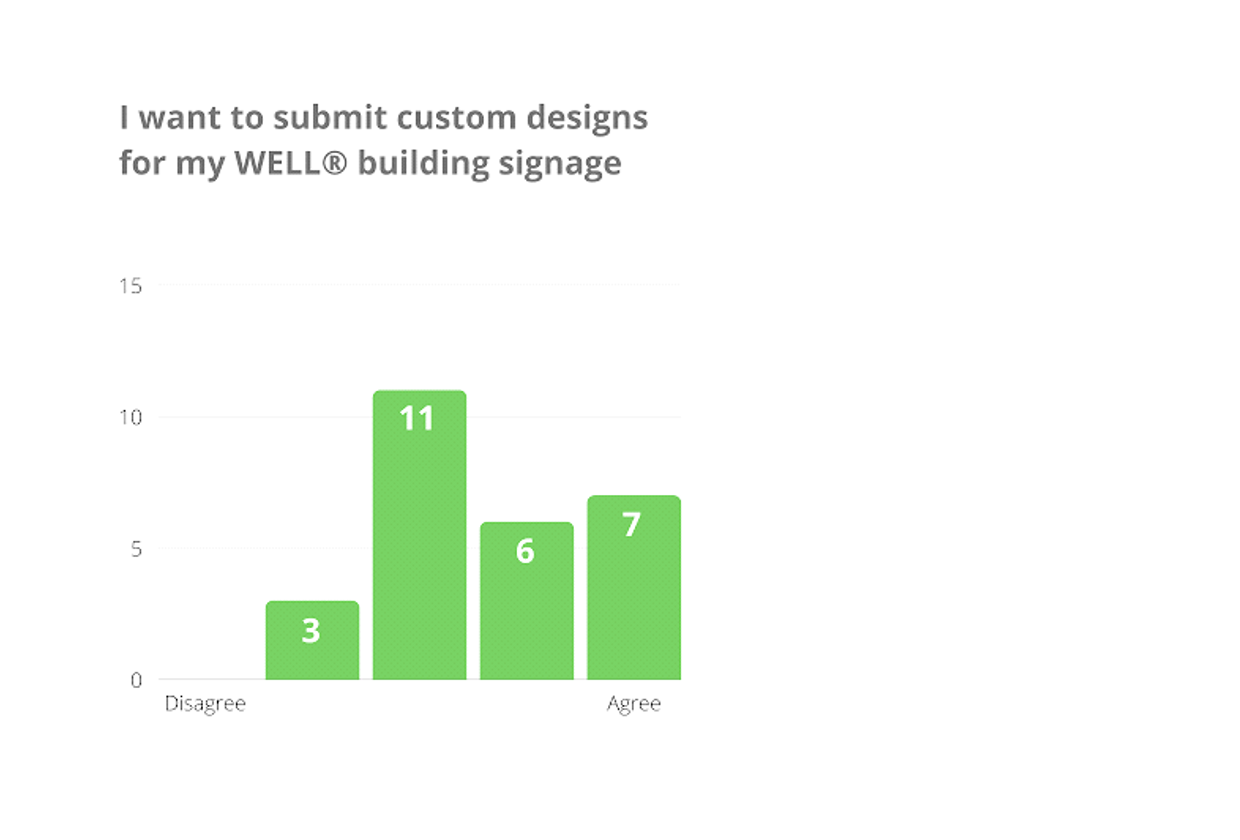 7. WELL signs should be easy to understand and design cohesive
Several themes emerged from detailed sign design feedback. First, signs should contain more graphics and less text. However, if a graphic is not immediately understood, words should be used instead. Unsurprisingly, the third theme to emerge is that signs should be visually appealing with nice typography, attractive colors and uniform design throughout a building's entire signage system.
8. Sign messages and packages should be unique to a building
The number of respondents likely to use a particular sign with a specific message varied from 63% to 40%. The "Hydrate" sign is the most likely to be used and the "Walking Loop" WELL sign the least likely to be used in a building project. This points to a need for some standardized WELL building sign options combined with robust, design consistent, custom signage options.
Inspiring WELL Signage
The WELL Building Standard is an inspiring and actionable framework.
While building design may not be the first thing you think of when considering human health and well-being, consider that on average we spend 90% of our time indoors. Air and water quality, exposure to natural light, building product ingredients and an inclusive, engaged community are important. Signs that direct to, identify and support building features also matter and are worthy of thoughtful consideration.
The momentum of WELL has the potential to positively impact the development and design of buildings and building products within and outside of this impressive building framework.

ASSESS compliance > DESIGN thoughtfully > MANUFACTURE sustainably > INSTALL skillfully From ADA signage needs evaluation to sign design, fabrication, project management or installation Green Dot Sign® handles any part or all of the signage needs for your next project. There are sustainable sign solutions for every application and sector.
( 0 ) Ratings
( 0 ) Discussions
( 0 ) Group Posts
Reply/Leave a Comment (You must be logged in to leave a comment)
Connect with us!
Subscribe to our monthly newsletter:
Read More


Sponsored Listings
Related Posts
Read More