An Introduction to PACE Financing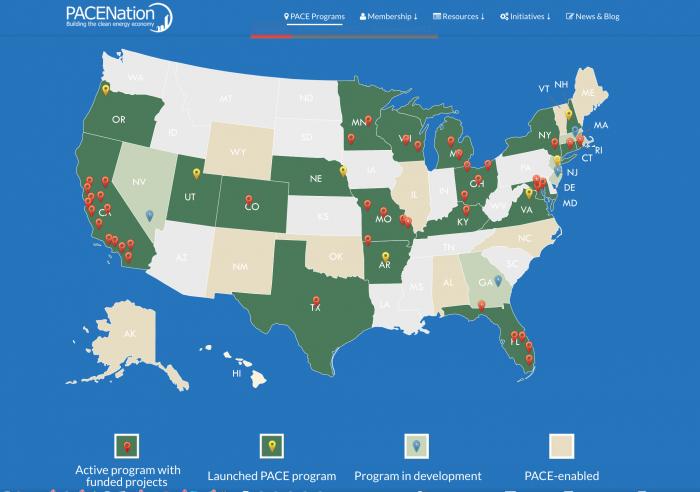 Property Assessed Clean Energy, or PACE, financing was created as a means to finance energy upgrades/installations for commercial and residential properties to make them more energy efficient. The terms of PACE financing are set by individual state legislatures.
PACE bonds can be issued by any financing agency from municipal financing districts or state agencies to finance companies, and the proceeds can be used to rerofit both commercial and residential properties. PACE programs are considered especially beneficial for individual home and business owners as they help to cover upfront costs for the energy efficiency upgrades which the property owner then pays back by increasing property taxes by a set rate for an agreed-upon term ranging from 5–25 years. This is done via an annual assessment on their peoprty tax bill. This arrangement allows property owners to begin saving on enery costs while they are paying for their energy upgrades and usually means that property owners have net gains even with increased property taxes.
One of the key characteristics of PACE programs is that the loan is attached to the property and not the individual.
Often PACE financing is also used to finance PPA* (Purchase Power Agreements) and leases. In this setting, PACE property tax assessment is used to collect a lease payment of services fee. This elongation of payments helps to reduce the project costs as the provider retains some of the tax incentives and passes the benefit on to the property owners as a lower lease or a service payment.
Even though they save energy and help increase property values, PACE programs aren't applicable to every situation and do involve some risks. For example, they are not an appropriate financing mechanism for homeowners who are eligible for free or lower cost energy efficiency programs. Further, property owners under PACE programs currently may have insufficient consumer protections. This leaves these people vulnerable to predatory lending practices, including aggressive sales tactics and overly expensive loans with questionable savings.
Overall, PACE financing has considerable potential and has been growing as an important tool in helping property owners reduce their energy needs and make their properties more valuable. However, its future is under threat as in 2017 the U.S. Department of Housing and Urban Development said the Federal Housing Administration would no longer insure mortgages for homes with PACE liens. This move reversed guidance adopted by the Obama administration in July 2016 and has endangered PACE program.
To learn more about the PACE Programs, visit:
http://pacenation.us/pace-programs/ (interactive map)
http://www.pacenation.us/wp-content/uploads/2013/07/7.24.2013-PACE-Programs-and-Legislation-at-a-glance.pdf (list format)
PACENation: http://pacenation.us/

https://renewfinancial.com/resources/pace-will-be-available-all-americans
National Consumer Law Center: https://www.nclc.org/issues/pace-energy-efficiency-loans.html
*PPA: A contract between two parties that fixes the price on which electricity can be purchased for a set duration of time.
( 0 ) Ratings
( 2 ) Discussions
( 0 ) Group Posts
Reply/Leave a Comment (You must be logged in to leave a comment)
Connect with us!
Subscribe to our monthly newsletter:
Read More


Sponsored Listings
Related Posts
Read More