An Introduction to Green Business Bureau and Green Business Certification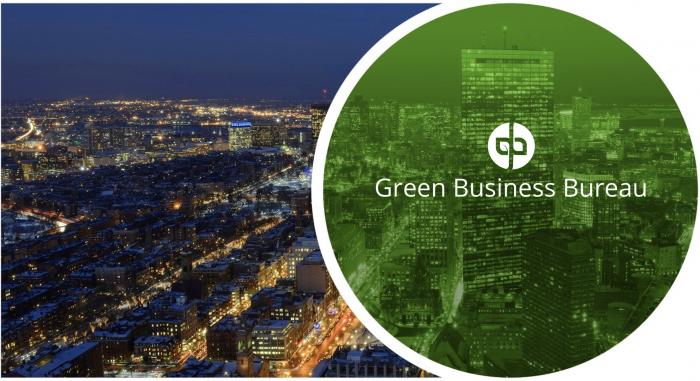 A Brief Introduction
At Green Business Bureau, we strongly believe in the individual powers of businesses across all industries and together, we can bring about real positive change in the world. We understand that going green is not a "one-size-fits-all" process and that is why we carefully designed our green business certification to honor businesses where they are currently and offer easy-to-use tools to help them on their unique sustainability journeys. The online GBB EcoAssessment™ and EcoPlanner™ enables businesses to understand, prioritize, implement and certify green initiatives and sustainable business practices at their own pace. And because stakeholder trust is so important, we provide businesses with an official seal to validate and promote their green commitment and accomplishments with the world. Businesses join GBB to be recognized as a green business leader; to be certified by a credible, trusted 3rd party; to attract and retain customers and employees; and to become a greener business by using GBB tools to prioritize and implement green initiatives.

Green Business Certification: The Benefits
Amidst global discussions on climate change and growing support for corporate responsibility and environmental stewardship, we not only see a great need for a certification process that is valuable and possible for all businesses, we see a shining opportunity for it as well. Now more than ever, employees and customers are choosing to do business with companies who care about the same causes they do. Being a certified green business enables owners and managers to hire forward-thinking people, gain stakeholder trust, develop loyal customer relationships, and create a great place to work.
By keeping our certification process simple, flexible, and affordable, our members can pursue their green goals with less stress and confusion, and demonstrate their commitment to sustainability with confidence. GBB members become greener with guidance and tools that drive change and operational efficiency. Bottom line, our members have shown that green business practices improve operational efficiency, reduce operational costs, enhance their brand, retain employees, attract customers and drive sales.
At the personal level, GBB members have close ties to the communities they serve and have made it their mission to ensure a healthy, secure future for all. Indeed cost savings are something all businesses can get behind, but it's the sincere care and dedication to planetary wellness that drives our members.

The Certification Process: How It Works
GBB's certification process is entirely initiative-based and self-administered online. A business will receive points for each and every activity it completes. Green initiatives are organized by the business area they impact, such as transportation, energy usage, recycling or office materials, and further marked by the effort, cost and environmental impact of the initiative. With a variety of green initiatives to choose from, GBB certification makes continual improvement possible. We also reward points for the accomplishments that a business has already made prior to becoming a member. This creates a strong launching point for our members to go even further with their green pursuits.
Beyond offering a comprehensive tool for long-term growth, we also establish supportive relationships with our members and a resourceful member network. Our members enjoy access to valuable content, marketing materials and tools, and opportunities to showcase their achievements and connect with other green businesses. There is power in pursuing greatness together and it is this community mentality that makes GBB special.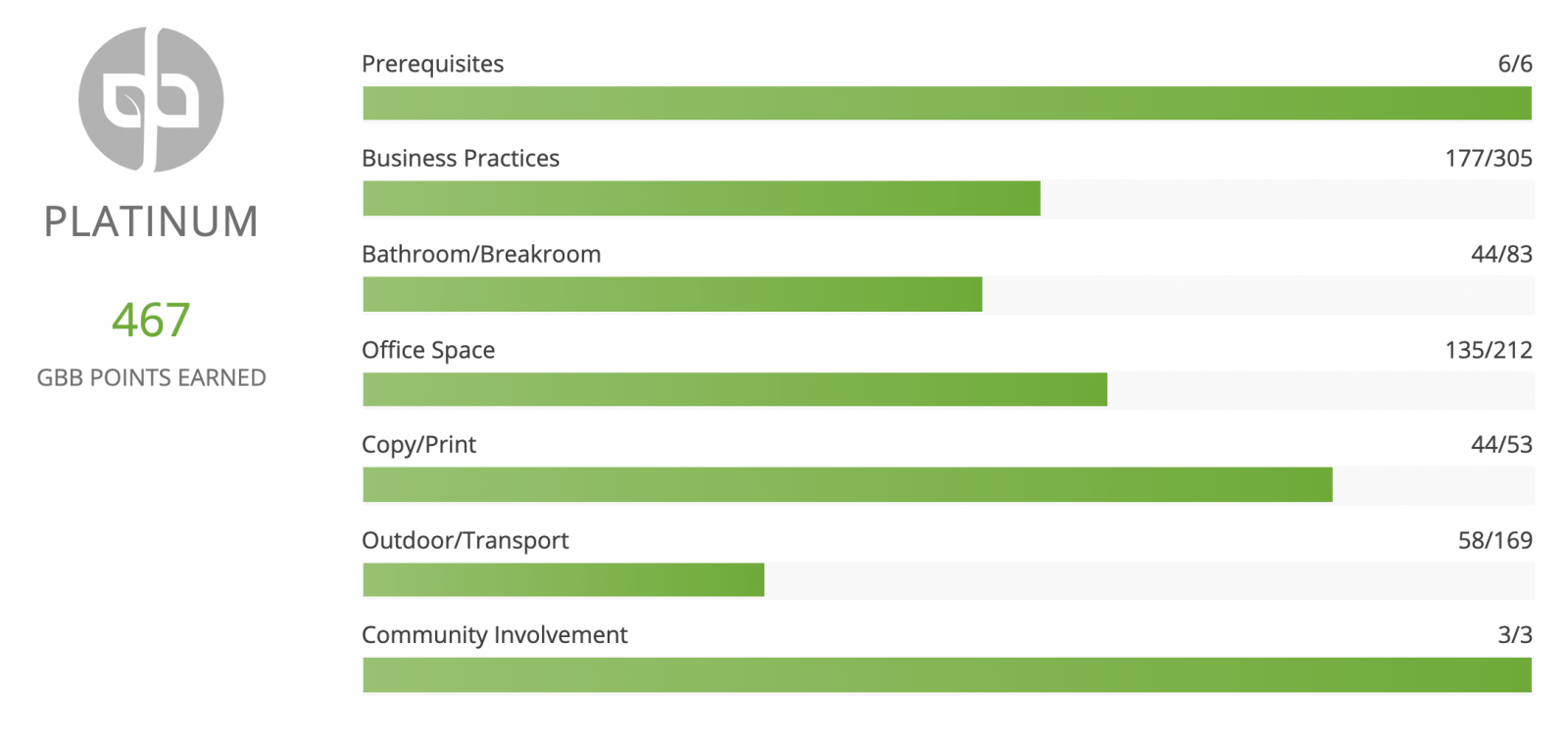 Being a Green Business: Why It Matters
Not to state the obvious, but the only planet that humanity can live on is at risk. The future for our children is at risk. Scientists have presented overwhelming data that human activity and company actions are furthering climate change and threatening basic human needs such as energy security and access to clean drinking water. At GBB, we take this risk seriously and are passionate about doing our part to bring healing through sustainable business practice.
Preserving the environmental integrity of the planet is also an act of protection over humanity. Being a green business means holding accountability and building stakeholder trust, two vital components to long-term sustainability. By being transparent and genuine towards employees, customers, and community, green businesses are making a promise to look out for their stakeholders and future generations.
Being a green business is also good business. A recent study showed that 84% of consumers seek sustainability commitments from the companies they buy from and 79% of potential employees look for companies with positive environmental credentials. Being a credible green business also elevates a company brand, implies quality, and yields cost savings through energy-saving practices.
So, not only are there a multitude of incentives to be sustainable but we also do not have any other alternative that can ensure a secure and abundant life on Earth.

Getting Started: It Doesn't Have to Be Hard
Deciding how and when to green your business can seem daunting and for this reason, we want to ease the uncertainty that can come from making changes and long-term investments. Our process for getting started is simple and honest:
Visit greenbusinessbureau.com to review our different membership options and benefits.

Request a demo of our product and talk one-on-one with a green business specialist about your goals.

Once a member, complete the EcoAssessment and prerequisite initiatives to earn a physical seal for your location and an online clickable seal for your website.

Use the EcoPlanner to prioritize and plan future green initiatives.

Take advantage of our marketing opportunities such as being showcased in a Member Story article and included in the GBB member directory.

Be proud of your green accomplishments, enjoy the rewards, and continue growing your role as a sustainable business.

The Future Is Bright… and Green!
GBB is adding Social Responsibility to the online assessment and planning tools which will give companies credit for community service, charity giving, employee fairness and diversity. Our new green business directory is well under way to connect members together and facilitate new relationships. We are also enhancing the member profile page so that businesses can personalize their green journeys and include articles, pictures, stories and other content in addition to their EcoPoint score and list of completed initiatives.
At GBB, our members are the catalysts behind change and we are honored to provide the tools to help them succeed. We are excited to continue working with them to witness their triumphs and to create a brighter and greener future for everyone.

The Green Business Bureau is the trusted authority in green business. Our EcoAssessment™ & EcoPlanner™ tools enable businesses to understand, prioritize, implement and certify green initiatives and sustainable practices. As a trusted 3rd party, we provide businesses with an official seal to validate their green commitment and accomplishments.
( 0 ) Ratings
( 97 ) Discussions
( 6 ) Group Posts
Reply/Leave a Comment (You must be logged in to leave a comment)
Connect with us!
Subscribe to our monthly newsletter:
Read More


Sponsored Listings