A Common Sense List of Dos and Don'ts for Dealing with COVID-19 and Indoor Air Quality in Your Homes and Workplace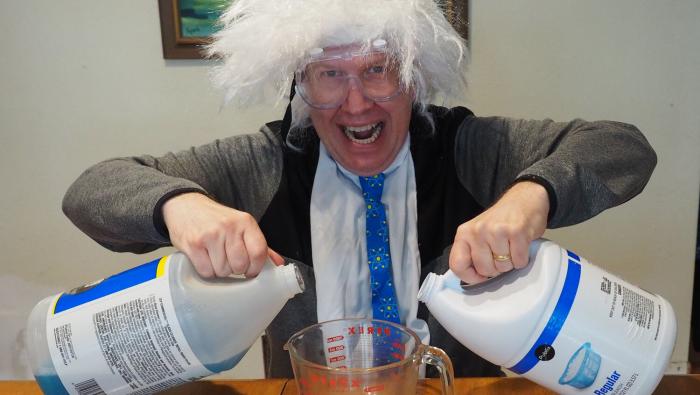 The CDC, EPA and other agencies are giving us practical ways to prevent the spread of the Covid-19 virus such as social distancing and washing hands. While these are essential, there are additional steps you can take to improve indoor air quality. We took a look at some of these last week in a short video on how to design for situations like these, however the immediate feedback was "What can we do now?" So our team created a list of "Things to Do NOW," but we discovered just as many "Things NOT to DO" that aren't showing up on current lists.
Our list is based on advice from the CDC, EPA, and OSHA with extra green building tips that comply with the building code. Green building is not just "energy efficiency," it also targets safety and health of the occupants as well. Indoor Air Quality is just as important as disinfecting, and both need to be considered during this current crisis.
I've been listening to town hall meetings, watching webinars and doing additional research to make sure we are getting the latest information to our clients and partners. Even with that effort, there will be NEW information that will come up as we learn more about this particular virus and its behavior. Much of the advice that we received was based on how the flu behaves and the assumption is that Covid-19 will behave in a similar manner.
I am a licensed contractor with a focus on high performance and healthy buildings. My company, SawHorse, Inc. has completed hundreds of home performance assessments in the Atlanta area and has renovated hundreds of homes using our building science expertise. Even with decades of experience, there is still much to learn and this article will continue to evolve over time as we learn about Covid-19.
Disclaimer: This is information gathered for you to understand the importance of thinking through the situation. I've provided reference links to items as needed to support these claims so you can do your own research as well.
Do NOW
1. DO- Self-Quarantine with ANY sickness. This is pretty obvious and all over the news to do, however I still see LOTS of people in public coughing then contaminating surfaces by touching them. Covid-19 is not the only virus out there. We still have the flu, common cold and other pathogens that we can contain in addition to Covid-19.
Additional Reading:
https://www.cdc.gov/coronavirus/2019-ncov/prepare/prevention.html
https://www.who.int/emergencies/diseases/novel-coronavirus-2019/advice-for-public
2. DO- Use "Soap and Water" for cleaning hands thoroughly (20 seconds or more) and for cleaning most surfaces. If you plan to disinfect, then you need to clean the surface with soap and water first, or the dirt may soak up all of the disinfect so it will not be able to attack the pathogens.
Additional Reading:
https://www.cdc.gov/handwashing/show-me-the-science.html
Save the hand sanitizer for "on the road" in situations where you don't have access to soap and water. You still need to use soap and water to CLEAN your hands when you get access. The sanitizer only kills certain pathogens, but does not clean. ALSO- it does NOT kill certain microbes that you might pick up from the bathroom, so always try to use soap and water.
Additional Reading:
https://www.cdc.gov/handwashing/show-me-the-science-hand-sanitizer.html
3. DO- Clean daily on "high touch" surfaces such as door knobs, countertops and other surfaces you see people touching all the time. Clean hourly or more often in active workplaces on the "high touch surfaces."
Additional Reading:
https://www.cdc.gov/infectioncontrol/guidelines/environmental/background/services.html
4. DO- Disinfect (after cleaning)- and follow the instructions. The key here is to use only ONE disinfectant on the "high touch" surface in order to avoid unwanted chemical reactions. See NOT TO DO LIST below. Also- you must observe the "Dwell Time" which is the amount of time the surface must remain wet in order to be effective against the pathogen. If you spray the surface and immediately wipe it off you probably did NOT disinfect the surface. Most disinfectants have a dwell time of 10 minutes so 10 seconds will NOT give you the desired effect.
READ THE INSTRUCTIONS ON THE DISINFECTANT AND COMPARE TO MANUFACTURER'S "RECOMMENDED CLEANERS' LIST FOR BEST RESULTS
Additional reading for office disinfecting through 3rd parties:
https://www.randrmagonline.com/articles/88842-coronavirus-understanding-disinfection-options
5. DO- Ventilate AFTER cleaning for fresh air. NOTE: If you live in a humid climate DON'T leave the windows open now due to humidity which can cause other indoor air quality issues such as mold. Allergy season is upon us as well.
6. DO- Leave shoes at the door. Seems obvious and most of our parents told us to do this growing up, however many of us are not doing it at home right now. If you are still not convinced, shoes can track bacteria, toxins such as herbicides + Lead and also dirt which means you have to clean again.
Additional Reading:
https://www.livescience.com/64409-should-you-take-off-shoes-indoors.html
7. DO- Use controlled ventilation and leave the bath fan on for a period of time AFTER leaving the bathroom. This will get rid of bad air from the bathroom and surrounding areas.
Additional Reading:
https://www.energyvanguard.com/blog/do-you-really-need-run-bath-fan-winter
8. DO- Leave bulk packaging outside. Covid-19 can live 1 hour to 1 day on cardboard. You can open carefully and leave the cardboard outside or spray with Lysol and bring it in several minutes later. Even if it could live on the package, it is most likely NOT on it. The contents are probably safe as well unless they were packed hours ago.
9. DO- Change HVAC air filter (some of us are in pollen season) Hopefully your HVAC tech sold you at least a MERV-13 filter. If not, you can still get decent 1" filters that take out some of the larger particles floating around in the air. Consider upgrading to a 4" or 6" pleated filter with a certified HVAC company since it is NOT a DIY task.
Additional Reading:
https://www.energyvanguard.com/blog/how-often-should-you-change-hvac-filter
10. DO- Go Outside- it seems counterintuitive when we're being asked to stay home, but walking or biking away from crowds is safe. The air is also cleaner now since the dramatic reduction in car use and manufacturing since this pandemic. Take advantage of the cleaner air if you don't have allergies.
Additional Reading:
https://www.sacbee.com/news/coronavirus/article241329856.html
11. DO- Change out your hand, kitchen and bath towels daily. These are breeding grounds for unwanted microbes.
Don't Ever Do
1. DON'T Mix Chemicals- Chlorine + Ammonia OR Chlorine + Alcohol can cause unwanted chemical and toxic reactions. If you are not sure, just don't use bleach in combination with other cleaners to be safe. Contact the manufacturers website or call their technical centers for clarification.
Here are a few toxic combinations that are avoidable: Dawn dish soap (Denatured Alcohol) + Clorox Bleach (Chlorine) OR Windex (Ammonia) + Clorox Bleach (Chlorine)
These chemicals used on the same surface even hours apart are not recommended since the residue from the first application may react with the 2nd chemical.
NOTE: We are NOT stating to avoid these brands. Windex can be "Ammonia Free" and Clorox can be "Bleach Free". The products with Ammonia and Bleach can still be used just not near each other. Please ventilate since they are not good for you to breath or for you to touch with your skin.
Additional reading:
https://www.epa.gov/sites/production/files/2014-06/documents/lesson2_handout.pdf
2. DON'T Re-Contaminate your hands after you wash them by touching doors or faucets.
Here is the recommended approach to washing hands:
Before I go over this step by step, I will mention that water conservation IS important, however not all faucets will allow for this without recontamination. Only faucets that have levers where you can use wrists or elbows will work. Otherwise, leaving the water on it is the best option.
Wet hands with water

Apply soap and scrub hands and wrists (20 sec or so)

Rinse

Grab a towel and turn off faucet

Dry hands. Pathogens thrive on damp hands.
3. DON'T Wear common dust masks if you are NOT sick- they are not effective. Do wear if you are sick to help spread your pathogens to others. Plus workers that actually need them cannot work safely to protect themselves in dusty environments if there is not a supply for them.
Additional reading:
https://www.who.int/emergencies/diseases/novel-coronavirus-2019/advice-for-public/when-and-how-to-use-masks
4. DON'T Use ozone generators. Ozone is considered an air pollutant on most indoor air quality charts and at certain levels will harm your lungs, skins and surfaces in your house. Best way to clean air is with a fan + filter combination.
Additional reading:
https://www.epa.gov/indoor-air-quality-iaq/ozone-generators-are-sold-air-cleaners
5. DON'T Ignore the humidity in your space. If the humidity is too low or below 40% Relative Humidity (RH), then pathogens such as the flu thrive. The sweet spot for humidity is between 40% and 60%. I personally prefer around 49% in my environment. RH above 60% creates ideal environments for mold, dust mites and some pathogens as well.
Additional reading:
https://www.aprilaire.com/benefits/preservation/relative-humidity-chart
6. DON'T Leave AC off in humid climates if you have to leave your house or office while the heat is still on- turn it to cooling mode so the AC can kick on so you won't return to a moldy environment. This only applies for an extended period of time.
Additional reading:
https://www.cdc.gov/mold/faqs.htm
7. DON'T come back to a building that has been out of use and turn on water without maintenance personnel clearing the water for use. Otherwise you can get legionnaire's disease which has some of the same symptoms as Covid-19.
Additional reading:
https://www.cdc.gov/legionella/about/prevention.html
8. DON'T use cleaners NOT registered with the EPA. Every cleaner or disinfectant that makes a claim MUST register with the EPA. The EPA confirms that the product is safe for YOU to use and also meets the claims on the packaging. NO ONE CAN CLAIM TO KILL COVID-19 BECAUSE THEY HAVE NOT TESTED THEM YET. Everyone is only assuming that these products will work against COVID-19 since they work against strains that are similar.
Additional reading:
https://www.epa.gov/pesticide-registration/selected-epa-registered-disinfectants
9. DON'T use High VOC chemicals. VOC stands for Volatile Organic Compound. If the name does not scare you then knowing that they can cause damage to your health and home should be reason enough to avoid them. Many products used to clean and build houses have VOCs and are easy to avoid if you look at the packaging. For instance you can get NO or LOW VOC paints offered by most paint manufacturers.
Additional reading:
https://www.epa.gov/indoor-air-quality-iaq/volatile-organic-compounds-impact-indoor-air-quality
10. DON'T "NUKE" the surface with more cleaners than prescribed- more does not clean better. You are just adding more chemicals causing more chemistry to happen which can damage you, the surface you are cleaning and/ or pollute the air.
Good sites for green building or indoor air quality (not already linked):
How you can Help
IN 1776, THOMAS PAINE STATED THAT "THESE ARE THE TIMES THAT TRY MEN'S SOULS. THE SUMMER SOLDIER AND THE SUNSHINE PATRIOT WILL, IN THIS CRISIS, SHRINK FROM THE SERVICE OF THEIR COUNTRY; BUT HE THAT STANDS BY IT NOW, DESERVES THE LOVE AND THANKS OF MAN AND WOMAN."
I have seen so many people already helping each other and as I read stories on social media about how we are helping each other out. Our connections and willingness to help out demonstrates that the human spirit will prevail and help us through this crisis.
1. Help your neighbors that cannot get out
2. Support local business that are still offering services in a safe manner
3. Help the technically challenged with getting Skype and other communication technology set up
4. Call friends or family that you know are alone to check on them
5. Only enact "social distancing" in the physical environment- Be kind and help others through this crisis.
6. Donate to local food banks to help those in need if you are able
7. Smile
*This article was originally posted on Sawhorse, Inc.'s blog. Thanks for sharing it with us, Sawhorse, Inc! https://www.sawhorse.net/blog/2020/3/24/a-common-sense-list-of-dos-and-donts

We are "The sign of renovation in your neighborhood." Over the past 40 years, SawHorse has become one of Atlanta's premier remodeling and new construction firms. Nationally, we are known for our innovation, professionalism and energy efficient building practices as well.
( 4 ) Ratings
( 13 ) Discussions
( 7 ) Group Posts
Reply/Leave a Comment (You must be logged in to leave a comment)
01 - of - 01 Comments
Thanks for sharing and this is a "living document" so if there other common sense considerations that need to be added please share them with us.
By Matt Hoots I Mar 24, 2020
Connect with us!
Subscribe to our monthly newsletter:
Read More


Sponsored Listings
Related Posts
Read More