rheia's Comfort by Design - Smaller, Energy and Labor Efficient Air Distribution Systems

Rate It Green Team
0 Ratings
94 Discussions
6 Group posts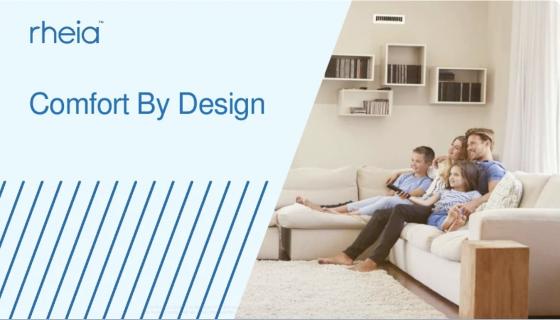 Now that we think about it, thanks to rheia, why is HVAC ductwork so big and bulky, and tangled? We've made changes to electrical and plumbing systems, so why not HVAC ducts? Clearly, it's time for something new. How about 3" ductwork that works with a conventional air handler and snaps together easily, and also provides greater comfort and efficiency?

Sometimes, you learn about a product and think, "Why hasn't this been done before?" and, "This could address some key industry challenges!" As building energy requirements evolve, and labor and material costs rise, we need new cost-effective ways to build for energy efficiency and comfort. rheia's "Comfort by Design" low-velocity air distribution system seems to be a solution at the leading edge of ventilation. rheia's top innovations include moving ductwork and HVAC equipment inside conditioned space, which is a prerequisite for the system. Think about it. As Nigel Watts of rheia points out, why would we locate HVAC systems and ductwork where there are extreme temperatures and they therefore have to work harder and consumer more energy? 50% of our energy might typically be used for heating and cooling - why not lower this figure, especially when we can add comfort and save labor? The company also manages to reduce building time and costs as well as material waste through a simple set of easy-to-install parts. Cycle time also improves, as builders can get the job done and move to the next project faster.

Our team at Rate It Green is excited to bring our Community Members and visitors information about this innovative system. First, Matt Hoots has created an efficient summary of rheia's top benefits on the Sawhorse, Inc. YouTube Channel, delineating the top features of rheia's system. Matt also provides some fun comic relief about pesty traditional ductwork systems, that might be long overdue given that we've been fighting with them for some reason, for so long. Matt asks us, "What if there's a better way?" in a system that looks good, performant well, and the mechanicals aren't all fighting with each other without compromise. Why are we hacking through framing?


You can also find the full interview with Nigel Watts of rheia on Rate It Green's YouTube Channel.

We've shared a summary of the key points of these videos below. But for full information, click to watch the videos or head on over to YouTube!

What's so exciting about rheia's air distribution system? As Nigel and Matt Share in detail, top features and benefits include:
Smaller diameter ducts: As mentioned, rheia has 3" diameter ducts, which can fit in 2/4x walls, with 4" in certain circumstances where additional air flow is needed

Home run network approach: rheia relies on a central manifold located next to the air handler - Ducts then run to each room from the central point, The greater number of ducts means that static pressure is not higher (this is not a high-velocity system)

Reduced cooling tonnage

Simple, easy-to-use system: rheia has only 16 SKUs, and the ducts and boots snap together easily

Works with existing equipment: rheia's system works with any conventional air handler and is not high velocity. The system operates at standard air handler static pressures for supply and return, because the installing builder runs enough ducts to relieve the pressures to provide the air amount needed in each room

Jobsite waste reduction: Snap-fit connections, eliminates need for tape or mastics, and the system is material efficient overall, and compact. The number of boxes and pallets of material is also literally reduced.

Installation time savings: Ease of installation and system simplicity can add up to a 50% installation time improvement (25-50% is typical, with about 50% savings for a 2K sf home)

Improved occupant comfort:

rheia located more ducts and diffusers per room and adjustable dampers (easy to adjust) in every duct improve air delivery and mixing (fewer hot and cold spots). The rheia app helps manage system balancing post installation, including verification or adjusting as needed

The company also located diffusers high on walls, which is good for airflow and reach, and also eliminates the all-too-common problem of ducts blocked by rugs and other furniture

More comfort also means fewer callbacks

System verification: Part of occupant comfort, verification also deserves its own bullet space. rheia has software and an app that builders use to test each run and determine how to modify the system to increase or decrease airflow for balancing. Ease of installation and this verification really mean that non-HVAC experts can be comfortable working with this system, with the rheia engineers to design the system and the software to verify operational performance

Available Incentives: Potential additional savings are often currently available through federal and state tax credits
Part of the point here is that rheia has looked at cost savings in another way. Instead of focusing on reducing the cost of the materials themselves, the company uses an efficient amount of high quality materials that are so easy to use, they save on the labor side of the equation. In other words, the builder can save on labor but still make a return on the product mark up.

Nigel Watts shares some interesting company history, which explains rheia's focus on the production building industry. First of all, and impressively, quite a few leading production builders have partnered or contributed to bring this product to market, some through direct investment. One key reason is that production building demands cost-effective solutions, and the potential labor savings of smaller and simpler ducts could make a more critical difference at scale to these companies. More wins are then added with greater comfort and energy savings. The system was piloted as early as 2018 in Pittsburgh with early support from Carrier, but really started to ramp production in 2021 backed by 40 different individuals and organizations. rheia also managed to do some online training like everyone else to move from piloting to production throughout 2020, while the company also made some software, production, program, and other tweaks, and also lined up some key certifications. The company aims to install systems in 20,000 homes in 2022, a twenty-fold increase.

Nigel walks us through a great level of detail, reviewing key system components and both the required and voluntary UL certifications of the system. The system is tested to 17 different measures, including heat, leakage, crush, and mold growth tests, really measures that all ducts and connections should comply with, according to rheia. The idea is to meet current energy codes and also anticipate future requirements as well.. He also walks through how the system is designed by the rheia team and how builders build the manifold on site using 1.5 duct board, or sheet metal when strongly preferred.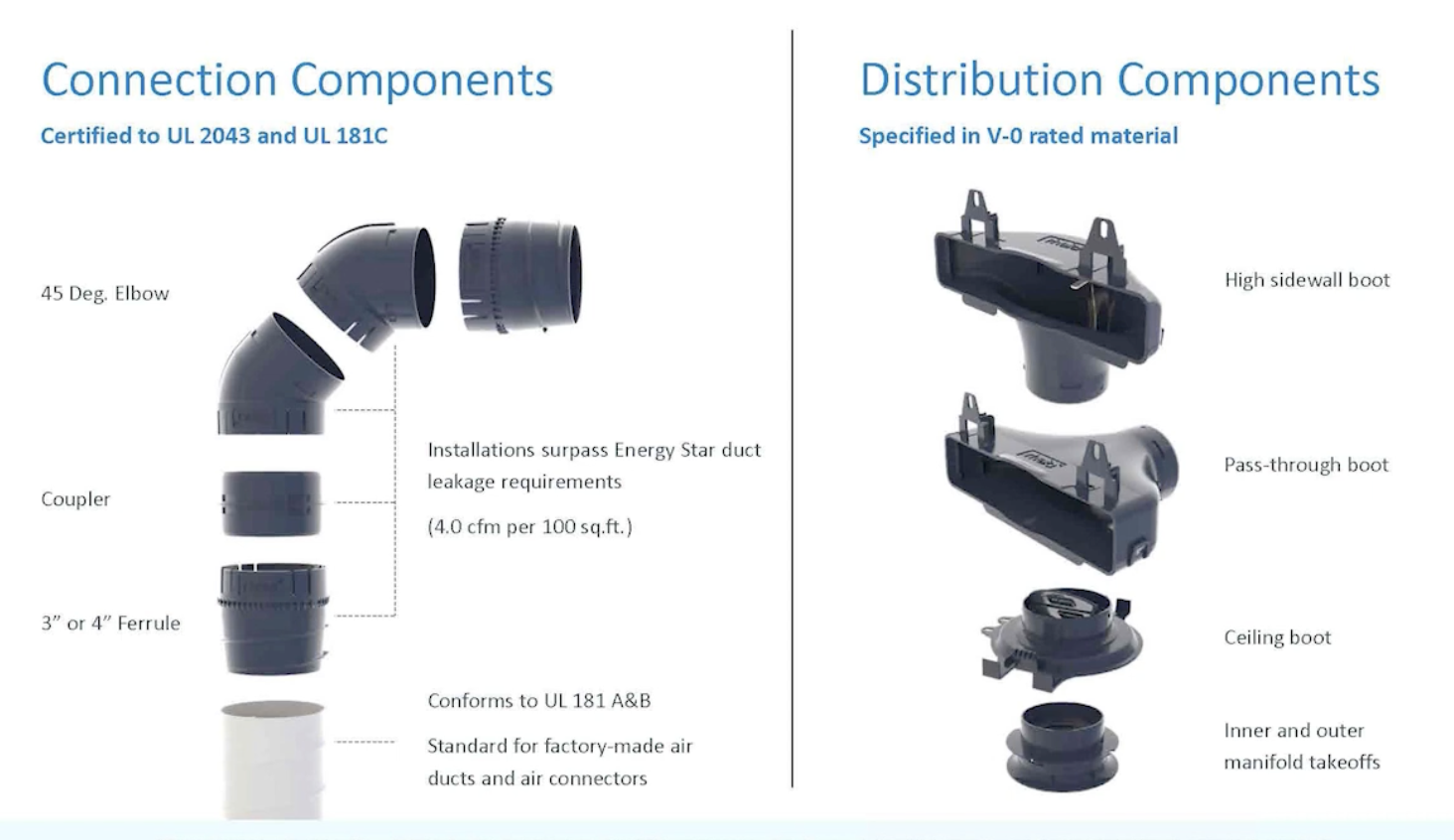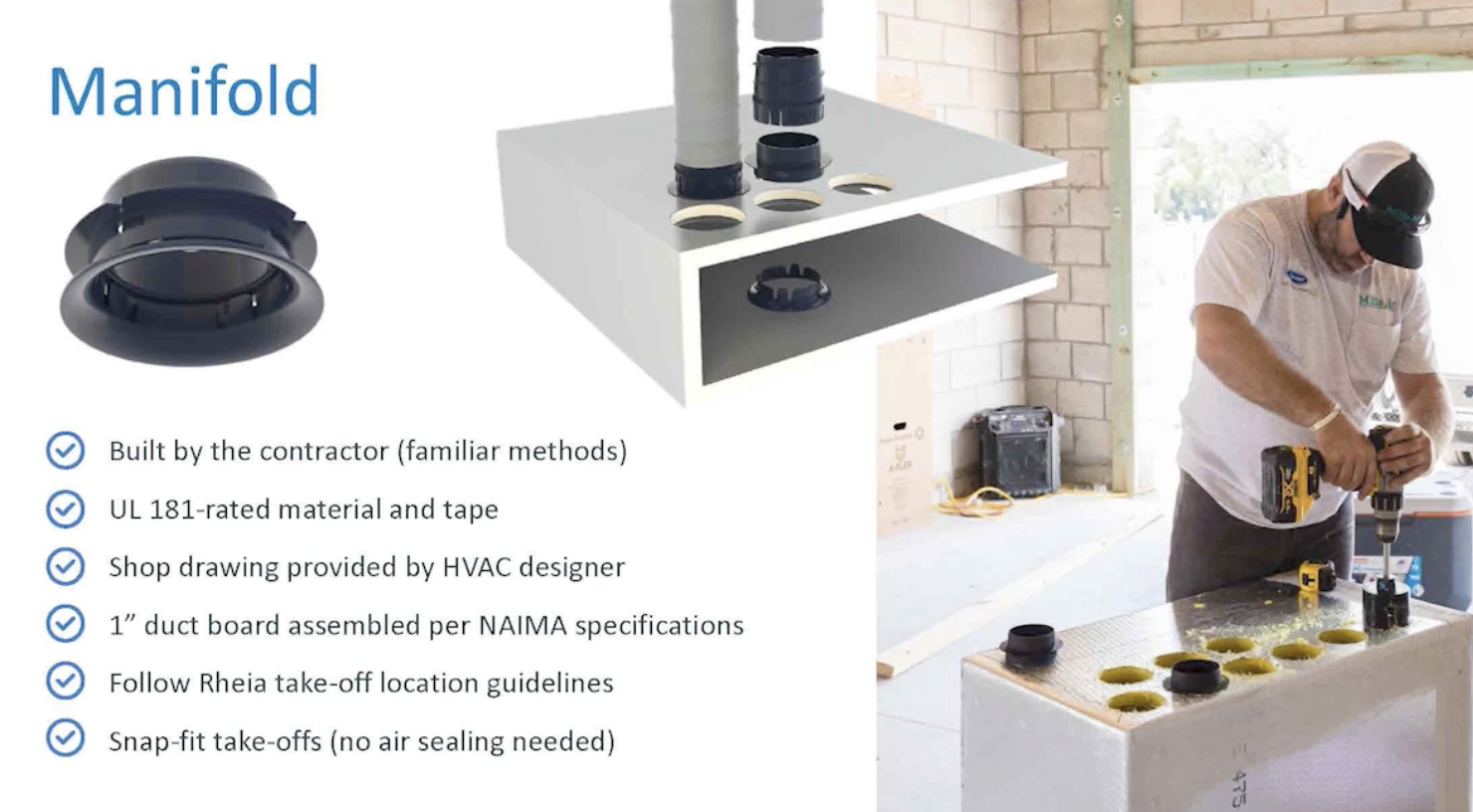 Matt and Nigel share some good conversation about the product's evolution and production, as Matt asks what might be on most people's minds: "When can we use this for all construction?" The systems are mostly distributed for production builders currently, but there are plans to distribute more widely over time. Some custom work is starting, partly through companies that have been involved in production builds. And of course, another question is going to be when rheia's systems will be commonly available in retrofits. Clearly, smaller ductwork helps because the pathways will be smaller, which is key in retrofits. And retrofits are of course a key part of making buildings part of energy and climate solutions. I mean, who doesn't want to see fewer battles between plumbers, electricians, and HVAC contractor for real estate within the walls?

Matt Hoots is clearly super excited to be installing rheia's 3" ducts in the #1920sMakeoverATL deep energy retrofit in Ansley Park, Atlanta. What a great opportunity to showcase how these systems work, as a part of the ATL team's effort to show people and companies what's behind the walls and how everything is working together as a system.

As Matt points out, the more energy efficient, the smaller a system can be, and therefore also the less ductwork is needed. As he sees it, this seems to be how everyone will be doing ductwork in ten years. The way we see it, raise your hand if you want to be considered for a retrofit pilot?!! In all seriousness, join this exciting discussion and ask your questions!

Allison Friedman
Weston, MA, united-states
0 Ratings
99 Discussions
131 Group posts
Maybe it was sort of in jest, but... I'll raise my hand to be a retrofit pilot! The ducts to our son's room didn't have enough space, and they're a complete bottleneck. There is also only one run in a room that is also exposed on 3 sides. it is so cold in there in the winter!

Indeed, why didn't anyone think of smaller ducts sooner??
Please be kind and respectful!
Please make sure to be respectful of the organizations and companies, and other Rate It Green members that make up our community. We welcome praise and advice and even criticism but all posted content and ratings should be constructive in nature. For guidance on what constitutes suitable content on the Rate It Green site, please refer to the User Agreement and Site Rules.
The opinions, comments, ratings and all content posted by member on the Rate It Green website are the comments and opinions of the individual members who posts them only and do not necessarily reflect the views or policies or policies of Rate It Green. Rate It Green Team Members will monitor posted content for unsuitable content, but we also ask for the participation of community members in helping to keep the site a comfortable and open public forum of ideas. Please email all questions and concerns to admin@rateitgreen.com