The Perfect Wall - Explained

Posted on: 07/25/2023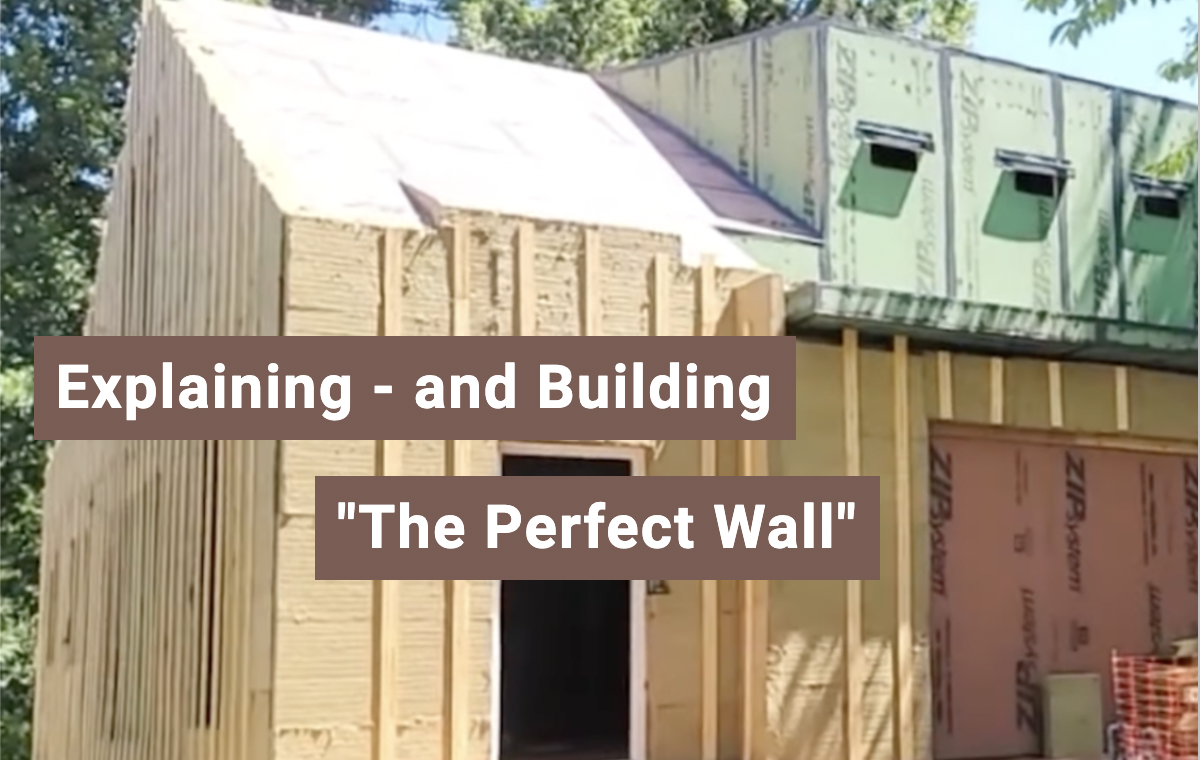 It feels a bit funny to describe a product or practice as "Perfect," but that's our task as we explore "The Perfect Wall." In a recent video, Matt Hoots of Sawhorse, Inc. explains this important concept and also shows how he and his team are applying theory to practice at the #1920sMakeoverATL deep energy retrofit project in Ansley Park in Atlanta, Georgia.

As Matt explains, along with fellow Rate It Green Member and Architect Chris Laumer-Giddens of LG Squared, Inc., The Perfect Wall is an advanced way of using different building materials or "control layers" to keep water, water vapor, air, and thermal energy out of buildings. Key is that these layers must be continuous. That means no leaky gaps, cracks or holes, so all openings and fasteners all have to be sealed and seamless. It's also important that control layers are located on the exterior of a building. This practice saves on labor, preserves material integrity and function, and keeps unwanted substances out of the built environment, as they never have the opportunity to sneak in in the first place. Matt also reviews in detail how he and his team applied these concepts to the ATL home's foundation work, walls and roof, including which materials they used and even some additional techniques they are testing out.
One way building scientists make this concept approachable is to describe the perfect wall as a sweater or blanket for buildings. Continuous layers wrap the house and make it comfortable and efficient, optimizing conditions for durability, energy and comfort. We don't want moisture inside the structure, which can compromise materials and even lead to unhealthy conditions that can foster rot or mold growth. And we also wish to prevent energy waste and loss. The EPA estimates that total home energy use can be reduced by 11% just by properly air sealing and adding insulation, and that 9 out of 10 homes are under insulated. This means these concepts are important to existing homes in addition to new construction. And this also means it's important to keep teaching and educating about these practices and benefits. Fortunately, with limited adjustment for insulation, the perfect wall principles applies in every climate.

In recent news, we've reviewed how Future Proofing Homes makes so much sense, as it often costs a lot more later to repair many problems we can prevent now with better building products and practices. We've also discussed how proper Air Sealing, Waterproofing and "Building Tight and Right" are essential so that we don't draw in unwanted air and waste energy though leaky, poorly insulated walls and we keep all the air and energy inside that we want to keep from escaping. All of these concepts apply here, and it's exciting to see the work in progress.
In a sense, "The Perfect Wall" is not necessarily about being perfect, but the idea that if we can't design and build a wall to the best of our abilities and current building science, then our wall has a greater risk of failure. So, perfect is in a sense about avoiding or preventing risk or imperfections. If we do everything right, well then a wall should do its job to keep the things inside and outside of a structure as intended. Our homes and buildings ideally have to look great, but they absolutely need to perform - and last.

Matt and his project partners are building the #1920sMakeoverATL Deep Energy Retrofit in the Atlanta area to showcase top building practices, including how to turn the "leakiest home" around into the first Passive House retrofit in Georgia. Check out the project's videos, articles, and virtual reality tour, and please feel welcome to share information about your projects and experiences, expertise and lessons learned as well. It's also great to share questions, as someone else likely has the same query and will appreciate hearing the answer.

What are your ideas for building more durable, sustainable, comfortable, and healthy buildings? Join the conversation, and comment on the Perfect Wall, and/or submit your own articles and discussions. Building better and right from the start is possible now, and we make more progress together.
Click to to read our full July News!

Thank you,

Allison Friedman
Founder, Rate It Green

Twitter: @rateitgreen
Facebook: @Rateitgreen
LinkedIn: Rate It Green
YouTube: Rate It Green Subscribe today!