50% of the "perfect wall" control layers with one product

Matt Hoots
GA, United States
4 Ratings
13 Discussions
7 Group posts
Posted by:
Matt Hoots
// SawHorse Design + Build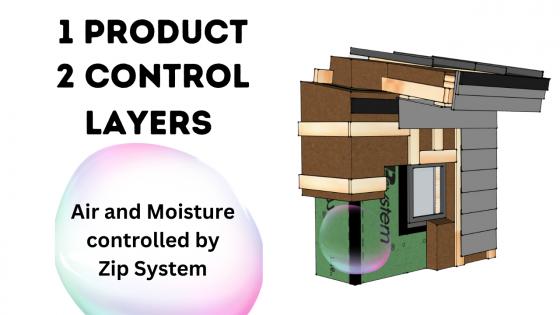 The only way to mainstream advanced building science concepts is to make them simple to install. As we designed and are building the #1920sMakeoverATL, we have to work with readily available materials and keep in mind the skill set of the local labor force.
"Perfect Wall" summary
The concept of a perfect wall is basic. However, it is a fairly new concept in residential construction. We defined and detailed the "perfect wall" in a previous post. The "perfect wall" has four main control layers we installed in this order: Water-resistant barrier, Air barrier, Thermal Barrier, and Exterior Cladding. This is the order for the assembly of the walls and the roof. The slab detail was slightly different, with the ROCKWOOL insulation going on top of the gravel, then the vapor control was installed before the concrete was poured.
We used one product to account for two layers to keep things simple. Using the Zip System, we could "check off" the Water-Resistant Barrier and the Air Barrier. Zip Sheathing is an advanced OSB product with a factory-installed Weather-Resistant Barrier on the panels. This alone is better than regular OSB. However, the seams still need to be sealed. Most builders use Zip tape on the seals and roll them out to prevent moisture from getting behind the tape. Left alone, that is all you need if you are aiming to create a water-resistant barrier.
On our house, we also want to reduce the amount of air infiltration coming through the wall assemblies, so we sealed all of the seams with Zip liquid flash. The typical installation for the zip tape is only to cover the seam where the panels meet each other. We used the liquid flash where the panels met the foundation, on the inside and outside corners making sure each side had continuous sealant.
The Results
We went from the leakiest house Home Performance Guru Corbett Lunsford had ever tested to the tightest house he had tested at that stage. Since this was going to be a "deep energy" retrofit, we tested the structure, and it was super leaky at 20 ACH50, which is over six times worse than the current national energy code. The test with just the sheathing added was 14 ACH50.
I wanted to test the sheathing to demonstrate to other builders that sheathing with house wrap is not an effective combination for air sealing. House wrap is a water-resistant barrier (WRB); however, I would not consider it an effective air barrier, especially after the siding goes on with thousands of nails.
Since the Zip Sheathing has a built-in WRB, we only needed to address the seams and transitions. We used several Zip Liquid Flash cases and reduced the leakage to .3 ACH50. Before we did the test, several guessed that we might get to .5 ACH50 if we were lucky. We were surprised to see a result of .3 ACH50 since we only needed .6 ACH50 for the Passive House minimum. We were able to exceed it by 200%.
Lesson Learned
While we were very impressed with the Zip System and Zip liquid flash results, we always look for ways to improve. Liquid works well. However, it is more expensive than Zip tape. On Amazon, the Zip Liquid Flash was $49.99 before tax when writing this. Zip Flashing Tape was $40 for a 90-foot role. The coverage of liquid flash is about one ounce per foot so a 29-ounce tube will get you 29 feet at a rate of $3.72 (with labor). Zip Flashing Tape comes in a 90-foot roll, so the cost with labor to install per foot is around $0.83.
We chose all liquid flash for our house because we knew it would work well. I have personally tried it out and can testify that it does not come off. I got it on a pair of pants, which is still there after several years of washing them. The tape works well and does seal well; however, I am worried that installers are not installing it correctly. I witnessed the tape installed without rolling it on many installations to ensure maximum adhesion. If installed correctly with the roller, it would work well, and we would get good results when testing.
| | | | | |
| --- | --- | --- | --- | --- |
| Product | Cost | Material Cost/ Foot | Labor Cost/ Foot | Total per foot |
| Zip Liquid Flash | $49.99 | $1.72 | $2.00 | $3.72 |
| Zip Flashing Tape | $40.00 | $0.44 | $0.39 | $0.83 |
Conclusion
My suggestion for those on a tight budget is to install the Zip Flashing Tape on all of the joints and outside corners of the sheathing panels. Use either the Zip liquid flashing at the mechanical penetrations or the Zip Stretch Tape, which costs a little less than the liquid flash.
If you air seal from the outside using the Zip System, you don't have to seal on the inside except around the windows. This is additional cost saving by moving your control layers to the outside. Also, air sealing from the exterior is more effective than air sealing from the inside. Many builders can barely meet the code minimum requirements using an interior air sealing package. Why not spend the same amount of money and get a better result by installing two well-sealed control layers outside the house?



If you'd like to learn more about proper air sealing and insulation, and weatherization, check out these related topics:

And stay tuned for more information about proper ventilation and optimizing comfort and indoor air quality in airtight homes. You can also always visit the #1920sMakeoverATL page for information related to this exciting project.
Please be kind and respectful!
Please make sure to be respectful of the organizations and companies, and other Rate It Green members that make up our community. We welcome praise and advice and even criticism but all posted content and ratings should be constructive in nature. For guidance on what constitutes suitable content on the Rate It Green site, please refer to the User Agreement and Site Rules.
The opinions, comments, ratings and all content posted by member on the Rate It Green website are the comments and opinions of the individual members who posts them only and do not necessarily reflect the views or policies or policies of Rate It Green. Rate It Green Team Members will monitor posted content for unsuitable content, but we also ask for the participation of community members in helping to keep the site a comfortable and open public forum of ideas. Please email all questions and concerns to admin@rateitgreen.com