Mini Split Cold Weather Design Advice and Guidelines, with Mitsubishi

Rate It Green Team
0 Ratings
97 Discussions
6 Group posts
Your mini split might work better if you don't bury it under the snow… In all seriousness, Shawn from Mitsubishi chats with Matt Hoots and gives some advice on optimal conditions for mini split compressors and equipment in cold climates. Shawn packs some great information in this brief interview, and he also shares some great resources for more information.
As Shawn says, it's time to debunk the myth that heat pumps don't work as well in cold climates. Using the right unit for the job, they can get the job done and well. Shawn has systems at -22 degress in Colorado where the home is nice and cozy at 69 degree set point. Shawn also describes a ski patrol test case where a Mitsubishi unit is functioning successfully at 11,300 feet.
But, we do have to set ourselves up for success. In areas with significant ice and snow, we need to elevate the compressors off the ground, or use brackets to mount them on the building. We also need to be sure not to locate compressors where slow is likely to slide off a roof or under the drop of a roof line so water and ice will build up. Ice and water is also generated in the defrost cycle, so there are some ice and water maintenance concerns. Primarily, there must be a path for excess water from snow and ice to be able to leave the unit and wash or run away in a way that is not a danger to people walking by, into the ground or to some other space, "away."
Mitsubishi has published Cold Climate installation Guidelines which addresses these concerns, and also offers other ideas for optimal installation and operation. Note that cold weather adjustments relate to the parts of the equipment outside, as the indoor equipment does not change.
For general information, including an introduction to how heat pumps work and why they are so efficient, and an introduction to ducted vs. ductless mini split systems, visit:
https://www.mitsubishicomfort.com/residential

For more technical information, visit:
https://mylinkdrive.com/

Shawn also points out that to debunk myths and ensure proper operations, there's always the option of "following directions." Now, why doesn't everyoe think to do that?

Matt personally noted at the IBS 2022 showhouse unit that the Mitsubishi mini splits were really quiet - with the units on full, he couldn't even hear the condensers running.

Matt points out that Mitsubishi is a parter for the #1920sMakeoverATL Showhouse, or "Learning House," as some folks have been calling this deep energy retrofit project in the Atlanta area. Snow is not a consideration for this project! Check out Rate It Green's main #1920sMakeoverATL article to learn about almost every aspect of the project from start to finish, including 3 virtual reality tours and introductions to many site conditions, products, practices, equipment, and solutions.

As Matt concludes, we need to let mini splits "breathe." Don't let leaves and snow gather, and let them do their job to cool our buildings in the summer and heat them in the winter, efficiently.

Mitsubishi shared some additional telling images and advice with us at Rate It Green, First, some good ideas:
Stands and pavers – It's preferable to place stands on pavers on tamped ground. This way the winter condensate can drain to ground rather than a pad.
An OU Air Outlet Guide can direct the air in a direction that is beneficial for the application. Airflow down can reduce snow build up.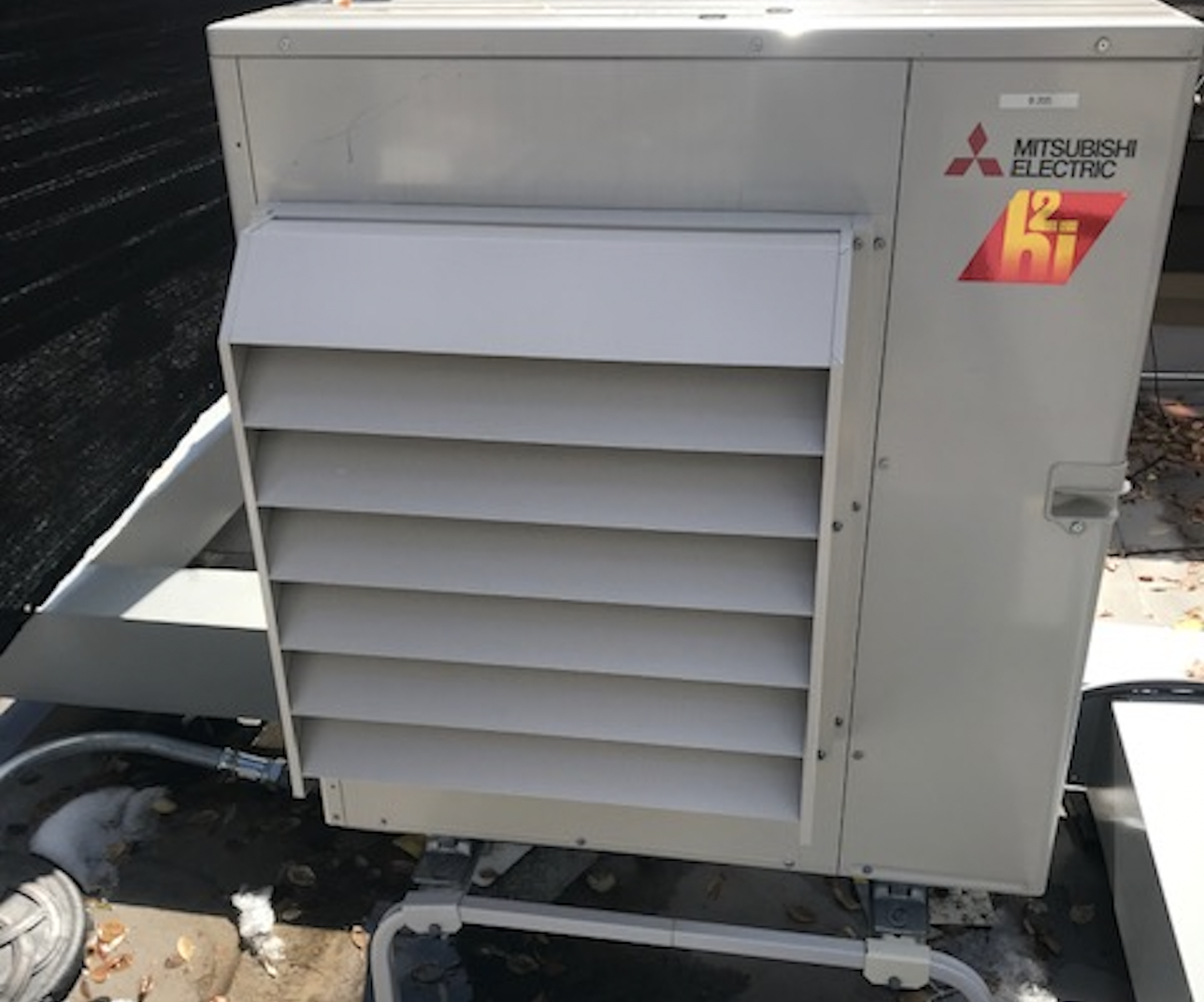 Locate outdoor units where winter sun can help manage snow, ice buildup and create a microclimate of additional winter heat.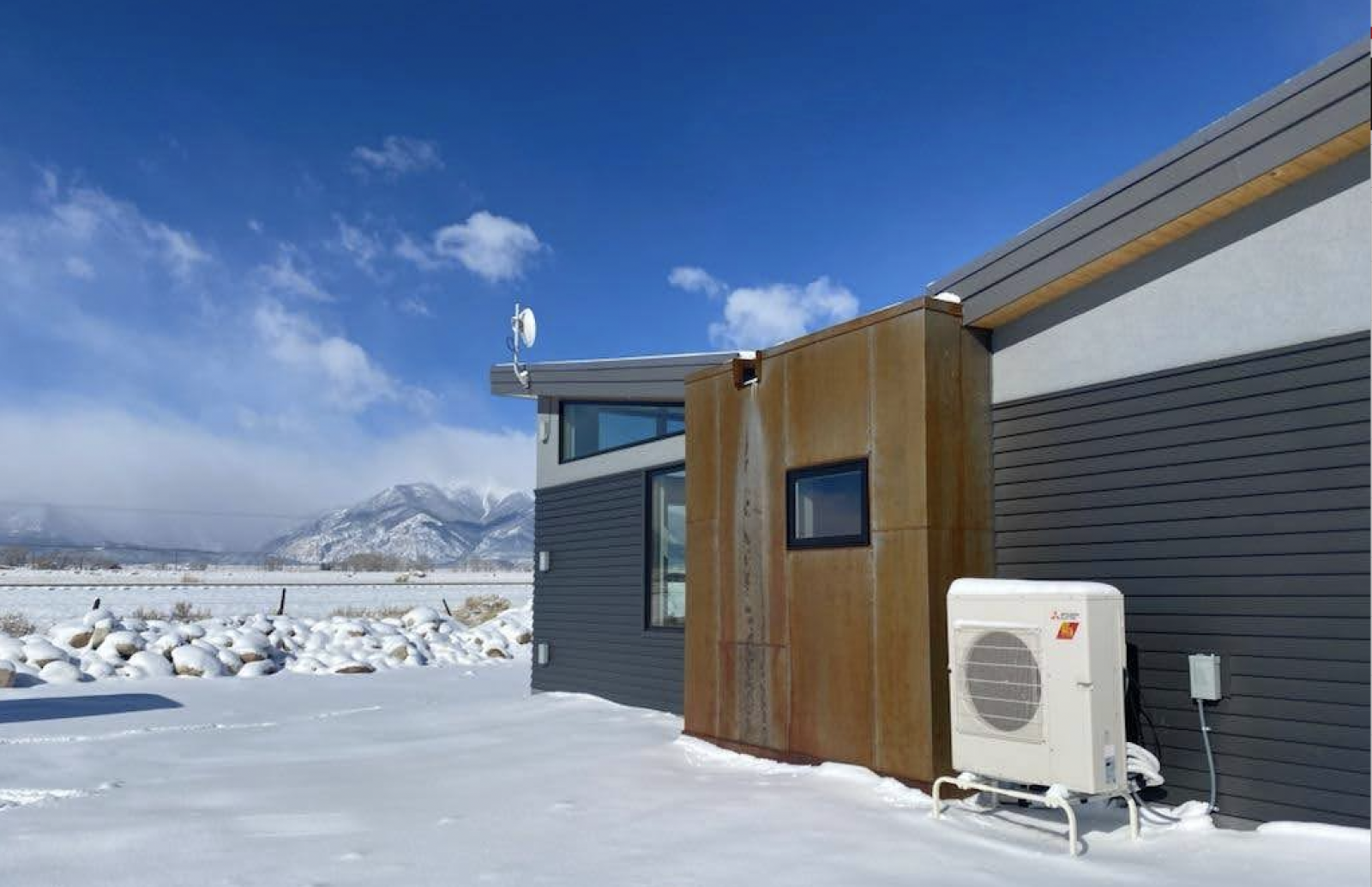 In areas with heavy snow, place units high on the wall to allow lots of snow and ice to accumulate.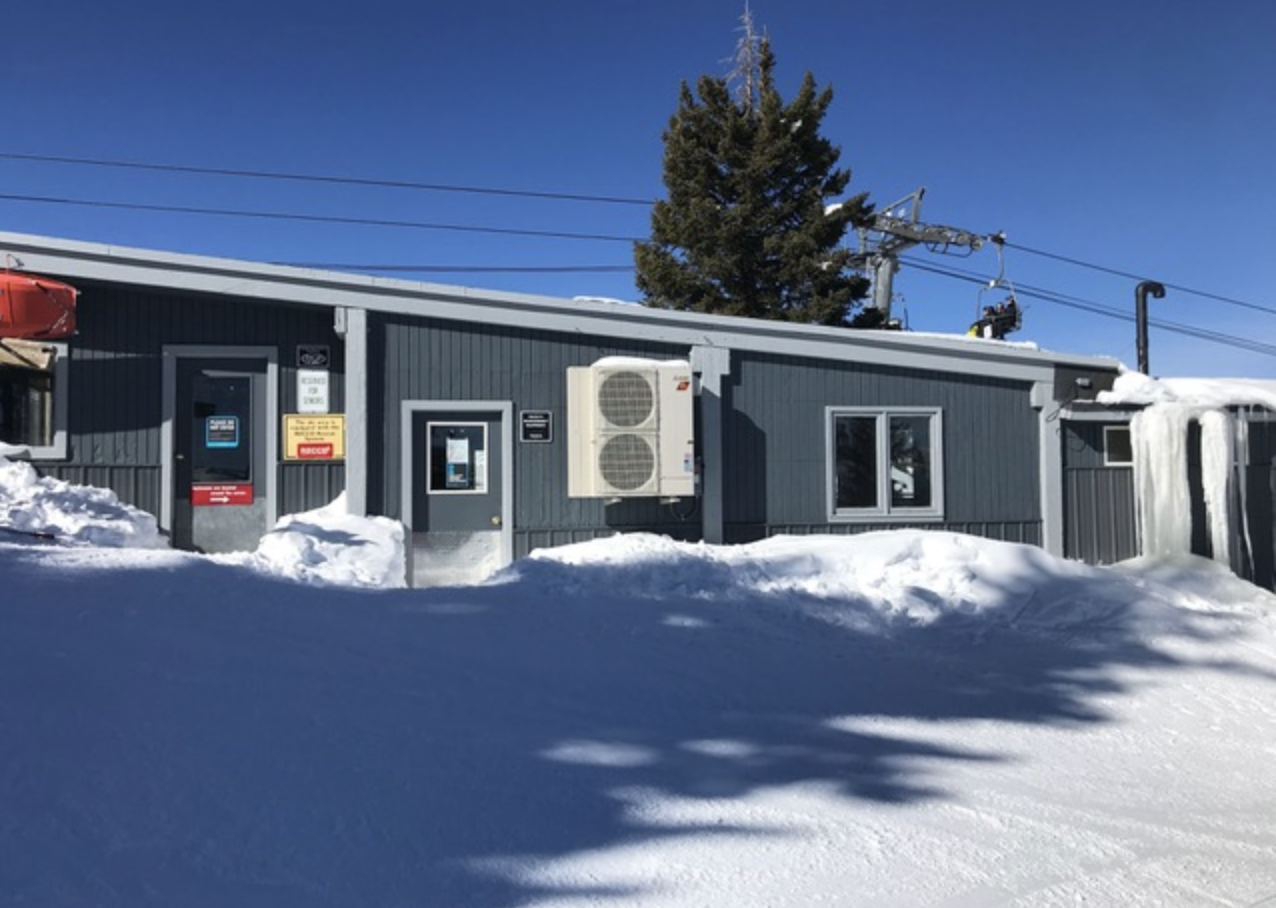 The team at Mitsubishi also shared some ideas of what not to do:
Outdoor airflow feedback. – Don't install equipment in a way that feeds exhaust air in to intake air of other units.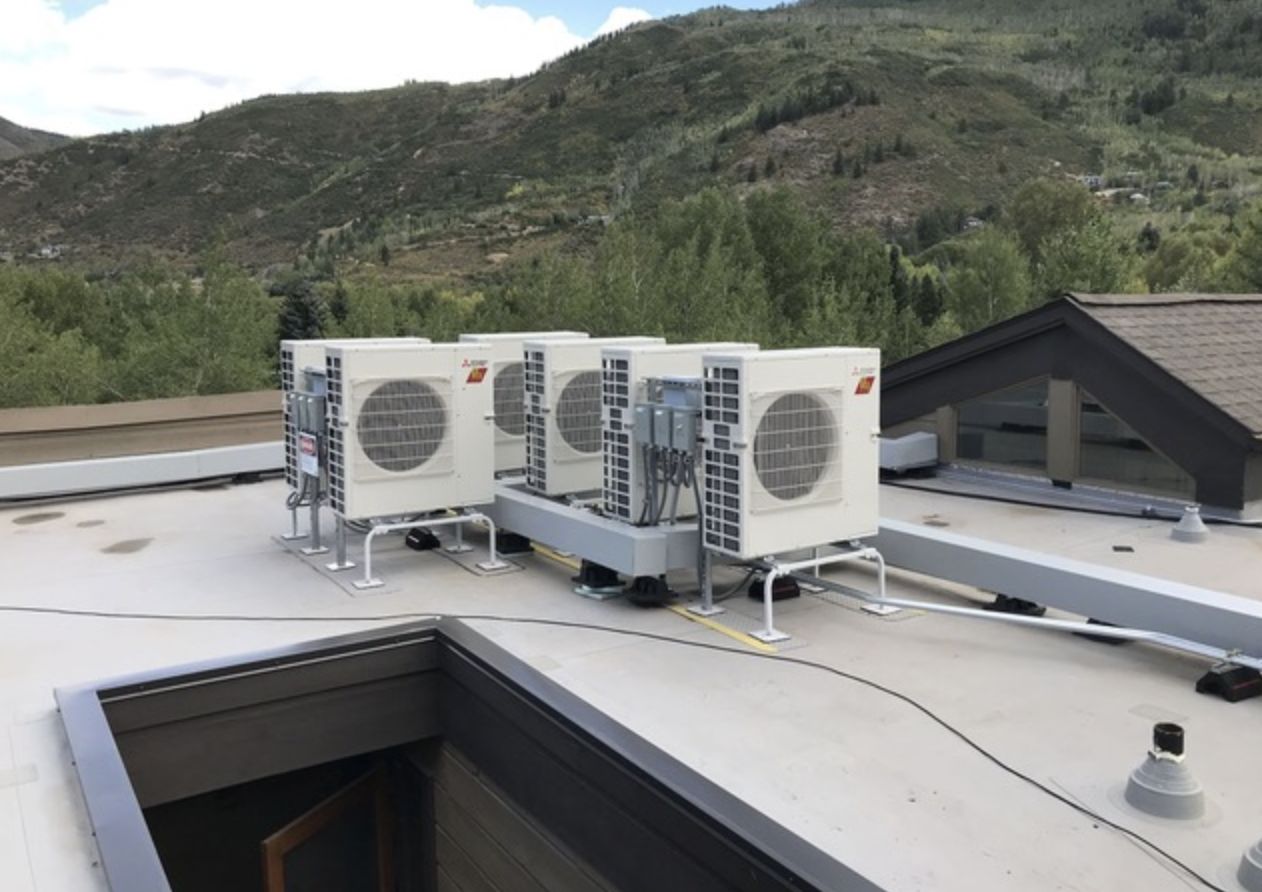 Don't run linesets underground without proper dry conduit (application note).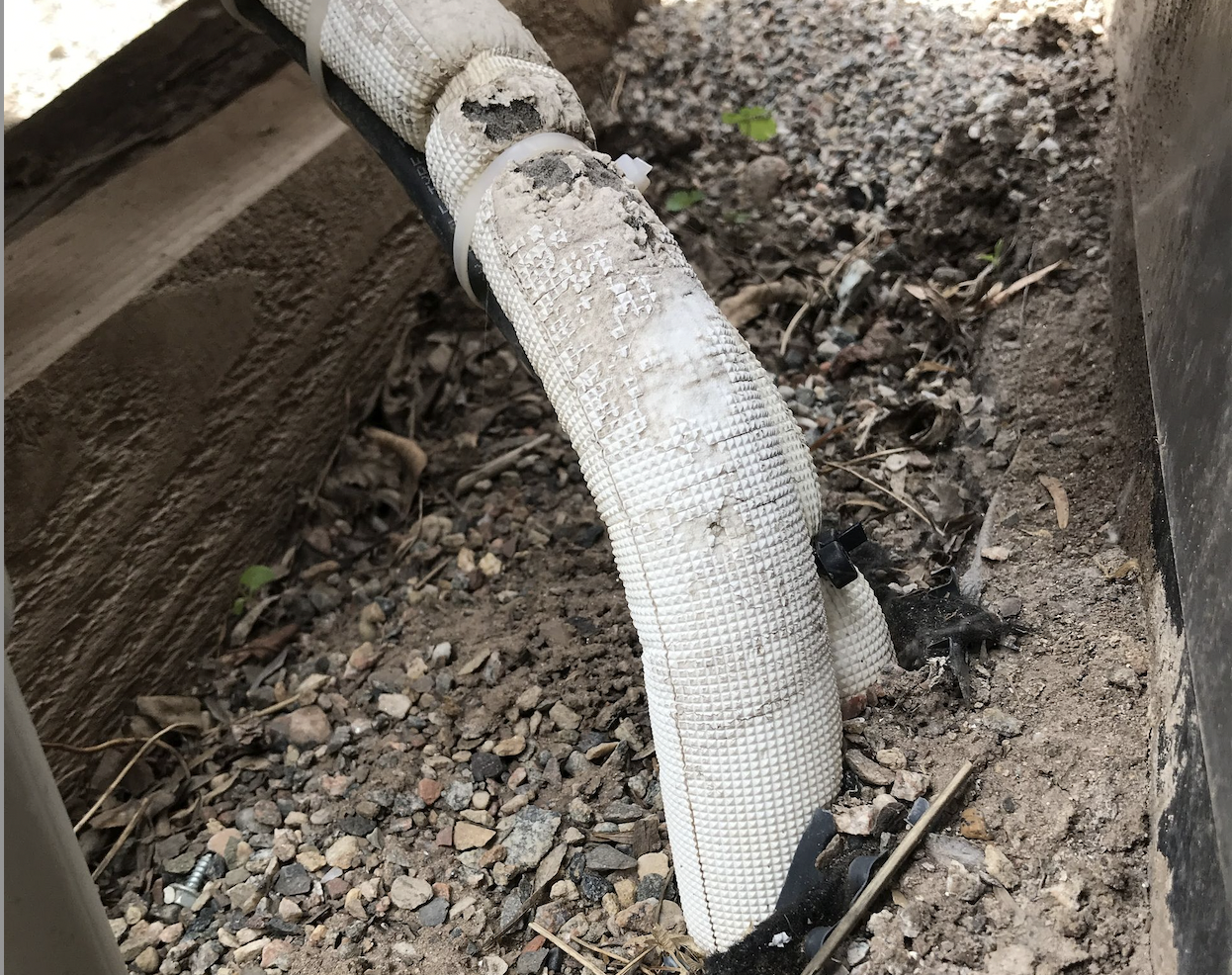 Failure to properly protect / shield linesets from sun and other exposure can shorten the life of your equipment or cause it to fail.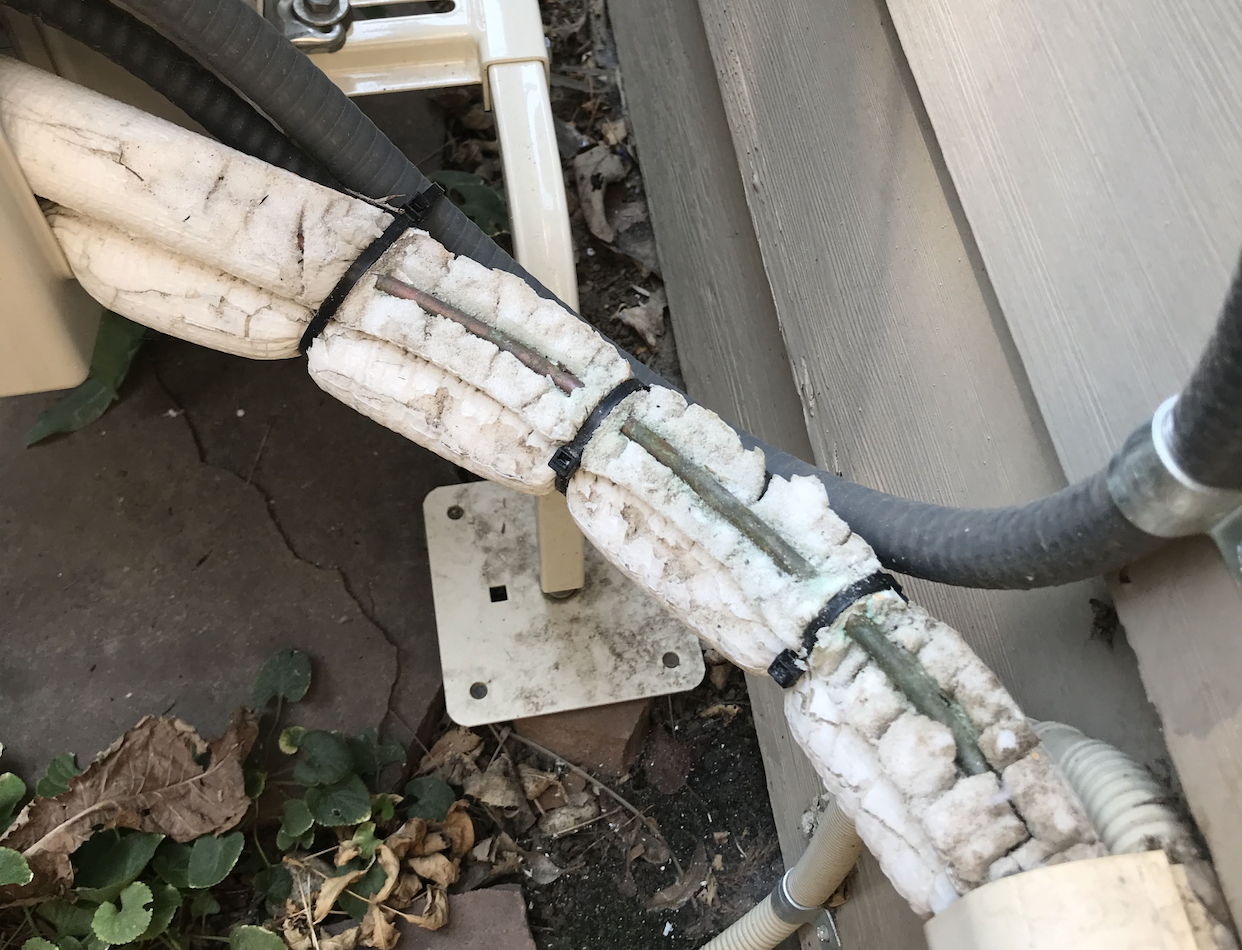 Units can't work their best and have a normal life expectancy without sufficient airflow.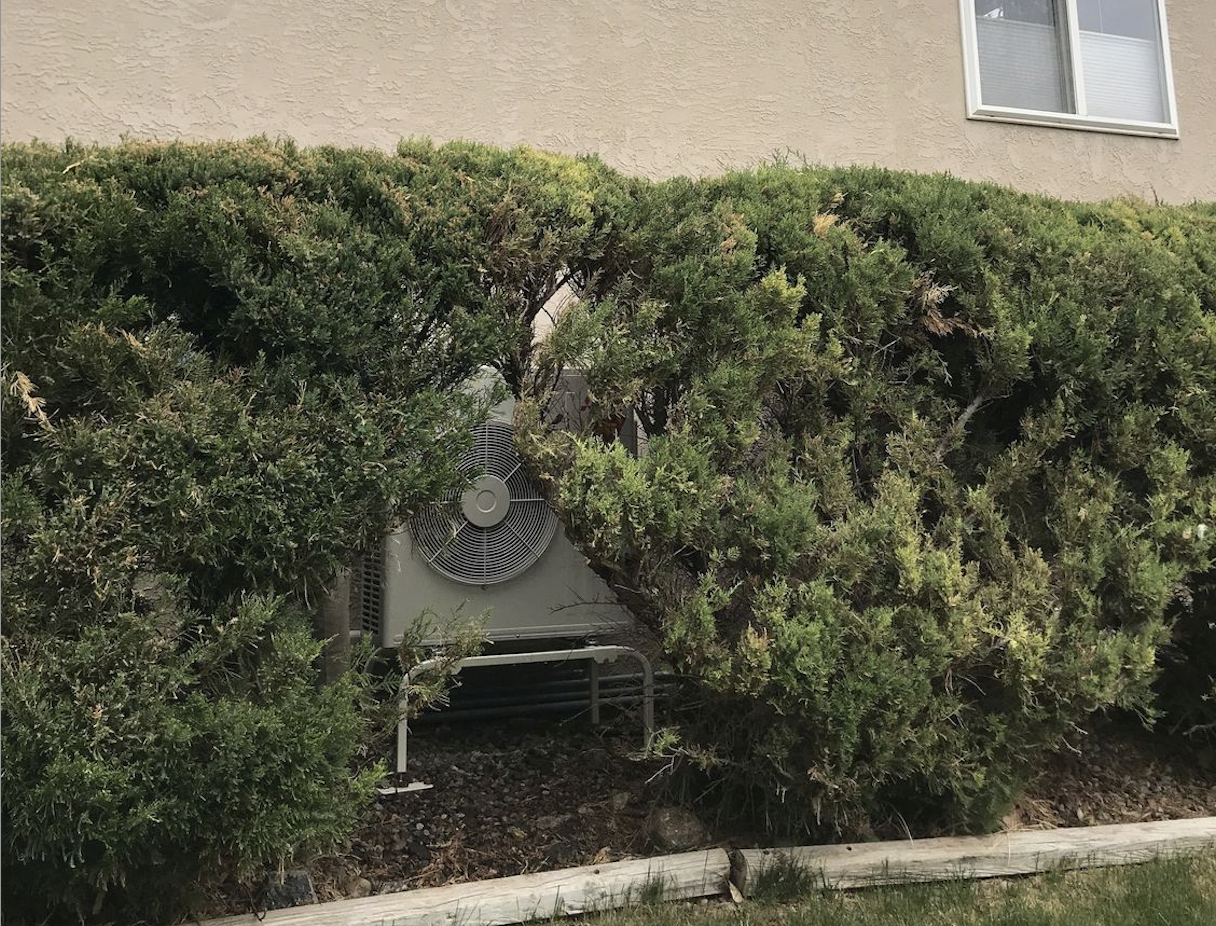 These units don't have stands or enough airflow, and they are located right under the roof dripline.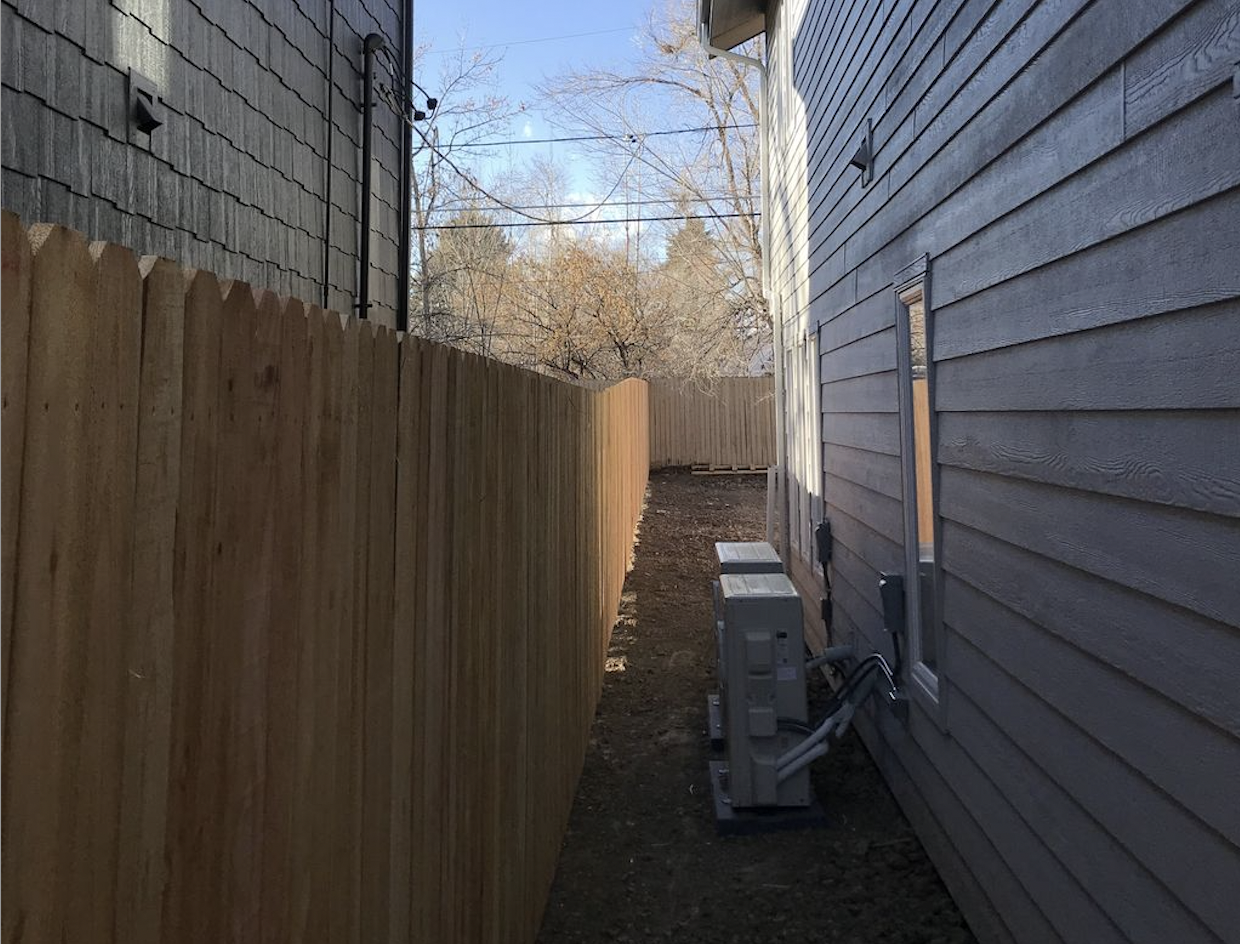 What it looks like when you don't allow water to drain away from the unit properly, Defrost does not appear to be working here...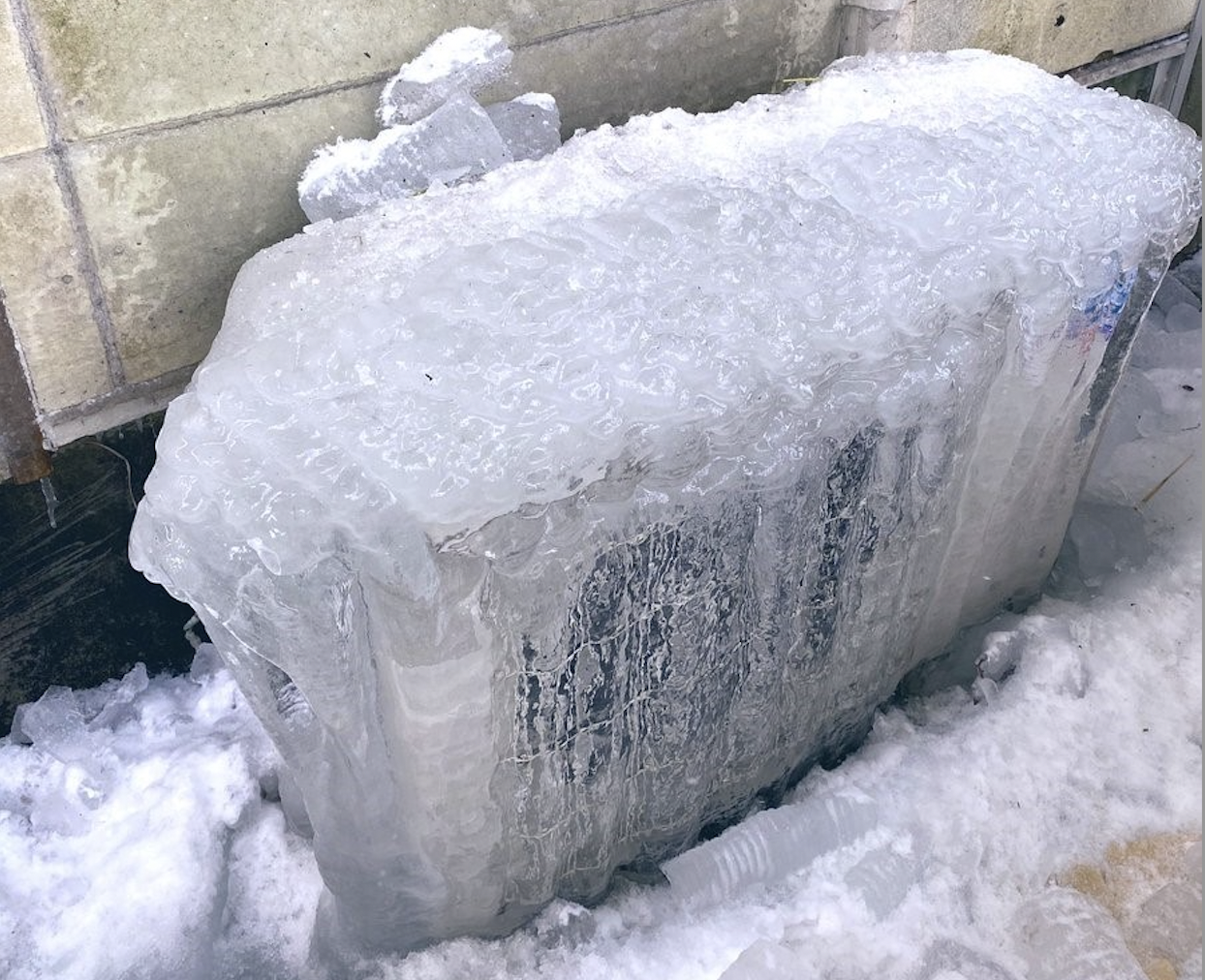 There's not much to say here, except don't do this?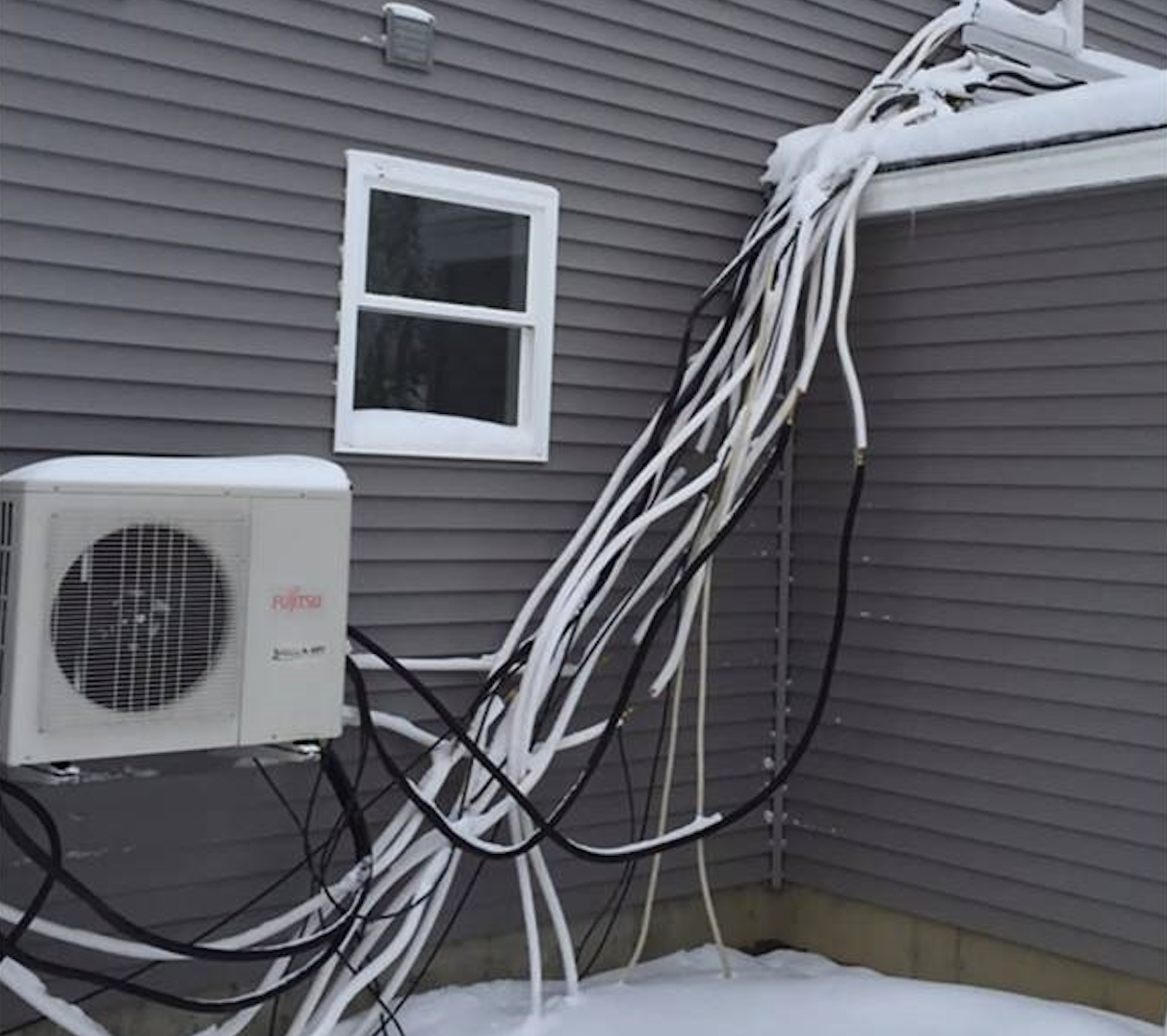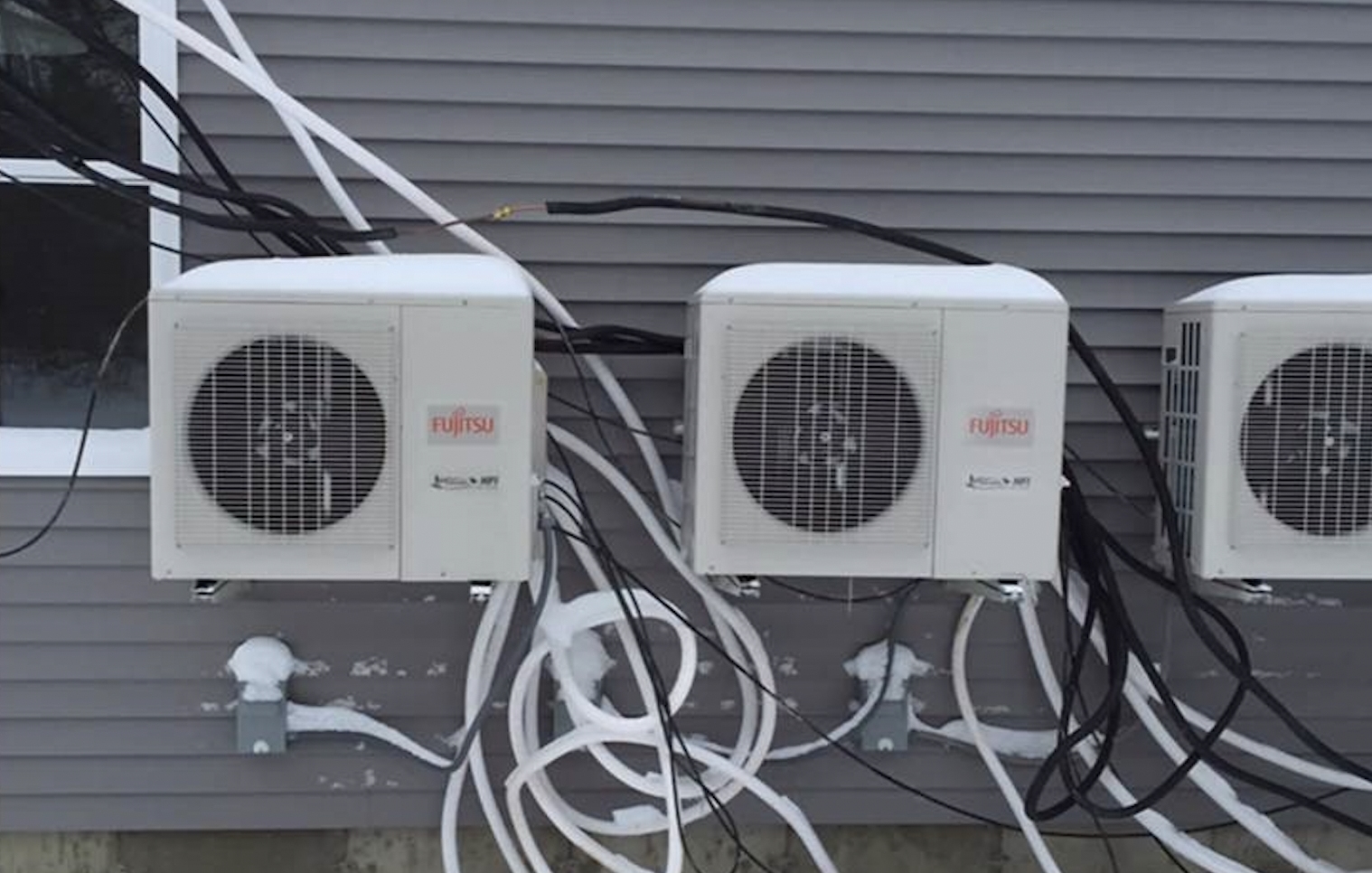 Here are a couple of great examples (in addition to the first two above) of what it looks like when great HVAC design AND great design come together:
This is Habitat Park City. The compressors are on stands, exposed to winter sun, and have some cover from extreme snowfall. Dual compressors will enable higher performance operation.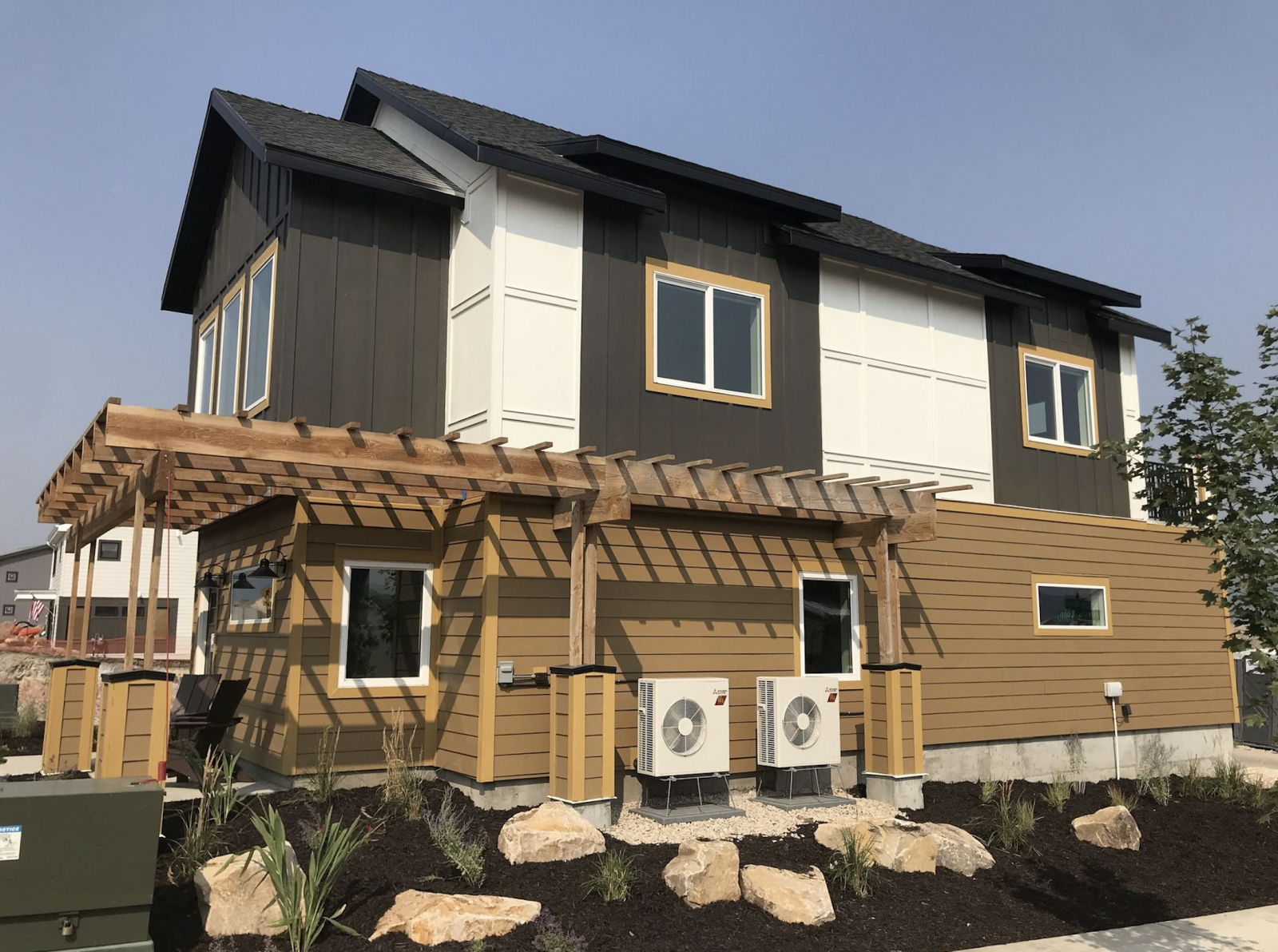 And last but not least, this is Joe Smyth's Solar Decathlon Build Challenge 2021 net zero winning home in Fraser Colorado.
Share your mini split design successes and challenges, and we can all learn from your experiences, too! Here's one example of a Rate It Green Team Member (Allison's) compressor install, where she wishes the compressors were (much) higher up on a stand or protected from the snow in some way, but she's also considered moving them to the wall. But interestingly, not everyone agrees on the best solution!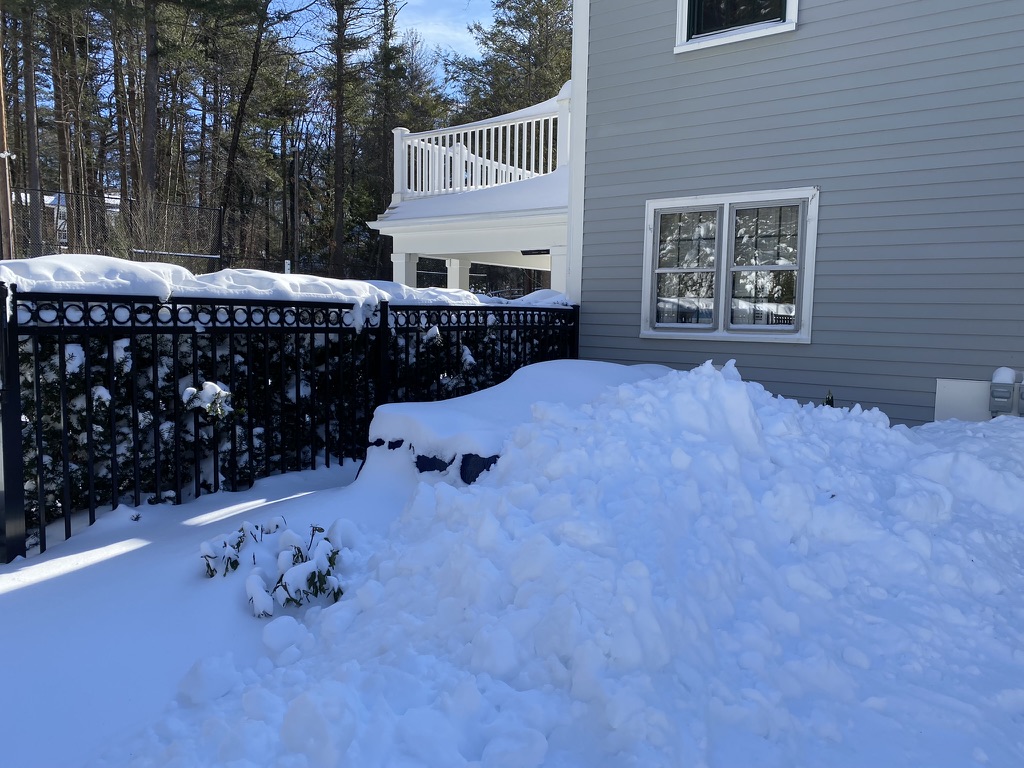 Think about ideal compressor and equipment placement, protection, and care before you end up needing to dig your compressor out when it snows! Placed properly and protected, your mini splits will work effectively and efficiently in cold climates.
Please be kind and respectful!
Please make sure to be respectful of the organizations and companies, and other Rate It Green members that make up our community. We welcome praise and advice and even criticism but all posted content and ratings should be constructive in nature. For guidance on what constitutes suitable content on the Rate It Green site, please refer to the User Agreement and Site Rules.
The opinions, comments, ratings and all content posted by member on the Rate It Green website are the comments and opinions of the individual members who posts them only and do not necessarily reflect the views or policies or policies of Rate It Green. Rate It Green Team Members will monitor posted content for unsuitable content, but we also ask for the participation of community members in helping to keep the site a comfortable and open public forum of ideas. Please email all questions and concerns to admin@rateitgreen.com