Walking and Talking about Fresh Air and Ventilation with Green Building Expert Matt Hoots - and Oliver

Rate It Green Team
0 Ratings
105 Discussions
6 Group posts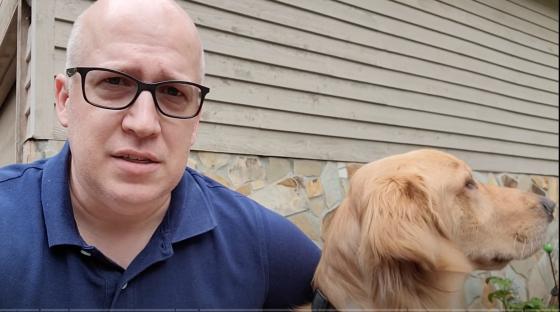 Matt Hoots' dog Oliver was lucky enough to go out on a fun, awesome walk in the fresh air on a beautiful sunny day recently, and Matt of course got to thinking and took the opportunity to share about the value of fresh air, and clean air generally. They were outside, but Matt was thinking about how we get all this great air inside.
We often talk about how to avoid poor air quality, but it might also be a good idea to think aspirationally about what it means to have good Indoor Air Quality, or IAQ. Matt's simple definition is clean air inside your home, having humidity levels right, low or no VOCs if possible, not a lot of particulates in the air. This all adds up to a good environment where you can breathe easily and not be sick.


Matt reviews the major ventilation strategies:
Exhaust - Equipment that draws "bad" air out of buildings. Exhaust fans typically found in areas like the kitchen or bathroom are a good example.
Balanced Ventilation - Balanced ventilation supplies fresh air and exhausts stale/used air in equal measure and at the same time.
Supply Ventilation - Supply ventilation involved bringing fresh air in and using this positive pressure to push the existing air out.
He points out that indoor air can be a lot more toxic than our door air - an old statistic is up to 2 to 5 times more toxic, but it can be higher as well. It's also important to consider areas and times when outdoor air pollutants might be higher - this reminds us we need to temper, filter and condition the air we bring into buildings. We don't want excess humidity, which can create conditions favorable to mildew, mold, and a host of pathogens and dust mites. We also don't want to bring in or let particulates settle that can cause respiratory diseases and other challenges.
Matt also chats about sensors, monitoring and other recent developments in ventilation and IAQ related topics, including below grade venting, pre-dehumidification and MERV filters, which have increasingly become a healthy and sustainable home standard.
This is a relaxed introduction and conversation about the factors we need to consider, and Matt has also created some in depth content about IAQ generally. For more information, keep watching!
Additional Information about IAQ:
Indoor Air Quality (IAQ) 101 - An Introduction, and Starting a Wider Conversation
Green Building Myth Busting: Natural Ventilation - Do Your Walls Need to "Breathe?" (Video)
Your House May be Making You Sick!
What is the ideal humidity needed to help maintain hardwood flooring?
Fake Ventilation? Real Ventilation Strategies that Work for Your Home
Whisper Green Fans from Panasonic Eco Solutions - Quiet Prevention for Moisture and Condensation (Video)
Demystifying Ventilation and Energy Recovery Ventilators (ERVs)
A Look at How ERVs Work with Panasonic: How 80% Efficiency Might Work in Practice
The Benefits of an ERV + How it Works | Panasonic FV-04VE1+FV-WC04VE1
Spot Energy Recovery Ventilation (ERV) - Designed for One Location (vs Whole House)
Humidity Control Master Class from Therma-Stor
Humidity, Hardwoods and Homes - The Building Science Approach to Protecting your Investment
Whole House Humidity Control - Dehumidification and Humidification, with Airplane

Please be kind and respectful!
Please make sure to be respectful of the organizations and companies, and other Rate It Green members that make up our community. We welcome praise and advice and even criticism but all posted content and ratings should be constructive in nature. For guidance on what constitutes suitable content on the Rate It Green site, please refer to the User Agreement and Site Rules.
The opinions, comments, ratings and all content posted by member on the Rate It Green website are the comments and opinions of the individual members who posts them only and do not necessarily reflect the views or policies or policies of Rate It Green. Rate It Green Team Members will monitor posted content for unsuitable content, but we also ask for the participation of community members in helping to keep the site a comfortable and open public forum of ideas. Please email all questions and concerns to admin@rateitgreen.com