The #1920sMakeoverATL Virtual Pre-Construction Show House Tour has launched! - Rate It Green's May News

Posted on: 05/25/2021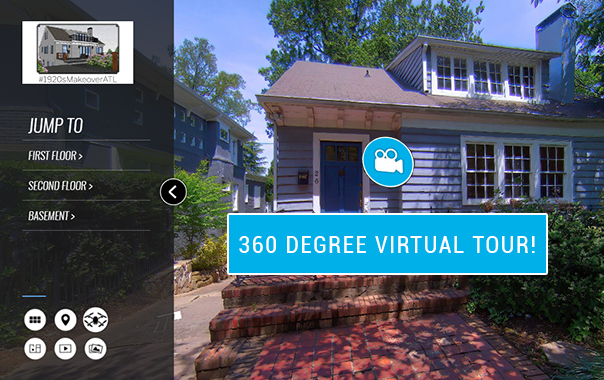 Friends and Community Members -
This month, green building meets virtual reality! We are excited to share the first of THREE Virtual Reality Tours for the #1920sMakeoverATL whole house deep energy retrofit project - LIVE NOW! Matt Hoots of Sawhorse, Inc, and our Project Partners will be gutting this charming 1920s home in Ansley Park, Atlanta down to the studs and then rebuilding it back with a goal to make this the most energy-efficient house in the zip code! The team will share their progress though videos, blog posts, product profiles, and more, all included on virtual reality tours you can watch from the comfort of your office, or living room.
This first virtual reality tour provides a self-guided pre-construction look at the home, where you can "walk" through at your own pace and hear from our project partners about existing conditions and plans, as well as their sustainable product and materials selections. Browse by floor, or even choose the drone option to check the house out from 400 feet in the air, along with a beautiful view of midtown Atlanta! Just launched, the tour will keep growing! Current topics include air filtration, radon and vapor control layers, blower door testing, asbestos testing, and going electric for heating and hot water systems,

How to best follow the #1920sMakeoverATL Project? There are several ways to stay up to date:
We are pleased to be working with a great and growing list of Rate It Green Members and Project Partners! There are still opportunities to participate and join the team, which includes:
Constructive Renovations
Georgia Blinds and Interiors
Mitsubishi
Pure 365
Rasmus Real Estate
... and, more announcements are coming soon!
The #1920sMakeoverATL project offers new and exciting ways for all of us to learn from the experts on site. What home features, practices, and products would you like to learn more about? Let us know, and also follow along and add your voice! Add a comment to a video, ask a question in our video summaries on the Rate It Green platform, and reach out if you'd like to get involved. There is so much more we can all accomplish and learn together. The #1920sMakeoverATL team is really exemplifying what we mean by sharing so much information and advice, and giving us all an opportunity to expand our knowledge, and connect to help reach a time when all buildings will be green buildings and healthy buildings.

To learn more, check out these Articles and Discussions:

Visit the #1920sMakeoverATL Showhouse with Chris Laumer-Giddens of LG Squared

Radon and Vapor Control Layers in the 1920sMakeoverATL Showhouse: Pre-Project Testing
Asbestos Testing at the #1920sMakeoverATL Deep Energy Retrofit Project
Discussing Air Tightness and Blower Door Testing with Corbett Lunsford, Matt Hoots, and Chris Laumer-Giddens
Air Filtration at the #1920sMakeoverATL Showhouse - It Can Only get Better From Here
A Preview of the Rheem ProTerra Hybrid Water Heat Pump
Going Electric for Heating and Cooling and Water Heating
To review our full May news, click this link.
Thank you!
Allison
Allison Friedman
Founder, Rate It Green
Twitter: @rateitgreen
Facebook: @Rateitgreen
LinkedIn: Rate It Green
YouTube: Rate It Green Subscribe today!