Humidity Control - Protecting Your Investment, and Health - Our September Green Building News

Posted on: 09/30/2021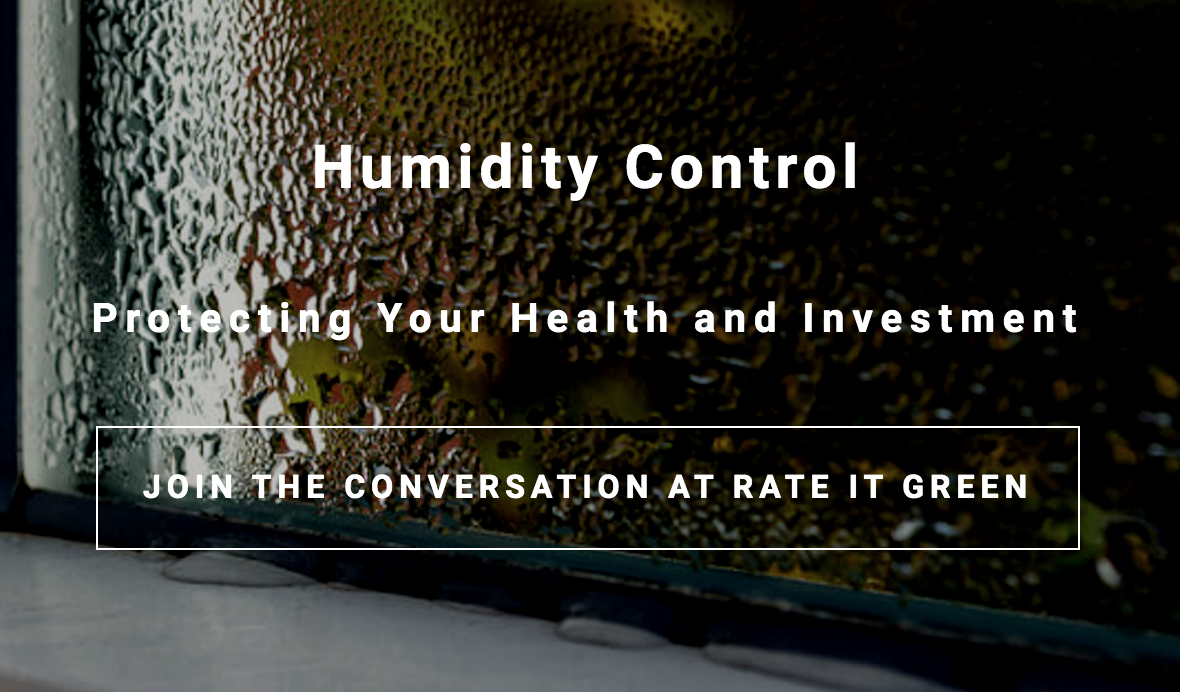 Hello, Rate It Green Members and Friends!

Fall is the perfect time to talk about humidity. And even fight about it? Things might be cooling down where you are, the windows might be open, your systems might be off… So, what could be the problem? A lot. You might be shutting down the very systems you ideally need to keep running. We did, and I am still cranky about it to be honest. I am reading and writing about humidity, and I've been so excited, and yet - it took weeks to convince my family to do better. If you are interested in learing about humidity, we've got some GREAT new content for you! You can also see our full September newsletter at this link: Humidity Control - Protecting Your Investment, and Health.
Most people think that humidity is something to worry about only in certain times of the year, or in specific climates, or when there's a big leak and we fear mildew and mold. But humidity matters a great deal to our comfort, health and property, and humidity control is an essential part of proper HVAC management and Indoor Air Quality (IAQ), regardless of our building size or climate zone. The right combination of temperature and humidity turns out to be ideal for humans - and for many building materials as well.
We've benefitted recently from some amazing conversations, master classes really, from our friends and partners at Aprilaire and NWFA, Panasonic, and Therma-Stor, LLC. These folks kindly shared their time to help the rest of us learn from their years of experience. Thanks so much to Joseph, Brett, Ken, and Nikki!
Check out these conversations either through our written summaries, or through the informative videos Green Builder Matt Hoots of Sawhorse, Inc. uploaded on our YouTube channel. Thanks for your time and effort as well, Matt. And please comments and ask your questions!
Some key lessons, and my personal observations:
Using your hardwood flooring and other furnishings as a barometer of your RH levels is a potentially costly idea (Brett Miller)
Vapor is going to enter your home, and all buildings, and in places and ways we might not know about (yet). The question is what we do about it. Stopping all moisture is not an option, but managing humidity levels can be achieved
Temperature and humidity management are not the same
We can over cool some to reduce humidity, but this does not work in excess or for extremes
We often ideally need to take action to tighten our existing homes, but we have to this carefully and not rush into things either - we will have to adjust our systems when we make changes, to avoid causing other or additional problems. As building science evolves, we learn more about how solving some problems can run us right into others.
HVAC systems are (of course) complex - there is a lot more to learn!
Basements and crawlspaces are more important to humidity than you might think
There are ideal ranges of temperature and humidity for people and building materials, but each of us also perceives or feels humidity and temperature levels differently
This is a shoulder season in many places, and this last point has come into play recently. There have been big arguments in my home about the right to enjoy fresh air vs the risk of high humidity. I was losing the battle to be honest, which is very frustrating when I have been doing all this great learning about why these open windows and humidity wafting into my home was a bad bad idea. And now I have at least one stuck swollen door, and I likely encouraged some microbes I really didn't want to. Stay tuned on this epic battle. Our HVAC system is running again, and… I am going to bring in a building performance expert shortly!
I've been wanting to check out my own IAQ anyway, but there's something all of us can do. Let's start or continue our humidity education and think about what these concepts mean for all of us, and for indoor air quality for everyone else as well. Is your home leaky, new and built to code, tight, or even Passive? What kind of ventilation do you have and how are you managing, not managing, or arguing about your humidity levels? Let's discuss so we can all more learn together. And no fighting - let's just work to do better.
Thank you, and... check out these IAQ and humidity related Links below!
Allison

Allison Friedman
Founder, Rate It Green

Twitter: @rateitgreen
Facebook: @Rateitgreen
LinkedIn: Rate It Green
YouTube: Rate It Green Subscribe today!
Additional Information:
Indoor Air Quality (IAQ) 101 - An Introduction, and Starting a Wider Conversation
Green Building Myth Busting: Natural Ventilation - Do Your Walls Need to "Breathe?" (Video)

Walking and Talking about Fresh Air and Ventilation with Green Building Expert Matt Hoots - and Oliver
Your House May be Making You Sick!
What is the ideal humidity needed to help maintain hardwood flooring?
Whisper Green Fans from Panasonic Eco Solutions - Quiet Prevention for Moisture and Condensation (Video)
Demystifying Ventilation and Energy Recovery Ventilators (ERVs)
A Look at How ERVs Work with Panasonic: How 80% Efficiency Might Work in Practice
The Benefits of an ERV + How it Works | Panasonic FV-04VE1+FV-WC04VE1
Spot Energy Recovery Ventilation (ERV) - Designed for One Location (vs Whole House)
Humidity Control Master Class from Therma-Stor
Humidity, Hardwoods and Homes - The Building Science Approach to Protecting your Investment
Whole House Humidity Control - Dehumidification and Humidification, with Airplane