What is ACH50, and why does it matter?

Matt Hoots
GA, United States
4 Ratings
13 Discussions
7 Group posts
Posted by:
Matt Hoots
// SawHorse Design + Build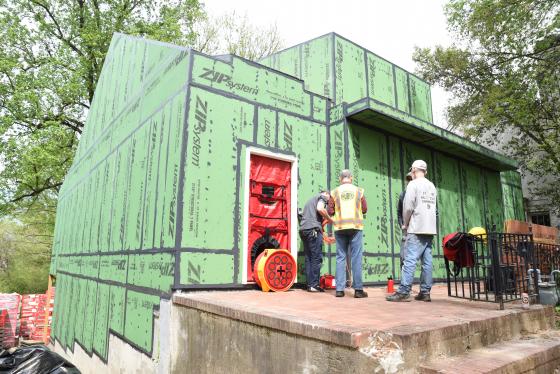 We have been making good progress on the #1920sMakeoverATL learning house. In some content we created about this project, we have thrown out the term ACH50 without explaining why it matters.
As our society becomes more aware of the importance of sustainability, green building practices are becoming increasingly popular. One critical aspect of green building is ensuring that a building is airtight, and this is where ACH50 comes in. The building codes use this measurement to ensure the house is built well and not wasting energy through air leakage.


What is ACH50?
ACH50 is an acronym for Air Changes per Hour at 50 Pascals. This measures how often the air in a building is replaced per hour when the building is under a pressure of 50 Pascals. It is a measure of the building's air leakage rate. The higher the number, the leakier the house.


How is ACH50 measured?
To measure ACH50, a fan is used to depressurize the building to 50 Pascals. This is called a blower door test. Once the building has been depressurized, the air flowing through the fan is measured. This measurement calculates the ACH50, which measures how many times the air in the building is replaced per hour.
Most new residential buildings must be tested at the end of the construction process to get the actual number for ACH50. The energy code minimum for most houses is 3 ACH50; in some states, it has been relaxed to 5 air exchanges per hour. High-performance builders strive to have a measurement of less than one since programs like Passive House (PHIUS) are less forgiving when it comes to air leakage.


Why is ACH50 important in green buildings?
There are several reasons why ACH50 is essential in green building:
Energy efficiency: Airtight buildings use less energy than leaky buildings. When a building is leaky, it allows warm air to escape in winter and cool air to escape in summer. This means that more energy is needed to maintain a comfortable indoor temperature. ACH50 is an important measure of a building's energy efficiency.

Indoor air quality: Airtight buildings help to improve indoor air quality. When a building leaks, it can allow pollutants such as dust, pollen, and other allergens to enter the building. ACH50 helps ensure the building is sealed against these pollutants, improving indoor air quality.

Noise pollution: Airtight buildings can help to reduce noise pollution. When a building is leaky, it can allow outside noise to enter it. ACH50 helps ensure the building is sealed against noise pollution, resulting in a quieter indoor environment.

Comfort: Airtight buildings provide greater comfort for occupants. The building can maintain a more consistent temperature and humidity level by reducing air leakage, creating a more comfortable indoor environment.


ACH50 for the #1920sMakeoverATL
Since this was a deep energy retrofit, we tested the house at various stages. The first test was before the house was touched, and the numbers were off the chart- in the wrong direction. Corbett Lunsford, who wrote the book on home performance, tested the house and said it was the leakiest ever at a little over 20 ACH50. It was four times leakier than a code-built house in Georgia and six times leakier than a standard EarthCraft House.
We knew the house would be bad but did not expect those numbers. When we examined the house further, we discovered why it was so bad. It did not have any sheathing, meaning it did not have a proper building envelope. It is nearly impossible to control airflow without a good air barrier, and that is half of what makes up a building envelope. At that time, they depended heavily on the plaster in the walls to provide that barrier from the elements. Insulation and air-sealing must be designed to work together for an efficient building envelope.
We removed all of the siding, fixed the framing, and added a layer of Zip System all around the house. This high-performance OSB has a "water resistant membrane (WRB)" layer. We invited Corbett back out to test the house, and just by adding sheathing, we reduced the ACH50 to 14. The house was gutted to the sheathing and was doing all of the work.
Huber wanted to see how well their liquid flash membrane works for air sealing, so we used it on all of the edges of the Zip System. We reduced it to .3 ACH50, which is 18 times better than the minimum for the energy code and 200% better than we needed for PHIUS.
ACH50 is a critical measure of a building's energy efficiency, indoor air quality, noise pollution, and overall comfort. Green building professionals use this measure to ensure buildings are constructed environmentally and sustainably. By designing and constructing airtight buildings, we can reduce energy consumption, improve indoor air quality, and create a more comfortable indoor environment for occupants.
If you'd like to learn more about proper air sealing and insulation, and weatherization, check out these related topics:

And stay tuned for more information about proper ventilation and optimizing comfort and indoor air quality in airtight homes. You can also always visit the #1920sMakeoverATL page for information related to this exciting project.
Please be kind and respectful!
Please make sure to be respectful of the organizations and companies, and other Rate It Green members that make up our community. We welcome praise and advice and even criticism but all posted content and ratings should be constructive in nature. For guidance on what constitutes suitable content on the Rate It Green site, please refer to the User Agreement and Site Rules.
The opinions, comments, ratings and all content posted by member on the Rate It Green website are the comments and opinions of the individual members who posts them only and do not necessarily reflect the views or policies or policies of Rate It Green. Rate It Green Team Members will monitor posted content for unsuitable content, but we also ask for the participation of community members in helping to keep the site a comfortable and open public forum of ideas. Please email all questions and concerns to admin@rateitgreen.com