Throwaway Nation: The Ugly Truth about American Garbage, by Jeff Dondero

Allison Friedman
MA, United States
0 Ratings
99 Discussions
131 Group posts
Posted by:
Allison Friedman
// Rate It Green Admin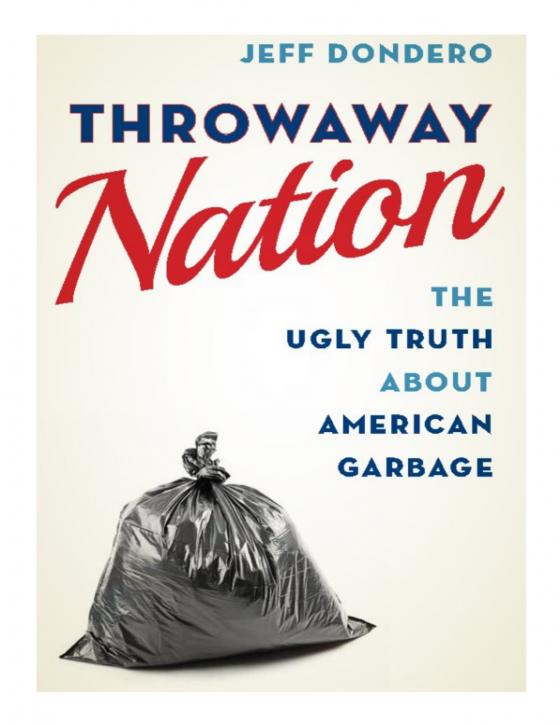 According to author Jeff Dondero, "Americans are burying ourselves in our own waste. It's befouling our air, land, waters, food, and bodies." In Throwaway Nation, Dondero takes a thoroughly researched look into several areas of industry and commercial products - including food, packaging, clothing, medication, cosmetics, transportation, waste management - that have generated enough waste to clutter the planet and even the cosmos. Although he points some fingers in explaining how we got here and where we are, Dondero also offers solutions for how we might mitigate the current mess from our garbage and learn to live with less impact in the future. Be prepared - there's a lot of work we all need to do.
Examples of waste generation and impacts:
All levels of the food system are riddled with waste—farming, harvesting, transportation, packaging, wholesale and retail marketing, and finally our tables. Food waste levels are 20 to 25 percent of manufacturing, 15 to 20 percent of retail sales and 55 to 65 percent from consumers... The truth is there's enough food to feed every single person in America if we can help farmers, manufacturers and retailers get the food to the people who need it.

Each year 25 million people are poisoned by pesticides in less-developed countries and over 20,000 die.

The fashion industry (including cosmetics) is the second-dirtiest business in the world, right after oil and petroleum products, with rampant production schedules and unconscionable recycle rates. The average American throws away more than 82 pounds of textiles per year. We're buying more than 80 billion new items of clothing each year in this country, much of which is not being reused, recycled or repurposed. A lot of power is needed to produce 150 billion-plus articles of clothing each year and most of the countries where those garments are produced use coal for their energy source. The apparel industry is responsible for 10 percent of all carbon waste emissions globally.

Over-packaging mania accounts for a third of the waste thrown away in the United States. And, less than 14 percent of plastic packaging, which is the fastest-growing form of packaging, gets recycled. Packaging adds twenty-nine million tons of non-biodegradable waste to landfills every year. Unfortunately, much of our packaging isn't recyclable. One example: plastic juice boxes. The 1.4 billion Capri Sun pouches thrown away every year alone laid end-to-end would reach nearly halfway to the moon.

The average American takes about 12 medications annually compared to seven 20 years ago. Back then, spending on drugs totaled about 5 percent of the total US health care costs, now it's more like 17 percent. Spending on prescription medications has increased by a knockout of $200 billion in two decades. On average, U.S. households spend about $338 per year on OTC products. Lamentably, methods of drug waste disposal are causing a major health hazard. In addition to the problem of consumers disposing of drugs down the drain or in the garbage, the Associated Press estimates hospitals and long-term medical care institutions across the United States dump 250 million pounds of pharmacologically active drugs that can have severe effects on humans and wildlife directly into public sewer systems each year.

Even space is now affected by waste. According to NASA, hundreds of millions of pieces of space debris are now floating through our region of the solar system.

Thankfully, Jeff offers ideas and solutions in every chapter, from simple helpful ideas, to describing major industrial and cultural shifts that must take place to mitigate our impacts on the planet and its ecosystems. This is s timely book, given recent reporting that the window for lessening climate change impacts is finite.
"Just because we are the dominant species doesn't mean we own the place and can be passive guests. We have the responsibility to leave it for those who come next. We have influenced conditions on this planet throughout its history—and objectively not for the better."

Throwaway Nation is available in stores or online:
https://www.amazon.com/Throwaway-Nation-Truth-American-Garbage/dp/1538110326
https://www.barnesandnoble.com/w/throwaway-nation-jeff-dondero/1129077648
About the Author:
Jeff Dondero is an author and journalist living and working in Northern California. He has written for a variety of publications, a TV station, B to B, and the Internet. Throwaway Nation is the third book for Rowman & Littlefield; the first two being The Energy Wise Home, The Energy Wise Workplace, and he is expecting his next to be released early next year, Super Cities, housing, feeding, powering, transporting, the urban crowds—on, on top of, under, and beyond—of the future.



briancornwell
0 Ratings
0 Discussions
0 Group posts
briancornwell
// High performance building + modern architecture. Passive House construction.
I never realized how much waste we had until I had to take it bag by bag to the dump myself living in a mountain town! It's rather incredible and this article strikes home.
Please be kind and respectful!
Please make sure to be respectful of the organizations and companies, and other Rate It Green members that make up our community. We welcome praise and advice and even criticism but all posted content and ratings should be constructive in nature. For guidance on what constitutes suitable content on the Rate It Green site, please refer to the User Agreement and Site Rules.
The opinions, comments, ratings and all content posted by member on the Rate It Green website are the comments and opinions of the individual members who posts them only and do not necessarily reflect the views or policies or policies of Rate It Green. Rate It Green Team Members will monitor posted content for unsuitable content, but we also ask for the participation of community members in helping to keep the site a comfortable and open public forum of ideas. Please email all questions and concerns to admin@rateitgreen.com