Guidance for Specifying Healthier Insulation and Air-Sealing Materials (Supplement to "Making Affordable Family Housing More Efficient...")

ella.nielsen44
MA, United States
0 Ratings
6 Discussions
0 Group posts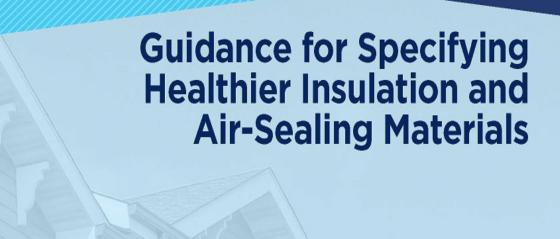 "Guidance for Specifying Healthier Insulation and Air-Sealing Materials" was produced by Healthy Building Network (HBN) as a supplement to the report by HBN, Efficiency for All and others, "Making Affordable Multifamily Housing More Energy Efficient: a Guide to Healthier Upgrade Materials."
The purpose of the supplement is to provide information for evaluating, selecting and specification writing for healthier products to be used in energy efficiency upgrade projects.
The supplement discusses how to select healthier insulation and air-sealing materials, with a review of why it is important to be aware of hazardous chemicals in building products. For more information, be sure to check out this resource. Advice and information includes:
Insulation:
Surprisingly, commonly used fiber glass and cellulose insulations are some of the highest ranked materials, and have the lowest installed costs for any given R-value.
Wherever possible, it is better to use mechanical installation methods such as fasteners to avoid use of adhesives that aren't necessary
Avoid products that are reacted on site
It is best to avoid products with formaldehyde-based binders since it's a carcinogen and a respiratory hazard, even at low levels within a building
Top insulation types include rigid mineral wool and expanded cork board (note, this can be cost prohibitive)
Air Sealing:
It is best to have acrylic-based sealants with very low levels of VOCs or caulk-type sealants over polyurethane spray foam sealants
Avoid products that are reacted on site
While shopping for air-sealings, avoid products that are marketed as being antimicrobial or claiming to kill germs in general because the main chemical have shown to have negative impacts on human health and the environment.
Avoid phthalates
Low level VOC acrylic-based sealants can be a good choice when more detailed product disclosure is not available
Foil-backed butyl tape for HVAC sealing is preferred. Avoid halogenated flame retardants, and prefer no-VOC products
The supplement also includes sample specification language for these materials, and fairly detailed Material Ranking Tables with information on Cost, Performance, Transparency, and Installation.
To read more and to download the supplement, visit:
http://energyefficiencyforall.org/resources/guidance-specifying-healthier-insulation-and-air-sealing-materials
Please be kind and respectful!
Please make sure to be respectful of the organizations and companies, and other Rate It Green members that make up our community. We welcome praise and advice and even criticism but all posted content and ratings should be constructive in nature. For guidance on what constitutes suitable content on the Rate It Green site, please refer to the User Agreement and Site Rules.
The opinions, comments, ratings and all content posted by member on the Rate It Green website are the comments and opinions of the individual members who posts them only and do not necessarily reflect the views or policies or policies of Rate It Green. Rate It Green Team Members will monitor posted content for unsuitable content, but we also ask for the participation of community members in helping to keep the site a comfortable and open public forum of ideas. Please email all questions and concerns to admin@rateitgreen.com