Radon Control starts with a good design

Matt Hoots
GA, United States
4 Ratings
13 Discussions
7 Group posts
Posted by:
Matt Hoots
// SawHorse Design + Build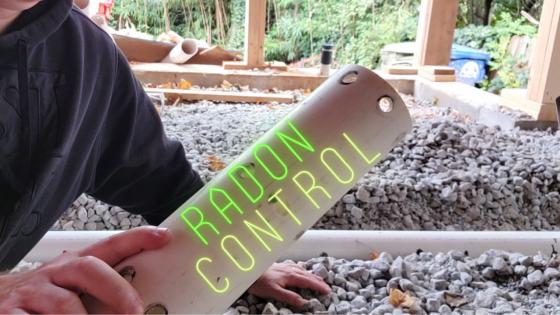 The need for vapor control below the house
The #1920sMakeoverATL is a Passive House renovation in Atlanta, GA. Not only does Atlanta have lots of rain and humidity, causing the ground to be wet most of the year, but it also has high concentrations of Radon in the soil. Any high-performance house is required to have Radon controls installed in Radon prone areas since a better building means a tighter building. Indoor air quality is one of the pillars of green building, so keeping harmful toxins such as Radon out is a must.
Radon is the second leading cause of lung cancer in the US. Some cities, such as Atlanta, have higher concentrations than others due to the amount of rock in the soil.
Design First- then build
SawHorse, the builder of this house, decided to partner with Clean Vapor, a full-service vapor design and mitigation company. Clean Vapor presented a passive design that would start below the slab and go through the roof. This difference between "passive" and "active" is the need for a fan on the roof. Passive systems are designed, so the laws of physics create a negative pressure in the pipe compared to the outside house. This enables the gases trapped below the barrier to escape through the ventilation system easily. The fact that it is passive has added benefits. It does not take any power to operate! This is especially useful when building a high-performance home, so the energy load is minimal.
Most common in commercial and residential buildings is that experts do not design these systems, so retrofits are needed. This method is much more expensive than doing it correctly in the first place. Radon prevention also helps lower liability for builders and developers by protecting them from future financial damages.
If Radon kills, why are we not talking about it?
Good question, and I think that is a completely different article. Designing high-performance buildings is pretty complicated and retrofitting them is even more complicated. Most people know that Radon is bad. They don't realize that the current testing methods may not be 100% accurate since conditions change. Retrofit mitigation systems are designed to remove down to a certain threshold, while passive preventative systems are designed to remove 100% of the Radon.
This house is meant to be a teaching house, and we have created a virtual tour to guide people through the design and build process for a Passive House.
Related Content
The #1920sMakeoverATL Showhouse Project: A Deep Energy Whole House Retrofit and Green Building Virtual Reality Experience
Radon and Vapor Control Layers in the 1920sMakeoverATL Showhouse: Pre-Project Testing
Please be kind and respectful!
Please make sure to be respectful of the organizations and companies, and other Rate It Green members that make up our community. We welcome praise and advice and even criticism but all posted content and ratings should be constructive in nature. For guidance on what constitutes suitable content on the Rate It Green site, please refer to the User Agreement and Site Rules.
The opinions, comments, ratings and all content posted by member on the Rate It Green website are the comments and opinions of the individual members who posts them only and do not necessarily reflect the views or policies or policies of Rate It Green. Rate It Green Team Members will monitor posted content for unsuitable content, but we also ask for the participation of community members in helping to keep the site a comfortable and open public forum of ideas. Please email all questions and concerns to admin@rateitgreen.com