Rheem's Plug-In Hybrid Heat Pump Proterra Water Heater - Energy Efficient and Also Great for Retrofits

Rate It Green Team
0 Ratings
96 Discussions
6 Group posts
Rheem was the first manufacturer to launch a plug-in hybrid heat pump water heater, and Green Builder Matt Hoots got an up-close look and spoke with Scott Cohen of Rheem Water Heating at this year's International Builders Show. Heat pump hot water heaters are an important part of home electrification, or using electric appliances instead of gas in a move away from gas combustion inside the home. Heat pumps are also incredibly energy efficient as they transfer heat from one area to another, instead of using energy to generate heat. As a result, they save 75% of the energy of a traditional water heater, which also of course saves money.

How does the Proterra produce sufficient hot water in a heat pump mode, to prevent the need for back up electric resistance power? As a part of regular operations, the heat pump produces 10-15 gallons of hot water per hour. The water heater stores this water at a higher temperature, and then employs mixing valve technology to mix in cold water and deliver water at safe temperatures. The mixing valve therefore increases the amount of hot water available, by more than 30%.

The plug-in Proterra seems like a pretty big step on the path to home electrification, especially in older homes where there may not be space to upgrade an electrical panel. The Proterra plug-in model only requires a 110 volt plug and runs on a shared circuit (there is also a dedicated circuit model). You literally remove the old gas heater and plug in the new one.

In this video, Green Builder Matt Hoots points out there builders should be thinking ahead and leaving a little more space in panels to avoid the extra future costs of retrofits. But it's great there's a solution that can work well with existing buildings, built when the idea of electrification or an EV charger need was not as obvious.

With any water heater it's important to have enough space so that the equipment can take in sufficient air to operate properly, and also exhaust into the room. For the plug-in Proterra, 700 cubic feet is needed, or suffcient flow can be achieved though louver doors. The bult-in ducted capacity can also be used to bring in sufficient outside air.

Rheem has an app for controlling temperature remotely, where alerts and notifications can also be set. Water heating can also be scheduled and set for heat pump only or hybrid mode as needed, with electric back up for high usage times. Scheduling can also be used to manage peak load or time of use pricing, where the user can heat additionally during the preferred times prior to peak pricing periods.

The plug-in Proterra is initially targeted at warmer climates, but look for cold weather availability from Rheem soon, and look for more market entrants in the next years, as there's a lot of work to do to electrify all existing buildings, in addition to new buildings, in order to meet critical climate goals.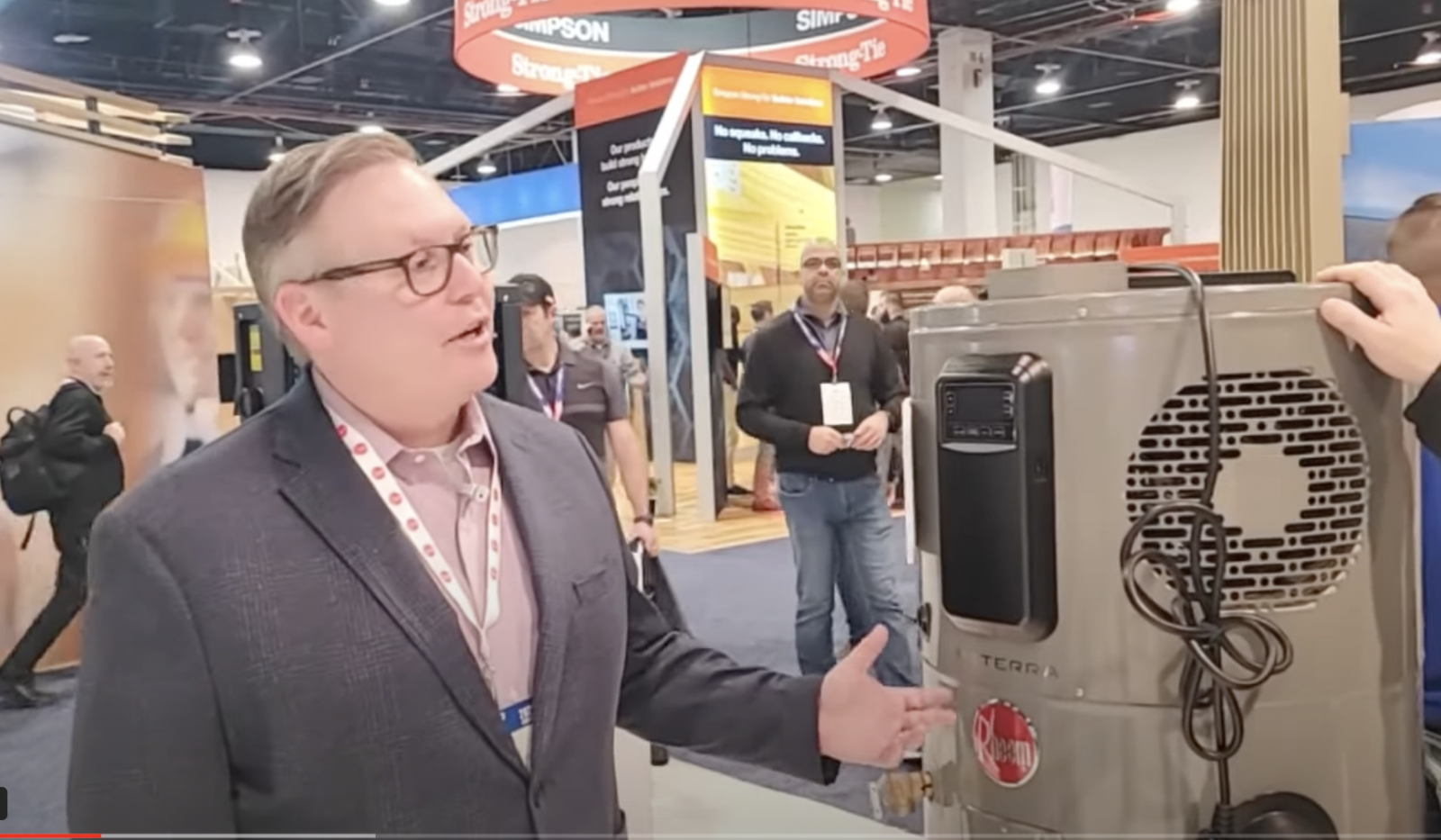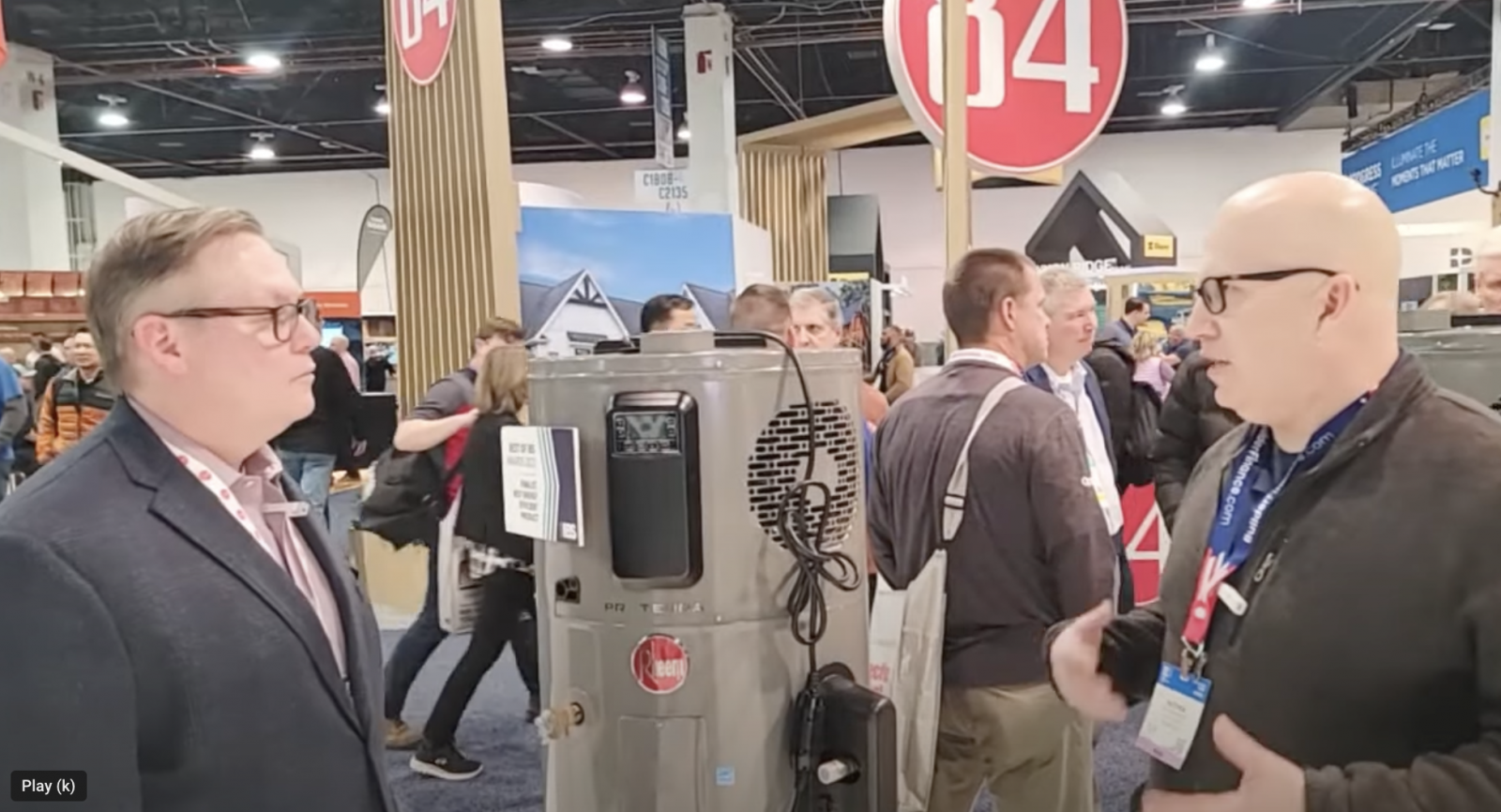 To learn more about Rheem and Hybrid Hot Water Heat Pumps, visit Rheem's listing on Rate It Green, and the following discussions:

The Rheem ProTerra Hybrid Water Heat Pump - A Great Fit for the #1920sMakeoverATL Project (Video)
Hybrid Heat Pump Water Heaters by Rheem - 3x More Energy Efficient (Video)


Please be kind and respectful!
Please make sure to be respectful of the organizations and companies, and other Rate It Green members that make up our community. We welcome praise and advice and even criticism but all posted content and ratings should be constructive in nature. For guidance on what constitutes suitable content on the Rate It Green site, please refer to the User Agreement and Site Rules.
The opinions, comments, ratings and all content posted by member on the Rate It Green website are the comments and opinions of the individual members who posts them only and do not necessarily reflect the views or policies or policies of Rate It Green. Rate It Green Team Members will monitor posted content for unsuitable content, but we also ask for the participation of community members in helping to keep the site a comfortable and open public forum of ideas. Please email all questions and concerns to admin@rateitgreen.com