Getting to Know Stego Barrier Solutions - Keeping Vapor, Soil Gases and other Ground Contaminants out of our Homes and Commercial Buildings

Rate It Green Team
0 Ratings
94 Discussions
6 Group posts
Tom Marks of Stego Barrier Solutions gives a helpful, efficient and information-filled introduction to Stego Barrier Solutions and the key goals and quality characteristics of vapor barriers as well in this interview with Green Builder Matt Hoots. Tom is the Business Development Manager and also leads Stego's sustainability efforts. Stego has been manufacturing vapor barriers for 23 years and is now an industry leader and the most specified water vapor barrier in North America. Stego barriers are installed below concrete floor slabs and in crawl spaces for homes and buildings of all shapes and sizes, all around the country and world, in any condition, for any application, and for any foundation type.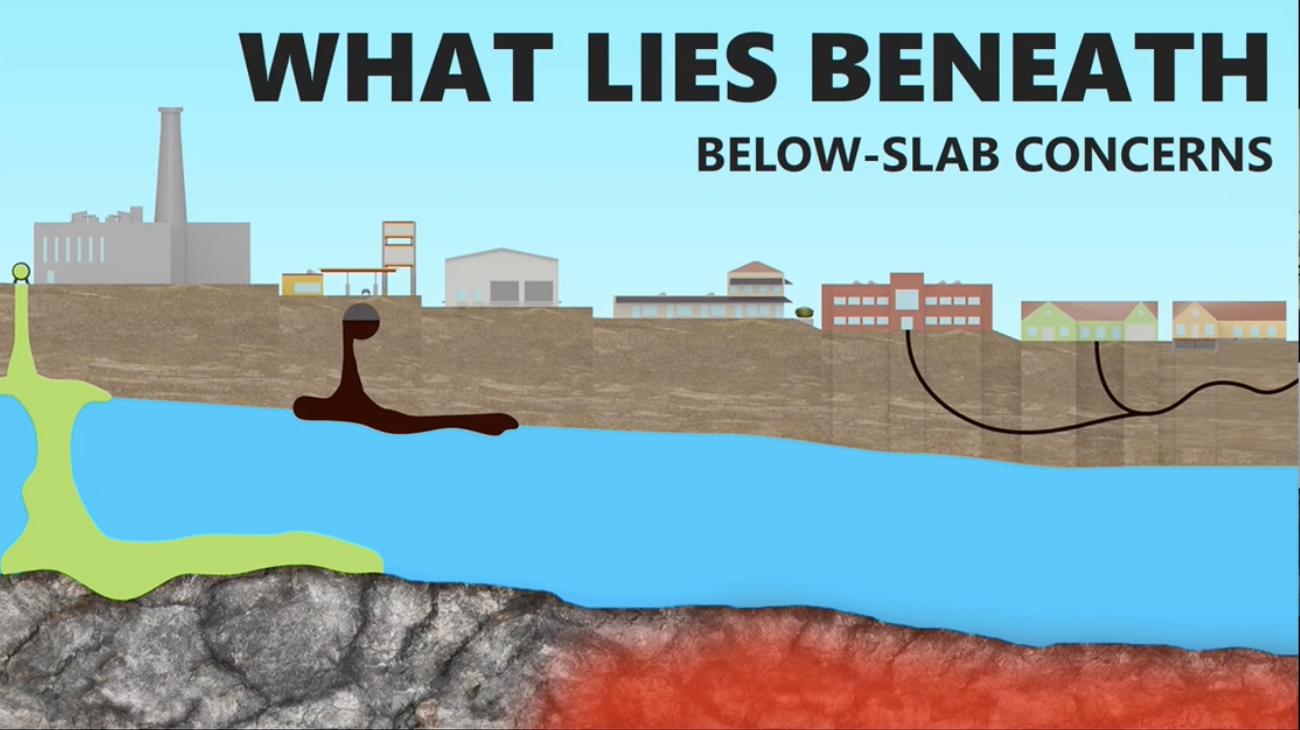 As Tom reviews, the goal of barriers is to isolate the building envelope from a range of potential sub slab concerns, which include moisture, moisture vapor, soil gases, and chemical contamination including industrial waste that can migrate, and even termites. At a high level, we can think of vapor barriers as isolating a building from vapor and chemical threats to reduce liability, costs, and even environmental impact. It costs a lot more to fix a problem after the fact than building a building right the first time. As Tom reviews, foundation vapor control and vapor barrier systems are a key component of high-performance sustainable and healthy buildings. Preventing and/or mitigating vapor intrusion protects our health, building durability, improves air sealing and energy and systems efficiency, and can prevent damage.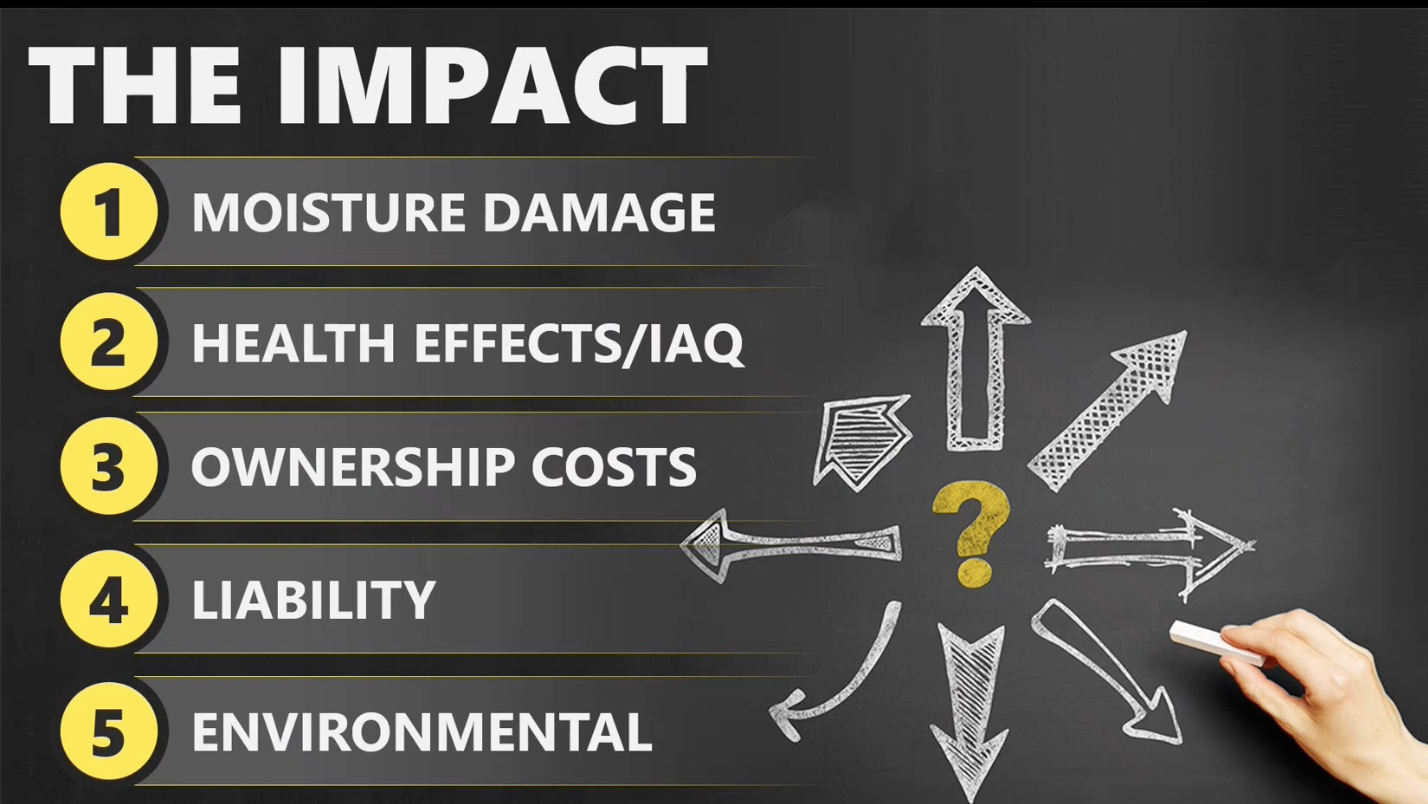 Tom and Matt easily agree that we need to think more about what is below our buildings, as what's below a building can work its way inside, to the determined of our health and building quality/longevity. Tom reviews that water vapor moves from higher pressure to lower pressure, and we're often putting a slab of concrete in the middle of these processes, without properly protecting the building. If the vapor accumulates on a concrete slab with higher relative humidity (RH), then dew point condensation can occur, and water damage and even old can develop. Water sensitive flooring poses on challenge, as do adhesives breaking down, which can happen more as the chemical make-up of these products evolve.


Vapor barriers also help protect our health by keeping soil gases such as radon out of buildings. Radon moves in a similar way to water vapor. Radon is a fairly common and dangerous odorless gas that seeps into buildings, but can be mitigated with a proper vapor barrier and/or radon mitigation systems. Did you know that radon is a leading cause of lung cancer in the United States, #2 only behind cigarette smoking? Matt and the project team are installing a vapor barrier system at the #1920sMakeoverATL Deep Energy Retrofit Project. Rate It Green Member Christopher Matos-Rogers also shares his family's radon mitigation in another discussion. Chris poses some great questions, and emphasizes continuous monitoring for the safety of building occupants.
Tom reviews key performance efficacy characteristics that generally apply for vapor barriers (there can always be exceptions for particular situations).
Low vapor permeance - how well the material actually stops or impede the vapor we're trying to control

Longevity - how well the material can perform sub-slab over time. Tom points out that it's pretty harsh in the sub-slab environment, where high alkaline concrete is placed on a membrane, with constant wetting and drying, temperature changes, and exposure to soil organisms. The material must maintain integrity over the life of the building.

Strength. If a material can't last sub-slab or tears easily, it should not be a surprise that it won't do the job.
Tom reviews the ideal characteristics of vapor barrier plastic as well - this is interesting and worth a listen, as the information may not be intuitive to those who are new to vapor barriers. While recycled content and might normally be a highly desirable characteristic, thin gage generic plastic polys will not maintain a proper barrier and can not guarantee the consistency in quality needed between rolls. Tom shows an example of how 10 years later, a thin plastic wasn't able to do the job and broke down.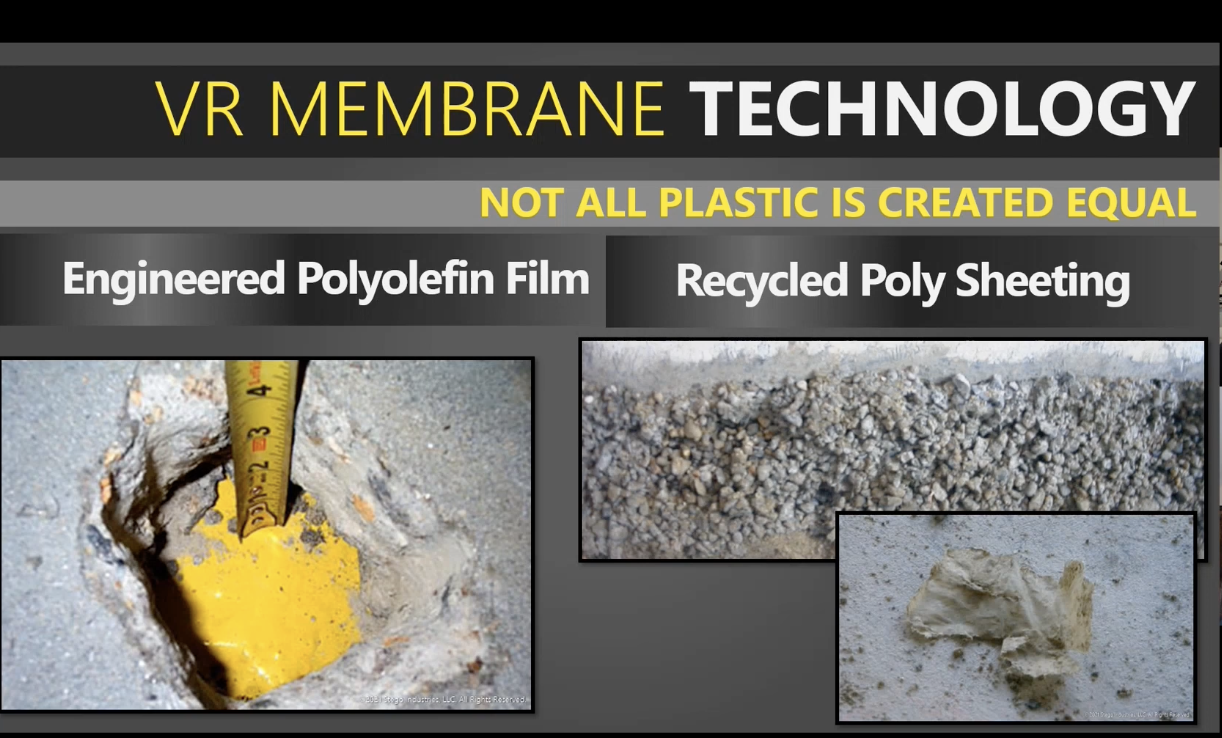 Tom also shares a brief overview of the Stego product line:
Stego Wrap - used for a lot of commercial projects, and also used on many homes

Stego Home - a high performance technology but engineered with a roll size and weight more suited for single family homes

Pango Wrap - also serves as a termite barrier (more sustainable than more traditional pesticide and chemical treatments)

Stego Crawl - engineered specifically for crawl spaces, different roll sizes for budgets and performance levels

Drago Wrap - engineered for more difficult to control chemicals, such as brownfield sites
He also shares some unique features of Stego products, including (in brief):
Life of the building performance warranty for all of their systems (supports longevity)

Health Product Declarations (HPDs), analyzing ingredients and health impacts

Certified Low VOC emissions (they also test many key accessories)

NGBS Certified - Pango Wrap

Red List chemical free wraps

No VOC wraps

Matt and Tom review that residential building has some catching up to do with commercial vapor barriers. As Matt points out, the bottom of the building (what Tom calls the "first side" of the building) is too often ignored, adding, "Insulation is not a vapor barrier - let's not let the bad gasses in! "
What are your vapor intrusion or product-specific questions for Tom and his team? As he says, they're excited to "dig in." So, ask away!
Please be kind and respectful!
Please make sure to be respectful of the organizations and companies, and other Rate It Green members that make up our community. We welcome praise and advice and even criticism but all posted content and ratings should be constructive in nature. For guidance on what constitutes suitable content on the Rate It Green site, please refer to the User Agreement and Site Rules.
The opinions, comments, ratings and all content posted by member on the Rate It Green website are the comments and opinions of the individual members who posts them only and do not necessarily reflect the views or policies or policies of Rate It Green. Rate It Green Team Members will monitor posted content for unsuitable content, but we also ask for the participation of community members in helping to keep the site a comfortable and open public forum of ideas. Please email all questions and concerns to admin@rateitgreen.com