Exploring the Environmental, Health and Community Benefits of Electric Lawn and Garden Equipment with EcoQuiet's George Carrette (Video)

Rate It Green Team
0 Ratings
94 Discussions
6 Group posts

George Carrette is greening lawn care, one lawn at a time. George has owned and operated EcoQuiet Lawn Care in Massachusetts since 2014. After George studied Horticulture at UMass Amherst Stockbridge School of Agriculture, he realized that the millions of acres of lawns in the US make up the country's largest crop, and that he could have a significant impact by helping the lawn care industry transition from fossil-fuels to electricity.

The benefits of this switch from fossil fuels, or electrification, are significant. In this introductory video, George reviews some the environmental and health aspects of electric lawn and garden equipment (ELGE). He also demonstrates several types of electric lawn equipment. This is kind of like seeing an early pitch in a coming revolution that is going to succeed and that we can all cheer without reservation.

George decided he wanted his company to be "as electric and as eco friendly as possible." A key goal was to reduce the associated pollution of lawn care work, but he also realized that electric equipment provided a better way of doing things on multiple fronts. Noise control is a growing concern to many consumers and municipalities, and electric equipment is significantly quieter than gas powered equipment. George points out that people are generally happier with reduced noise and that electric equipment is a win-win, since you get to work with a better product anyway. In George's expert opinion, "It's not like food that tastes like cardboard." (We're kind of still laughing about that one.) In all seriousness, George points out that electric lawn care equipment is just better in all ways.

Electric lawn care also presents a great and growing opportunity for lawn care businesses. According to George, currently only about 1 in 1400 lawn care companies is currently electric, which adds up to all of a few dozen providers total. One reason for the small but growing number is that lithium batteries were not cost effective enough in the past (a $10,000 battery wasn't really going to work out.) But several forces are converging to encourage industry growth: Electric tools and associated equipment are becoming increasingly cost effective, towns concerned about noise are starting to pass gas leaf blower bans, and consumers are asking more and more for a quieter and more environmentally friendly product. George points out that electric equipment could product 13 newtons of power when he first started his business and have now almost doubled to 23 newtons. Many electric tools now have power parity with gas tools, without the noise.

Gas itself is a key reason to go electric. Aside from the impact of 16 billion pounds of CO2 per year, gas has direct environmental and human health impacts. In the absence of regulations, gas equipment use can result in gas leaks, oil spills, and clean ups. Did you know that small gas engines use less than 1-2% of gasoline but produce 5-10% of related emissions? Gas produces smog producing chemicals, hydrocarbons, carbon monoxide, and carcinogens such as benzene and formaldehyde, among other carcinogens. And partially or unburned hydrocarbons are toxic, both to clients and the people working. Many of these substances have been linked to cancer and lung disease, in addition to other conditions. Meanwhile, mowers can run an average of 2 gallons of gasoline per hour!

Lower maintenance is one of several economic factors that make the switch to electric lawn and garden equipment make total sense for a landscaping business. George calls his electric equipment easy and almost free to maintain. It apparently costs $1-2 per DAY to run some of this equipment, with little to no cost in comparison to gas equipment. "Really just blades and electricity." EcoQuiet Lawn care revenues tripled this year, and the company has never lost money. George believes that those who switch earlier will be paid back, and those who wait will just switch when it becomes completely cost comparable to make the switch.

So, why isn't everyone already using electric lawn and garden equipment? We all know that people and companies can be afraid of change. Gas is simply, "what they know," as George acknowledges. Some people might resist change as the associate the noise of the equipment and the smell of gas as a reminder of doing work. Also, electric tools aren't cheap and there can be considerable expense in buying new electric equipment. In a highly competitive industry, it can seem daunting to charge enough to pay the cost to keep purchasing new equipment. According to George, the pioneers who take the risk will be rewarded and the switch to electric will pay itself back.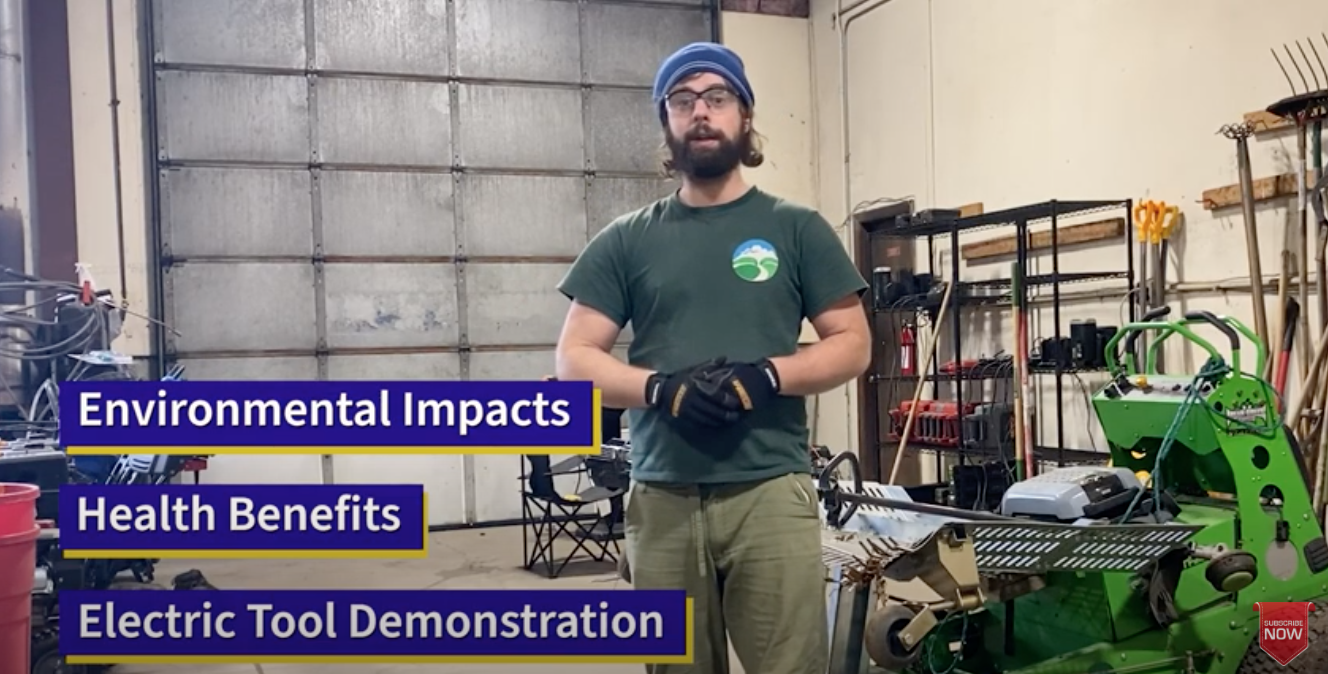 George's electric tool demonstration is pretty cool. This is a great first introduction if you haven't really had exposure yet to electric tools. He shows us a super quiet hedge trimmer than can cut through 1-2 inch branches and a Mean Green 0-Turn lawnmower. The mower is apparently super low maintenance - he needs only oil and charge switch the blades, and clean out the deck. He's not dealing with carburetors or over-heated engines. George also show us an Oregon backpack leaf blower that runs at 50 decibels, which is only 10 decibels above ambient noise. This while running at 525 CFM and 200 miles per hour. This equipment can be operated in most places even when there are noise restrictions! It also doesn't need to cycle to stop and start, as gas equipment does.

George also runs a leaf blower in his warehouse, which would hurt everyone's hears if the machine were gas. He also shows us a chain saw that is so quiet, he was accused to using a drill to cut a tree! He shows us weed whacker, and it seems like he kind of doesn't want to put it down.

Do you have electric lawn care equipment questions? Post them here, and George will be happy to connect. He's receptive to talking to others who want to do this work, and he's happy to talk to the rest of us about this revolution as well.
For more information:


Related Rate It Green Articles and Discussions:
Why Landscaping Companies Should Consider Going Electric, by George Carrette, EcoQuiet Lawncare
Seven Ways to Prep Your Yard for Electric Landscaping
Electric Lawn and Garden Equipment - A Revolution in the Making
Electric Lawn Care Equipment by Husqvarna - Eliminate Gas, Reduce Noise and Pollution, and Save Energy (Video)


Additional Resources:
Quiet Communities
America Green Zone Alliance (AGZA)
Please be kind and respectful!
Please make sure to be respectful of the organizations and companies, and other Rate It Green members that make up our community. We welcome praise and advice and even criticism but all posted content and ratings should be constructive in nature. For guidance on what constitutes suitable content on the Rate It Green site, please refer to the User Agreement and Site Rules.
The opinions, comments, ratings and all content posted by member on the Rate It Green website are the comments and opinions of the individual members who posts them only and do not necessarily reflect the views or policies or policies of Rate It Green. Rate It Green Team Members will monitor posted content for unsuitable content, but we also ask for the participation of community members in helping to keep the site a comfortable and open public forum of ideas. Please email all questions and concerns to admin@rateitgreen.com