Clean Vapor Becomes a Land Science Certified Applicator

Rate It Green Team
0 Ratings
105 Discussions
6 Group posts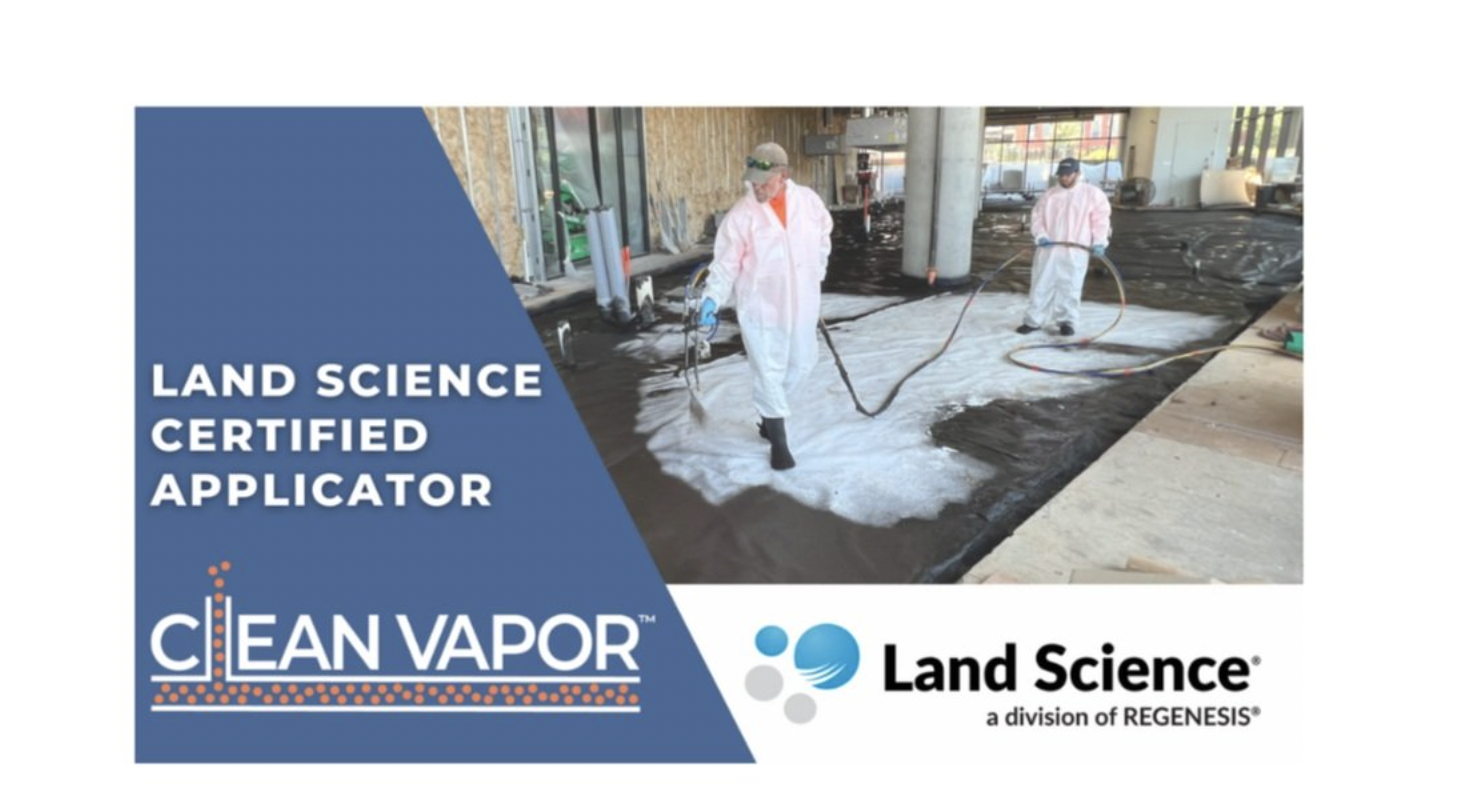 Rate It Green Gold Company Member Clean Vapor has become a certified spray-applied barrier applicator for the Land Science family of products. Adding spray-applied vapor barriers continues to increase the number of vapor mitigation solutions Clean Vapor offers to solve each client's unique needs.

"The recent growth of our team has allowed us to bring the spray-applied vapor barrier service in-house," says Clean Vapor CEO, Tom Hatton. "The vision for Clean Vapor has always been to be a single-source solutions provider. The addition of this service gets us one step closer to that goal. The fact that we were able to work with Land Science to become a certified spray-applied applicator is a bonus. There is a long history of mutual respect between our two companies, and now we get to work even more closely with their highly innovative team."

Clean Vapor has invested significantly in this new service offering, including purchasing new spray-application machinery and vehicles, cross-training several team members in product installation, and hiring new team members solely dedicated to this new service for Clean Vapor's clients.

According to Rick Gillespie, Senior VP, Land Science, a division of Regenesis, "Clean Vapor's long track record of vapor intrusion mitigation expertise aligns perfectly with Land Science's industry-leading advanced composite barriers. Being a certified applicator for Land Science requires a commitment to quality installation and we are confident Clean Vapor brings that level of commitment to every project from start to finish."

Clean Vapor was launched in 2007 by industry expert Tom Hatton as a single-source solution for providing building-specific diagnostics, designs, installation, and monitoring services. Vapor intrusion mitigation systems improve indoor air quality by preventing harmful soil gas vapors from entering the indoor environment. Clean Vapor has mitigated over 30 million square feet of new and existing industrial, residential, and retail space. Over the years, company leaders have contributed to a variety of state and federal vapor intrusion guidance documents. The company works with the nation's largest engineering and environmental firms and several aerospace and DOD contractors.

About REGENESIS and LAND SCIENCE: Founded in 1994, REGENESIS is an expert provider of in situ soil, groundwater and vapor intrusion remediation products and services. Land Science, a division of REGENESIS, offers a full line of vapor intrusion mitigation technologies and is the safe and effective choice for leading engineering, construction and environmental consulting firms serving a broad range of clients, including developers, insurance companies, manufacturers, municipalities, regulatory agencies and federal, state and local governments.

Please be kind and respectful!
Please make sure to be respectful of the organizations and companies, and other Rate It Green members that make up our community. We welcome praise and advice and even criticism but all posted content and ratings should be constructive in nature. For guidance on what constitutes suitable content on the Rate It Green site, please refer to the User Agreement and Site Rules.
The opinions, comments, ratings and all content posted by member on the Rate It Green website are the comments and opinions of the individual members who posts them only and do not necessarily reflect the views or policies or policies of Rate It Green. Rate It Green Team Members will monitor posted content for unsuitable content, but we also ask for the participation of community members in helping to keep the site a comfortable and open public forum of ideas. Please email all questions and concerns to admin@rateitgreen.com