The Lawn Care Revolution - From Gas To Electric Landscaping - Rate It Green's April News

Posted on: 04/27/2021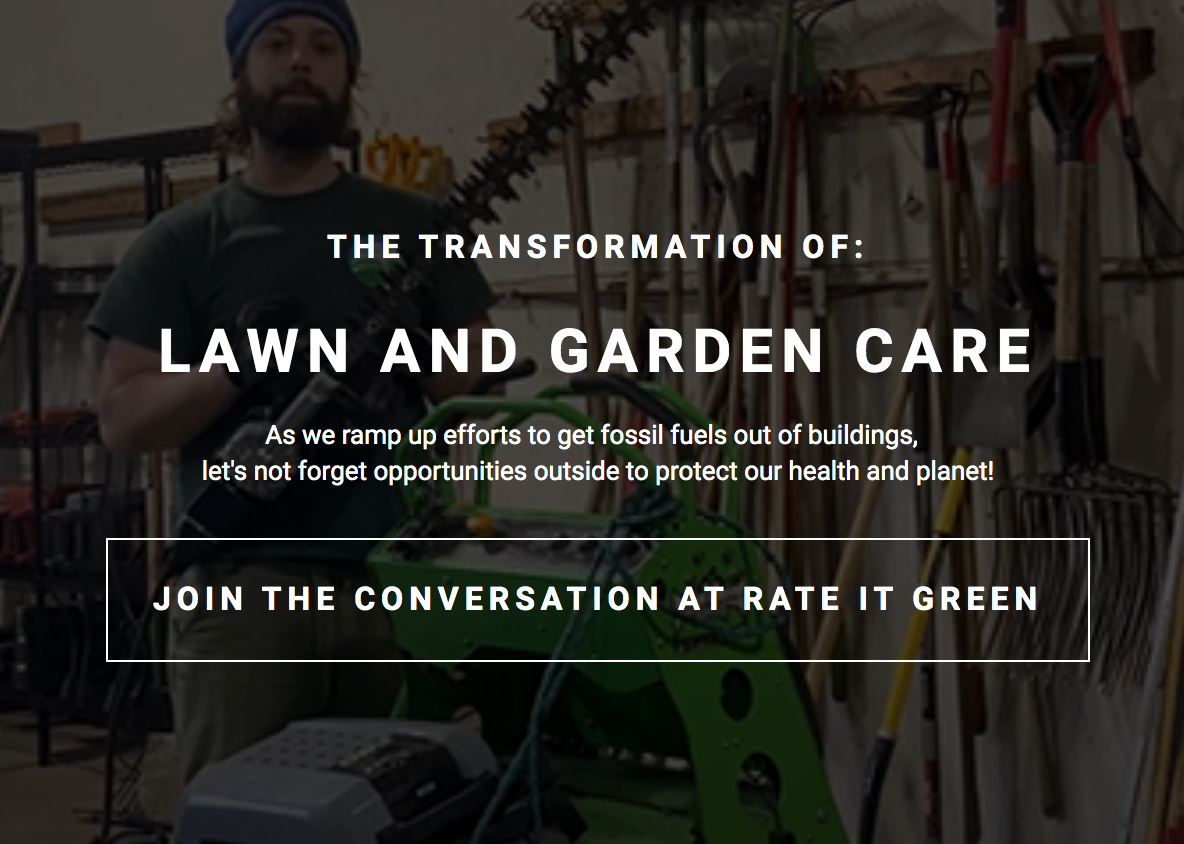 Friends and Members -
I hope you are all well. Here at Rate It Green, we're excited to see sustainability priorities taking off in a positive direction, and we appreciate our continued opportunity to be a part of the green building and related decarbonization and equity movements going forward. There is so much work to be done, and as we all recognize, so much more we can do together. Speaking of together, check out the #1920sMakoverATL project below! This virtual showhouse offers new and exciting opportunities to share smart and also leading edge green building materials, products, and practices. You're invited to get involved, or just follow along!
This month, I am happy to illustrate how one company can make a real difference by taking the time and making the effort to share what they know. George Carrette and the EcoQuiet Lawn Care team are busy providing great lawn care services, and at the same time they are electrifying the lawn care industry one property and one town at a time. George and his colleagues recently shared a series of terrific articles about the electrification of the Lawn Care Industry. For an introduction to this important topic, check out, "Electric Landscaping 101." Are you a lawn care company? George shares some helpful advice in, "Why Landscaping Companies Should Consider Going Electric." The company also shares a reflection and update on gas lawn and garden equipment bans and limits, which grew in popularity with more people home to hear and smell gas equipment during the COVID pandemic. And those of us who make landscaping decisions should read, "Six Ways to Prep Your Yard (and Save) for Electric Landscaping." George also recently recorded a YouTube video with Green Builder Matt Hoots of Sawhorse, Inc., where he profiles the environmental and health benefits of using electric lawn and garden equipment.
Did you know that small gas engines consume 1-2% of gasoline but produce 5-10% of greenhouse gas emissions? Also, would you rather a lawn mower use up 1-2 gallons of gas per HOUR, or spend $1-2 per DAY to operate electric equipment instead, with health benefits for both employees and clients, as well as the environment? And don't get us started on the noise! Are you curious to learn more? Do you want to see George demo his equipment? Check out these articles as well as the video! Stay tuned for even more great content from George and EcoQuiet and about electrification generally. We've got to get gas out of buildings, and... off of our lawns, for so many reasons.
We all agree that more storytelling and leadership examples can help us move every segment and our whole industry forward. Thank you to George and Julia a EcoQuiet Lawn Care for making the time to share your talent, expertise, and leadership by example. Creating meaningful content is a great way to help industry colleagues, grow our industry, and take great advantage of the opportunity to share and promote green building information through the Rate It Green platform. Electric lawn care is a super topic, as this is an area where everyone can make a difference, at home and also through the businesses properties we operate. This is also a segment of interest to both professionals and consumers. Let's expand this green building tent and maximize our impact!
What stories should we be helping you tell? What is it that most people don't know about what you do? What questions do you have for George or for other experts? Also, what industry segments should we be covering next? Meanwhile, switch to electric lawn and garden equipment and at home and at work! Questions? Post them for the EcoQuiet team!
We welcome your thoughts and participation. If you know what you want to share, we have a way and will work with you.
Thank you,
Allison
Click to read our full April Newsletter, including an introuction to the #1920'sMakeoverATL Deep Enegy Retrofit