Leaf Blower Bans and other Noise Pollution Limits On the Rise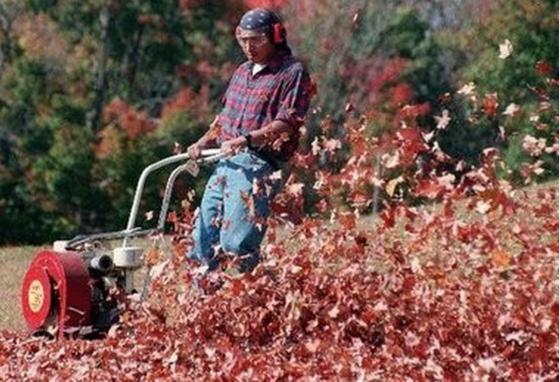 A somewhat unexpected result of the 2020 COVID19 pandemic seems to be increased interest in gas-powered leaf blower and related bans. The virus of course caused many people to stay home and kept suburban workers in their home offices and living rooms, well within earshot of the landscapers outside. With nowhere to go to escape the noise, more homeowners began joining local "Quiet organization" efforts and lobbying local and state governments to pass more stringent restrictions.
Gas leaf blowers blow winds at hundreds of miles an hour and up to 112 decibels. Every ten point increase in decibel level actually represents a doubling of the emitted noise level. A normal conversation is at approximately 60 decibels. This noise travels far and can pierce walls and windows, but the sound is of course worse for the operators of such equipment, who don't often have quality health insurance. The same workers are also directly breathing in pollutants and dust kicked up by these inefficient 2-stroke engines. And these pollutants are of course a risk to both human health and the environment. The EPA estimates that landscaping equipment contributes 13-21% of all toxic air emissions in the US each year.
According to the California Air Resources Board, in 2017, operating a top selling commercials-powered lawn mower for one hour emits about as much smog-forming pollution as driving a top selling passenger car 300 miles, and operating a top leaf blower for the same amount of time would be the equivalent of driving that same car 1100 miles. With so much attention to electric vehicles and improving efficiency and air quality, it's surprising these out-of-date polluting engines receive so little attention. (In the same year, Edmunds conducted a test that found that a two-stroke leave blower generated 23 times the carbon monoxide (C)) and almost 300 times more non-methane hydrocarbons (NMHC) than a 2011 Ford Raptor pick up truck. According to researchers, "To equal the hydrocarbon emissions of about a half-hour of yard work with this two-stroke leaf blower, you'd have to drive a Raptor for 3,887 miles, or the distance from Northern Texas to Anchorage, Alaska."
The first US gas leaf blower bans started in the 1970s in two California towns. Today, hundreds of cities have now passed bans and limits, which can range from a complete gas blower ban, a seasonal ban, noise or time-of-day restrictions, or even a ban on all blowers.
HD Supply keeps a list of related regulations by state, though they suggest double checking with your local authority of course:
https://hdsupplysolutions.com/s/leaf_blower_noise_regulation
What can you do?
Switch to Electric Landscaping, for an immediate pollution and noise reduction (Landscapers: Switching to electric has benefits!)
Take additional steps to reduce grass area and plant and maintain a less maintenance-intensive property (responsible landscaping will also save you money!)
Support the transition to electrifying landscaping. Encourage friends and neighbors to also consider going electric for their landscaping needs
Encourage your town to buy electric landscaping equipment
Have you seen efforts in your community to ban or limit limit gas leaf blowers and other noisy, unsustainable equipment? Please fee welcome to share your opinions and advice for others.
Related:
Six Ways to Prep Your Yard for Electric Landscaping
Why Landscaping Companies Should Consider Going Electric, by George Carrette, EcoQuiet Lawncare
Exploring the Environmental, Health and Community Benefits of Electric Lawn and Garden Equipment with EcoQuiet's George Carrette (Video)
For additional information:
https://www.theatlantic.com/magazine/archive/2019/04/james-fallows-leaf-blower-ban/583210/
https://ww2.arb.ca.gov/resources/fact-sheets/small-engines-california
https://www.peoplepoweredmachines.com/faq-environment.htm
https://psci.princeton.edu/tips/2020/5/11/law-maintenance-and-climate-change
Resources:
American Green Zone Alliance (AGZA)
Image: NJ.com
Please be kind and respectful!
Please make sure to be respectful of the organizations and companies, and other Rate It Green members that make up our community. We welcome praise and advice and even criticism but all posted content and ratings should be constructive in nature. For guidance on what constitutes suitable content on the Rate It Green site, please refer to the User Agreement and Site Rules.
The opinions, comments, ratings and all content posted by member on the Rate It Green website are the comments and opinions of the individual members who posts them only and do not necessarily reflect the views or policies or policies of Rate It Green. Rate It Green Team Members will monitor posted content for unsuitable content, but we also ask for the participation of community members in helping to keep the site a comfortable and open public forum of ideas. Please email all questions and concerns to admin@rateitgreen.com