A Green Building Product Tipping Point?

Posted on: 02/27/2023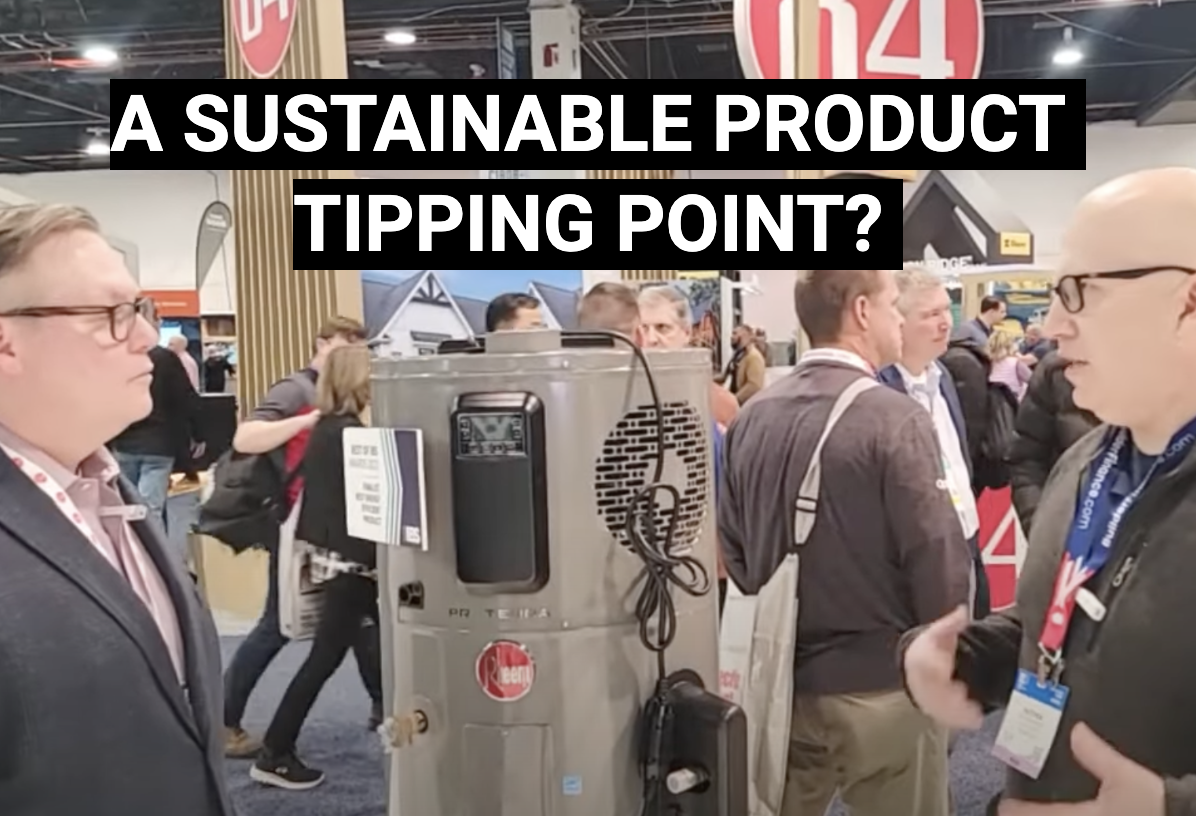 Rate It Green Members and Friends -

As spring approaches in many parts of the world, it might be a good time to allow ourselves some healthy optimism. To watch those flower buds poke out and have some real hope for change and improvement. Let's face it that we're too often reporting pessimistic news when we discuss the need to build and renovate healthier and more sustainable buildings, and to achieve that as of "yesterday," in order to meet critical climate goals and ensure a better, more livable world for future generations. The answer to, "Are we there yet?" is just too often not affirmative. And that can be a lot of weight on even passionate and energetic shoulders.

Some great news is that there really does seem to be a different feeling in the air. More than a feeling, we're seeing exciting, sustainable solutions from many manufacturers, particularly in the area of electrification, and also continuing in HVAC and indoor air quality. Green Builder Matt Hoots saw and heard visible signs of progress at the International Builders show this February. Where once manufacturers at a major building show might mention sustainable features as an aside or not at all, Matt observed that pretty much all exhibitors were detailing energy and climate-related innovations, and many right up front and center in their visual displays. As Matt puts it, it would appear that "Going green is cool again."

As one example, Matt noted a difference in induction cooktops, where quite a few companies have made significant commitments (and others have some catching up to do). Matt enjoyed meeting with Zline, a company that added induction cooktops to their appliance line in 2021. Zline now even offers its own line of induction cookware. Matt also spoke with Peter Weedfeld of SHARP Home Appliances, who sees an electric future in pretty clear terms, explaining that we're all going to be cooking with induction, as, "It's a much better experience, a much quicker experience, a much safer experience, and by the way much more efficient."

Matt also reported from the show on a ceiling-mount mini-split grill by Mitsubishi, and a plug-in heat pump water heater, which uses even less electricity than standard heat pump models. And, he'll be adding more product videos, so keep your eyes on our YouTube channel!

Key is that these efficient, smart, and healthy products show that manufacturers are listening and responding to demand for energy efficient, electric, and healthier products, and it's a further great sign that they're also boldly making positive energy efficiency and climate-related statements. This is a change and momentum we should recognize, celebrate, and encourage. We have an imperative to shift away from fossil fuels and to just do everything we do better and healthier, and we need manufacturers as listening, willing partners to make this happen.

Have we in fact reached an inflection point for solutions we need to make a transition to healthier, more sustainable buildings? I'd like to believe that the exciting progress as represented by the show floor (and even at my local appliance store – check out all those induction stove tops that were not always there!) show that we are on the path and that there really is a reason to feel optimistic. We're not there yet, but we're closer.

The Inflation Reduction Act deserves a mention while we're celebrating change and good news. We're still working to understand exactly how all the credits and rebates will work, but we'll report (and we encourage you to post and report!) as we learn more. With the new IRA incentives and tax credits, there is already so much increased attention and promotion around energy efficient appliances, products, and electric vehicles (new, and used!) One can only imagine how much more things will look different at this same time next year, as manufacturers continue to respond to clear demand and to make more progress in a sustainable direction. Meanwhile, let us know what cool, new sustainable building products you're most excited about and why!

Thank you,

Allison Friedman
Founder, Rate It Green

Twitter: @rateitgreen
Facebook: @Rateitgreen
LinkedIn: Rate It Green
YouTube: Rate It Green Subscribe today!

Click to read our full February 2023 Newsletter. Want to learn more about related content? Check out the following discussions and articles: