Sustainable Comfort, Inc. Performs Deep Energy Retrofit of Worcester Triple Decker at 38 Stanton Street

Rate It Green Team
0 Ratings
90 Discussions
6 Group posts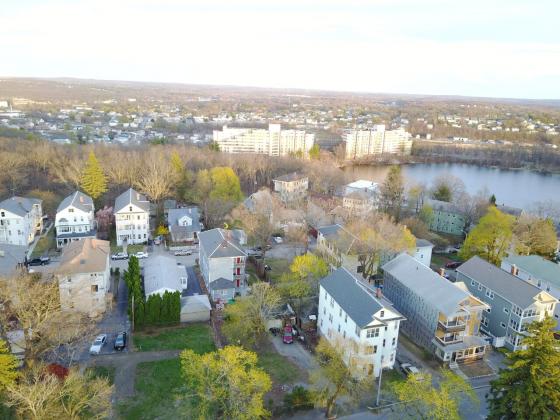 Worcester-based Sustainable Comfort, Inc. (SCI), is conducting a deep energy retrofit of the triple decker building at 38 Stanton Street in the Bell Hill neighborhood of Worcester, MA. This is the first project of its kind for SCI in Worcester. Built a century ago in 1917 as an economical way to provide workforce housing, the SCI team is using an integrated project delivery technique to repurpose the 4,395-square foot building for today's target market and its next 100 year lifetime. The 38 Stanton Street Deep Energy Retrofit project encompasses SCI's new vision for the triple decker; built to top-level green building standards that promote better indoor air quality, quieter interiors, and more economical operations, residents have their own urban oasis. The building has been pre-leased and residents will move-in by early summer. Using a Worcester-based construction crew and an executive team who came to Worcester for college and stayed, the SCI team is pursuing the U.S. Green Building Council's LEED for Homes Silver Certification and ENERGY STAR Certification on the 38 Stanton Street project. Several factors that support the LEED for Homes Silver and ENERGY STAR Certifications include reuse of the existing building; proximity to local amenities; exterior rigid insulation to reduce energy consumption; air sealed and insulated attic; continuous ventilation; low-flow water fixtures; high efficiency heating, cooling and domestic hot water equipment; new windows; and air sealing to reduce the transfer of energy, moisture, odor, and pests between apartments. The SCI team is currently working to purchase and rehabilitate other triple deckers in the surrounding neighborhoods, all in an effort to support the city in which they live and love: Worcester, MA. "We love the concept of coming full circle, people who went to college in Worcester, staying in Worcester, working in Worcester, and building businesses in Worcester. We want to support the new working class of Worcester, and entice them to stay here," remarked Albert LaValley, President of Sustainable Comfort, Inc. Taylor Bearden, Director of Acquisitions for Sustainable Comfort, Inc., adds, "We're refreshing a most basic facet of the northeast's urban landscape. The triple-decker served a tremendous social purpose and has evolved over time to meet varying peoples' needs over the past century. They house immigrant families, enable multi-generational home ownership, and contribute to good density in our inner-suburbs. The problem is this: now they're tired, and they no longer serve a clear purpose. We asked ourselves, 'What is that purpose?' 38 Stanton Street and the surrounding community project is our answer." The project team consists of Albert LaValley acting as Developer, Taylor Bearden as the Project Manager, Andrew Consigli as the Architect, and Margo Valdes as the Sustainability Designer. The Worcester-based subcontractors on this project include HVAC Experts, Fanning Plumbing & Heating, and Spotlight Kitchen and Bath, Inc.. The SCI team has plans to rehabilitate triple deckers in the same neighborhood at 24, 30 & 91 Stanton Street, 35 Olga Avenue, and a 7-unit building at 44 Gage Street in Worcester. Sustainable Comfort, Inc. is a Worcester, Massachusetts based green building and energy efficiency consulting firm with expertise in multifamily housing. SCI specializes in LEED for Homes, ENERGY Star Homes, Enterprise Green Communities, Passive House, HERS Rating, State Incentive Programs, and Code Compliance. The firm is also involved with the property management and development of multifamily buildings. Read more about Sustainable Comfort, Inc. on Rate It Green! http://www.rateitgreen.com/green-building-directory/sustainable-building-companies/sustainable-comfort-inc/4946 And, to learn more about the company, visit: http://www.greenrater.com.
Please be kind and respectful!
Please make sure to be respectful of the organizations and companies, and other Rate It Green members that make up our community. We welcome praise and advice and even criticism but all posted content and ratings should be constructive in nature. For guidance on what constitutes suitable content on the Rate It Green site, please refer to the User Agreement and Site Rules.
The opinions, comments, ratings and all content posted by member on the Rate It Green website are the comments and opinions of the individual members who posts them only and do not necessarily reflect the views or policies or policies of Rate It Green. Rate It Green Team Members will monitor posted content for unsuitable content, but we also ask for the participation of community members in helping to keep the site a comfortable and open public forum of ideas. Please email all questions and concerns to admin@rateitgreen.com