Solar experiment lets neighbors trade energy among themselves

Kalyani.rc
0 Ratings
29 Discussions
14 Group posts
Posted by:
Kalyani.rc
// Passive House / Sustainability Enthusiast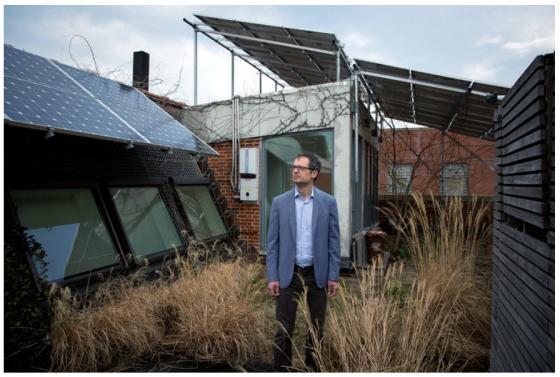 Brooklyn is known the world over for things small-batch and local, like designer clogs, craft bourbon, and artisanal sauerkraut. Now, it is trying to add electricity to the list.

In a promising experiment in an affluent swath of the borough, dozens of solar-panel arrays spread across rowhouse rooftops are wired into a growing network. Called the Brooklyn Microgrid, the project is signing up residents and businesses to a virtual trading platform that will allow solar energy producers to sell excess electricity credits from their systems to buyers in the group, who may live as close as next door.

The project is still in its early stages, it has just 50 participants thus far but its implications could be far reaching. The idea is to create a kind of virtual, peer-to-peer energy trading system built on the blockchain, the database technology that underlies cryptocurrencies like Bitcoin.

The ability to complete secure transactions and create a business based on energy sharing would allow participants to bypass the electric company energy supply and ultimately build a microgrid with energy generation and storage components that could function on their own, even during broad power failures.

"Community members can work both individually and collectively to help meet demand in an efficient way. It takes a central procurer like the utility out of the mix, and really sets the market where they're not buying and selling to the utility but they're identifying each other's need and willingness to buy and sell."

The Brooklyn microgrid is conceived to work with the conventional grid, which is in the midst of a reboot under Gov. Andrew M. Cuomo's directives to make it more flexible, resilient and economically efficient while reducing greenhouse-gas emissions. That effort, known as Reforming the Energy Vision, or REV, includes encouraging the development of microgrids and more active community participation.

On a block of President Street last year, the company carried out two sales of green electricity credits generated by one homeowner's solar system to a neighbor across the street, tiny transactions, but important in proving the concept's viability. Those sales involved test versions of renewable-energy credits numbered certificates that are used to track electricity exported from a renewable system to the grid. Utilities, corporations, and other customers can buy the credits to claim green energy use.

The long-term goal is to be at least partially independent of the grid in emergencies. The project includes plans to create a roughly five-square-block area either around a collection of public housing projects or near a hospital, that could disconnect from the grid and operate independently in case of a power failure.

For the complete article, please visit:
https://www.nytimes.com/2017/03/13/business/energy-environment/brooklyn-solar-grid-energy-trading.html?ref=energy-environment&_r=0&mc_cid=799604d19f&mc_eid=5c5f821044#whats-next
Please be kind and respectful!
Please make sure to be respectful of the organizations and companies, and other Rate It Green members that make up our community. We welcome praise and advice and even criticism but all posted content and ratings should be constructive in nature. For guidance on what constitutes suitable content on the Rate It Green site, please refer to the User Agreement and Site Rules.
The opinions, comments, ratings and all content posted by member on the Rate It Green website are the comments and opinions of the individual members who posts them only and do not necessarily reflect the views or policies or policies of Rate It Green. Rate It Green Team Members will monitor posted content for unsuitable content, but we also ask for the participation of community members in helping to keep the site a comfortable and open public forum of ideas. Please email all questions and concerns to admin@rateitgreen.com