Reactive Sensors and Controls for Home Ventilation, Featuring Corbett Lunsford

Rate It Green Team
0 Ratings
105 Discussions
6 Group posts


Matt Hoots is right that the age of reactive, or smart, sensors is really just about here. We're going to see a renovation revolution in terms of being able to monitor our air quality measures, comfort elements, and other factors, but then we'll ALSO have sensors that can be set to "make decisions" and adjust controls and settings in our buildings.
Matt created this video as a reaction piece to Corbett Lunsford's visit with Aircycler at the National Home Performance Conference. As Matt says, we can't all get to every show, so it's great that people like Corbett (and Matt!) can get there for us and are willing to share what they learn. In this case, Matt adds some great commentary, adding his insights, and also making sure this information is really approachable (not that Corbett didn't! It's a great and wonderful luxury to be able to be able to watch join a conversation after the fact and wonder what you'd like to add. The result is surprisingly cool - like a conversation we're all a part of.)
Aircyler's hardware seems impressive, but this company is clearly doing some deep thinking - and programming. Traditional equipment is typically either on or off, and it's turned on or off by a user, or maybe a timer or setting (think thermostats, maybe an early common smart sensor, but keep in mind they are stay being turned on or off at certain set points). But these smarter sensors and equipment can adjust for quite a few factors, including:
Temperature
Air flow (watch for a great example of how this would work with an air flow monitor)
Humidity
Outdoor air quality
PM 2.5 particles
CO2
VOCs (chemicals that leak into the air from cooking, cleaning, or even new furniture or other products)
Based on the levels set by a product manufacturer or user, or adjusted by a user (conditions will vary by type of measurement, so we're being general here), equipment will not only be able to be turned on and off, but you might be able to bring on a central fan, open or close a damper, turn bath fans on or off, bring on an air handler to reduce pollutant concentrations. Some of these actions are typos of on/off decisions to be sure, but the number of variables are greater, and these systems are also engaging and notifying stakeholders so that further decisions and action can be taken. As Corbett relates, ventilation components (and really all parts of a smart home environment) can now be considered almost Legos. What do we want our systems to do, and when, and why?
As Jason Wilson from Aircycler says, "The information available is insane." We agree that the possibilities are pretty much limitless. The implications are also honestly too big to completely grasp yet. As Corbett points out, we're changing how our homes are acting, which is really important to how they're going to adapt to changing climate conditions and other constraints (like energy costs, also related to climate). It's true that most people don't yet think about how we live, work, learn, and play inside buildings and how this affects the built environment. But now our systems can adapt, and so will we - especially as they start to notify and engage with us.
Thanks to Corbett Lunsford for being generous with what he's seeing and learning. Check out Corbett and Grace Lunsford's Home Performance channel:
https://www.youtube.com/c/HomePerformance/featured

And also, check out the Building Performance Workshop:
https://buildingperformanceworkshop.com/about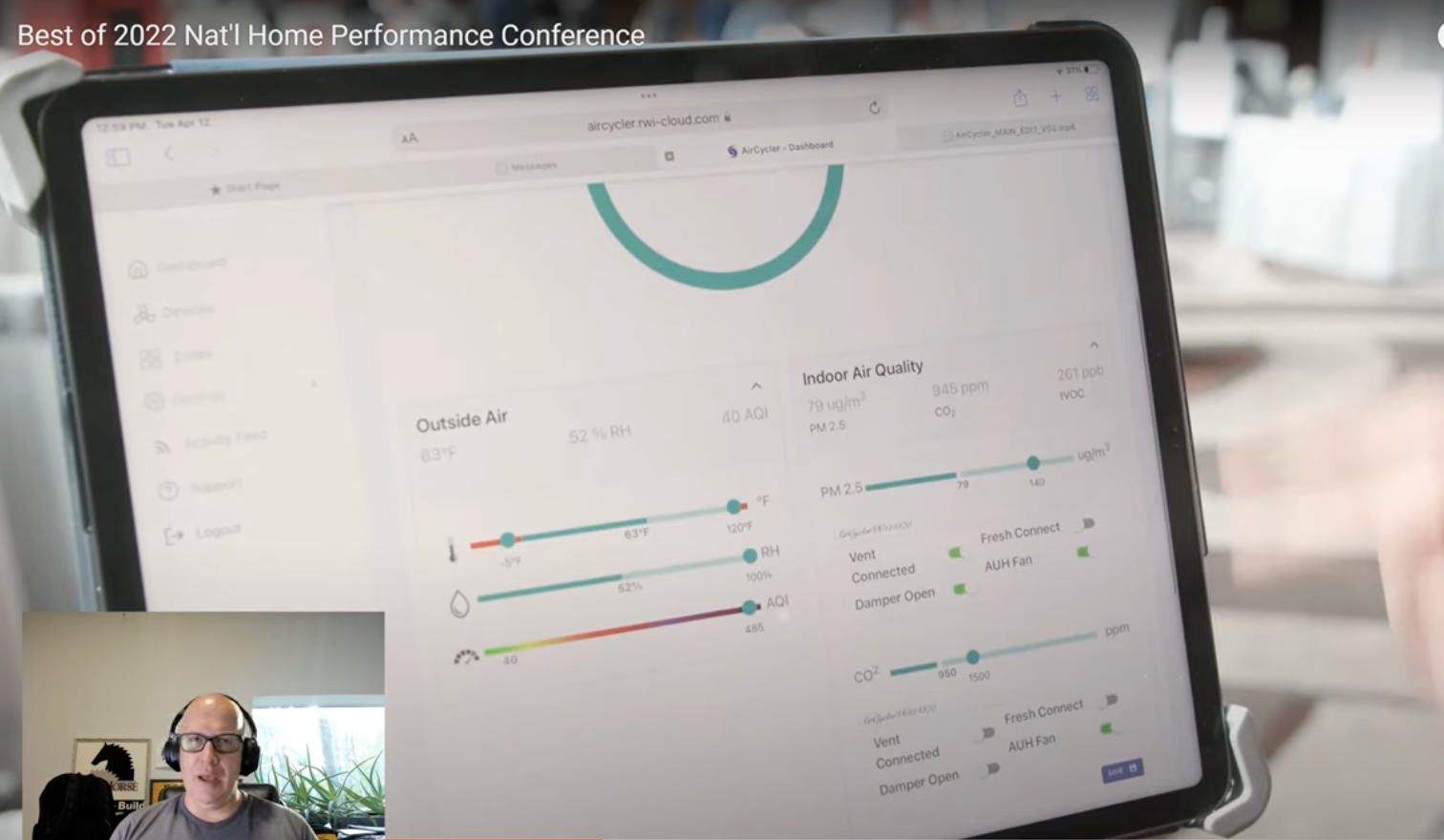 The number of factors we can measure, and the number of adjustments are hard to fathom, and the possibilities for how we will be able to operate and aske our built environment to adap are pretty exciting.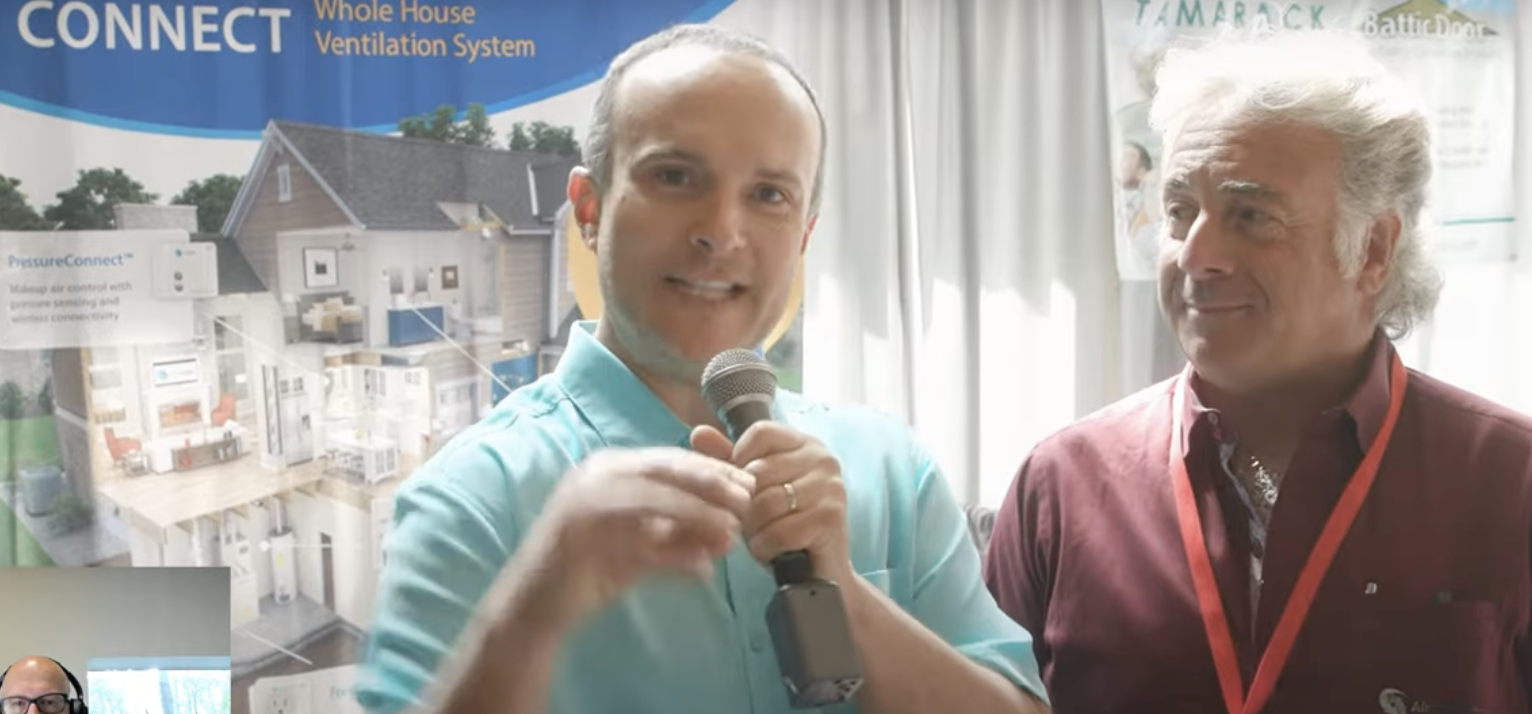 Thanks Corbett, and also thanks to Jason Wilson for explaining this new frontier.

We'd love to hear what you are learning about sensors and smart, reactive equipment!
Please be kind and respectful!
Please make sure to be respectful of the organizations and companies, and other Rate It Green members that make up our community. We welcome praise and advice and even criticism but all posted content and ratings should be constructive in nature. For guidance on what constitutes suitable content on the Rate It Green site, please refer to the User Agreement and Site Rules.
The opinions, comments, ratings and all content posted by member on the Rate It Green website are the comments and opinions of the individual members who posts them only and do not necessarily reflect the views or policies or policies of Rate It Green. Rate It Green Team Members will monitor posted content for unsuitable content, but we also ask for the participation of community members in helping to keep the site a comfortable and open public forum of ideas. Please email all questions and concerns to admin@rateitgreen.com