HBN Launches HomeFree Initiative to Help Reduce Toxic Building Materials

Matt Z.
QC, Canada
0 Ratings
4 Discussions
1 Group posts
Posted by:
Matt Z.
// Student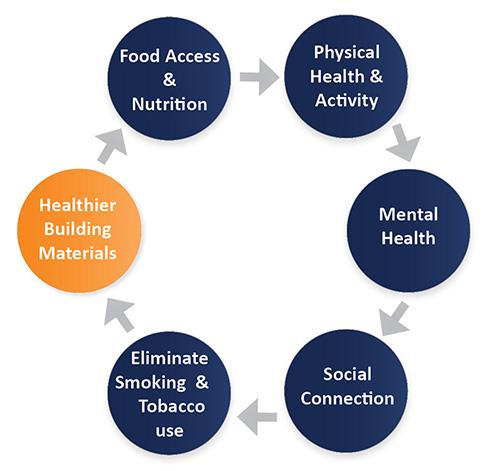 The Healthy Building Network (HBN) introduces HomeFree, "a national initiative supporting affordable housing leaders who are improving human health by using less toxic building materials". Everyone is affected, but low-wealth communities are disproportionately exposed to chemical hazards on the job, in their neighborhood, and in the home, hence the importance of bringing less toxic buildings materials to affordable housing. People spend a majority of their time indoors, so the materials used to make our built environment are very important to our health. One would think that the ingredients used to make these materials are closely regulated, but they are not. In fact, it is even difficult to get ahold of a reliable information regarding these ingredients. This raises doubts as to what these materials are actually composed of and what potential effect they could have on our health.

Safer building materials used to be more expensive or less energy efficient. However, more and more affordable and healthier building materials with equal or superior performance to conventional materials are becoming available. A new transparency movement led by Health Product Declaration Collaborative is making information about building products more accessible. Additionally, HBN's Pharos Project is making it easier to assess and compare health hazards of building materials. A new scientific methodology called the Avoided Hazards Index compares the chemicals and related health hazards in various building materials. Other projects such as the Green Science Policy Institute focus on reducing harmful chemicals in buildings products, starting with flame retardants in furniture and insulation.

Manufacturers have noticed this recent increased attention towards the safety of building
materials, and as a result are working towards improving their products. HomeFree's goal is share all this data on these superior materials to help affordable housing providers be aware of these changes and make informed decisions towards which products they chose to use. The open source aspect of HomeFree will make it accessible to everyone, and the hope is that with more information about building products out in the open, buyers will purchase less toxic materials and in turn influence manufacturers to increase the production of superior products.

For more information on HomeFree: https://homefree.healthybuilding.net/about
Please be kind and respectful!
Please make sure to be respectful of the organizations and companies, and other Rate It Green members that make up our community. We welcome praise and advice and even criticism but all posted content and ratings should be constructive in nature. For guidance on what constitutes suitable content on the Rate It Green site, please refer to the User Agreement and Site Rules.
The opinions, comments, ratings and all content posted by member on the Rate It Green website are the comments and opinions of the individual members who posts them only and do not necessarily reflect the views or policies or policies of Rate It Green. Rate It Green Team Members will monitor posted content for unsuitable content, but we also ask for the participation of community members in helping to keep the site a comfortable and open public forum of ideas. Please email all questions and concerns to admin@rateitgreen.com