Did You Know that Consumer Funding for Electric Vehicles has been Reinstated in Massachusetts?

Allison Friedman
MA, United States
0 Ratings
99 Discussions
131 Group posts
Posted by:
Allison Friedman
// Rate It Green Admin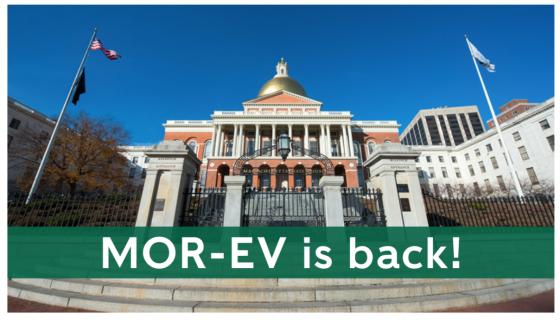 Great news: Rebates for electric vehicles have been reinstated in Massachusetts!
Rebates for electric vehicles have been reinstated in Massachusetts! For the next two years, at least $27 million will be available each year to incentivize EV purchases and assist in the transition to electric vehicles. Reducing transportation emissions is a key strategy for reducing climate related emissions.
Upfront costs is the largest barrier to the adoption of electric vehicles. Programs like "Massachusetts Offers Rebates for Electric Vehicles (MOR-EV)" and the group buying Drive Green program defray these costs, making it easier for consumers to make the switch.
Prior to the MORE-EV program's (now temporary) expiration in September, the program had enabled the purchase of 15,000 EVs since 2014, helping to meet the state's goals of 300,000 zero emission vehicle (ZEV) goals by 2025.
The MORE-EV program had been funded through 2019 through revenue generated by Regional Greenhouse Gas Initiative (RGGI) auctions. But this funding was not guaranteed to continue. Governor Baker specifically allocated RGGI funds to keep the program running for 2020 and 2021.
For 2020:
Battery electric vehicles (BEVs) with a final sale price under $50,000 are eligible for a $2,500 rebate;
Plug-in hybrid vehicles (PHEVs) with a final sale price under $50,000 and an electric range of 25+ miles are eligible for a $1,500 rebate; and
(Zero-emission motorcycles (ZEMs) are no longer eligible for a rebate.)
To learn more:
https://blog.greenenergyconsumers.org/blog/funding-for-electric-vehicles-stalled-at-the-massachusetts-state-house-0?utm_campaign=DG%20Incentives%20Q3%20FY20&utm_content=111471029&utm_medium=social&utm_source=twitter&hss_channel=tw-154579776
.
Please be kind and respectful!
Please make sure to be respectful of the organizations and companies, and other Rate It Green members that make up our community. We welcome praise and advice and even criticism but all posted content and ratings should be constructive in nature. For guidance on what constitutes suitable content on the Rate It Green site, please refer to the User Agreement and Site Rules.
The opinions, comments, ratings and all content posted by member on the Rate It Green website are the comments and opinions of the individual members who posts them only and do not necessarily reflect the views or policies or policies of Rate It Green. Rate It Green Team Members will monitor posted content for unsuitable content, but we also ask for the participation of community members in helping to keep the site a comfortable and open public forum of ideas. Please email all questions and concerns to admin@rateitgreen.com