City Buildings in River Falls, Wisconsin are now Powered with 100% Renewable Energy

Allison Friedman
MA, United States
0 Ratings
99 Discussions
131 Group posts
Posted by:
Allison Friedman
// Rate It Green Admin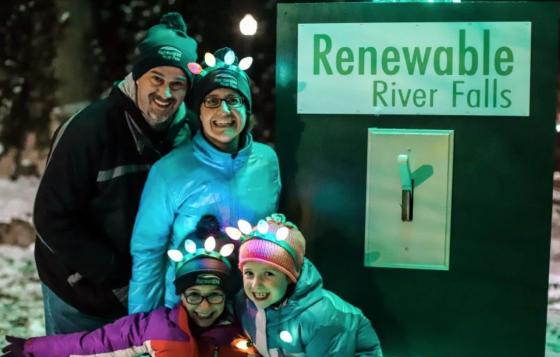 On January first and after years of effort to cut dependence on fossil fuel use, River Falls Wisconsin "flipped a switch" to power all city buildings with 100% renewable energy. This arguably makes the college town of 15.000 one of the most environmentally friendly US cities.
The renewable energy decision is part of a wider program called Renewable River Falls, with the following goals:
Raise awareness about Renewable River Falls in the community and beyond;
Celebrate the community's past accomplishments in conservation and energy efficiency as we prepare for our transition to renewable energy;
Recognize the City's statewide and national leadership role in green energy participation; and
Engage the public in Renewable RF activities; and
Encourage and support residents and businesses in going 100% renewable
Ten years, ago, River Falls adopted its first simple conservation measures around lighting and engine idling. These efforts grew in time in use and popularity, and the city also began to ask electricity supplier Wisconsin Public Power, Inc to provide more electricity from wind turbines, solar panels, and landfill produced biomass. The city also offered an optional program where residents could pay an additional $3 per month for renewable energy. In 2015, the city built a solar garden, with the capacity to power approximately 35 homes. In 2016, Habitat for Humanity opened an 18-unit solar-powered home Eco-Village that is net positive (produces more energy than it consumes).
In 2016, River Falls won an award for Continued Excellence, beating out 2,000 other cities and towns. According to a 2018 US Department of Energy Report, River falls has the third-highest rate of green-pricing program participation in the country. The other cities are in Oregon and California.
According to Mike Noreen, the city's Conservation and Energy Coordinator, the positive energy reduction spirit is pervasive. Public events are often green-themed, even including the color green. A parade in November featured green lights and a giant 3-foot light switch to represent the cities transition to renewable energy. Noreen also says that monthly community meetings often revolve around environmental topics, and that people continue to share news about other initiatives after meetings end.
City Buildings going green as of January 1, 2020 include City Hall, the Public Library, Public Works Garage, Wastewater Treatment Plant, Public Safety Building, Ambulance and the town's Glen Park Pool.
To read more:
https://www.twincities.com/2020/01/04/river-falls-hits-green-milestone-switching-to-100-percent-renewable-energy-for-city-buildings/
https://www.rfcity.org/1021/Renewable-River-Falls
Image: Twin Cities/Pioneer Press
Please be kind and respectful!
Please make sure to be respectful of the organizations and companies, and other Rate It Green members that make up our community. We welcome praise and advice and even criticism but all posted content and ratings should be constructive in nature. For guidance on what constitutes suitable content on the Rate It Green site, please refer to the User Agreement and Site Rules.
The opinions, comments, ratings and all content posted by member on the Rate It Green website are the comments and opinions of the individual members who posts them only and do not necessarily reflect the views or policies or policies of Rate It Green. Rate It Green Team Members will monitor posted content for unsuitable content, but we also ask for the participation of community members in helping to keep the site a comfortable and open public forum of ideas. Please email all questions and concerns to admin@rateitgreen.com