Whole House Humidity Control ALL Year Long || Aprilaire

samanthaklein
MA, United States
0 Ratings
10 Discussions
3 Group posts
Maintaining a healthy home is essential for your family's well-being. In doing so, it is important to take steps to sustain indoor air quality. Humidity, of all IAQ metrics, has one of the largest impacts on human and building health. Ensuring that your home is moisture-controlled is a worthwhile investment overall.
The Environmental Protection Agency (EPA) recommends an ideal range of 40-50% for human health and comfort. For individuals, humidity levels that are too low can cause respiratory infections, allergic reactions, and asthma. High humidity percentages can faciliate mold growth, which is hazardous to the lungs. For buildings, extreme ranges of humidity (whether they be high or low) pose risk to hardwood floors and other furnishings. Wood may rot and deteriorate causing bacteria and virus growth, or may attract mite infestations.
Wood is a common building material used in flooring, window sills, mantles, and doors. It is vital to maintain humidity control in order to preserve the longevity of these home elements. Hardwood floors are a high priority when maintaining a home, as they make up the bottom base of the building. In dry seasons, wood loses moisture and contracts as a result. This may cause gaps between wood planks and appear cracked as a result. There also may be splits along the grain of the wood. These splits weaken the wood, causing it to become more brittle. This process can harm the finish on the floor and cause permanent damage.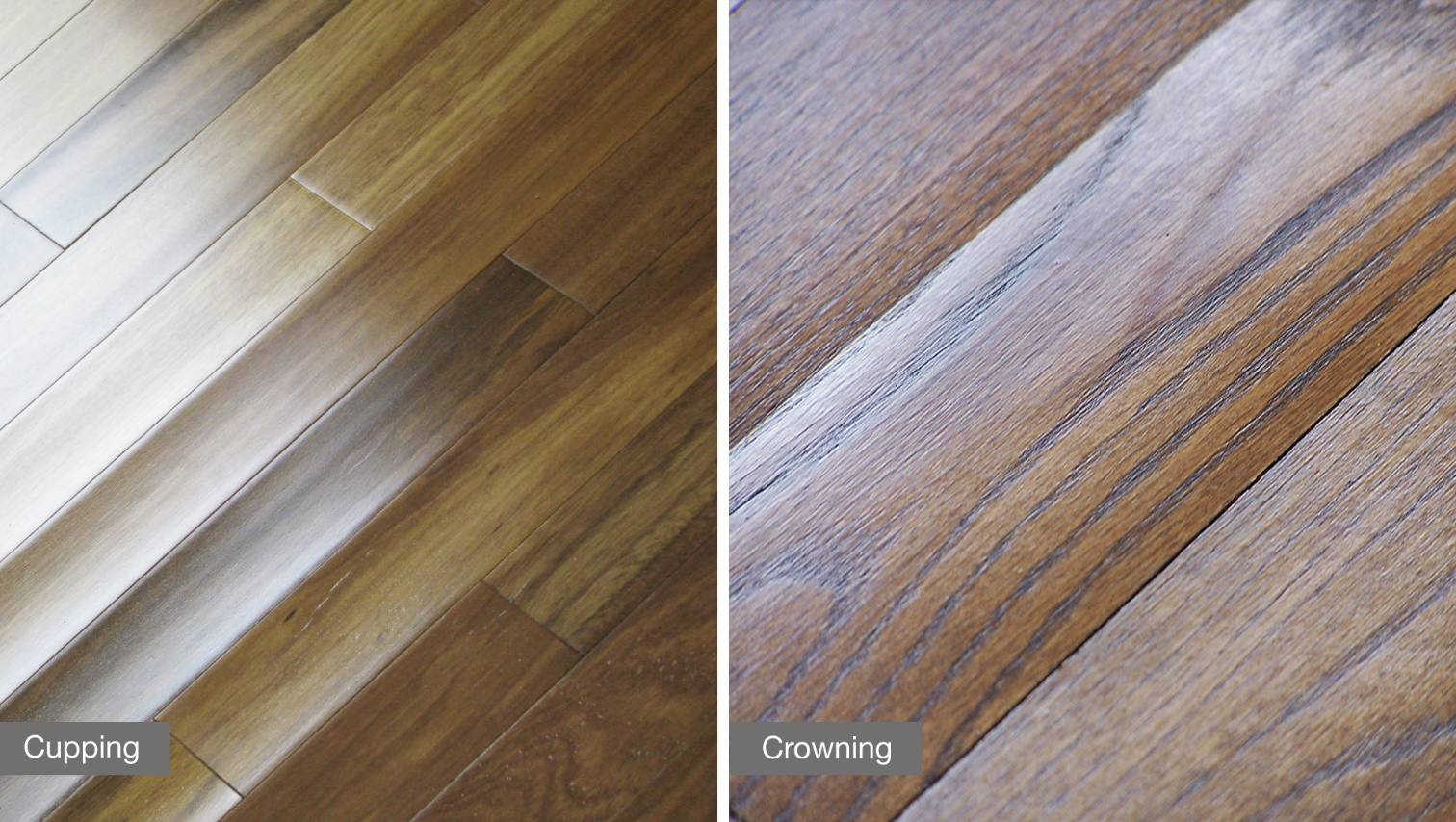 Representations of cupping and crowning on hardwood flooring, caused by excessive humidity.
Source: Lauzon Flooring
In the summertime, humidity and heat cause swelling and expanding. This creates pressure between the boards, and can cause cupping, where edges of the wood become higher than the center. This occurs when condensation is infiltrated in the inside of the home. Similarly, crowning appears when the edges of the wood boards become higher than the center. This may happen when the surfaces of the floor come into contact with moisture. When the wood boards expand out beyond the surface of the floor, it is referred to as "buckling." Sometimes this could look like a peak appears in the center of two planks.
AprilAire offers humidifiers and dehumidifiers as well as standard air purifiers and other ventilation systems. There is also a humidifier/dehumidifier dual device, called the AprilAire Healthy Air System, which is ideal for those who live in regions with humid summers and dry winters. This product is designed to control ventilation, air filtration, and humidity control. The AprilAire Healthy Air System senses the level of humidity in the air, then activates the humidifier or dehumidifier portion accordingly to regulate the humidity within the 40%-60% range.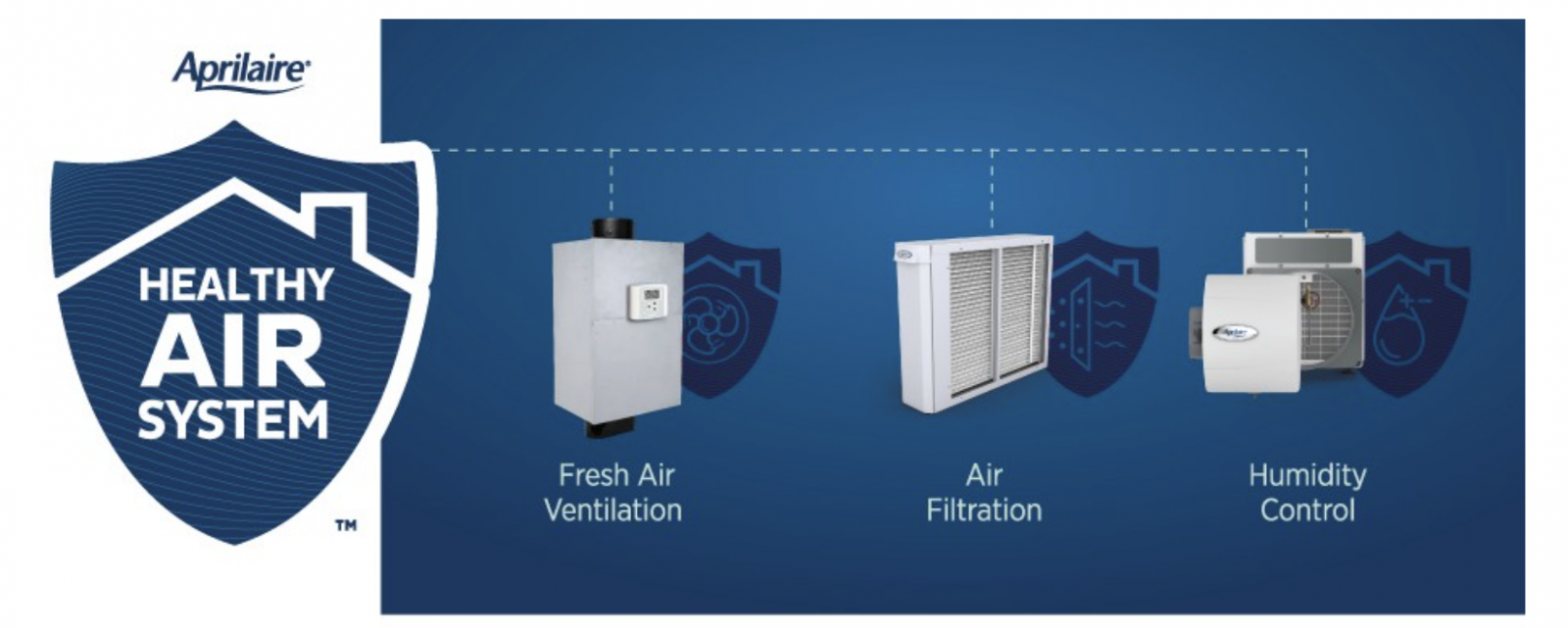 AprilAire Healthy Air system consists of fresh air ventilation, air filtration, and humidity control.
Source: AprilAire
In regions like Florida, high humidity is normal virtually year-round. Residents of humid locations would benefit from the installation of a dehumidifier, which decreases the level of humidity in the air by extracting moisture. These machines work by attracting warm air currents into coils, and condensation is drawn out from the currents and is collected within the device. Individuals from cooler regions who suffer from constant dryness are advised to install humidifiers in their homes. These devices hold water in a reservoir, turn the water into vapor, and use an integrated fan to blow the mist into the air.
To learn more about Aprilaire, visit their Rate It Green profile.
For more pieces about humidity and indoor air quality:
Humidity, Hardwoods and Homes - The Building Science Approach to Protecting your Investment (Video)
Key Humidity Control Concepts by Therma-Stor
Whole House Humidity Control - Dehumidification and Humidification, with Aprilaire (Video)
What is the ideal humidity needed to help maintain hardwood flooring?
An Introduction to Aprilaire and Whole House Air Quality Systems (Video)
Walking and Talking about Fresh Air and Ventilation with Green Building Expert Matt Hoots - and Oliver

Matt Hoots
Atlanta, GA, united-states
4 Ratings
8 Discussions
7 Group posts
Matt Hoots
// SawHorse Design + Build
As a general contractor in Georgia, I still have HVAC installers telling me that we don't need whole-house humidity control. If they are the front line for these solutions, they need to be equipped with better talking points.
Please be kind and respectful!
Please make sure to be respectful of the organizations and companies, and other Rate It Green members that make up our community. We welcome praise and advice and even criticism but all posted content and ratings should be constructive in nature. For guidance on what constitutes suitable content on the Rate It Green site, please refer to the User Agreement and Site Rules.
The opinions, comments, ratings and all content posted by member on the Rate It Green website are the comments and opinions of the individual members who posts them only and do not necessarily reflect the views or policies or policies of Rate It Green. Rate It Green Team Members will monitor posted content for unsuitable content, but we also ask for the participation of community members in helping to keep the site a comfortable and open public forum of ideas. Please email all questions and concerns to admin@rateitgreen.com